For sure, a lot of us are stressed with the ongoing situation not just in our country but also all over the world. The COVID-19 has not yet ceased in wreaking havoc all over and even those who are not infected by the virus are also affected in some ways. Many are indeed psychologically and emotionally distressed.
Good news for us Cebuanos, a group of counselors from Ateneo de Cebu and the University of the Philippines Cebu has assembled to form Cebu COPES – Counselors Online Psychological and Emotional Support.

This group aims to provide a platform for Cebuanos to avail of free, confidential online and telecounseling services and psycho-social support by registered guidance counselors. The group also mentioned that they are mainly aiming in assisting the Cebuanos in their mental and emotional health with the ongoing COVID-19 crisis.
While the program is still at its early and grounding stage, the good samaritans at work are hoping to involve fellow Cebuano counselors who are also willing to provide personal information online such as phone number, email and social media accounts. This is because their means of providing confidential and telecounseling services is online.
Steps to avail of the service:
Visit Facebook page of Cebu COPES.
Select and contact the counselor you wish to communicate with (see below list).
Wait for a response from the counselor.
Fill out the informed consent forwarded to you and send back to the counselor.
Online and telecounseling services are available from 8 am to 6 pm. Special schedules may however be held upon agreed arrangement with the counselor.
Those who may need psychosocial and emotional support are welcome to avail of this service. No fees will be charged. We however request for clients to connect to our volunteer counselors with respect and maintain confidentiality.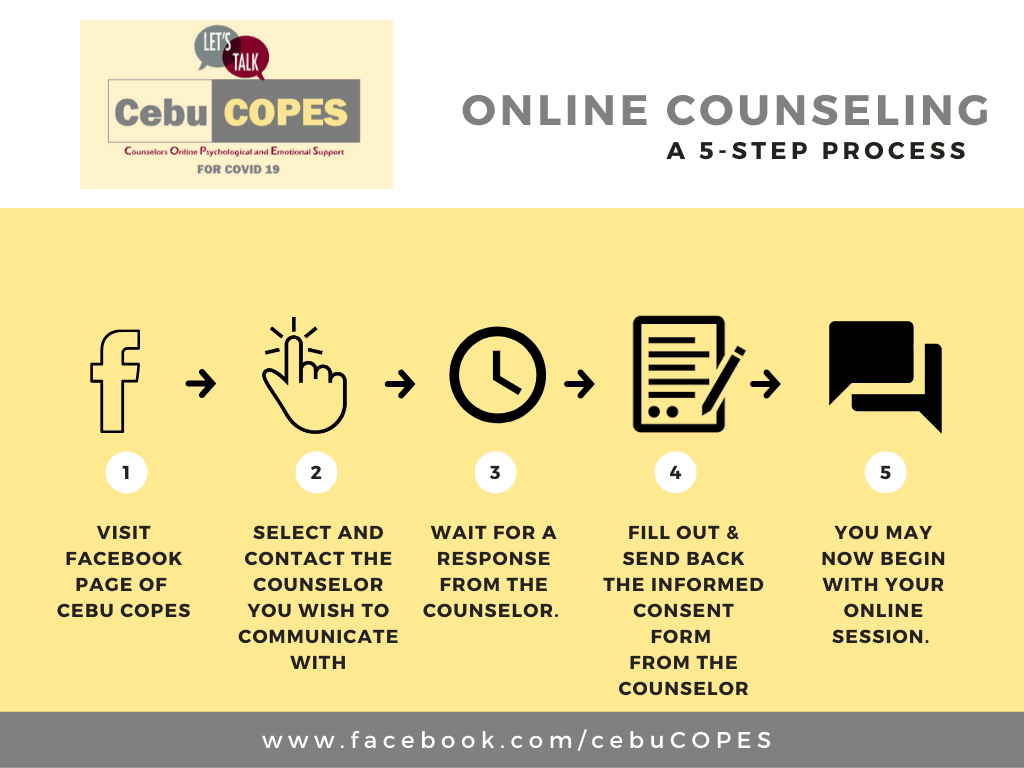 Make the most of online counseling!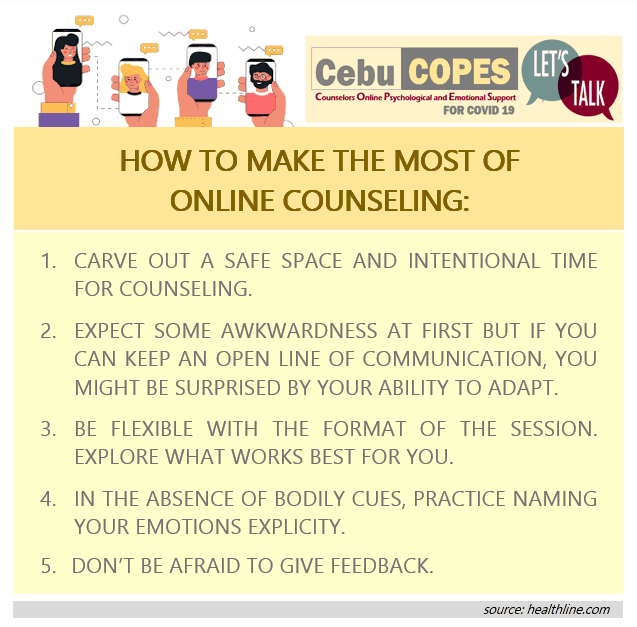 List of Registered Guidance Counselors
With this, the group hopes to help everyone else in ways that they can. Hopefully all of us can do the same in fighting this crisis together.