It's official.
Cebu Province, including independent cities – Cebu City, Mandaue City and Lapu-Lapu City, has been placed under Enhanced Community Quarantine (ECQ).
Local Government Officials have already announced and signed the respective Executive Orders issuing the Enhanced Community Quarantine and its supporting information.
What is an Enhanced Community Quarantine?
Under "general community quarantine", people are generally limited to "accessing basic necessities and work" while uniformed personnel and quarantine officers are present at border points.
The second level is called the "enhanced community quarantine" which generally means:
Strict home quarantine (going out for no valid reason is strictly not allowed)
Suspended public transportation (may vary per city)
Food and health services will be regulated
Arriving international flights are strictly not allowed. Departing flights are still allowed.
More uniformed personnel (with the help of AFP and PNP) will help implement the ECQ.
NOTE: The specific guidelines of the Cebu province and the individual cities in Cebu (Cebu City, Mandaue City, Lapu-Lapu City) may differ.
Banks, ATM machines, supermarkets, and pharmacies will still be open. Government offices will still continue to operate, as well as other private companies in the food and beverages industry, medicine, banks, telecos, and BPOs but with a minimum number of employees.
Effectivity:
Cebu Province – Effective today as stated by Gov. Gwen Garcia
Cebu City – 12:00 NN, March 28, 2020 until 12:00NN of April 28, 2020 or unless sooner lifted or withdrawn
Mandaue City – 12:01 AM, March 29, 2020
Lapu-Lapu City – 12:01 AM, March 29, 2020
How to get a quarantine / ECQ pass?
Enhanced Community Quarantine (ECQ) passes are for free and not for sale. One pass is allocated per household.
The pass should be presented when you're outside your house to buy basic necessities in behalf of your family or when out for work.
There are two (2) options to get your ECQ pass:
Door-to-door delivery: May vary. Some municipalities or cities will be delivering your passes directly to your house. Distribution usually takes within 3 days.
Barangay Hall: In most cases, you will need to get it from the barangay hall.
In Cebu City, there are four (4) different color types of ECQ passes:
RED Pass: for Government Officials
WHITE Pass: for Crisis Management Team and frontliners
BLUE Pass: for NON-Cebu City Residents
GREEN Pass: for Cebu City Residents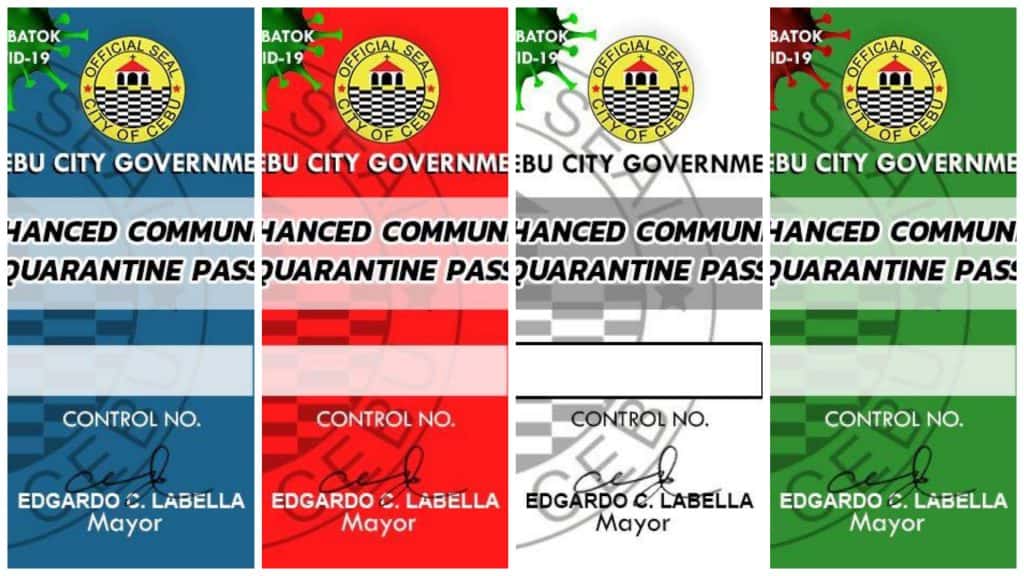 NOTE: This page will be regularly updated as local government units further specify the guidelines. Make sure to bookmark this page, or follow Sugbo.ph on Facebook.
Cebu Province
Also read: Cebu Province sets Enhanced Community Quarantine Exemptions & LGU Assistance
Cebu City
Executive Order No. 064 declaring Cebu City under state Enhanced Community Quarantine starting 12 noon of March 28, 2020.
COVID-19 Cebu
As the threat of the Coronavirus 2019 or COVID-19 rises every day, the Cebu province has taken a proactive approach and is pulling all stops in protecting the island. Here's everything you need to know about COVID-19 and its symptoms: https://sugbo.ph/2020/corona-virus-in-cebu/
With this, an Executive Order was issued for the implementation of the drastic but necessary measures to avoid the spread of the virus. For more information, head on to: https://sugbo.ph/2020/cebu-implements-drastic-measures/
If you are sick and think you have symptoms of COVID-19, seek medical attention, call the local Coronavirus Health Information Line for advice: 0922-397-2334 / 0943-568-3298 / (032) 402-3091 / (032) 402-1269.