Recent reports of the coronavirus arriving here in Cebu have got us all worried and scared.
This virus comes from a large family of viruses ranging from the common cold to more serious infections such as MERS-CoV and SARS-CoV.
The outbreak in China late last year had the DOH on alert and a 5-year-old who hails from Wuhan China and who tested negative for MERS-CoV and SARS-CoV but tested positive for the non-specific pancoronavirus assay is now being closely watched. The sample has now been sent to Australia to identify the specific corona-virus strain.
Coronavirus Symptoms:
Breathing difficulties
Runny nose
Sore throat
Headache
Fever
Cough
Feeling of being unwell
*respiratory symptoms
Possibly leads to:
Pneumonia
Acute respiratory syndrome
Kidney failure
Death
How is it transmitted?
Human coronavirus most commonly spread from an infected person to others through:
The spray of droplets during coughing and sneezing
Skin to skin contact
Touching objects/surface with virus then touching mouth, eyes, nose
Rarely, fecal contamination
How to protect yourself?
Frequent hand washing with soap and water for at least 20 seconds
Take your vitamin C and stay healthy
Stay at home or indoors as much as possible
Avoid unprotected contact with farm/wild animals
Avoid touching your eyes, nose and mouth
Avoid close contact with people who have cold/flu
Keep hydrated
Get enough rest
Note: No vaccines available yet
The best thing to do in these situations is to take great care of our bodies for our immune system is our first defense. Eat healthy and take your vitamin C.
Frequently Asked Questions
What to do if I am sick or am experiencing symptoms of COVID-19?
First, call the local Coronavirus Health Information Line for advice: 0922-397-2334 / 0943-568-3298 / (032) 402-3091 / (032) 402-1269.
Optional but not recommended yet, go directly to the nearest hospital or medical center or see a doctor and seek medical attention.
If I know someone who has completed quarantine or has been released from isolation, will I be infected if I go near him/her?
No. Someone who has completed quarantine or has been released from isolation does not pose a risk of infection to other people.
What are the best things to do to lower the risk of being infected with COVID-19?
– Wash your hands often with soap and water for at least 20 seconds.
– If you just sneezed, coughed, or went to the bathroom, even before and after eating, wash your hands.
– Avoid touching your eyes, nose, and mouth with unwashed hands.
– If you are sick, stay at home.
– Cover your nose and mouth with tissue when sneezing or coughing and throw the tissue in the trash thereafter.

Should I worry about COVID-19?
– Illness due to COVID-19 infection is generally mild, especially for children and young adults. However, it can cause serious illness: about 1 in every 5 people who catch it need hospital care. It is therefore quite normal for people to worry about how the COVID-19 outbreak will affect them and their loved ones.
Who is at risk of developing severe illness?
– While we are still learning about how COVID-2019 affects people, older persons and persons with pre-existing medical conditions (such as high blood pressure, heart disease, lung disease, cancer or diabetes) appear to develop serious illness more often than others.
Are there any medicines or therapies that can prevent or cure COVID-19?
– While some western, traditional or home remedies may provide comfort and alleviate symptoms of COVID-19, there is no evidence that current medicine can prevent or cure the disease. WHO does not recommend self-medication with any medicines, including antibiotics, as a prevention or cure for COVID-19. However, there are several ongoing clinical trials that include both western and traditional medicines. WHO will continue to provide updated information as soon as clinical findings are available.
Is there a vaccine, drug or treatment for COVID-19?
– Not yet. To date, there is no vaccine and no specific antiviral medicine to prevent or treat COVID-2019. However, those affected should receive care to relieve symptoms. People with serious illness should be hospitalized. Most patients recover thanks to supportive care.
Possible vaccines and some specific drug treatments are under investigation. They are being tested through clinical trials. WHO is coordinating efforts to develop vaccines and medicines to prevent and treat COVID-19.
Will mask protect me from COVID-19?
It's best to wear masks at all times when going outside. Your mask cuts own risk by 65%.
Social distancing, face masks and eye protection all appear to reduce the spread of COVID-19, in both health care settings and the general community, according to a new review commissioned by the World Health Organization (WHO).
Could my pet be a source of COVID-19?
– No. There is no evidence that companion animals or pets such as cats and dogs have been infected or could spread the virus that causes COVID-19.
How long is the incubation period for COVID-19?
– The "incubation period" means the time between catching the virus and beginning to have symptoms of the disease. Most estimates of the incubation period for COVID-19 range from 1-14 days, most commonly around five days. These estimates will be updated as more data become available.
ORATIO IMPERATA for COVID-19
Prayer against COVID-19.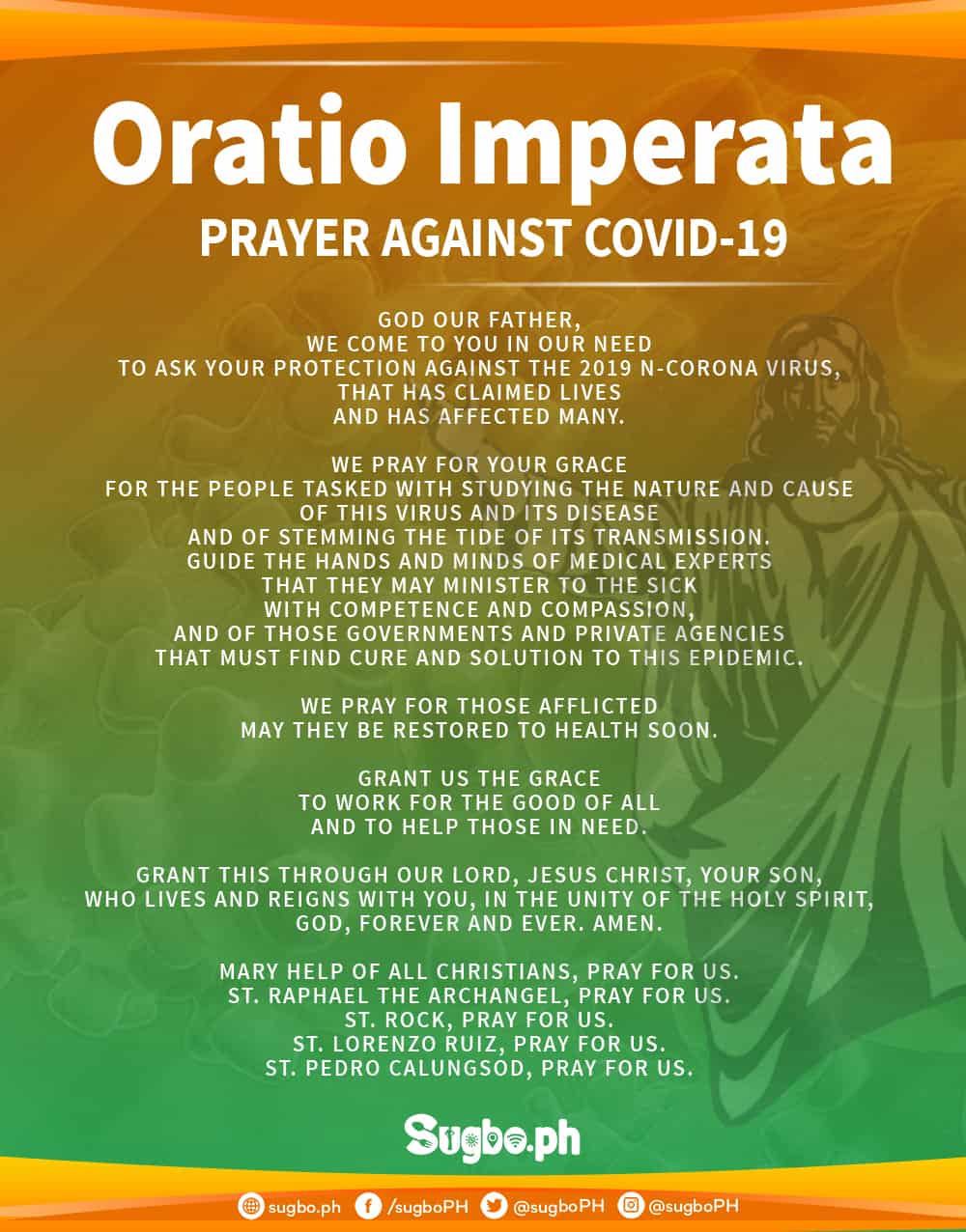 COVID-19 CEBU UPDATES
As of April 21, 2020: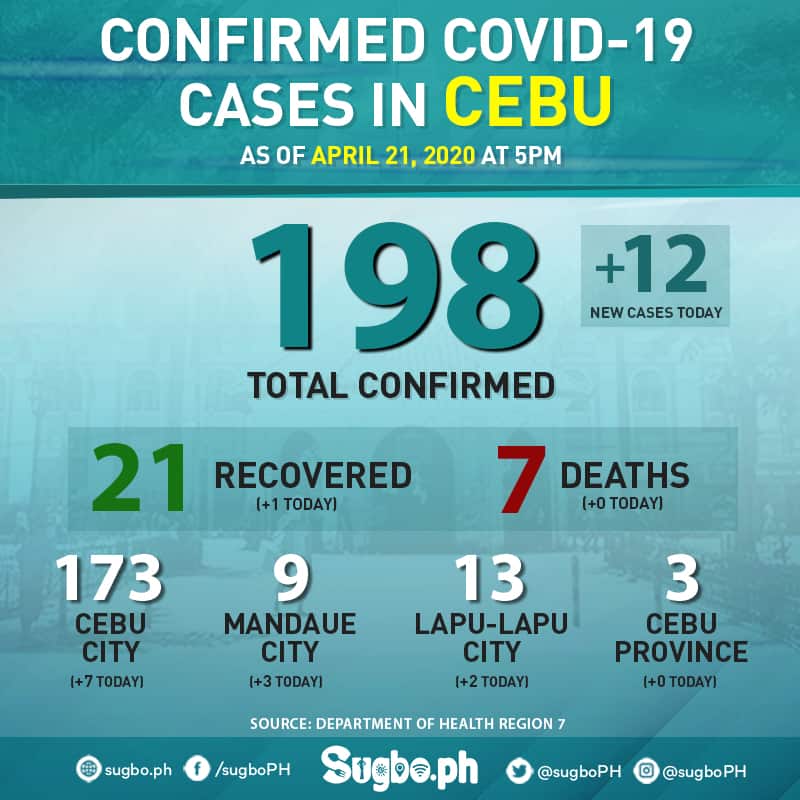 As of April 19, 2020: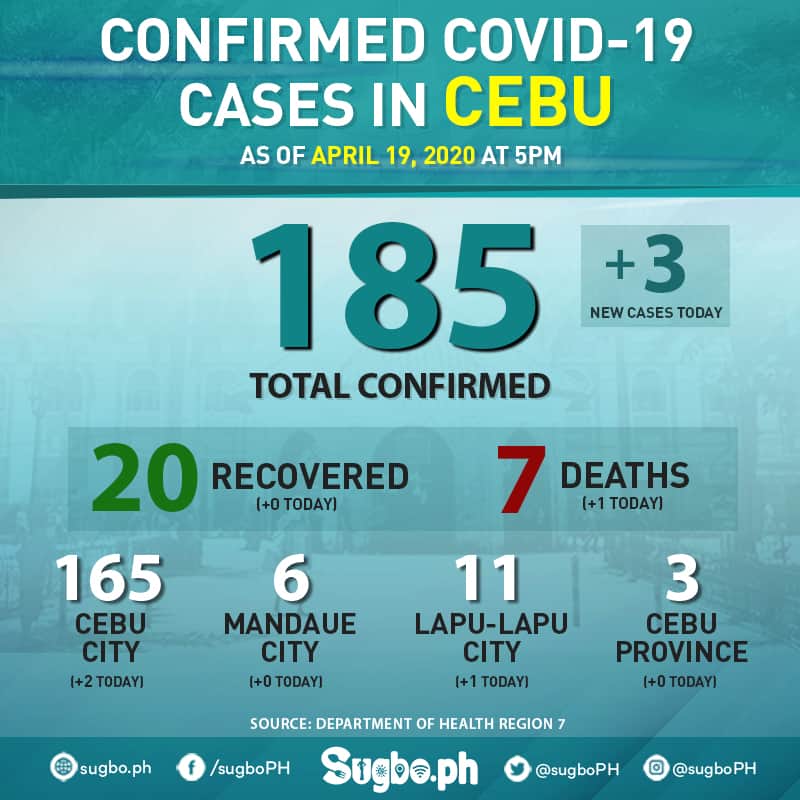 As of April 16, 2020:
As of April 16, 2020 at 5PM, there is now a total of 90 confirmed cases in entire Cebu with 20 recovered patients and 6 deaths.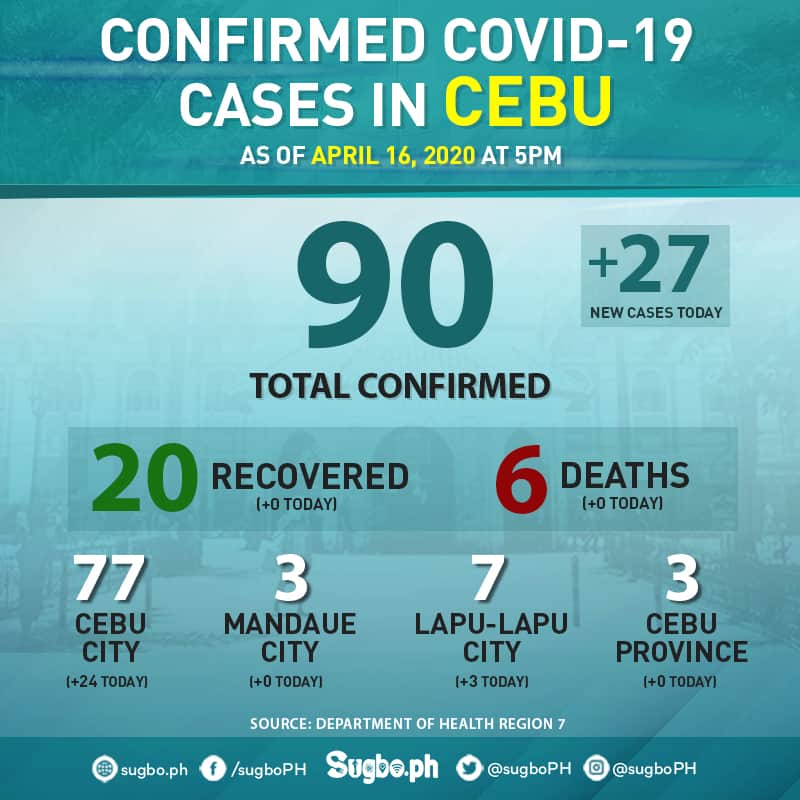 As of April 15, 2020:
As of April 14, 2020 at 5PM, there is a total of 40 confirmed cases in entire Cebu with 20 recovered patients and 6 deaths.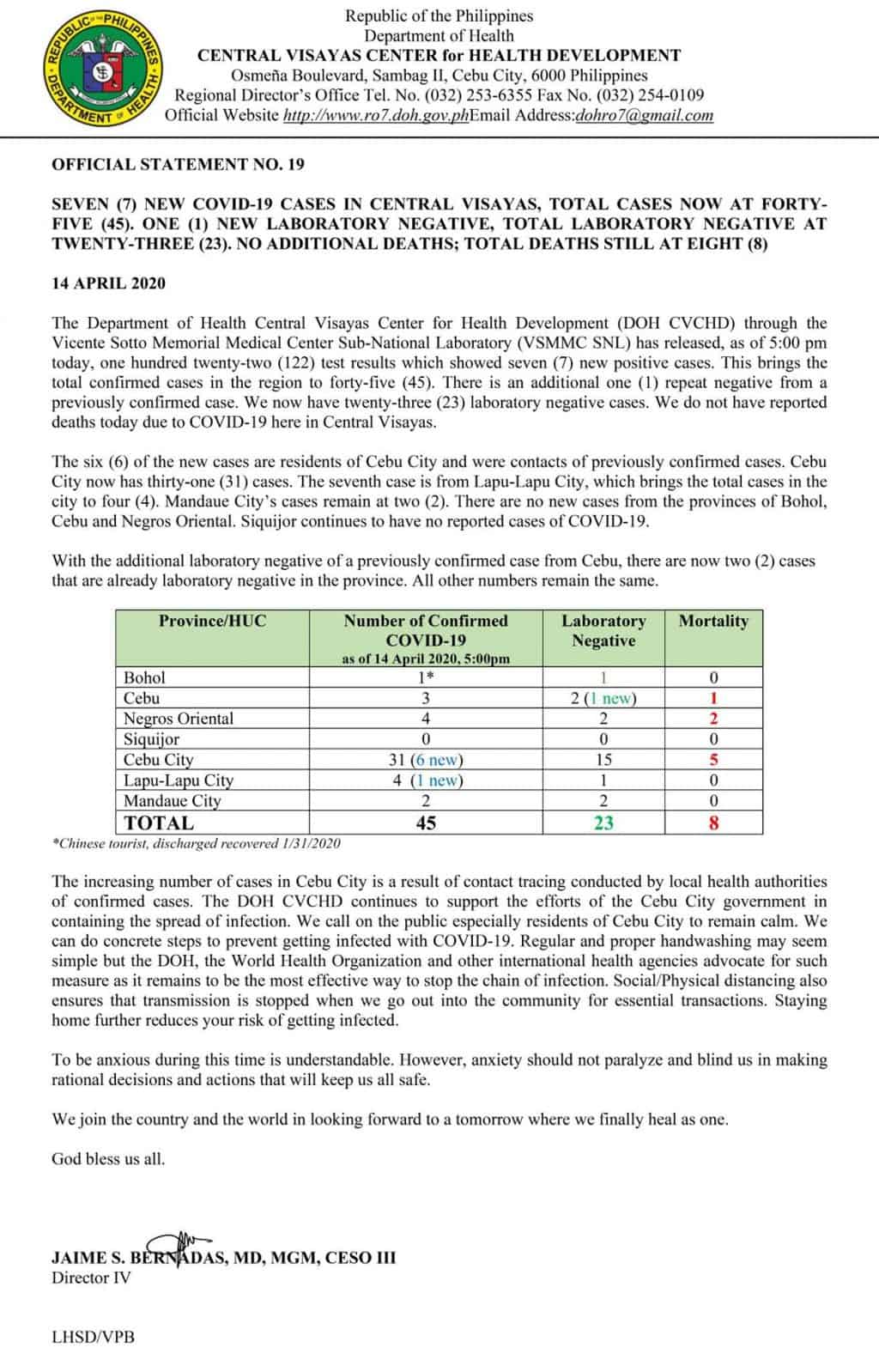 As of April 12, 2020: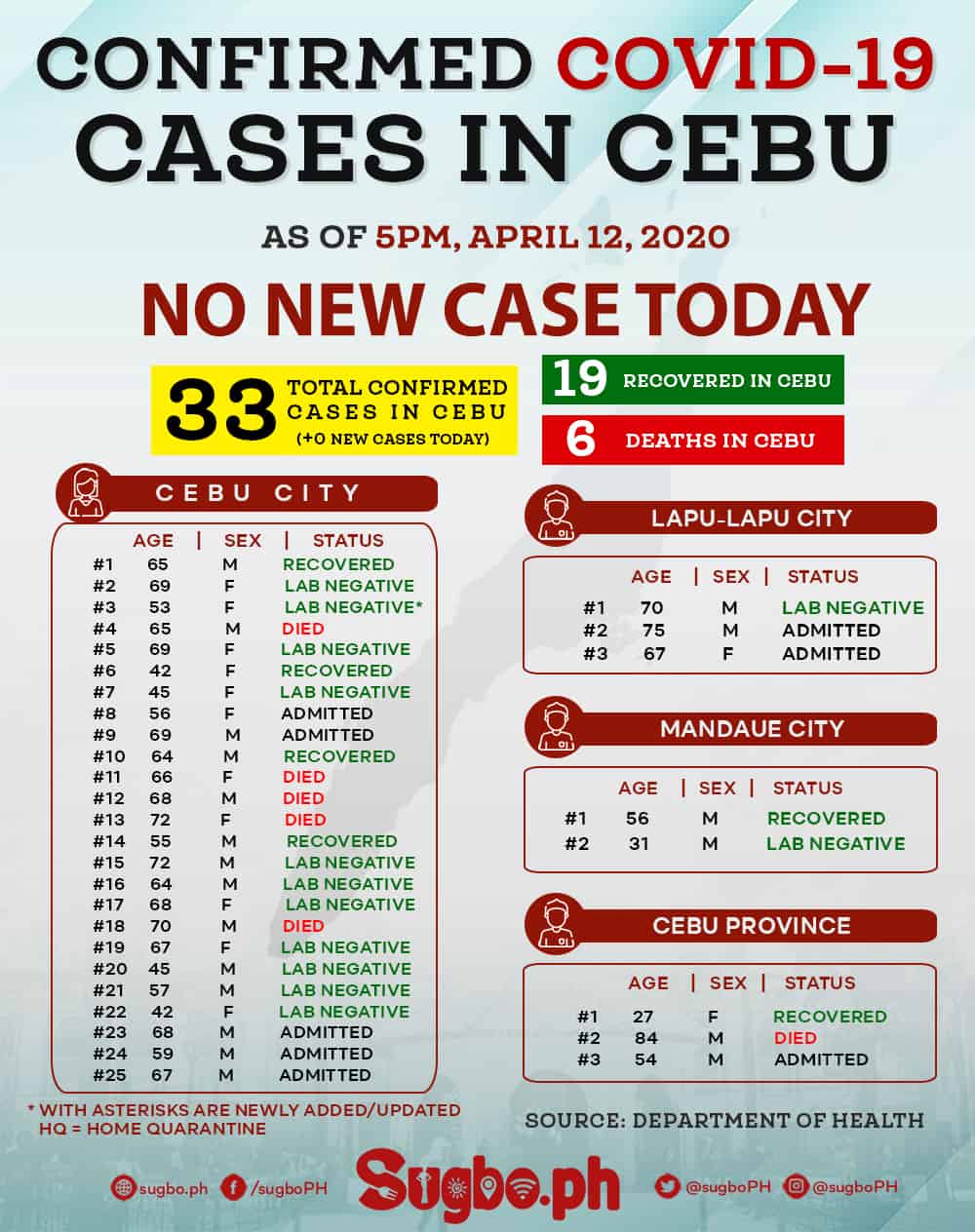 As of March 31, 2020:
As of March 18, 2020: