With the rising cases of COVID-19 in the country, we're so thankful to the local businesses who continue to help us in this trying time.
Another instrument to help in saving humanity is the Chemistry Quanti/Quali Formulation Team of the University of San Carlos – Talamban Campus.
With their combined prowess in mixing and formulating, the team was able to produce 70% Ethyl Alcohol to be distributed to the Talisay District Hospital and Brgy. Linao by Fr. Aleksander Gaut.
With this, they are humbly knocking on your humble hearts to donate any of the following:
95 – 99% ethanol (technical or non-technical grade)
3 – 6% Hydrogen Peroxide
Glycerol
Spray bottles for the alcohol
Bottled Waters (330ML)
As posted by Brenette L. Abrenica, there will be more to come. Please, include them in your prayers so they could help more Cebuanos. Pray for one and all.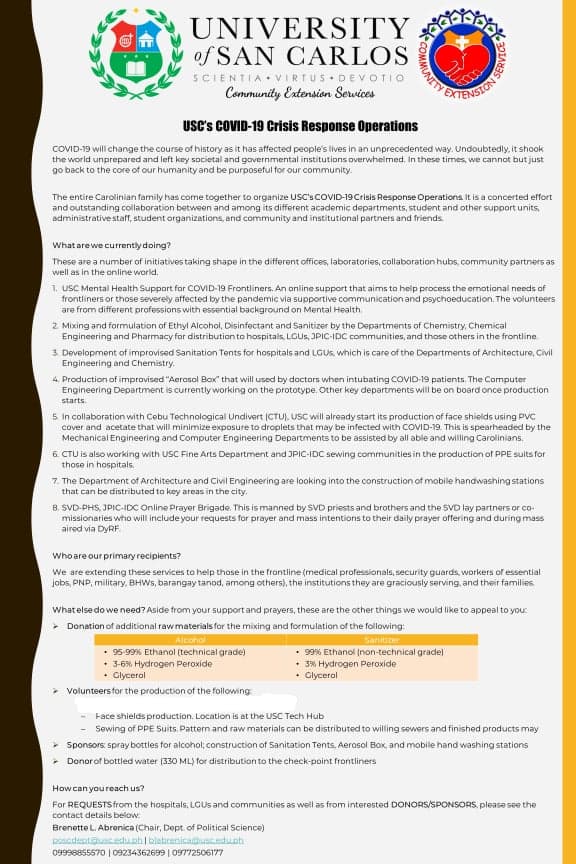 COVID-19 Cebu
As the threat of the Coronavirus 2019 or COVID-19 rises every day, the Cebu province has taken a proactive approach and is pulling all stops in protecting the island. Here's everything you need to know about COVID-19 and its symptoms: https://sugbo.ph/2020/corona-virus-in-cebu/
With this, an Executive Order was issued for the implementation of the drastic but necessary measures to avoid the spread of the virus. For more information, head on to: https://sugbo.ph/2020/cebu-implements-drastic-measures/
If you are sick and think you have symptoms of COVID-19, seek medical attention, call the local Coronavirus Health Information Line for advice: 0922-397-2334 / 0943-568-3298 / (032) 402-3091 / (032) 402-1269.