"The Filipino spirit is stronger together and we will get through this together."
Reading about new private institutions pledging whatever they can to battle with the nation is overwhelming, and then we receive news about doing whatever they can to support the government. There are also brands whom we have been loving, are being one with the whole nation. These news lift a bit of our worries away.
Uniqlo, an international brand of clothing, will also be pledging their own for our frontliners. They will be donating P10 million to the SM Foundation to be used for food assistance and personal protective equipment (PPEs) for our modern day heroes.
With more and more people and companies helping our nation with her combat against COVID-19, may all the pledges be allocated to the rightful people and may more corporations and individuals help us rise from this pandemic.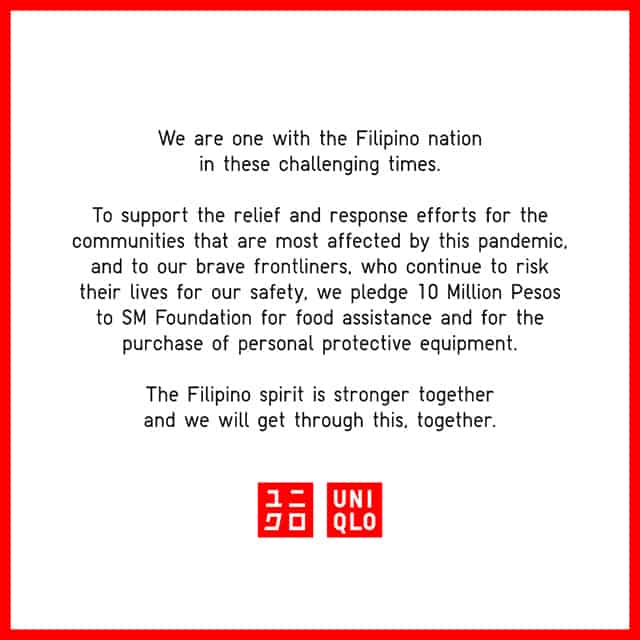 COVID-19 Cebu
As the threat of the Coronavirus 2019 or COVID-19 rises every day, the Cebu province has taken a proactive approach and is pulling all stops in protecting the island. Here's everything you need to know about COVID-19 and its symptoms: https://sugbo.ph/2020/corona-virus-in-cebu/
With this, an Executive Order was issued for the implementation of the drastic but necessary measures to avoid the spread of the virus. For more information, head on to: https://sugbo.ph/2020/cebu-implements-drastic-measures/
If you are sick and think you have symptoms of COVID-19, seek medical attention, call the local Coronavirus Health Information Line for advice: 0922-397-2334 / 0943-568-3298 / (032) 402-3091 / (032) 402-1269.