Cebu is blessed with so many beautiful islands that going to all of them is an ultimate flex and badge of honor. From the dazzling islands of the North to the exciting and adventurous islands of the South, Cebu has tourist destinations wherever you go in every corner. Cebu has also been recognized by many organizations and even the country itself as a tourist destination because of its rich island life and rich culture and history.
However, due to the pandemic, travelling has been put to a halt and the country has put itself into a travelling ban. Travelling can only be done when the purpose of visit is due to work-related reasons if the person is going home to their province, or some other types of urgent matters. Travelling for leisure is not yet possible and should not be as well. Banning travelling is the right thing to do as to not spread the virus and to bend the curve. We can only reminiscent fondly of the memories we have made in the past and put our travel plans aside.
1. Banatayan Island
Bantayan Island in the northern part of Cebu is well known for its white sandy beaches and shimmering blue waters.
The island in itself has many tourist destinations such as Camp Sawi, which is a resort that was largely featured (actually the location of the shooting) in the film Camp Sawi (2016).
Bantayan Island is also a beautiful island to watch the sunset and sunrise over the horizon as you sit on the white sandy beaches. There are even daily rental motorcycles available for a cheap price so that you can go anywhere you go in the island whenever you want.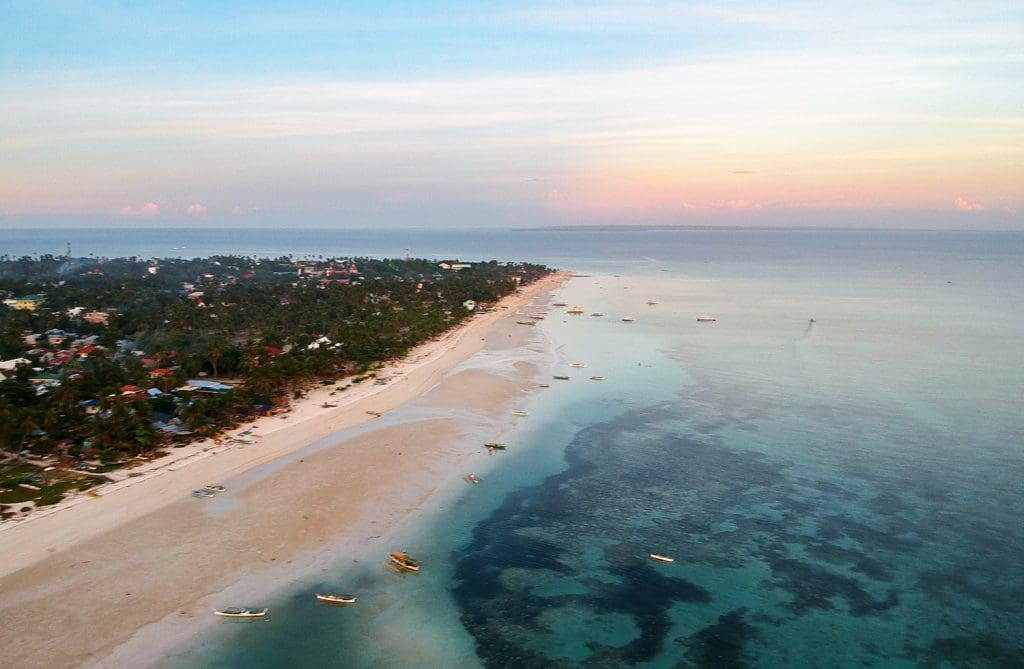 How to get there
Buses that will bring you to Bantayan Island are found at the North Bus Terminal. Take the bus going to Hagnaya. Travel time is approximately 3 hours. From Hagnaya take the Express Ferry Boat to Sta. Fe, Bantayan Island. Travel time is approximately 1-hour ride to Sta. Fe, Bantayan Island. A Ro-Ro vessel from Hagnaya to Santa Fe is also available.
2. Malapascua Island
Malapascua Island is another island in the north of Cebu that has white sand beaches and sparkling blue waters. The island is near to Bantayan Island too.
This island is a very special one because this is the only island in the entire world where you can swim along with thresher sharks on a daily basis. It is a diver's heaven because it has lots of colorful fishes aside from the sharks.
The locals are very friendly and the island also has other points of interest such as a nearby ship wreckage.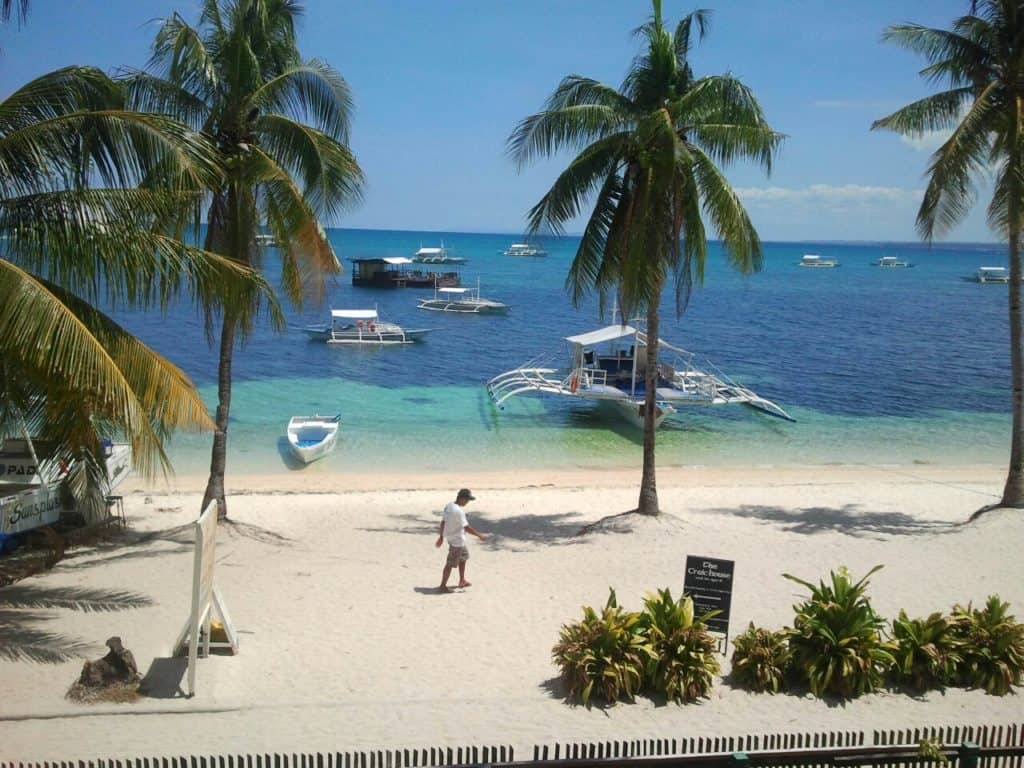 How to get there
Exact Location: Bounty Beach, Malapascua Island, Daanbantayan, Cebu — 4 hours away from Cebu City, and 30 minutes away from Maya Port.
BY BUS AND FERRY: From the Cebu North Bus Terminal, ride a bus going to Maya/Bagay. It will drop you off at Maya Port. Bus fare is around ₱150 per head, travel time is 3-4 hours. From the port, ride a ferry boat going to Malapascua Island. Boat fare is ₱100 per head, travel time is around 45 minutes. Boats ply every 30 minutes from 6:30AM to 4:30PM only.
PARKING: If you're bringing your own car, you have to leave it in the mainland near Maya Port. Look for 'Sugbo Maya' or any private property where you can park for ₱100-150 per day.
3. Carnaza Island
Carnaza Island is another island in the north that is worth a visit. It is a turtle-shaped island with white sand beaches and blue waters just like the rest of the islands of the north.
One of the main attractions of the island is the Carnaza Eco Park which has fancy wooden tents good for two people with a white sandy beach nearby, making it a perfect date with your partner.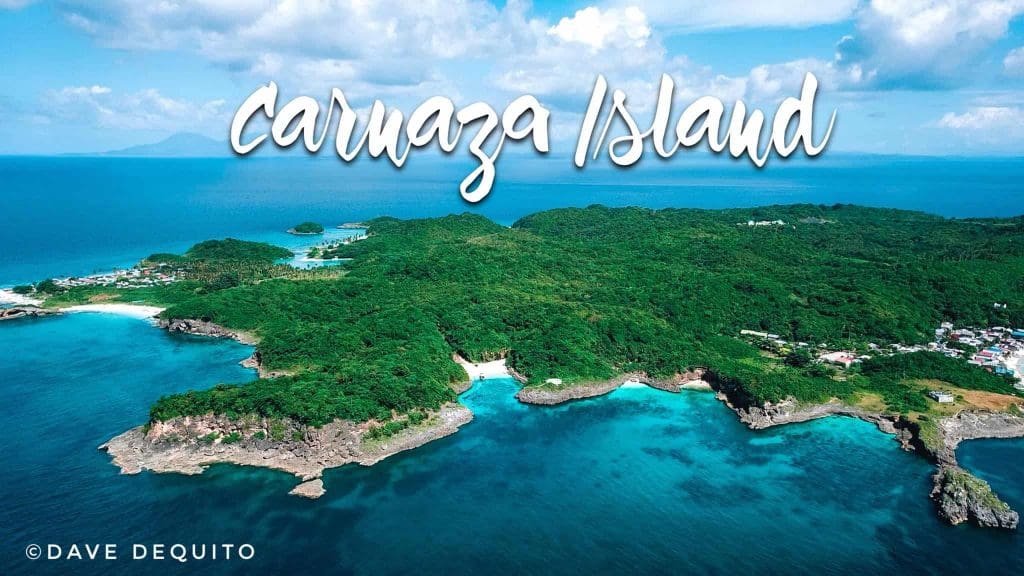 How to get there
Head on to Cebu North Bus Terminal and ride the bus bound for Maya-Bagay or you can simply ask and conductor around the bus terminal and tell them that you're going to Tapilon Port. Travel time is around 4 hours and fare is ₱212 (airconditioned bus). Take the first trip if you'll be only doing day tour in Carnaza Island.
Once you arrive at Tapilon Port, ride a boat going to Carnaza Island (₱150 per way). First trip is at 7am-10am but it would actually depend on the condition of the sea. When we got there its low-tide, so the first trip will be at 10am and departs by 1pm. So we rented a pump boat instead (since were only doing a day tour) for ₱7,000 roundtrip it can carry around 25-30 people. Tapilon Port to Carnaza Island travel time is 2 hours.
4. Olango Island
Olango Island is a hidden treasure among the islands of the Philippines as not many tourists go here.
Olango Island is home to its prestigious bird sanctuary with a long pathway composed of stepping stones surrounded by the cold waters. It also has the Marine Sanctuary which has a long wooden bridge going to the middle of the sea which you can dive in to see vivid colorful fishes.
How to get there
Exact Location: Sitio Sabang, Barangay Asinan, Olango Island, Lapu-Lapu City — approx. 2 hours away from the city.
BY JEEPNEY: Ride any jeepney to SM City Cebu. From there, you can ride a 01K jeepney (near Sun Gold) going to Parkmall or if you are from Cebu City, you can ride 01K jeepney from Emall. When you get to Parkmall, ride a jeepney heading to Soong and drop off at Angasil port beside Movenpick Hotel. Fare is around ₱20 per person. Upon arrival, look for a boat towards Olango Island. Boat Fare is around ₱15 for a one-way trip.
5. Camotes Islands
Known as the "Lost Horizon of the South", the Camotes Islands are a group of islands found in the Camotes Sea. The islands also have white sandy beaches and clear blue seas perfect for taking a leisurely swim.
The islands also pride itself in being budget-friendly. The islands have many points of interests composed of the beaty of nature such as naturally formed caves, falls, and lakes.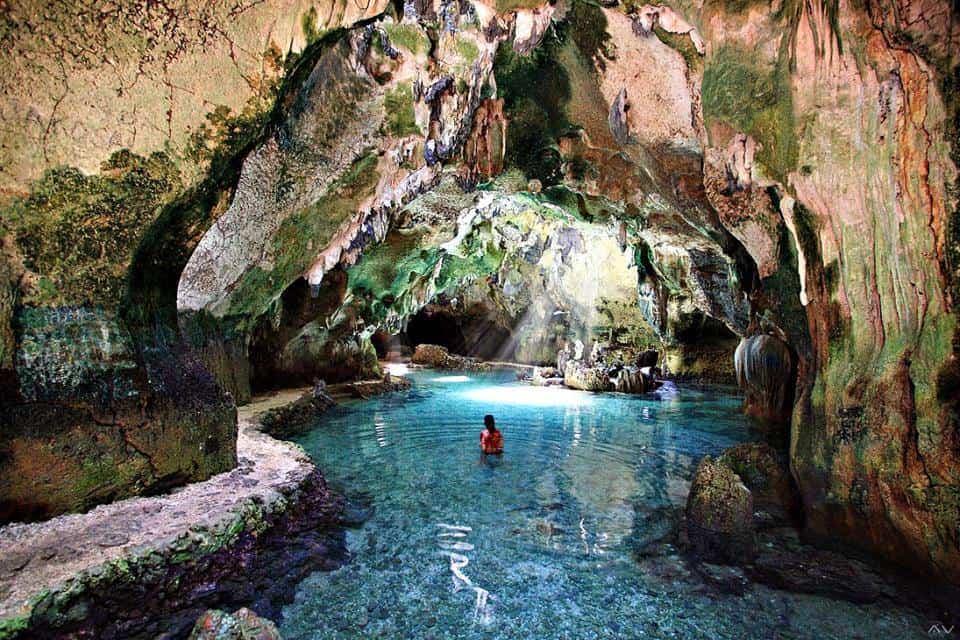 How to get there
You have three (3) options going to/from Camotes Islands:
OPTION 1: OCEANJET FAST CRAFT
– Travel Time: 1 hour and 30 minutes
– Cebu Port: Pier 1, Cebu City
– Camotes Port: Poro, Camotes
– Advantages: Take this option if you want to arrive faster, and you live/stay near Pier 1 or SM City Cebu or you're from Southern Cebu.
OPTION 2: JOMALIA RORO/EXPRESS
– Travel Time: 2 hours
– Cebu Port: Danao City Port
– Camotes Port: Consuelo, Camotes
– Advantages: Take this option if you want to save 50% on transportation, if you're willing to travel or you're from/near Danao City.
OPTION 3: JOMALIA FAST CRAFT
– Travel Time: 1 hour and 15 minutes
– Cebu Port: MACTAN WHARF of Island Central Mactan Mall
– Camotes Port: Consuelo, Camotes
– Advantages: Take this option if you want to arrive faster, and you live/stay near Mactan.