To ensure the availability of food and a household's access to it, the Mandaue City Government thru the City Agriculture Office are giving out FREE SEEDS and SEEDLINGS of different vegetables.
This seeds can be planted in the comfort of your own homes even if you have a small area via URBAN / CONTAINER GARDENING.
SEEDS:
Kangkong
Okra
Batong ( string beans)
Talong ( Eggplant)
SEEDLINGS:
How to avail?
This is only available to all residents of Mandaue City.
To avail of the free seeds and seedlings, you may visit the Mandaue City Agriculture Office ( 9am to 2pm) at the Department of Agriculture compound, across Pacific Mall Mandaue.
Available seeds & seedlings: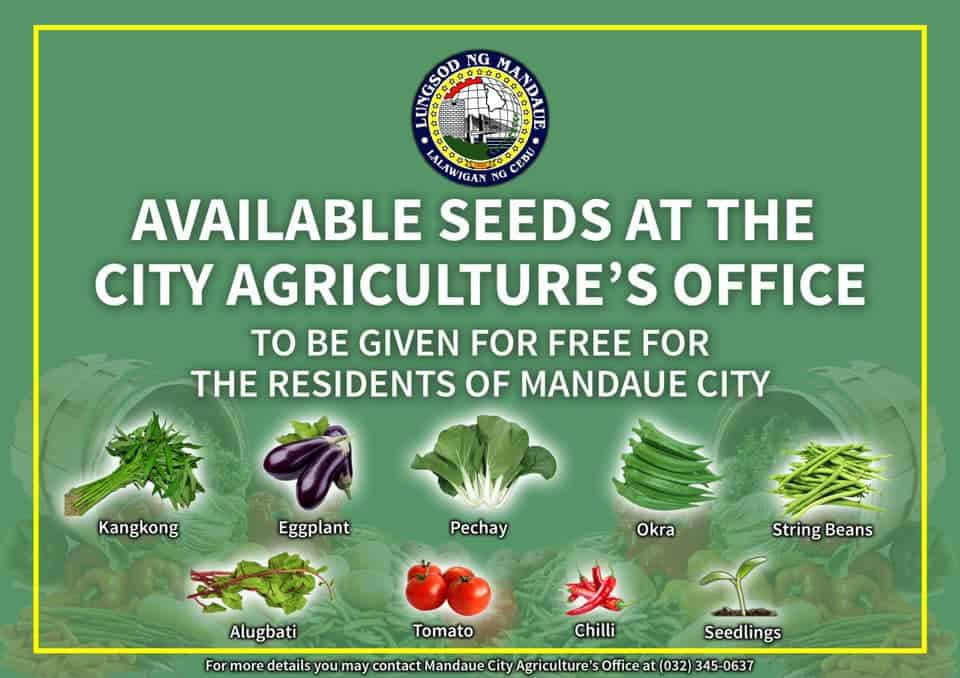 Gardening ideas:
Eat healthy and be healthy, Sugboanons. Keep safe.
COVID-19 Cebu
As the threat of the Coronavirus 2019 or COVID-19 rises every day, the Cebu province has taken a proactive approach and is pulling all stops in protecting the island. Here's everything you need to know about COVID-19 and its symptoms: https://sugbo.ph/2020/corona-virus-in-cebu/
With this, an Executive Order was issued for the implementation of the drastic but necessary measures to avoid the spread of the virus. For more information, head on to: https://sugbo.ph/2020/cebu-implements-drastic-measures/
If you are sick and think you have symptoms of COVID-19, seek medical attention, call the local Coronavirus Health Information Line for advice: 0922-397-2334 / 0943-568-3298 / (032) 402-3091 / (032) 402-1269.