We couldn't be any happier for the immense blessings we've been receiving from foundations and individuals alike to aid us in this trying time.
The Cebu Korean Association (CKA) donated five ambulance units worth P10 million to the Cebu Provincial Government on March 24, 2020.
These units are equipped with:
stretchers
spiral fixation device
suction control
vehicle sterilizer
sphygmomanometer
two 10-liter oxygen tanks
emergency treatment bag
defibrillator
nebulizer
blood glucose meter
manual resuscitator
oxygen mask
suction catheter
stethoscope
With the pandemic we are facing today, these ambulance units will surely help the province respond and transport patients from the remote areas in the province to the city.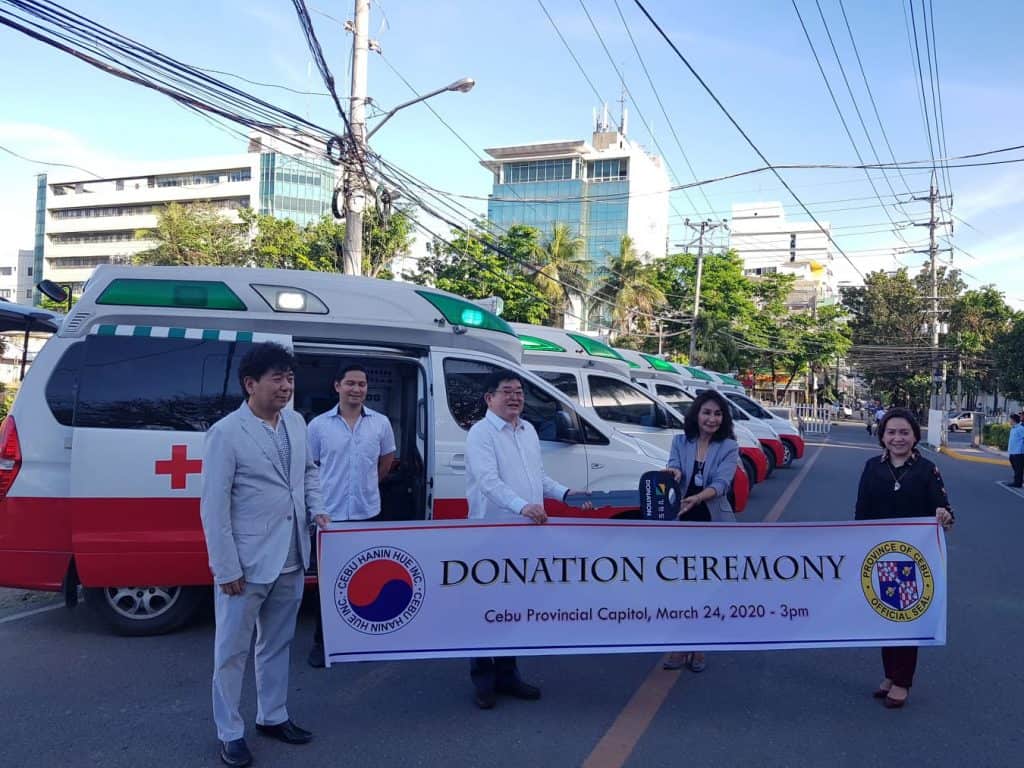 Gov. Gwendolyn Garcia expressed her gratitude for the donation and her admiration to the South Korean government for having been able to manage the COVID-19 outbreak.
She also stressed how the government of Cebu has also battled against the virus.
"I just want to assure the Cebuanos that the government has put in place response measures like travel restrictions and strict border controls, social distancing, mass gatherings, among others,"

Garcia said.
The ambulance units will also be sent to the four provincial hospitals which cater patients from the 12 district hospitals in Cebu.
Though the donation of these ambulance units were already planned prior to the COVID-19 outbreak, Bonghwan Cho, president of CKA said that they had to fast-track the donation because of the crisis. With this, Cho mentioned that the CKA will help Cebu in the combat against this pandemic.
"The Cebu Korean Association love Cebu and together we will work in fighting this virus and support each other,"

– Bonghwan Cho, president of CKA
COVID-19 Cebu
As the threat of the Coronavirus 2019 or COVID-19 rises every day, the Cebu province has taken a proactive approach and is pulling all stops in protecting the island. Here's everything you need to know about COVID-19 and its symptoms: https://sugbo.ph/2020/corona-virus-in-cebu/
With this, an Executive Order was issued for the implementation of the drastic but necessary measures to avoid the spread of the virus. For more information, head on to: https://sugbo.ph/2020/cebu-implements-drastic-measures/
If you are sick and think you have symptoms of COVID-19, seek medical attention, call the local Coronavirus Health Information Line for advice: 0922-397-2334 / 0943-568-3298 / (032) 402-3091 / (032) 402-1269.