Cebu City — other areas in Cebu not included — has recorded seven (7) new confirmed cases of COVID-19 today, April 21.
This is based on the latest report from Cebu City Mayor Edgar Labella. He also disclosed the breakdown of the confirmed cases; 1 from Fishport, Brgy. Suba; 2 from Cebu City Jail (Admitted); 2 from San Antonio, Calamba (Admitted); 1 from Katipunan, Labangon (Admitted) and 1 from Hipodromo (Admitted).
As of today, April 21, 2020, Cebu City now has a total of 173 confirmed COVID-19 cases with 6 deaths and 15 recoveries.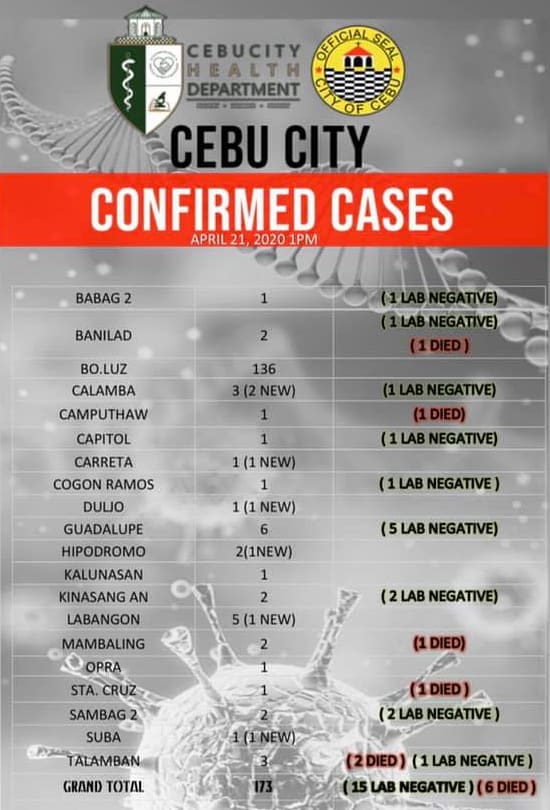 DOH-7 has yet to submit the official report for today that includes updated records for Central Visayas, including other cities in Cebu.
Sugboanons, let's do our part. Stay at home, practice good hygiene and follow the authorities.
COVID-19 Cebu
As the threat of the Coronavirus 2019 or COVID-19 rises every day, the Cebu province has taken a proactive approach and is pulling all stops in protecting the island. Here's everything you need to know about COVID-19 and its symptoms: https://sugbo.ph/2020/corona-virus-in-cebu/
With this, an Executive Order was issued for the implementation of the drastic but necessary measures to avoid the spread of the virus. For more information, head on to: https://sugbo.ph/2020/cebu-implements-drastic-measures/
If you are sick and think you have symptoms of COVID-19, seek medical attention, call the local Coronavirus Health Information Line for advice: 0922-397-2334 / 0943-568-3298 / (032) 402-3091 / (032) 402-1269.