STAY AT HOME — this is what the Department of Health (DOH) strongly advise the public to stop the spread of Corona Virus 2019 or COVID-19 as it continues to rise every day.
With this, most municipalities in Cebu have announced the closure of some tourist spots, establishments and resorts. For your easy reference, here is the list of attractions that are temporarily closed until further notice.
Oslob
Whale Shark Activity Area
Tumalog Falls
Sumilon Island
Badian
Kawasan Falls
Canyoneering
Tabuelan
Maravilla public beach
ALL public & private beach resorts in Tabuelan
As of this writing, the municipalities of Balamban, Dalaguete, Daanbantayan, Bantayan Island, San Remigio, and Alcoy have not yet announced the closure of popular tourist attractions in their area.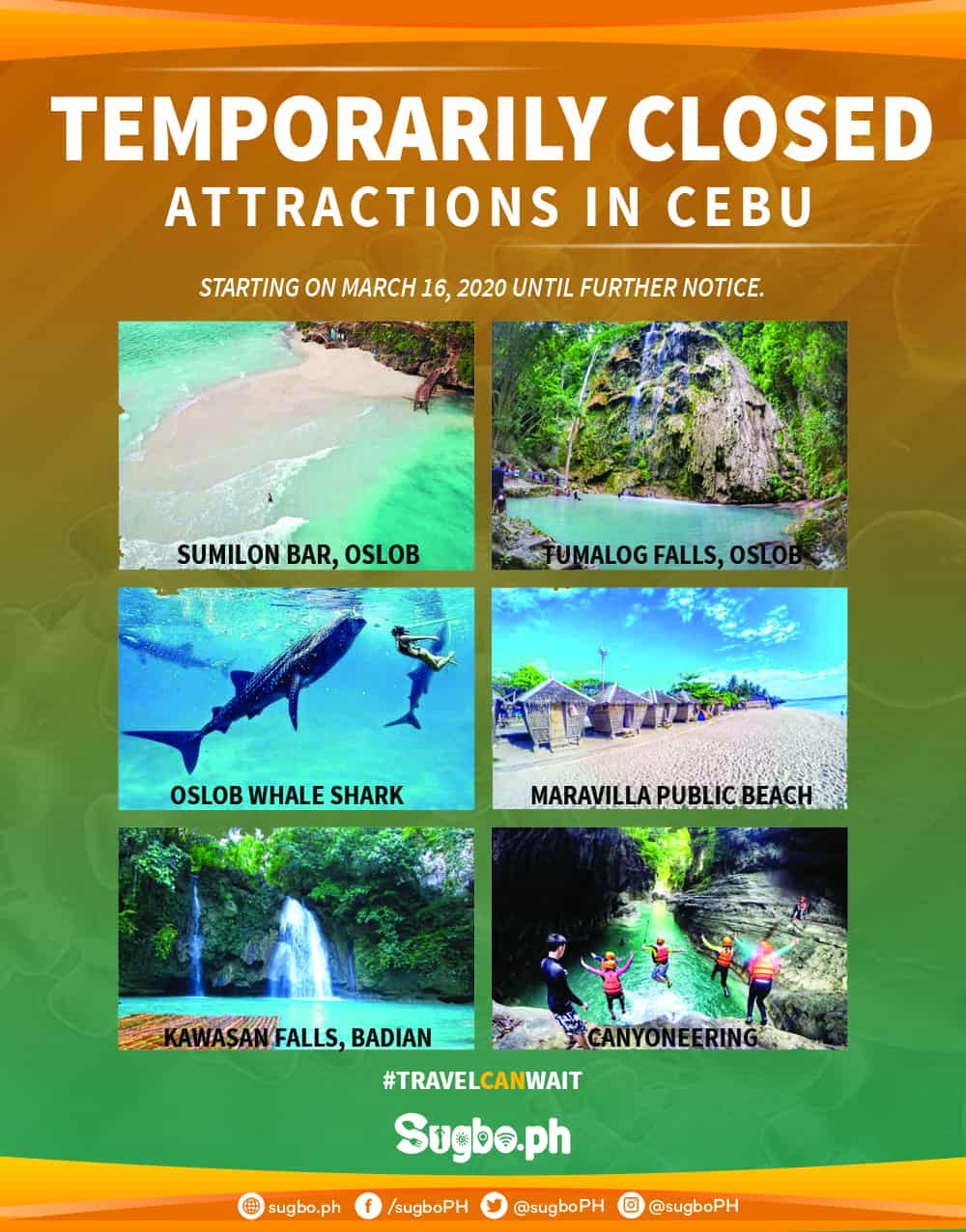 Major Attractions in Cebu
Meanwhile, here are the temporary operating hours and/or social distancing implementations of major attractions in Cebu:
Anjo World Theme Park
Temporarily CLOSED until further notice.
WaterWorld Cebu
WaterWorld Cebu recently announced the temporary CLOSURE of the whole park, starting on March 16 until further notice.
Cebu Safari and Adventure Park
Temporarily CLOSED until further notice.
Cebu Ocean Park
(UPDATED) Temporarily CLOSED until further notice.
COVID-19
As the threat of the Coronavirus 2019 or COVID-19 rises everyday, and with 98 confirmed cases (as of this writing) here in the Philippines, the Cebu province has taken a proactive approach and is pulling all stops in protecting the island. Here's everything you need to know about COVID-19 and its symptoms: https://sugbo.ph/2020/corona-virus-in-cebu/
With this, an Executive Order was issued for the implementation of the drastic but necessary measures to avoid the spread of the virus. For more information, head on to: https://sugbo.ph/2020/cebu-implements-drastic-measures/
If you are sick and think you have symptoms of COVID-19, seek medical attention, call the local Coronavirus Health Information Line for advice: 0922-397-2334 / 0943-568-3298 / (032) 402-3091 / (032) 402-1269. OR, go directly to the nearest hospital or medical center or see a doctor and seek medical attention.