The Philippines has just reached its largest single-day increase in CoVID-19 cases reported Monday, March 23, 2020.
The Department of Health recently announced 82 new positive cases of the novel coronavirus. With this, we now have a total of 462 cases within the Philippines.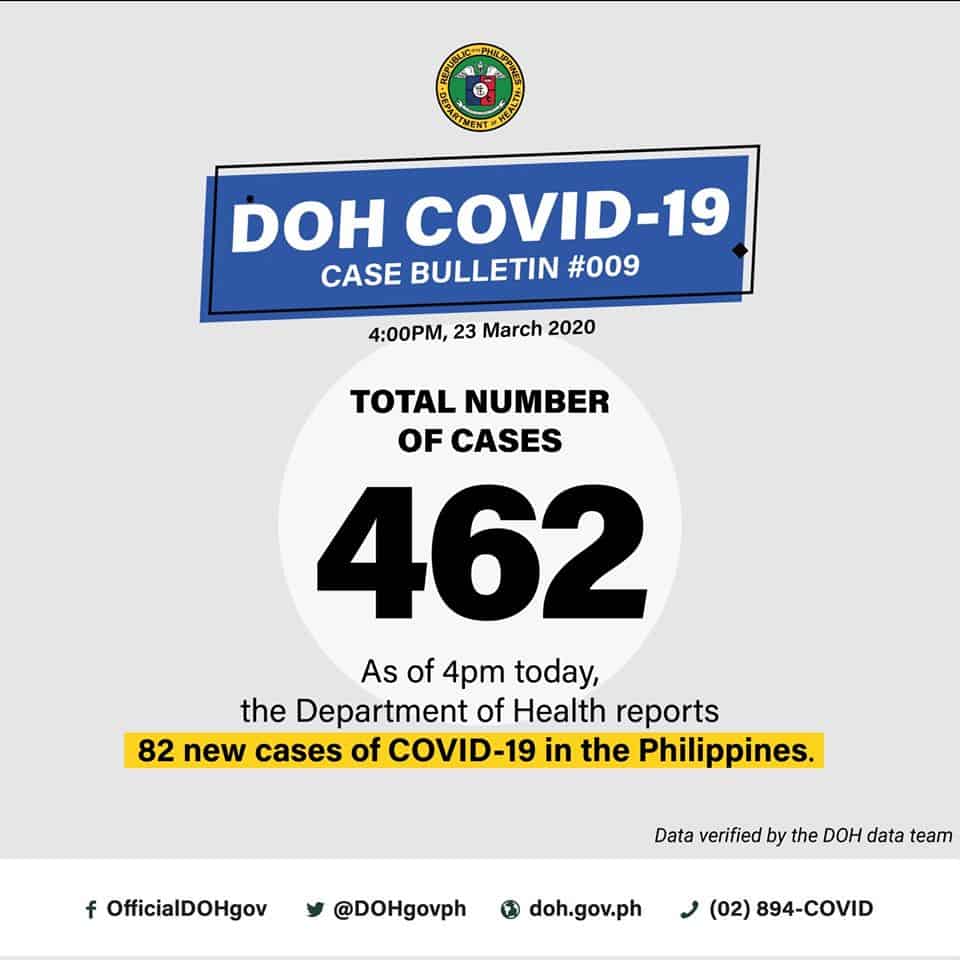 This sudden rise in the confirmed COVID-19 cases is mostly due to the following factors:
More tests being conducted after the Philippines received thousands of test kits from various donors
Approved test kits through the Food and Drug administration have been increased from four to eight over the past week.
DOH also approved four testing laboratories, moving from the initially centralized testing at the Research Institute for Tropical Medicine
The Philippines has taken great lengths to contain the spread of the virus like Luzon being placed under "Enhanced Community Quarantine", Cebu in a community quarantine, along with other cities, provinces and islands of the country.
Employees were encouraged to work from home, social distancing was practiced, and social gatherings were also prohibited — despite all these precautionary measures, the real number of infections in the Philippines is still not known.
With this, there is now a call to conduct mass testing to determine the extent and rate of infections in the country.
COVID-19 Cebu
As the threat of the Coronavirus 2019 or COVID-19 rises every day, the Cebu province has taken a proactive approach and is pulling all stops in protecting the island. Here's everything you need to know about COVID-19 and its symptoms: https://sugbo.ph/2020/corona-virus-in-cebu/
With this, an Executive Order was issued for the implementation of the drastic but necessary measures to avoid the spread of the virus. For more information, head on to: https://sugbo.ph/2020/cebu-implements-drastic-measures/
If you are sick and think you have symptoms of COVID-19, seek medical attention, call the local Coronavirus Health Information Line for advice: 0922-397-2334 / 0943-568-3298 / (032) 402-3091 / (032) 402-1269.