We've been going back in time lately, haven't we?
In a recent article, we covered some of our favorite candies as kids growing up in Cebu. It was a delightful and sweet trip down memory lane – but now, as we shift our focus towards the city where we enjoyed these treats itself, a different kind of longing emerges.
In an ever-changing city that transforms each passing year, there are places that have vanished with only the remnants of a vibrant past being left by the tide of progress.
Let us embark on a new journey of remembrance and rediscover some places we miss very much in Cebu, from the familiar haunts we used to frequent as kids to the iconic landmarks that shaped the city's identity.
1. The New White Gold House
Along the route to SM City Cebu, there stands a captivating establishment that we always used to stare at whenever we passed by it.
Known as the New White Gold House, this Oriental fine dining restaurant has stood as a nostalgic site, catching the eyes of passersby and letting their imagination run.
Step inside, and you would be transported back to the 70s, a trip to Imperial China.
The building reflects Chinese interior design, with the culinary offerings being equally enchanting, with delectable dishes that tantalize the taste buds and transport guests to an authentic Chinese dining experience.
Over the years, the New White Gold House has been the backdrop for numerous wedding receptions, ceremonies, and joyous celebrations, solidifying its place in Cebu's cultural landscape.
It stands as a living testament to the enduring beauty and profound influence of Chinese culture in the heart of Cebu.
2. Royal Concourse
Next on our list we have another eatery that was also a witness to several accounts of cherished memories.
Royal Concourse holds a special place in the hearts of Cebuanos.
It stood as a family-friendly and go-to buffet due to its cheap price and good food. Back then, people would always make a mental note to get there early to catch their sumptuous crispy pata and pochero. It was the perfect venue for numerous events and has left an indelible mark on the community.
As locals reminisce over old photos and share their heartfelt stories, the spirit of Royal Concourse lives on.
Though its doors may be closed, the memories and experiences it provided will continue to be treasured, reminding us of a time when gathering around a table brought joy and togetherness to families in Cebu.
3. Luzon Lumber
Where One Central Hotel now stands, once stood the perfect place to buy pre-cut plywood for construction needs.
Luzon Lumber stands out for its rustic architecture that sticks out next to the modern establishment that is Elizabeth Mall.
As kids, we would always think that this place was a haunted house – but this did not stop us from checking out the comics and newspapers that were placed on stands near its entrance.
Turns out it was just a place to purchase woodworking materials. Simple, but cherished by many.
4. EMSU Hotel
There is a lone McDonald's in Arlington Pond St. along Fuente Osmeña, that is below this creepy building filled with holes.
Standing idly on top of the lone tenant is what was supposed to be EMSU Hotel. It has a unique design that catches the attention of the people who make their way to the circle.
The building has been around for decades – why the construction stopped? Some say it's a family feud, some say it's an intra-corporate feud. But no one knows for sure.
I guess this building can only serve as a reminder of what could've been.
5. Sunburst – Legaspi Branch
After attending a mass in the Basilica, just around the church is a Sunburst branch that is tucked away in a little corner that many of us thought was always the perfect place to grab a bite.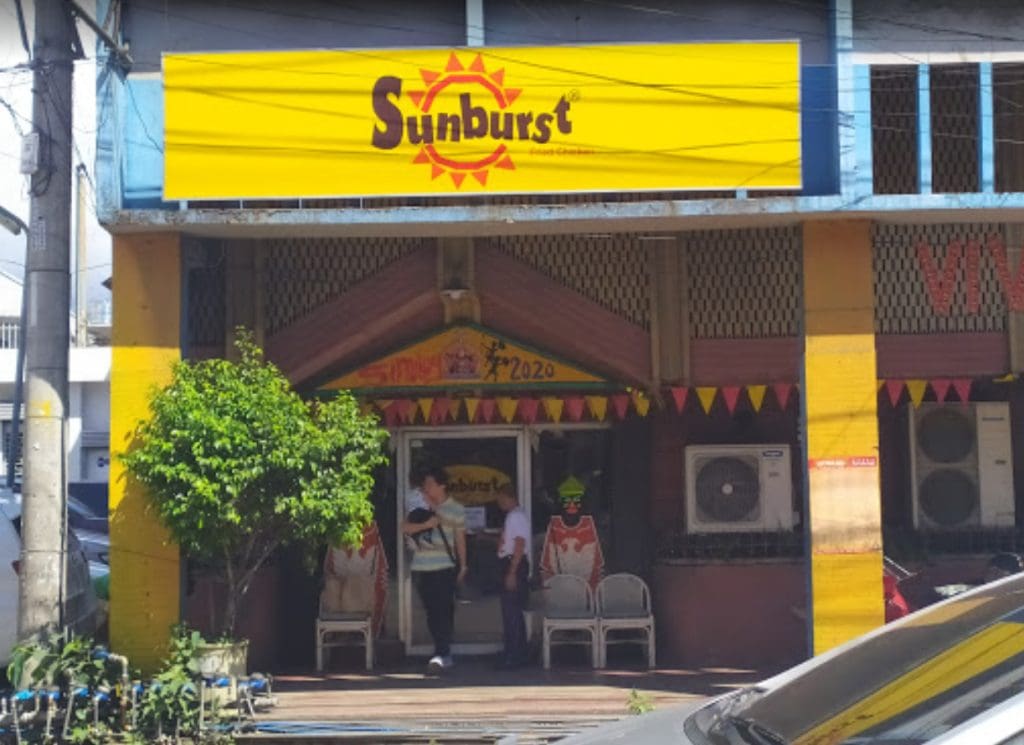 Sunburst is beloved by Cebuanos for its savory chicken, so this is no surprise.
With a scent so strong when you passed by, you just had to enter and give in to the enticing aroma and give up a few hundred pesos because you could already taste the food.
First opened in 1976, the branch recently closed its doors after almost 50 years of service back in 2020.
Oh how I miss eating lunch with my grandparents here. So many people must have had good memories here for sure.
Well, at least we can keep the memories alive in our heart no matter how much this city changes.
We will find solace in nostalgia and look at the bright side – we will hold onto these memories, the bittersweet reminders of what once was, as we continue to embrace the fast-paced Cebu and create new moments that will be cherished by generations to come.