Looking for activities to liven up your feelings this upcoming Sinulog season even more? That wouldn't be a problem with all the festivals and parties that have been prepared for the celebration.
It may be religious, such that it aims to honor the Sr. Santo Niño, but the festivity also comes with the concerts and parties that make it known for what it is. Some of these parties include the exciting music festivals listed down below: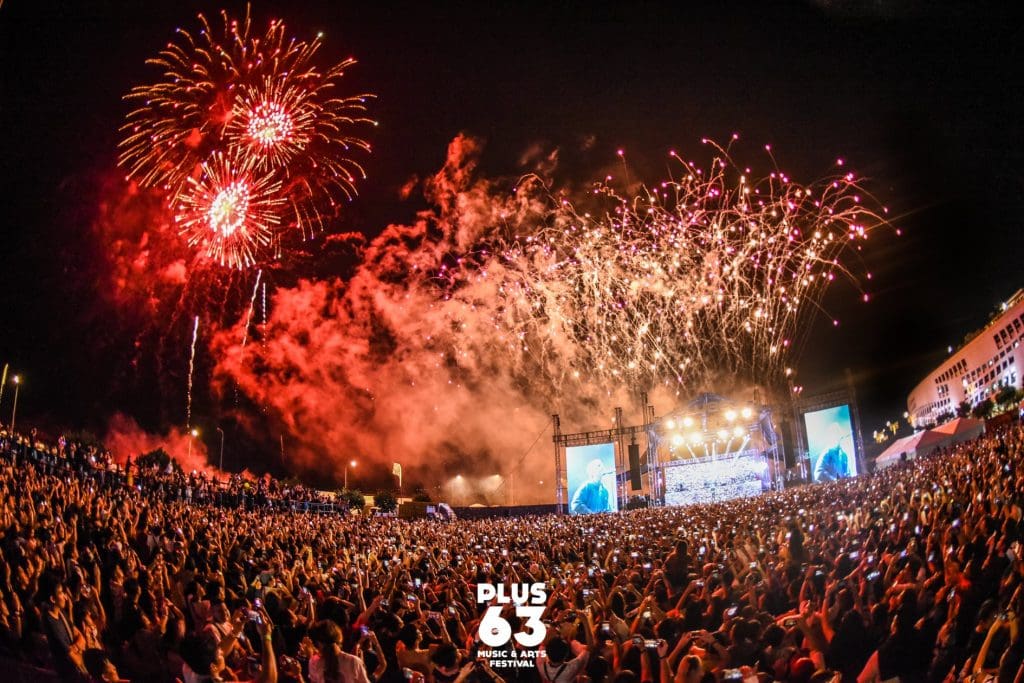 1. VERVE SINULOG FESTIVAL
If there's another best thing about Sinulog, it is definitely the exciting parties. And speaking of parties, one of the biggest Sinulog parties makes a big comeback. Rave returns with an international and local artists lineup at the Verve Music Festival.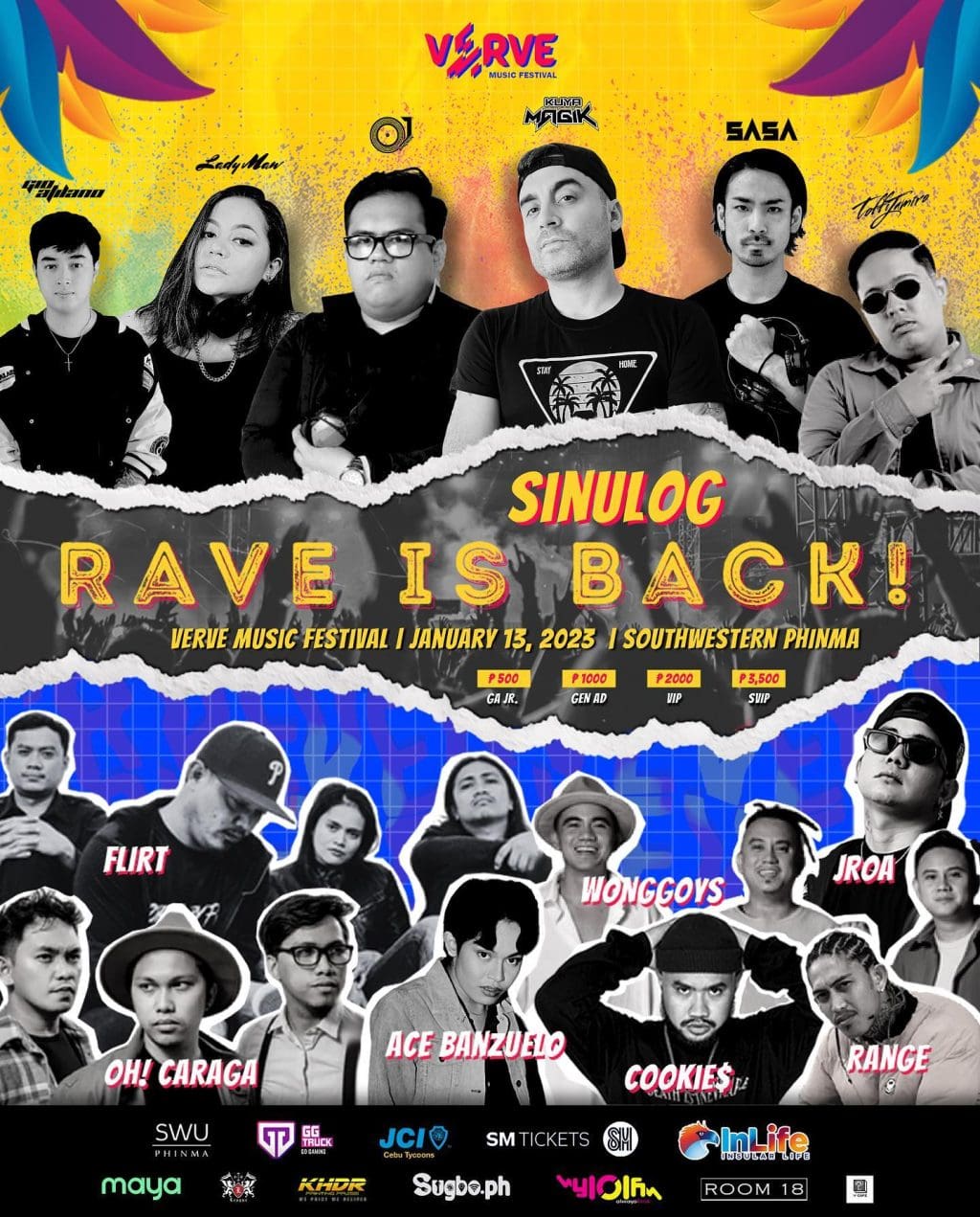 When: January 13, 2023, 12 Noon – 2:00 AM
Who: Via Chan, Will Sparks, Brooklyn, Victor Jao, Kuya Magik, and more.
Where: Southwestern PHINMA in Cebu City
TICKET PRICES
Gen Ad Junior: P400
Gen Ad: P1,000

Near stage standing area
Access to the activity area.

VIP: P2,000

Early Entry (soundcheck pass)
Exclusive VIP lounge
Access to the activity area

SVIP: P3,500

With roofing, elevated area
Early Entry (Soundcheck pass)
Exclusive VIP lounge
Exclusive food and drink selection
Access to the Activity area
WHERE TO BUY THE TICKETS?
Tickets are sold at Verve's official partner bars, schools, SM tickets, and ticketnationsph.
More details here: https://sugbo.ph/2023/verve-music-festival/
2. CARELESS' WAVY BABY MUSIC FESTIVAL
The Careless Music Festival, or Wavy Baby Music Festival, will take place on January 13 and 14, 2023, at Mandaue City's North Reclamation Area. SUMNI, PINK SWEAT$, The Rose, Destiny Rogers, bagraiders, DJ Yultron, James Reid, SOS, August Wahh, Ben&Ben, December Avenue, Lesha, Urbandub, Franco, Massiah, The Sundown, and more artists will be included in the first edition.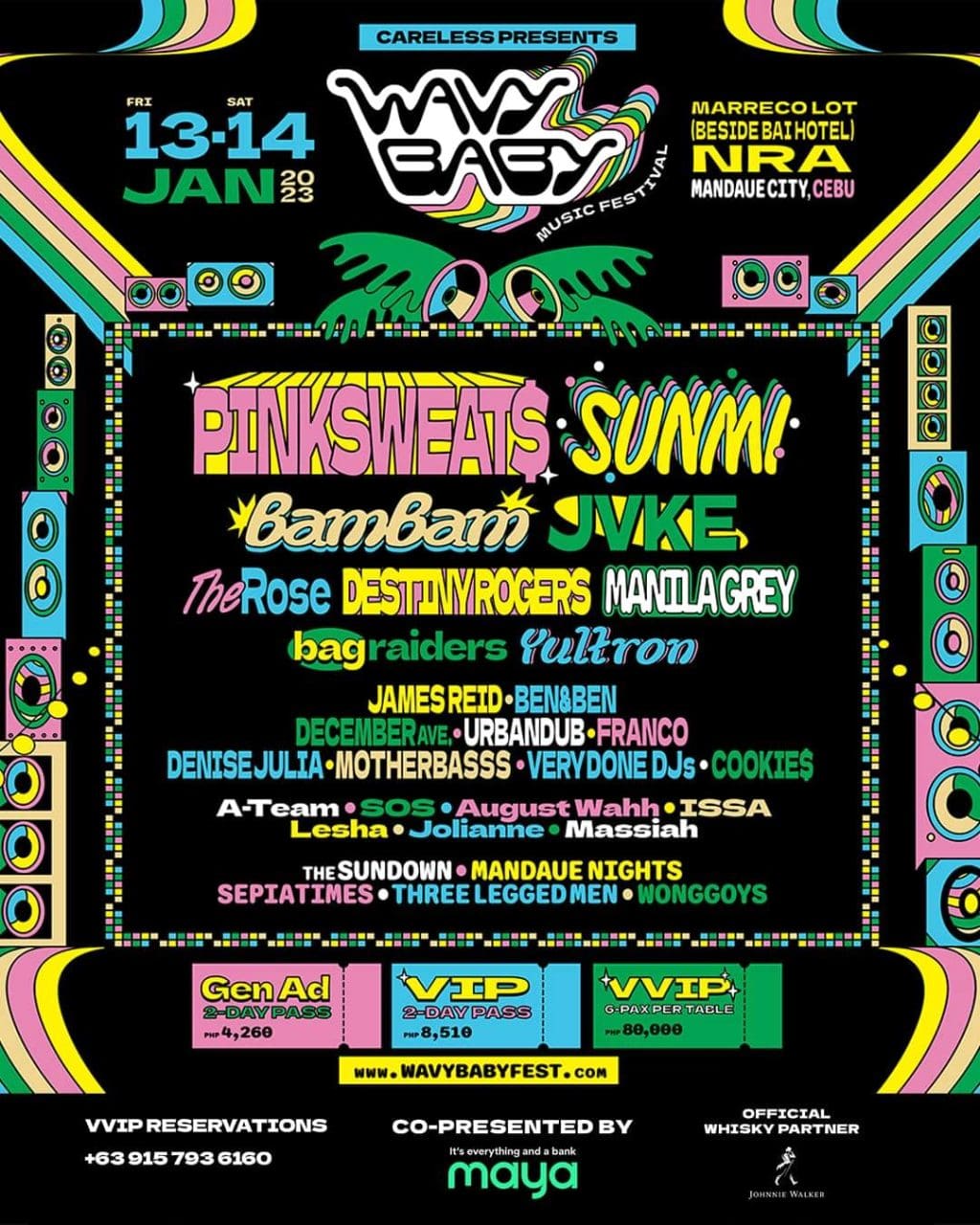 TICKET PRICES:
Gen Ad: P4,260 (good for 1 person with a 2-day pass)
VIP: P8,510 (good for 1 person with a 2-day pass)
VVIP: P80,000 (with a table good for 6 persons with a 2-day pass)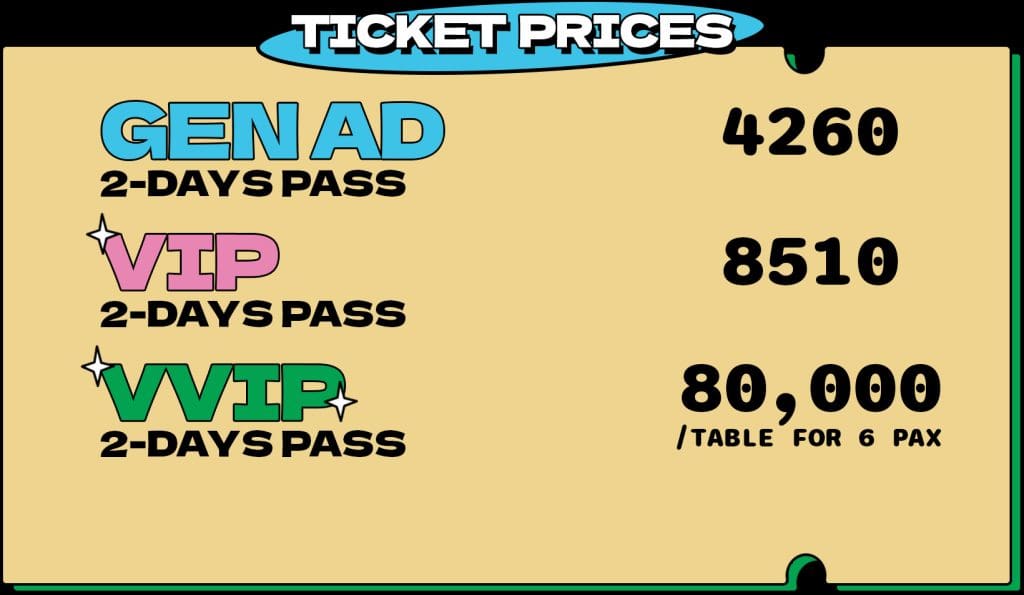 EVENT DETAILS
3. SMF: SINULOG MUSIC FESTIVAL
The Sinulog Music Festival, a three-day extravaganza with a Woodstock theme, will take place from January 13–15, 2022. A 10-hour music dance will follow a 40-hour marathon of music spanning a variety of genres and musicians. After a two-year pause due to the epidemic, it seeks to revive Sinulog in the Cebuano style.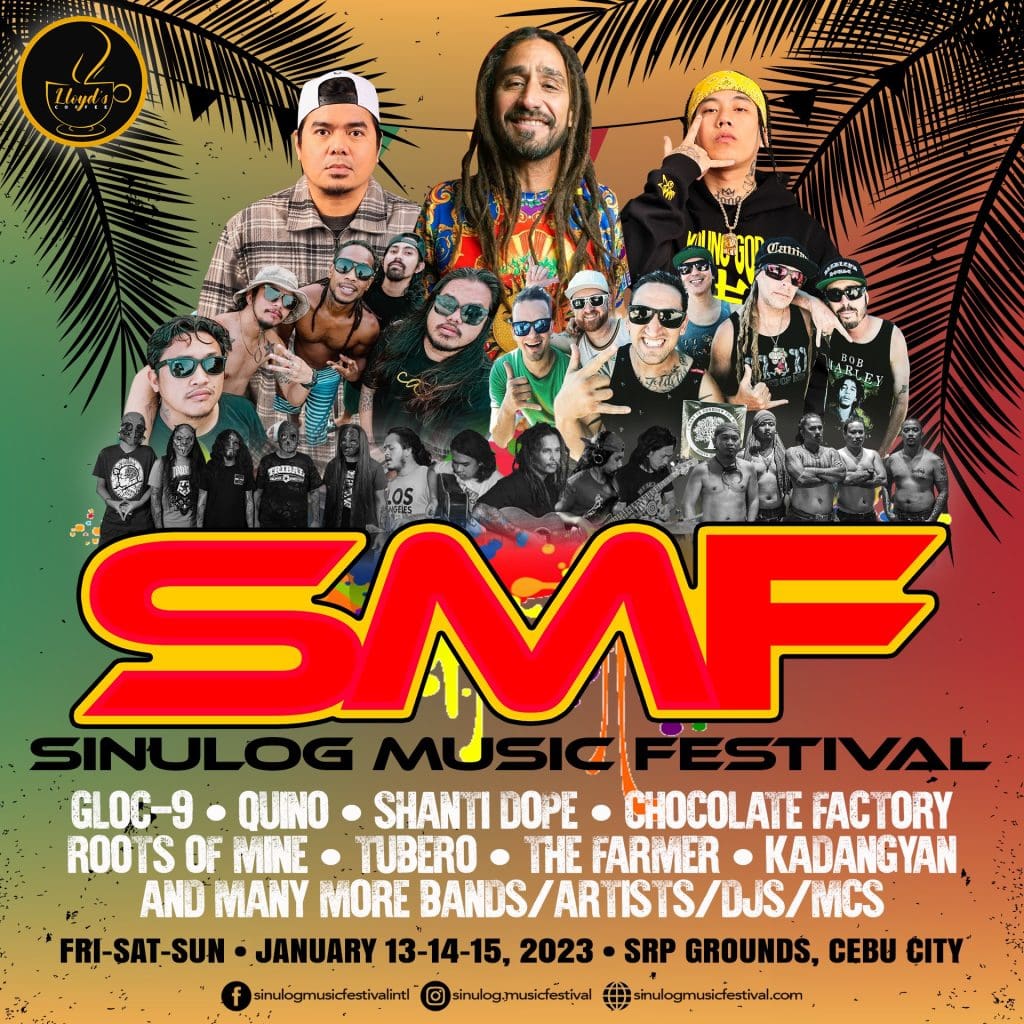 When: January 13-15, 2022
Who: Gloc-9, Quino, Shanti Dope, Chocolate Factory, Roots of Mine, Tubero, The Farmer, Kadangyan, Kate Jagdon, Ron Poe, Luane, Winston Lee, Ed Delarmente, Charlz, Juan Pablo, Lovely Alivio, Dane Paden, Louie Nebria, Gudavibes, MC Lemuel, Mak G, AJ Laranas, Island Boys, and performances from local bands and artists with live sets from DJs/MCs.
Where: SRP Grounds, Cebu City
Ticket Price:
– Jan 13-14 Tickets –
VIP – ₱2,100
Gen. Ad – ₱1,100
– Jan 15 Tickets –
VIP – ₱550
Gen. Ad – ₱350
Where to Book: https://sinulogmusicfestival.com/#tickets
Facebook Event Link: https://www.facebook.com/sinulogmusicfestivalintl
4. FEBRUARY 18: PLUS63 MUSIC & ARTS FESTIVAL
A dynamic multicultural, multi-genre aural ambiance is created by the yearly music and arts festival, which brings together local and international talent. The Philippines' national code, +63, inspired the name of the event, which aims to place the nation on the map of must-attend festivals worldwide. The unique PLUS63 Festival, which takes place where the city and the sea converge in Cebu, is created for those with an inquisitive and creative spirit.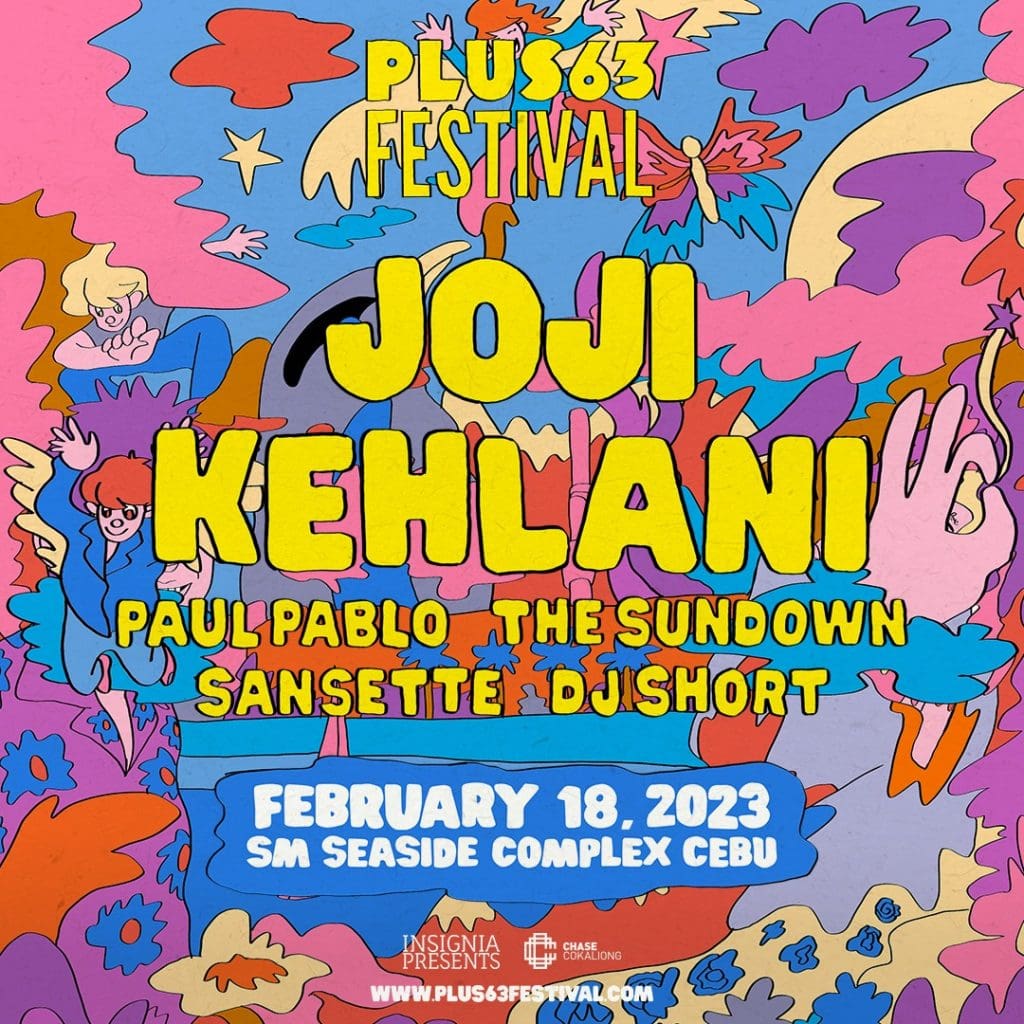 When: February 18, 2023
Who: Joji of 88Rising, Kehlani, Paul Pablo, The Sundown, Sansette, DJ Short
Where: SM Seaside Complex
Ticket Price: To be announced soon. Tickets will be available on December 10, 2022, at 11 AM.
Where to Book: https://www.plus63festival.com/
Facebook Event Link: https://www.facebook.com/PLUS63Festival/