There is no stopping Cebu from bouncing back.
On its 85th Charter Day, Cebu City announced the newly signed Executive Order 'Oplan Kagawasan' that eases almost all restrictions and just maintains the minimum public health standards like wearing of face masks and observing social distancing.
Here are the highlights of the new executive order:
No more curfew in Cebu City. Bars, restaurants, and other establishments are now allowed to operate beyond 12 midnight.
Kids are now allowed malls. No more age restrictions in entering any establishment in Cebu City.
Unvaccinated individuals are now allowed to enter establishments in Cebu City. Vaccination cards are no longer required but getting vaccinated is still highly encouraged.
Executive Order 163: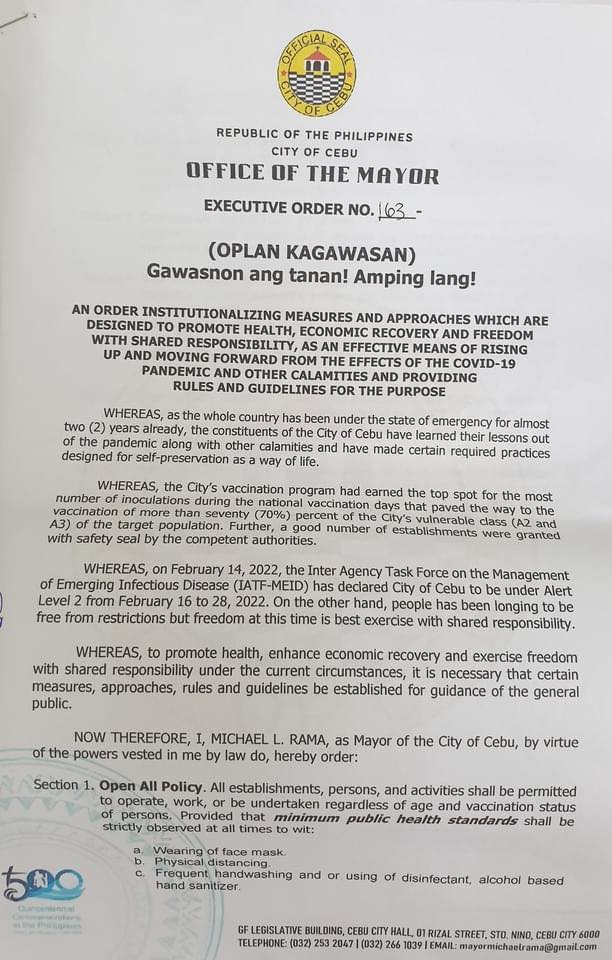 Mandaue City Mayor Jonas Cortes lifted the city's curfew hours on February 16, the day the entire island of Cebu was placed under the less restrictive Alert Level 2.
Two days after, Cebu Governor Gwendolyn Garcia signed Executive Order No. 5 lifting the province-wide curfew during the implementation of alert level 2 beginning today, February 18, 2022.
Lapu-Lapu City is the lone city on the island of Cebu that has not yet lifted the curfew hours.
Also read: