The paths to mountain views are no easy task but the rewarding scenery that awaits at the end always makes it worth the trip.
Tambayan sa Cang-ara is a relatively fresh mountain view destination nestled deep within Ginatilan, Cebu. Although it requires quite a bit of hiking, it's not too steep a price to miss checking the place out. The way to the top is filled with interchanging sections of flatlands and slopes with occasional settlements greeting hikers.
There are subtle winds to the road but it's still a straightforward path that can be traversed without a guide; the locals are always willing to give directions just in case. The destination is close when rows of flags start appearing and at the side, the ocean and a silhouette of Negros Island become visible.
"Tambayan"is a Filipino word that means "a place for hanging out" and Tambayan sa Cang-ara gives exactly that kind of vibe. The actual spot was meant to be like a local and smaller version of the Tops Lookout with the same refreshing mountain air but with a more rustic look.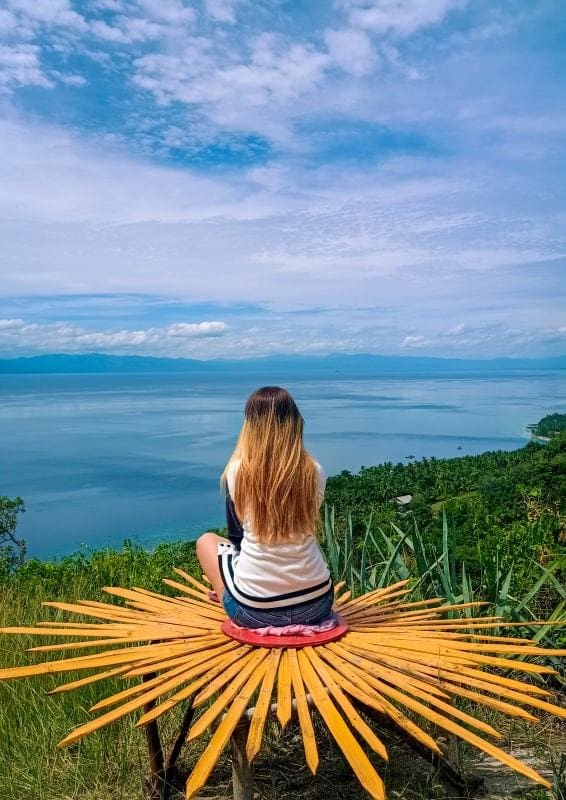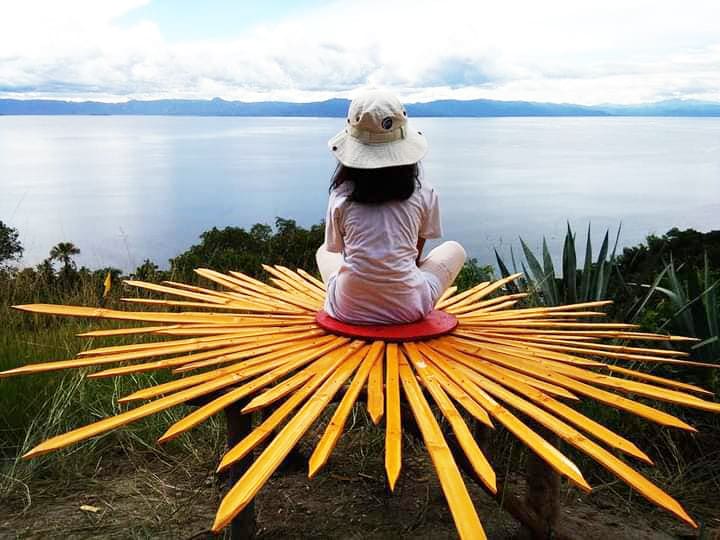 There are vendors selling drinks and snacks on the side near the cell tower and they even equipped the place with a videoke machine that any group of Filipino will undoubtedly use.
More than being just a chill spot, the sides are fringed with adorable props for photoshoots and Insta-worthy snaps – the most prominent one being a pseudo-bird's-nest hanging on the edge for a more thrilling picture. Additionally, there is a bamboo viewing deck and even a treehouse that both show a promising view of the sea and the verdant mountains.
The place is still under development and there may be more gimmicks coming that will bring out the full potential of the place. For now, they allow overnight stay and camping for those who want to experience the Tambayan on a starry night.
RATES & OTHER INFORMATION
FEES:
Entrance fee: P20 per person
Videoke Rental: P100 per hour
Tent Space: P200 per tent
OTHER INFORMATION:
HOW TO GET THERE?
Exact location: Sitio Upper Bong-Bongon, Brgy. Looc, Ginatilan, southern Cebu — approx. 3 hours away from Cebu City.
BY BUS: From the South Bus Terminal in Cebu City, take a (Ceres) bus bound for Bato via Barili. Tell the conductor to drop you off at Ginatilan and ride a habal-habal (motorcycle) going to "Tambayan sa Cang-Ara".
BY CAR: Navigate with Waze or Google Maps and set your destination to "Tambayan sa Cang-Ara" in Ginatilan, Cebu. Parking space is available near the registration area and the actual destination can be reached by hiking.
Also read: