UPDATE: This promo is no longer valid for Cebu branches. Macao's only operating branch is at Ayala Central Bloc (which is excluded from the promo). Other Cebu branches are unofficial and not affiliated with MIT. Read the full story here.
Are you ready for a monstrous treat?
As their way to make you smile and make your Mondays feel better in this time of crisis, Filipinos' well-loved milk tea brand – Macao Imperial Tea Philippines – is offering FREE UPSIZE TO 1 LITER on Cheesecake and Pearl Milk Teas on all Mondays of August 2020, from 1PM to 4PM.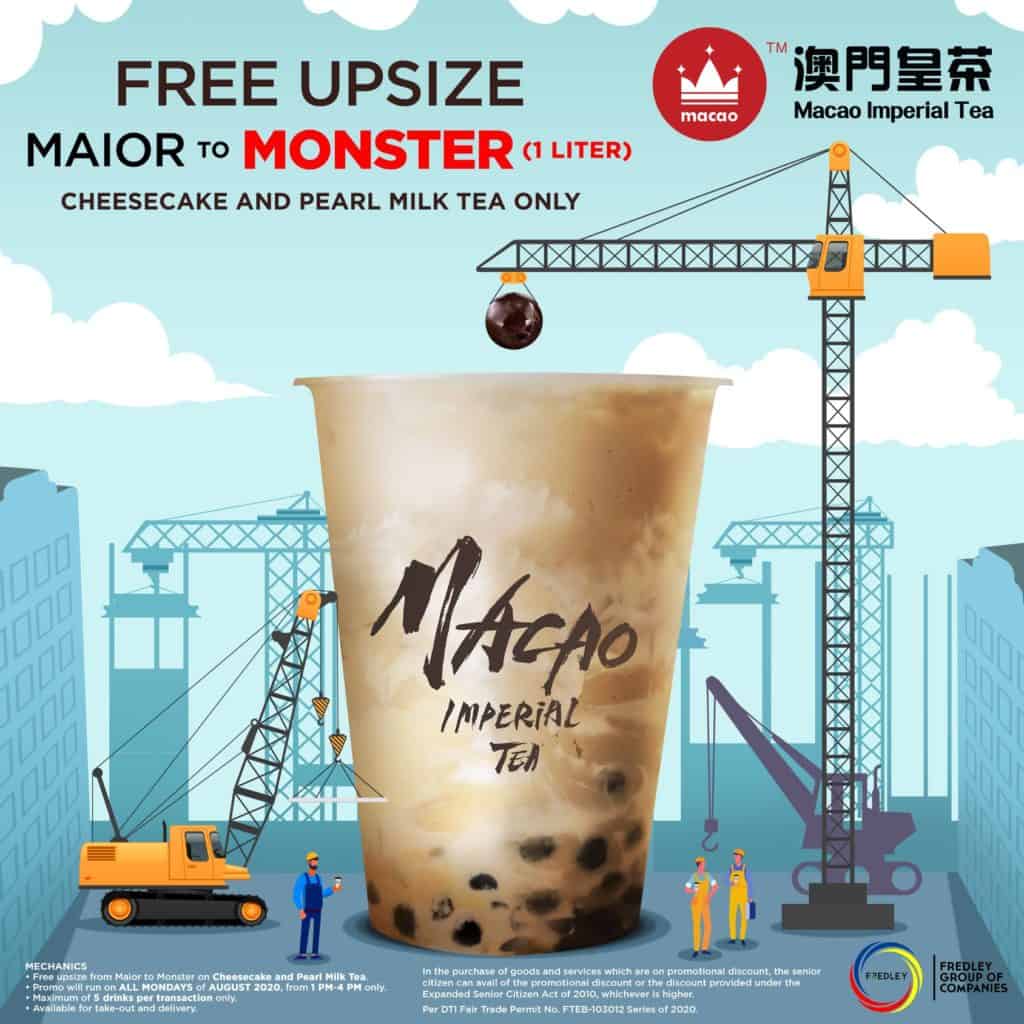 This promo is available nationwide, for both take out and all accredited food delivery services (GrabFood and Food Panda). However, advance/Pre-ordered drinks through third-party delivery apps will not be upsized; order must be placed from 1PM to 4PM only.
Promo Mechanics:
Promo will run on Mondays of August 2020 (August 10, 17, 24,31) from 1 PM to 4 PM only (operating hours may vary per store).
Free Monster Upsize from Maior (700ml) drinks on Cheesecake and Pearl Milk Tea only.
Customers may purchase a maximum of 5 drinks only, if they wish to purchase more, they must fall back in line.
Orders over the 5th cup will not be upsized to monster. This applies to orders booked thru food delivery service apps as well.
Advance/Pre-ordered drinks thru third party delivery applications will not be upsized. Order must be placed from 1 PM – 4 PM.
This promotion is not valid in conjunction with any other promos and discounts.
In the purchase of goods and services which are on promotional discount, the senior citizen can avail of the promotional discount or the discount provided under the Expanded Senior Citizen Act of 2010, whichever is higher.
The use of Fredley Elite Card and points is allowed.
The use of gift certificates is allowed for this promo.
Available for take out, and delivery.
Available in all stores nationwide (except Ayala Malls Central Bloc).