After sharing the list of international flights available from/to Cebu, many of our readers have also requested for a list of domestic flights currently available.
Good news! Local airlines have gradually re-opened more domestic destinations over time while ensuring the safety of the passengers and staff as they implement stricter preventive measures and sanitation protocols as mandated by the local authorities.
This guide will be regularly updated for the month of August 2020 based on Mactan-Cebu International Airport (MCIA)'s Facebook Page.
Philippine Airlines
Cebu-Manila-Cebu.: 2x daily
Cebu-Cagayan de Oro-Cebu: 2x weekly (Wed/Sun)
Cebu-Davao-Cebu: Once a week (Tue)
Cebu-Dipolog-Cebu: 2x weekly (Mon/Fri) (4x weekly from Sept. 1)
Cebu-Dumaguete-Cebu: 2x weekly (Mon/Thu)
Cebu-Tacloban-Cebu: 2x weekly (Tue/Sat)
Cebu-Zamboanga-Cebu: Once a week (Mon)
Booking link: www.philippineairlines.com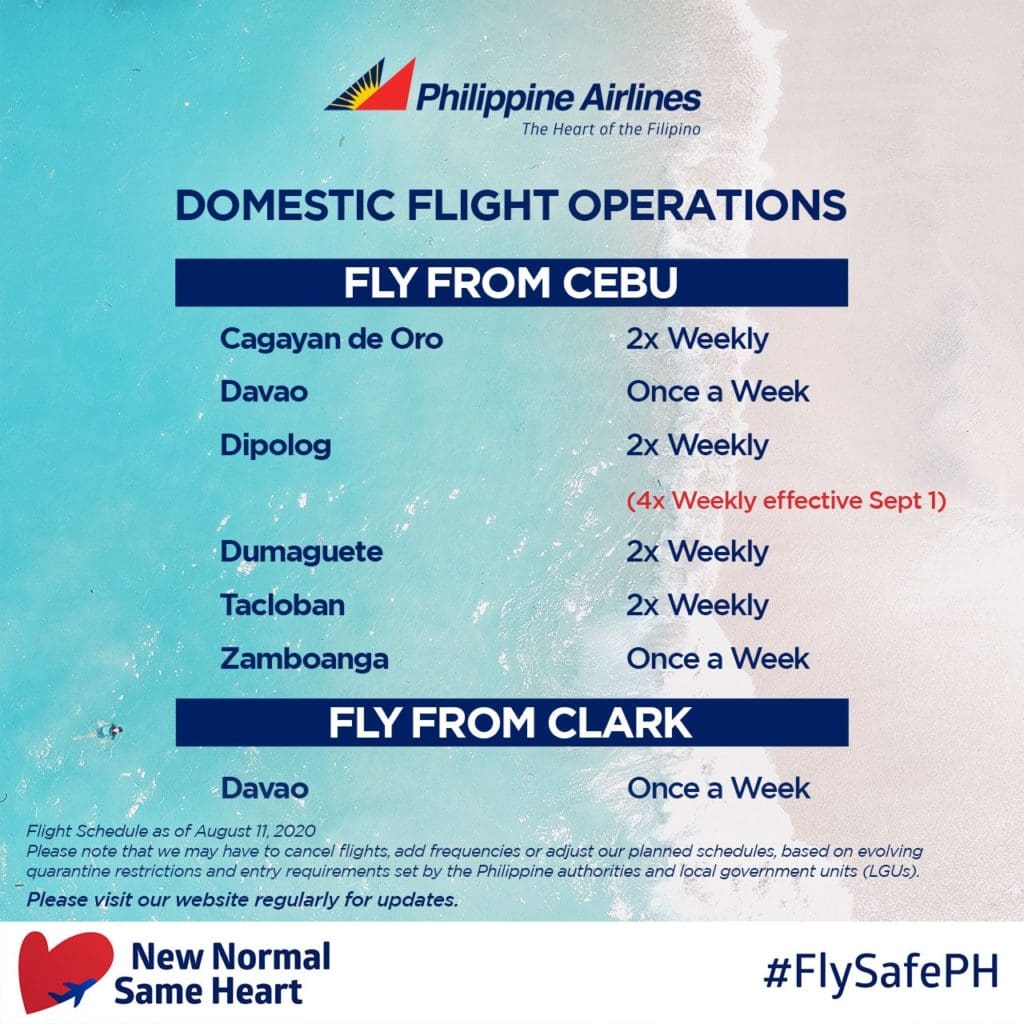 Cebu Pacific
Cebu-Manila-Cebu.: 10x weekly
Cebu-Clark-Cebu: 2x weekly (Tue/Sat)
Cebu-Davao-Cebu: Once a week (Tue)
Booking link: bit.ly/CEBFlightsAug19-31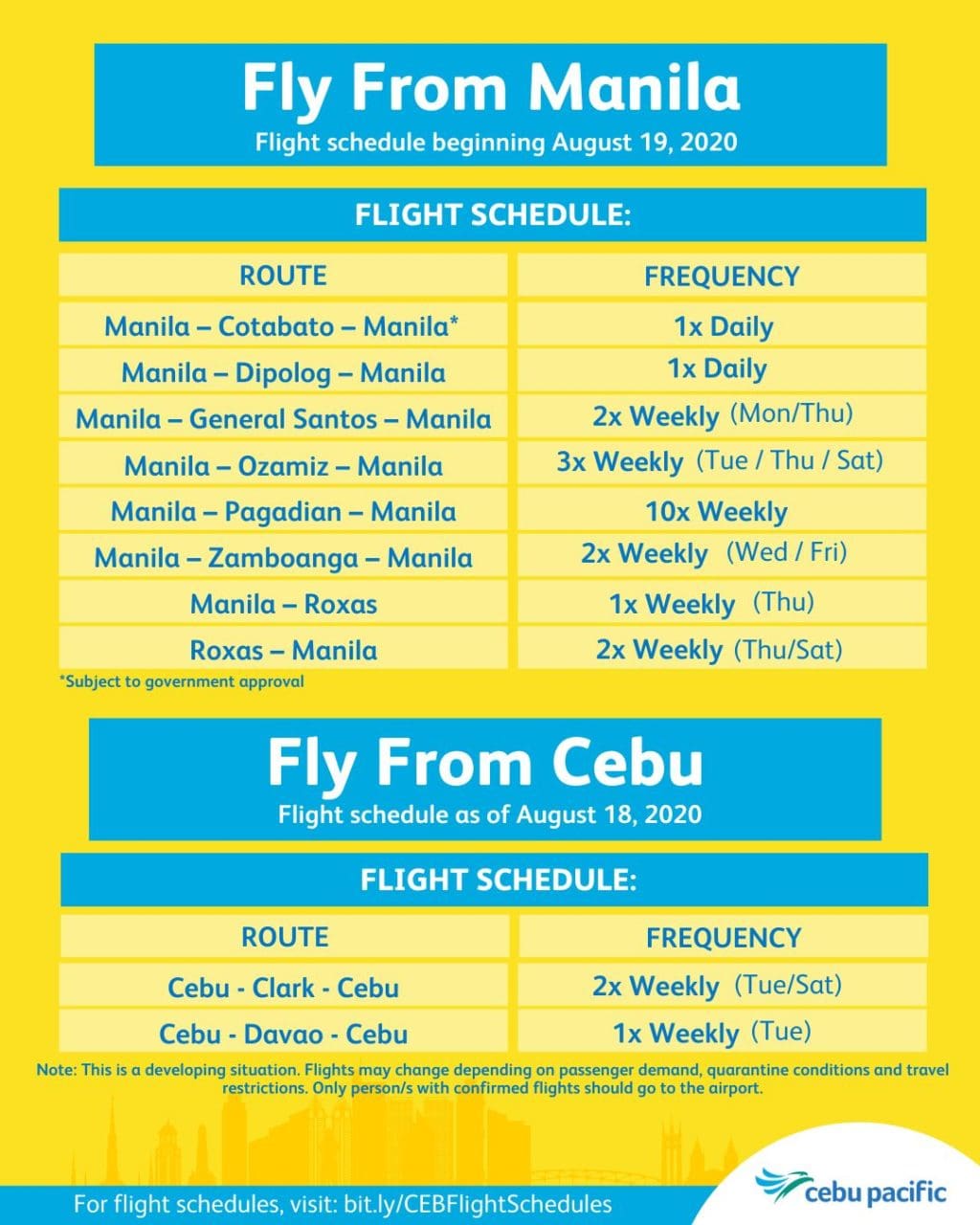 Air Asia
Cebu-Davao-Cebu: 3x weekly (Tue/Thu/Sat)
Manila-Cebu-Manila: Daily
Booking link: https://air.asia/XVvxN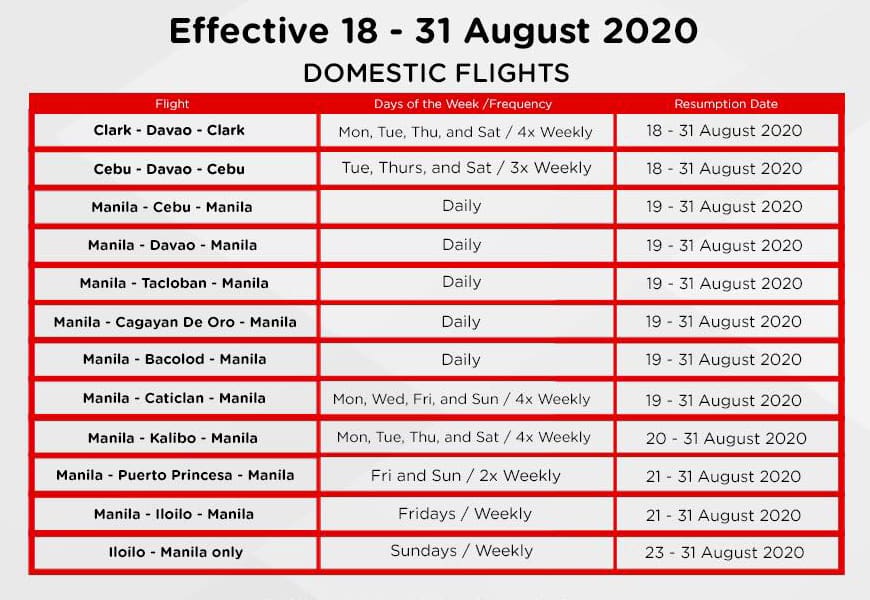 Travel Documents
While airlines will be providing the detailed guidelines upon booking, below are the required travel documents for domestic passengers:
Travel Authority Pass – may apply for a travel authority or pass at the nearest police station
Medical certificate – can be secured from the Municipal or City Health Office
Barangay certification – should be secured from the receiving local government unit (LGU). You will need to ask somebody to secure that for you from the barangay in Cebu.
Guidelines
These are just some of the 'new normal' guidelines to note:
Passengers will be required to wear face masks and face shields
 Persons below 21 years old, those who are 60 years old and above, those with immunodeficiency, comorbidities, or other health risks, and pregnant woman are also restricted except under allowed circumstances.
Aircraft personnel will be required to wear personal protective equipment
Disinfection and cleaning of aircrafts between flights and upon parking in boneyards.
Online check-in will also be encouraged to minimize contact with the ground personnel. They are advised to come to the airport at least three (3) hours early as check-in counters will be closed 60 minutes before the flight.
When carrying more than two luggage, assign only one representative to go to the baggage drop-off counter. Upon boarding, passengers will be required to hold out their boarding passes with the barcode facing the airline staff, for touchless scanning.
Always observe physical distancing as guided by the seat and floor markers, even when boarding through the aerobridge or buses.
Pilots and cabin crew members are required to undergo rapid antibody testing before boarding their flights.
ALSO READ: LIST: International flights available from/to Cebu as of August