On May 14, the Department of Health Region 7 (DOH-7) has released its latest COVID-19 update in the region as of previous day, May 13. In its report, Cebu has recorded nineteen (19) new confirmed cases, no new laboratory negative and no new death.
The whole island of Cebu now has a total of 1,952 confirmed COVID-19 cases with 94 recoveries and 26 deaths.
Below is the latest breakdown of the confirmed cases in Cebu:
1,715 – Cebu City (+15 new)
111 – Mandaue City (+1 City Jail)
49 – Lapu-Lapu City
55 – Cebu Province (+3 new)
4 – Health Workers
18 – Repatriates/OFWs
The additional confirmed cases and death have slightly increased the case fatality rate or death rate among those who are infected with COVID-19, from 1.39% to 1.43%. It is still lower compared to the global average of 6.4%.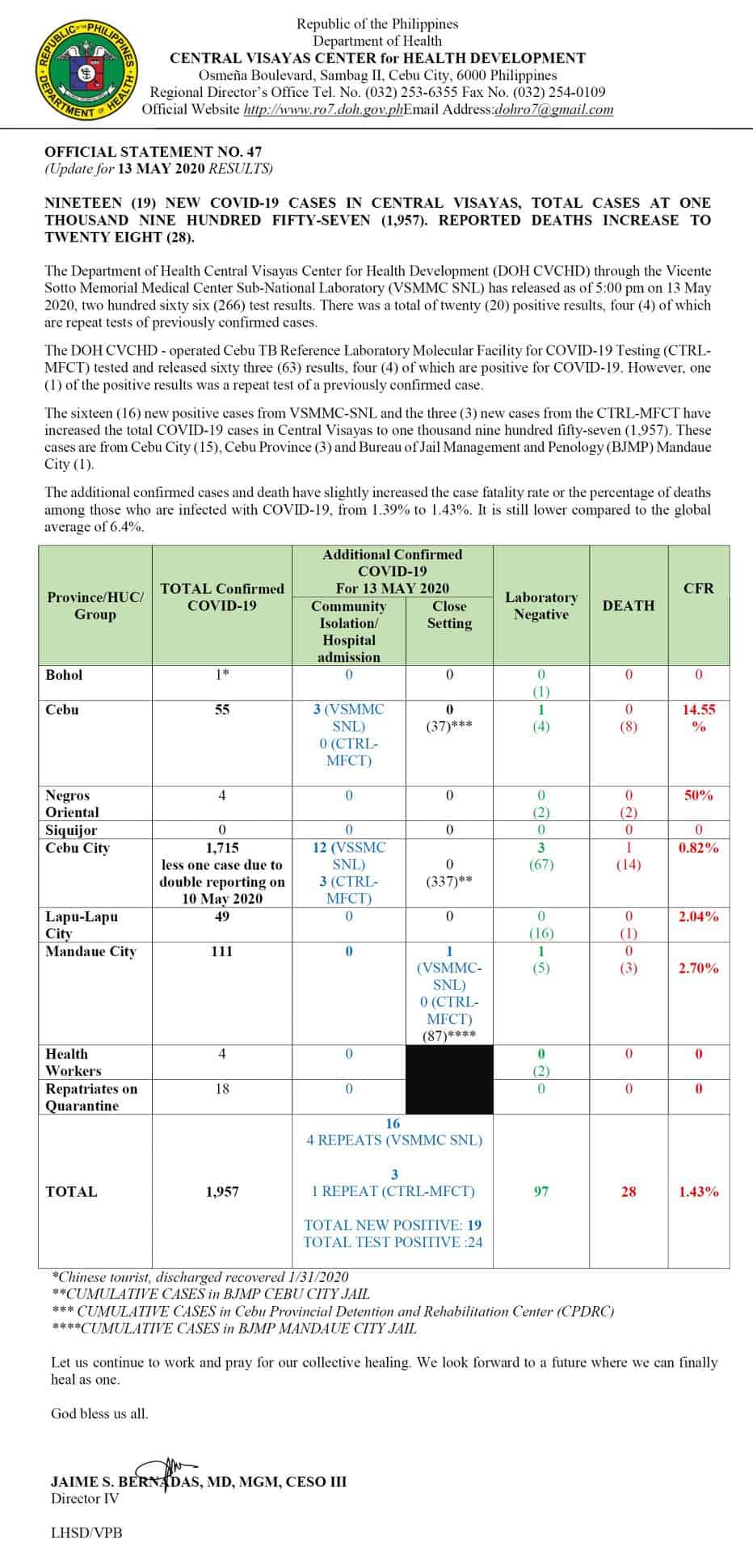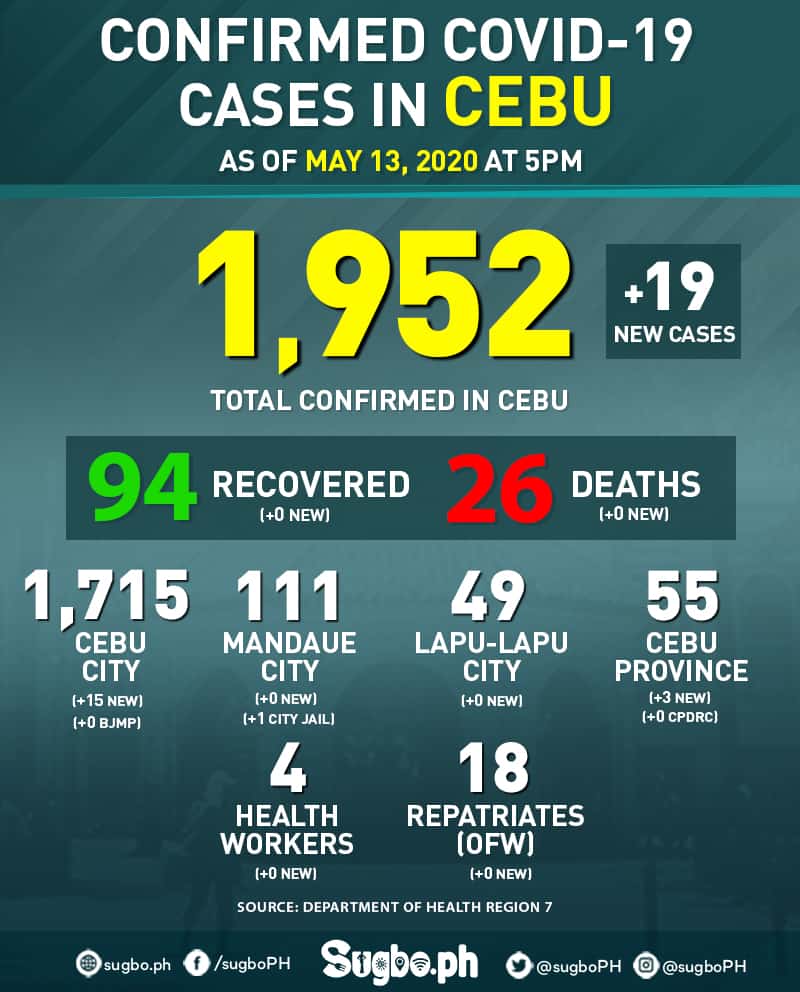 As previously reported, the local government units in Cebu — Cebu Province, Cebu City, Lapu-Lapu City, and Mandaue City — have initiated targeted massive testing since mid-April. Hence, we have been expecting more new cases of coronavirus infection in entire Cebu. What does this mean?
The results of the mass testing in Cebu will serve as basis of the city's policies, programs and actions on the COVID-19 outbreak. This includes isolation of infected individuals in the respective quarantine centers.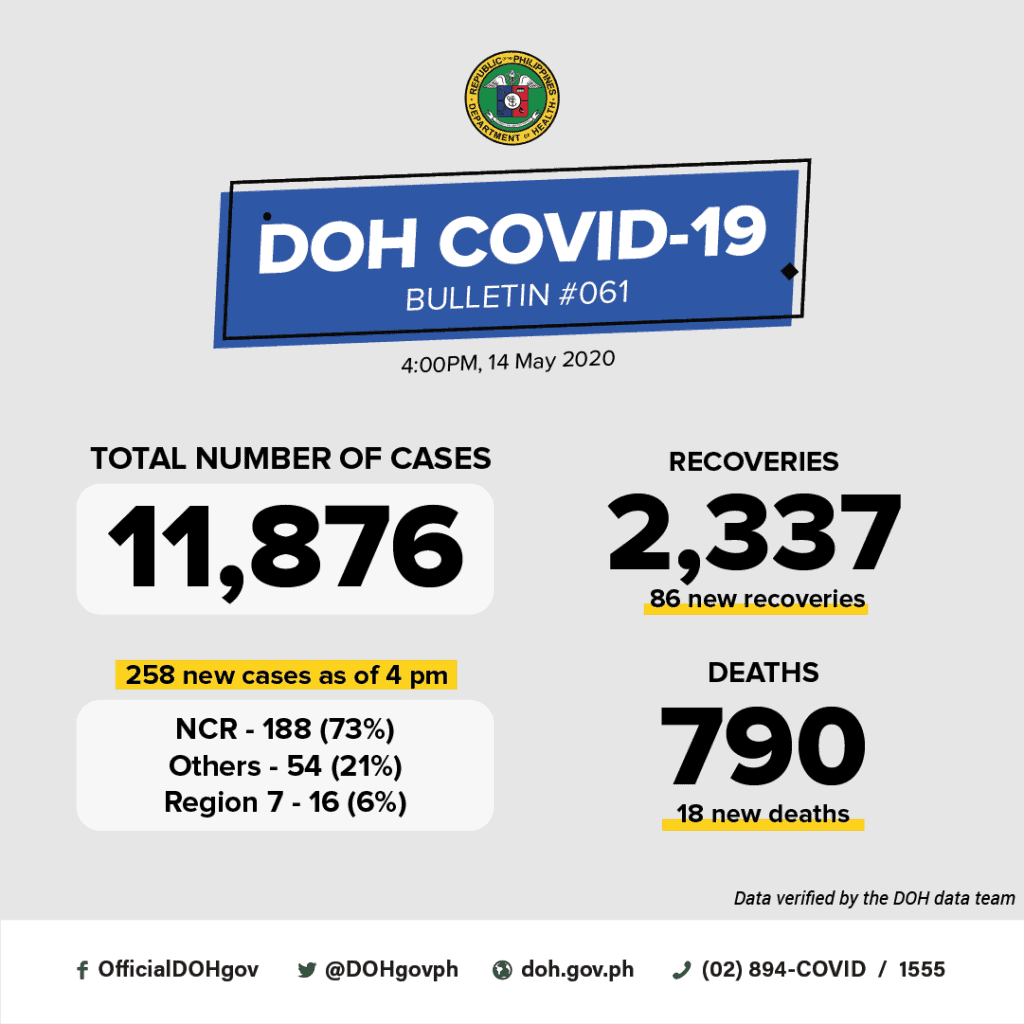 Meanwhile, in the Philippines as of May 14, 2020: the Department of Health reported 258 new confirmed cases, 86 new recoveries and 18 new deaths in the country. To date, the Philippines' tally is 11,876 confirmed cases with 2,337 recoveries and 790 deaths.
The COVID-19 pandemic originated from Wuhan City in China that has affected nearly 200 countries and territories with more than 2.5 million confirmed cases and at least 185,000 deaths.
ALSO READ: Cebu City to be placed under 'Modified ECQ' from May 16 to 31