With the local government's continued efforts in targeted massive testing, we are expecting more new cases of coronavirus infection in entire Cebu, including Cebu City.
On Wednesday evening, the Cebu City Health Department has reported one hundred eight (108) new confirmed cases recorded in the city today, May 6. This brings the city's tally to 1,388 confirmed COVID-19 cases.
Below is the breakdown of new cases in Cebu City:
106 new cases in brgy Mambaling

Lawis, Alaska
Alaska Proper
Sitio Tinabangay
Sentro Alaska
Sitio Ypil- Ypil

1 new case in Brgy Tejero
1 new case in Brgy Suba
Meanwhile, the infographic below shows the latest total breakdown of cases per barangay: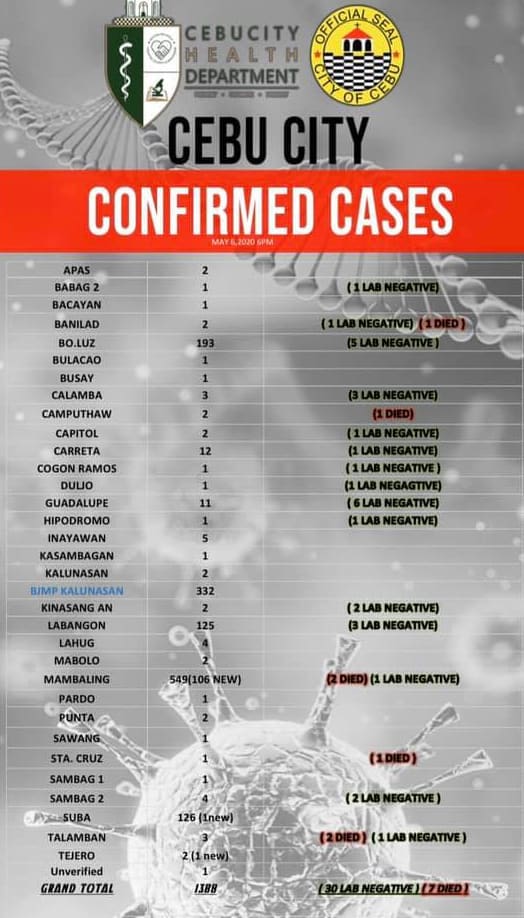 The results of the mass testing in Cebu will serve as basis of the city's policies, programs and actions after the expiration of the extended Enhanced Community Quarantine in May 15, 2020. This includes isolation of infected individuals in the respective quarantine centers.
On the other hand, there are also:
7 new cases in Cebu Province today from CPDRC,
4 new in Lapu-Lapu City, and
3 new in Mandaue City.
With Cebu City's 108 new cases, the entire Cebu has a total of 122 new confirmed cases recorded today, May 6.
On May 5, 2020, DOH-7 recorded 1,455 confirmed cases in entire Cebu. With the additional cases of 122 today, Cebu's tally now is at 1,577.
Sugboanons, let's do our part. Stay at home, practice good hygiene and follow the authorities.
COVID-19 Cebu
As the threat of the Coronavirus 2019 or COVID-19 rises every day, the Cebu province has taken a proactive approach and is pulling all stops in protecting the island. Here's everything you need to know about COVID-19 and its symptoms: https://sugbo.ph/2020/corona-virus-in-cebu/
If you are sick and think you have symptoms of COVID-19, seek medical attention, call the local Coronavirus Health Information Line for advice: 0922-397-2334 / 0943-568-3298 / (032) 402-3091 / (032) 402-1269.