The headline is such a pain in the eyes; but this is expected. The local government has heard our demand for mass testing, so we should really be expecting this surge of increase on COVID-19 cases.
On May 12, the Cebu City Health Department (CCHD) has recorded 91 new confirmed COVID-19 cases in the city — 96% of the infected individuals are asymptomatic. This brings Cebu City's total to 1,660.
Cebu has overtaken the spot of Quezon City which currently has 1,641 confirmed COVID-19 cases after recording 33 new cases on May 12, based on the data from DOH's online tracker.
Increased mass testing, low death rate
The local government units in Cebu have been conducting targeted mass testing since mid-April this year while the whole island is being placed under enhanced community quarantine.
The results of the mass testing in Cebu will serve as basis of the city's policies, programs and actions after the expiration of the extended Enhanced Community Quarantine in May 15, 2020. This includes isolation of infected individuals in the respective quarantine centers.
Moreover, the Department of Health Region 7 highlighted that Cebu City has the lowest death rate at 0.75% in the Philippines. The city only has 9 deaths recorded. The City of Manila, which has the highest death rate, comes at 8.28%, with 69 deaths.
Breakdown of cases in Cebu City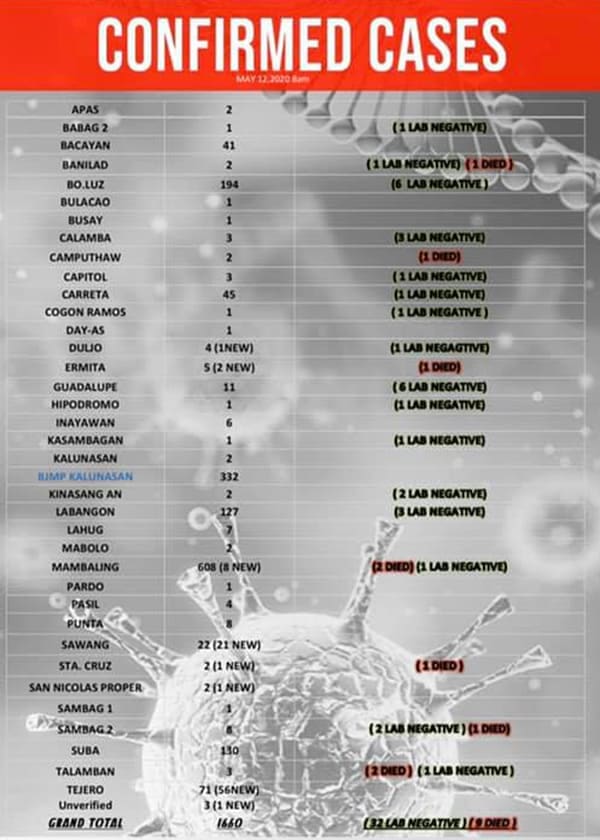 Total cases in entire Cebu
This is the combined data of Cebu City, Mandaue City, Lapu-Lapu City, and the Cebu Province.
On May 11, DOH-7 released its latest COVID-19 report for the region as of previous day, May 10, 2020. The whole island of Cebu has recorded a total of 1,784 confirmed COVID-19 cases with 43 recoveries and 24 deaths. Below is the latest breakdown of the confirmed cases in Cebu:
1,566 – Cebu City (+97 new)
109 – Mandaue City
43 – Lapu-Lapu City (+2 new)
44 – Cebu Province (+5 new)
4 – Health Workers
18 – Repatriates/OFWs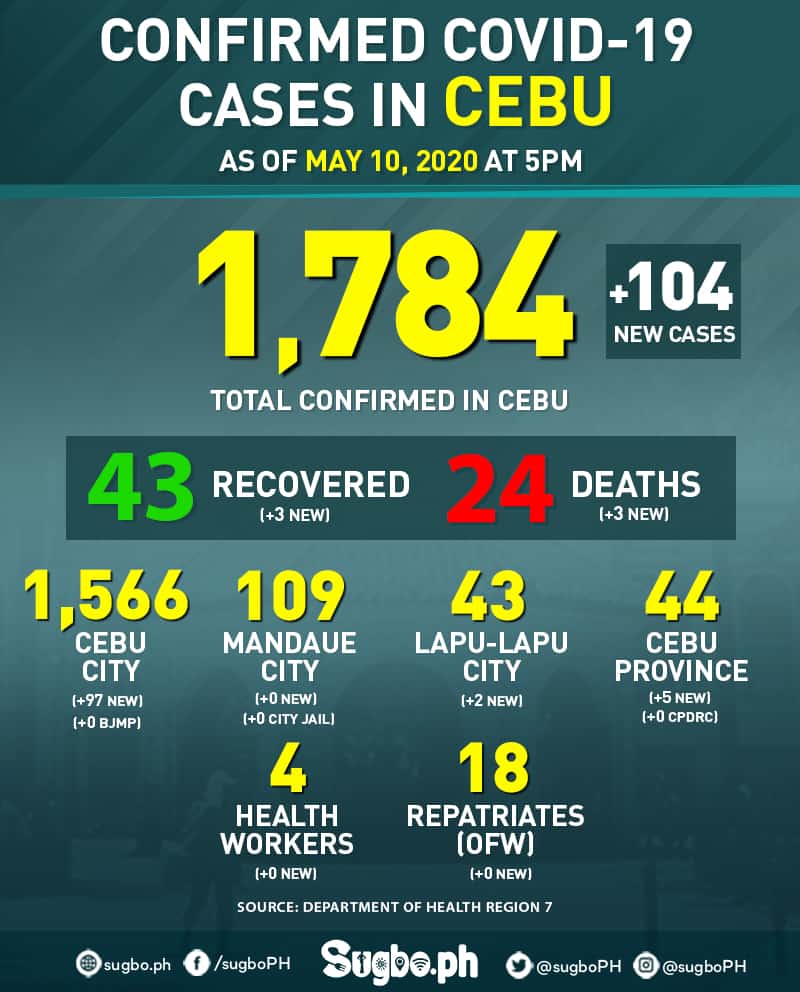 ALSO READ: Cebu City to be placed under 'Modified ECQ' from May 16 to 31
☞
Up to 50% OFF on nearby hotels in Cebu.
IMPORTANT NOTE:
The rates, contact details and other information indicated in this post are accurate from the time of writing but may change without Sugbo.ph's notice. Should you know the updated information, please message us on
Facebook
.