When one mentions Naga, the Baywalk is definitely one of the first things that would pop in mind. And why wouldn't it be? The Baywalk is flocked, not just by Naga locals, but also from those the city because of its chill vibes, lively atmosphere and also, the Food Park.
Naga's Food Park is one of the hot spots in the town. The park showcases various food stalls as well as food shops that showcase local Filipino food. That includes delicacies like lechon, street barbecue, seafood and the like.
One of the known food parks there is Juan Food Park. This food park houses different food stalls. What makes the place livelier is that they have different activities and gigs, making them tourist attractions. It's a perfect ambience that matches the vibe of eating local food in Naga.
The food park has it all – cold beers and drinks for those who wish to chill after a hearty meal, ice cream and halo-halo as sweet treats, street food for those who just wish to have that good old fashioned local food and unlimited promos of their sea food and many more.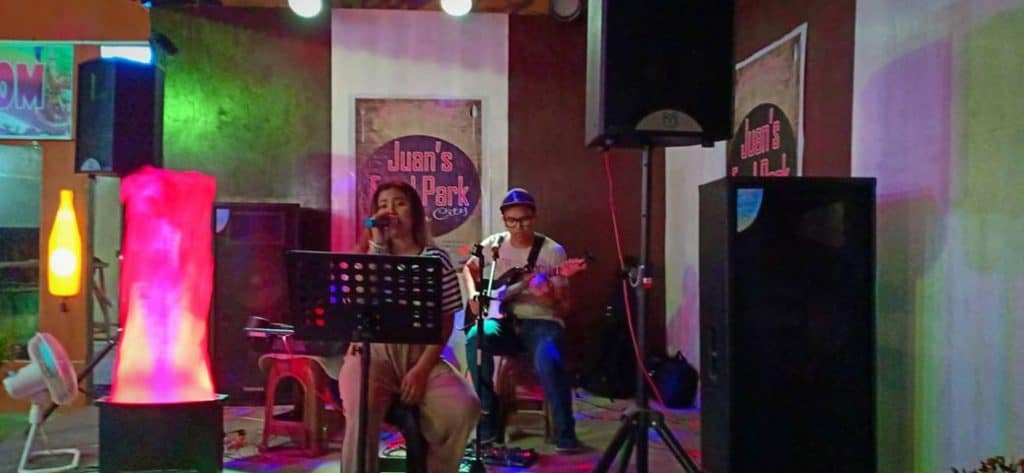 The town of Naga is famous for its local food, including sea food since it is near the shore. So its not a surprise that the food stalls there primarily sell sea food.
Different food stalls there offer unlimited promos of sea food, including Eat All You Can Ni Juan that offers unlimited seafood and Filipino dishes for only P199 per head. The place is perfect for those whose favorites include crabs, shrimps, fish and other shell foods.
After that lovely stroll along the baywalk, surely the Food Park is one of the places you want to stop by. What are you waiting for? Go ahead and take a walk and drop by at the Food Park!
Other information
Operating hours: 5PM to 2AM, Mondays to Sundays
Contact information: N/A
Corkage fee: None, but strictly CLEAN AS YOU GO policy
How to get there?
Naga City is 45min to 1hr away down south from Cebu City. But may take up to 1.5 to 2 hours trip during rush hours. So if you plan to get there at night, might as well bring with you your extra patience and some food.
For commuters, you have two options:
From Colon Street, ride a jeepney with routes 09C/F, or 10F/H and drop off at Jollibee Bulacao or Pardo Church (P8 fare). From there, take another jeepney with route 44 to reach to Naga Plaza (P15 fare). There are also some 44 jeepneys from/near CIT University in N. Bacalso.
From South Bus Terminal, ride a bus bound for Bato-Oslob or Carcar. Tell the conductor that you will be hopping off at the Naga Church, which is right along the National Highway.
If you're bring your own car, just navigate via Waze or Google Maps and search for "Juan's Food Park". Naga City is in between Minglanilla (from Cebu City) and San Fernando (from Southern Cebu).