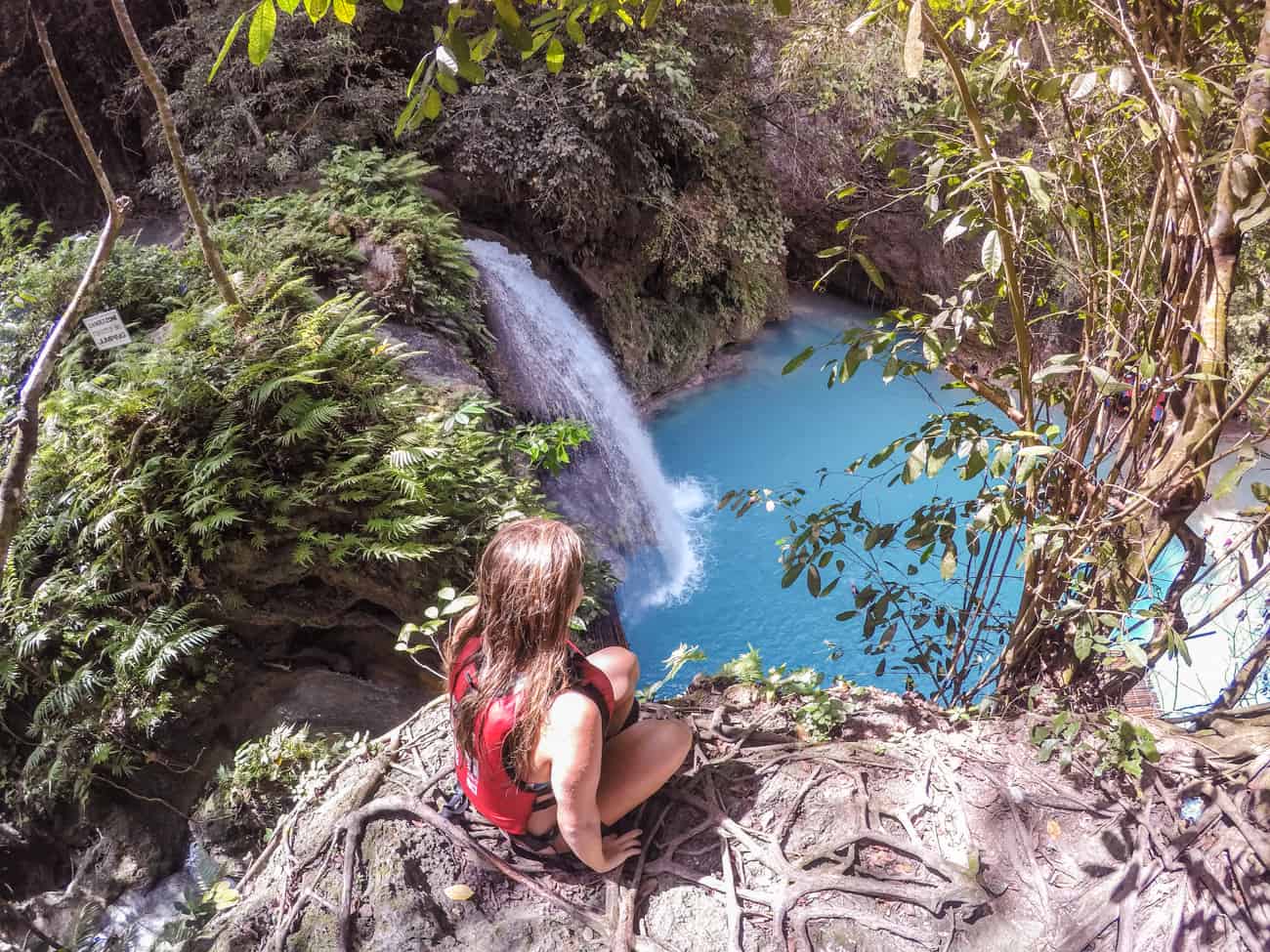 Canyoneering in Kawasan Falls has to be one of the most exciting and daring adventures not only in Cebu, but anywhere in the Philippines! There are quite a few ways to experience this attraction, but all of them guarantee you have a thrilling day, surrounded by some of the most beautiful natural scenery you've ever seen. This makes this tour the ultimate way to visit one of Cebu's most famous landmarks.
Below you can find a complete guide to taking the Kawasan Falls canyoneering tours, with all the possible information you might need. This is one of the best day tours to try out, especially if you like the outdoors. Even if it sounds a bit scary there's no need to worry – you'll be perfectly safe the whole time!
How to get there?
The tour usually goes off from Moalboal, and as soon as you get off the bus at Pangasama you'll be immediately approached by solicitors. They'll offer you a tricycle ride to the place where the actual tour stars off from. However, since it starts relatively early (between 8 and 9 AM), it's actually much better to arrive at Moalboal the night before and book the tour then for the following morning.
It's also possible to visit the falls as a day tour from Cebu. Most professional tour operators will arrange a pickup, straight from your hotel in the city or Mactan. Pickup time is usually 6AM for Mactan Cebu, and 6:45AM for Cebu City and the price for a private van/sedan ranges between P3,500 and P4,500 per person, depending on the size of your group and the tour operator you choose.
Since these private can be quite costly, there's a recommended way to save some money. You could book a Cebu tour package from Philippinestravelpackage.com, which will include accommodation anywhere in Cebu, as well as day tours of your choice. This is even more relevant for families and large groups, since by booking everything through the same vendor you'll be able to enjoy significant discounts.
Who does this tour?
Tour operators for this attraction basically divide into to major categories – locals and foreigners. While the first are substantially cheaper, this also means they use less modern gear and are generally less professional. Most local travel agencies work with the local vendors, except for the one we recommended above – they are the only one who offer you a choice.
Taking the tour with a local should cost roughly 1500P, including a lunch BBQ buffet. We know many people who chose this option and had a really wonderful time, so it's definitely something you can consider doing. To do so, the only required step is getting yourself to Moalboal and find anyone there who's willing to take you.
There are also 2 foreign companies doing this tour – Planet Action and Cyan adventures. Out of these two, Planet Action is highly recommended. It's owned by a German man who has been living in Cebu for nearly 20 years now. He's the one to actually come up with the idea of canyoneering in these parts, and also design the specific trails everybody use to this day. There's no one who knows the place better, or has more experience with doing this activity while staying safe and maximizing enjoyment. Planet Action charges 2500P for the standard canyoneering tour – so if you can handle the small increase in price it would really enhance your experience.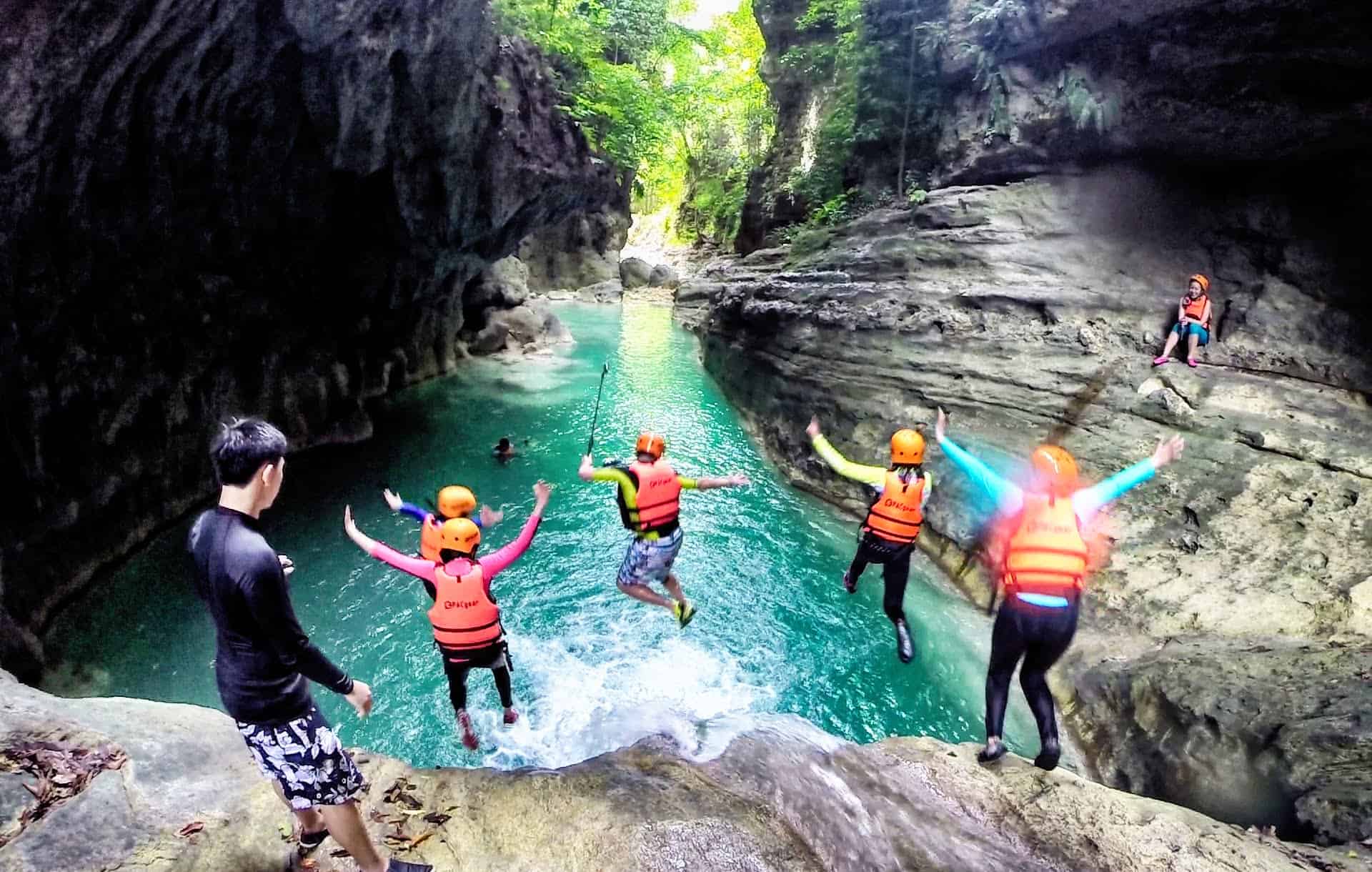 Moalboal Canyoneering itinerary
So now that we covered all the basic information you need, it's time to finally discuss the fun part – the actual trip! We'll focus mostly about the standard canyoneering trail to Kawasan, but it's worth mentioning there are also other, great options such as the Montaneza and Tison waterfalls.
The tour typically start at 9 in the morning, when you all meet at the tour operator's office and go on a van taking you to Badian. Once there, you'll have to go through a quick briefing, focusing mostly on safety precautions. Please, make sure you listen to every instruction given, as well as do whatever the guide tells you during the tour itself. Injuries are known to have happened, and even a slight gash can later ruin your entire trip – you won't be able to dive or swim later on for example.
The canyoneering track starts at around 10 PM and takes roughly 4 hours to complete. It begins with a cliff jump into a deep pool of water – just the perfect way to get your adrenaline pumping right off the bat. You'll then have to walk and swim through a series of smaller streams and waterfalls, as you make your way down Kanlaob river towards Kawasan Falls. This trail is the easiest of all canyoneering routes, as it doesn't require any rappelling or climbing. Still, it involves quite a bit of effort, and children under the age of 12 are not allowed to participate.
Around 2 pm is when you'll finally reach your destination. You will have roughly 30 minutes to enjoy the falls themselves. Over there, you'll find a series of pools at different heights, and can do some more cliff jumping – a perfect way to end a fun packed day tour. Even though the Kawasan Falls are truly stunning, half an hour is more than enough to enjoy this place. This is especially true when considering you might already be quite exhausted from completing the trail.
Most tour operators offer their lunch at this point, and you will take it right next to the falls. Then, you'll make your way back to Moalboal where they'll drop you straight in your hotel. You can expect to finish the whole tour around 3:30 PM.
Book a Tour!
Book an affordable Canyoneering Tour Package at SquadPH Tours and Travels for as low as ₱1,999 per person.