Are you a fan of adventures? An explorer or a traveler? Are you looking for exhilarating adventures in Cebu that will satisfy your adrenaline rush? Well then, this is the perfect article for you. Together, let us explore the wonders and beauty of Cebu and create the best adventures in our own province.
Sky Diving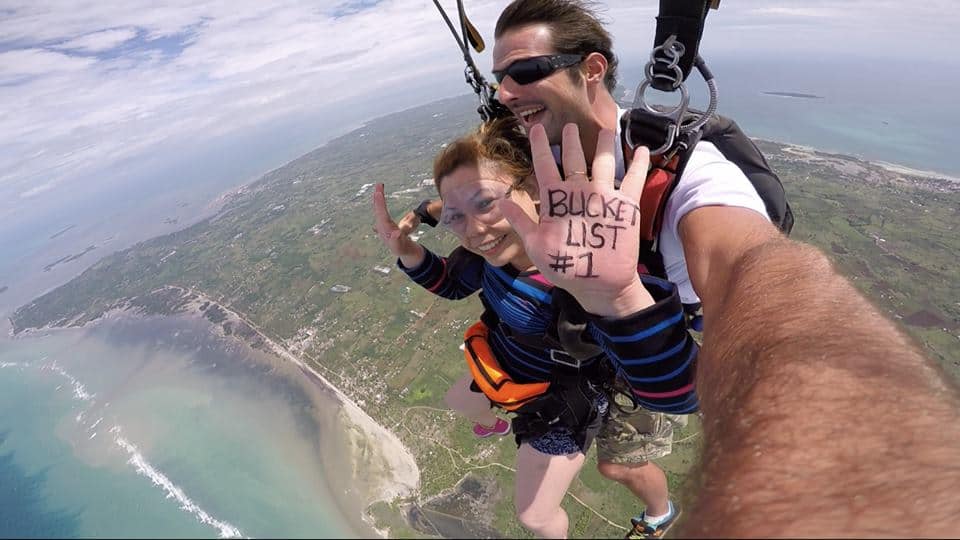 This deserves to be on top of the list. Not because of the word "BUCKET LIST # 1" on the girl's hand, but because this is the most exciting and thrilling outdoor adventure where you can see almost the entire island in a minute, where you can also feel like an angel flying up to the sky or a superhero ready to rescue.
How much would it cost? ~PHP 19,500 for 2
Where in Cebu? Sta. Fe, Bantayan Island
It's going to hurt your pocket costing tandem jumps for PHP 19,500. Maybe not now, but you will definitely want to add this in your bucketlist.
Scuba Diving
Get a close-up experience with the aquatic creatures in the ocean. Explore the wonders of marine life as you deeply dive and witness God's perfect creation. Scuba diving is one of the most astounding outdoor adventures you can do in Cebu. There is a lot of spots in Cebu where you can try and enroll for scuba diving.
How much would it cost? PHP 900-1,000 (dive) + PHP 300-500 (gears)
Where in Cebu? Malapascua Island / Punta Engaño Lapu-Lapu / Moalboal
Sky Walking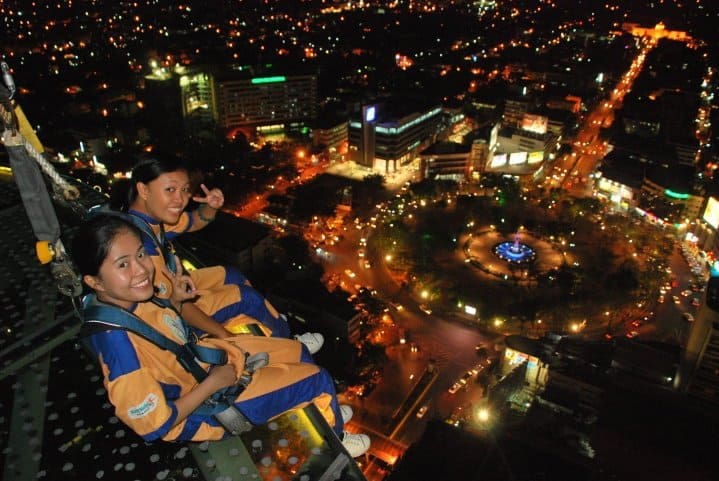 Who says only basketball players can be called "Sky Walkers"? Uh.uh. Not anymore because you can now experience walking around the translucent glass floor at the top of Crown Regency Hotel, one of the tallest buildings in Cebu City located at Osmeña Blvd. (near Fuente Circle).
Experience being trembled and at the same time amazed while gazing the heart of Cebu City. Just a tip, don't look down and focus your attention on the fantastic view.
How much would it cost? PHP 400 (Student) – 550 (Adult) per person
Where in Cebu? Crown Regency Hotel
Snorkeling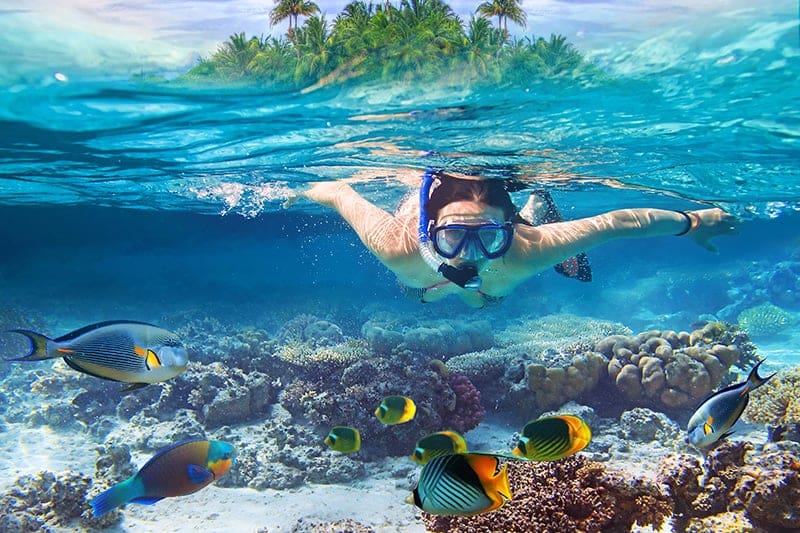 Your outdoor adventure will never be complete without snorkeling. For expert and non-expert swimmers, this is a good exercise for endurance, muscle strength and cardiovascular fitness. You just don't enjoy swimming but you also get physically fit. You can do this in almost any beaches you visit in Cebu.
How much would it cost? None to small amount of entrance fees
Where in Cebu? Any beaches in Cebu but recommended are in Moalboal, Badian, Mactan, and Malapascua. This is also very common in island hopping activities.
Canyoneering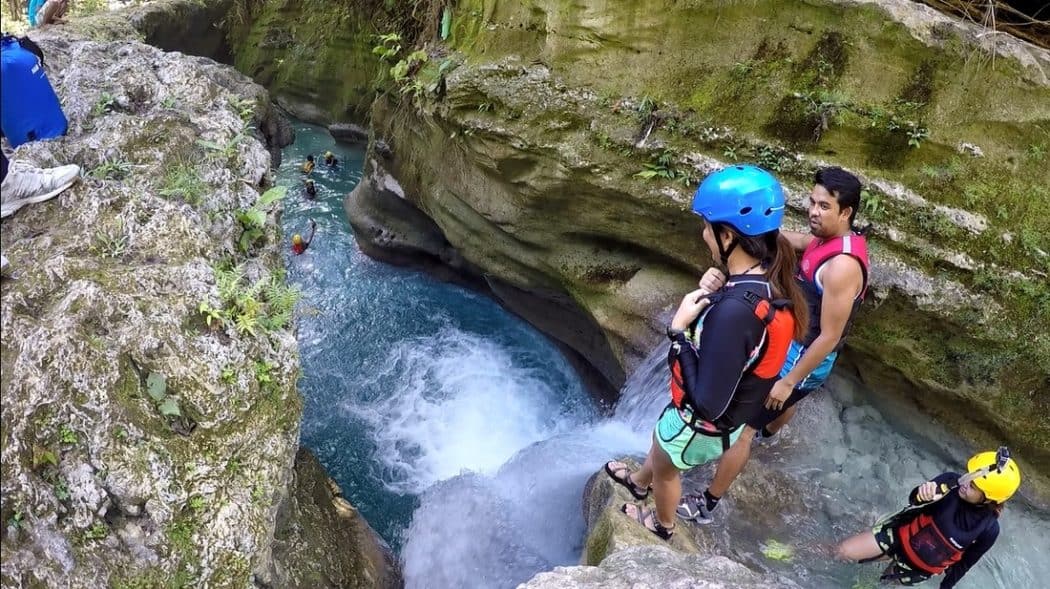 Will you dare to jump from the tip of canyon falls, cliff diving pools, or waterfalls? Are you brave enough to land off the water without 100% assurance of your safety? Well if you do, I have three words to say, "I salute you!"
Canyoneering is one of the most exciting and thrilling outdoor adventures you can do especially with your barkada when you travel. It's a must try.

How much would it cost? ~ PHP 1,000 per head, inclusive of gears and tour guide
Where in Cebu? Kawasan Falls in Matutinao, Badian / Montaneza Falls in Malabuyoc
Rock Climbing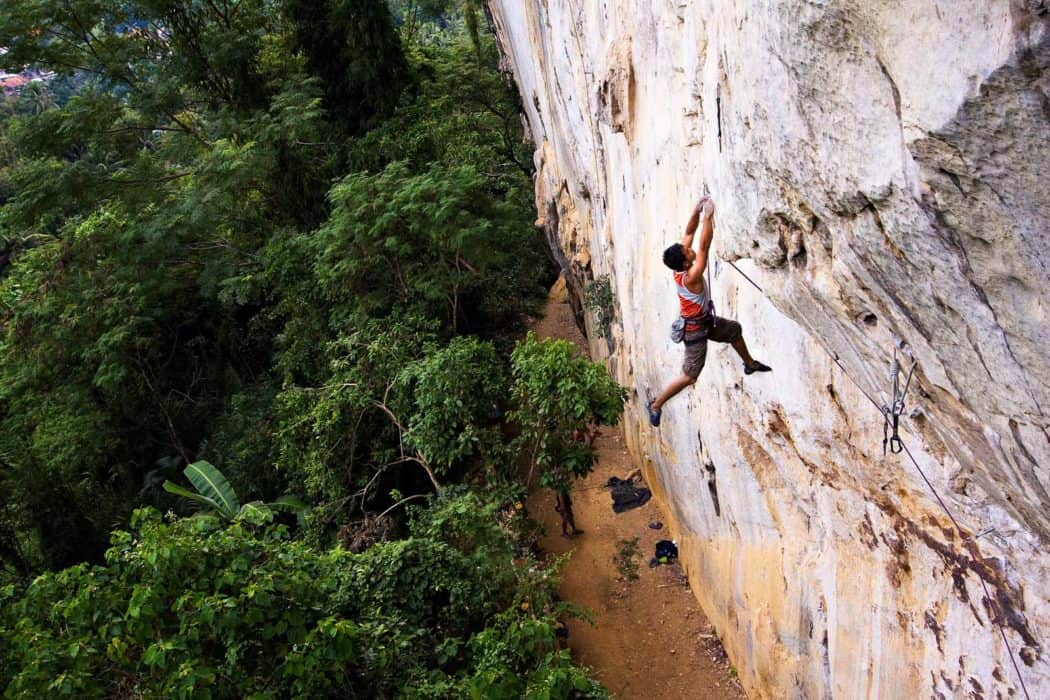 Rock climbing is one of the toughest outdoor adventures — it requires stamina, agility and prime preparation to execute the activity. It is also a great exercise to those who want to lose weight and gain perfect muscle build.
How much would it cost? None to small amount of entrance fees
Where in Cebu? Cantabaco in Toledo City
Wakeboarding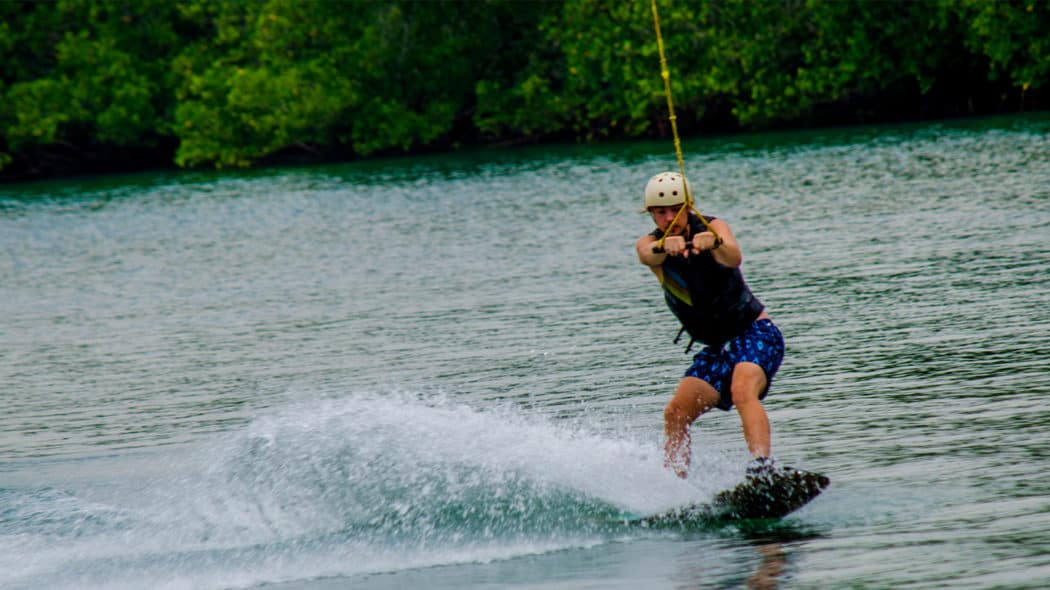 One of the coolest outdoor adventures you should try in Cebu. Feel the intense excitement when riding a wakeboard over the surface of the water. If you love skateboarding then you will love this more! This requires your balance and concentration, and if you're not a pro, then still no need to worry when you swamp off because you'll just end up in the water. Just wear your life jacket and use a spotter for sure security.
How much would it cost? PHP 150 for 1 ride; PHP 500 for 1 hour (all inclusive of equipment)
Where in Cebu? Danasan Eco Adventure Park in Danao / Papa Kit's Marina and Fishing Lagoon (Cebu Wake Park) in Liloan
Cliff Diving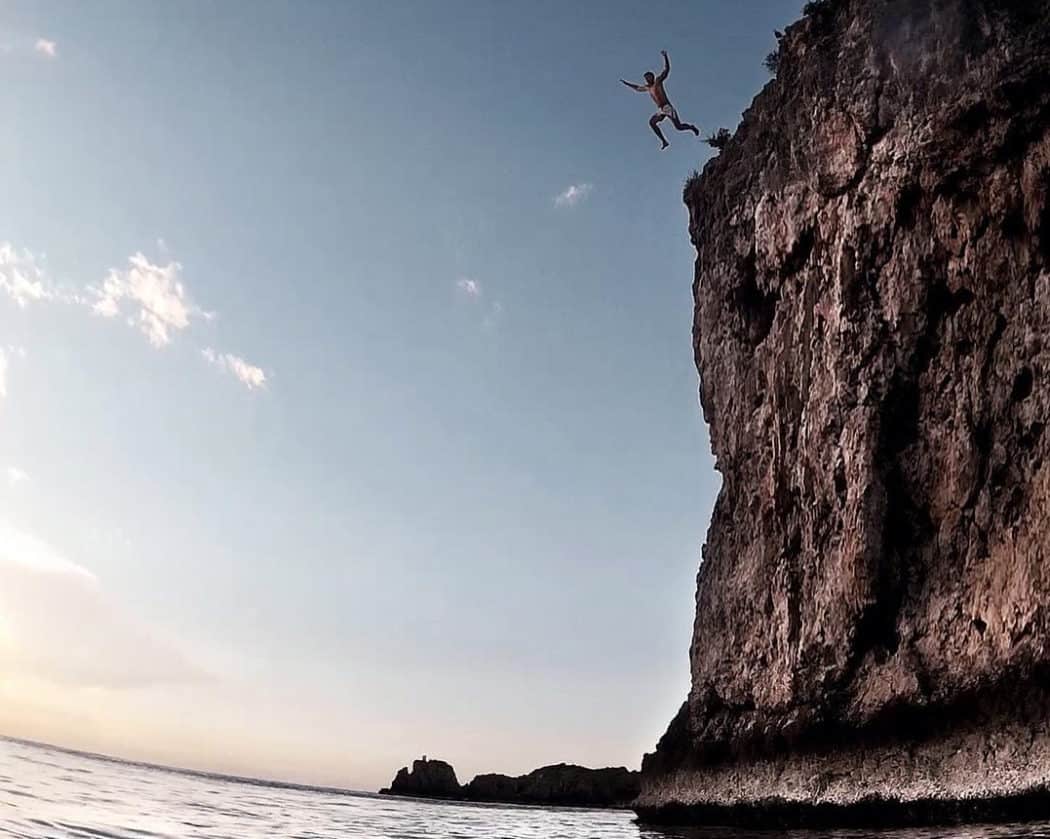 A superb experience you'll surely enjoy especially when you jump together with your friends. You can do this anywhere with a measure of your chosen heights of the cliff.
Again, for safety purposes measure first the rage of the water's feet before jumping and avoid making your head land off first to the water. If you really feel nervous and scared but still eager to jump off the cliff, just think you are brave and you want extraordinary adventure. Doing this with a tour guide or a resident with you is always recommended.
How much would it cost? None to small amount of entrance fees
Where in Cebu? Funtastic Island in Medellin / Malapascua Island
Biking / Bike tricking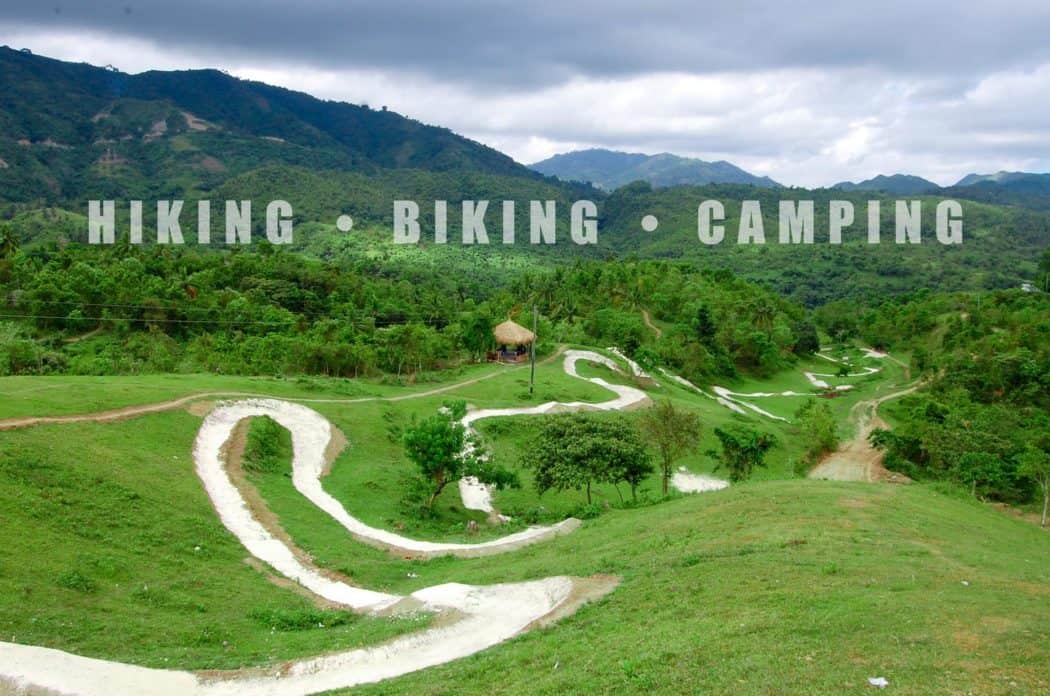 Do you still remember the first time you learned to ride a bike? Or your favorite place to bike around? And did you try to perform different tricks for the sake of making little twists of its use. Me? I did and I was awarded with many injuries and painful experiences but it was worth it because I still felt extraordinary.
Anyway, see the picture above? If you feel the strong spirit of being a rider, then this spot is a perfect place for you and your friends to enjoy extreme ride with the cool fresh air that hits into your senses. From its curve and zigzag landscape you will experience a unique scenery adventure.
How much would it cost? PHP 50 (Entrance); PHP 200 (Biking)
Where in Cebu? Canso X Mountain Adventure Park in Gaas, Balamban
Camping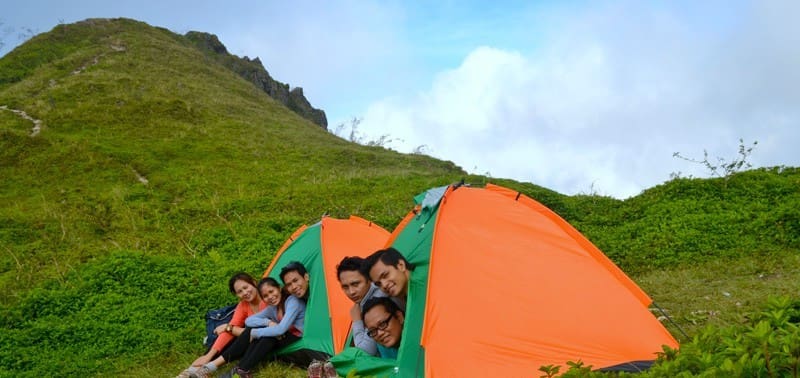 Sleeping outside the house using only a tent is cool but it is more stimulating when you sleep over a mountain or a camping site with your family and friends (you can also bring your pet if you want to). Apart from your usual stuff you bring for overnights, you can also bring a telescope for a distant sight-seeing or an overview to the stars.
Just a tip, you can set your camping adventure at the ´The Genesis Valley Resort' where you can experience Ala Athens concept in Cebu. You may set up your tent or the tent provided by the resort on the ground or at the top mountain of the resort. This place is perfect for team buildings, general assemblies or even just ordinary outings.
How much would it cost? None to small amount of entrance fees
Where in Cebu? Genesis Valley Resort in Cabangahan, Consolacion / Osmeña Peak in Dalaguete / Canso X Mountain Adventure Park in Gaas, Balamban
Swimming with the Whale Sharks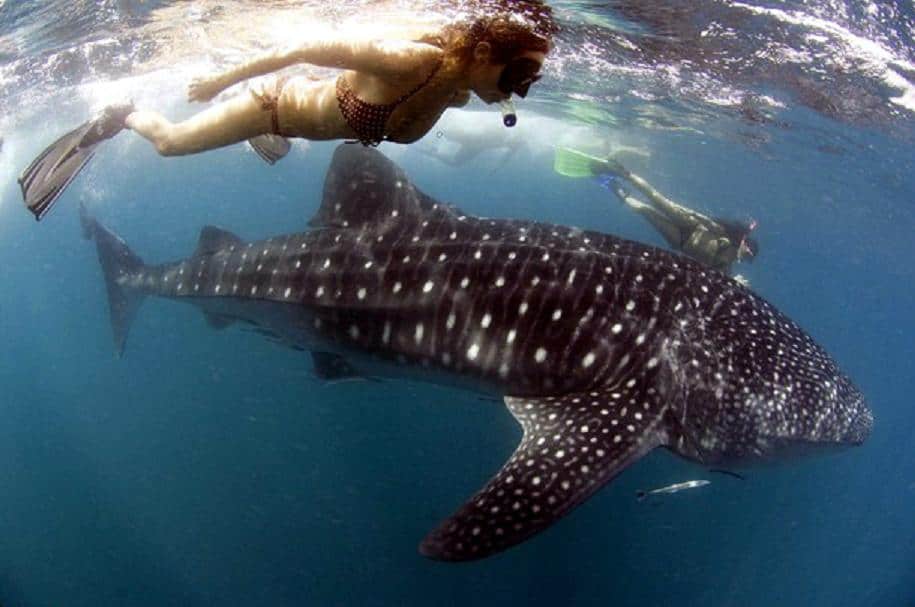 It's ironic — whale shark watching is very popular among tourists and yet only very few locals have actually experienced it. A lot of environmentalists may be against it, every Cebuano should take advantage while it exists. It's a unique kind of experience in our province. Swimming with the whale sharks and taking selfies with them might be a challenge, but surely it is fun.
How much would it cost? PHP 300-500 for local tourists; PHP 1,000 for foreigners
Where in Cebu? Oslob, Cebu
Sky Biking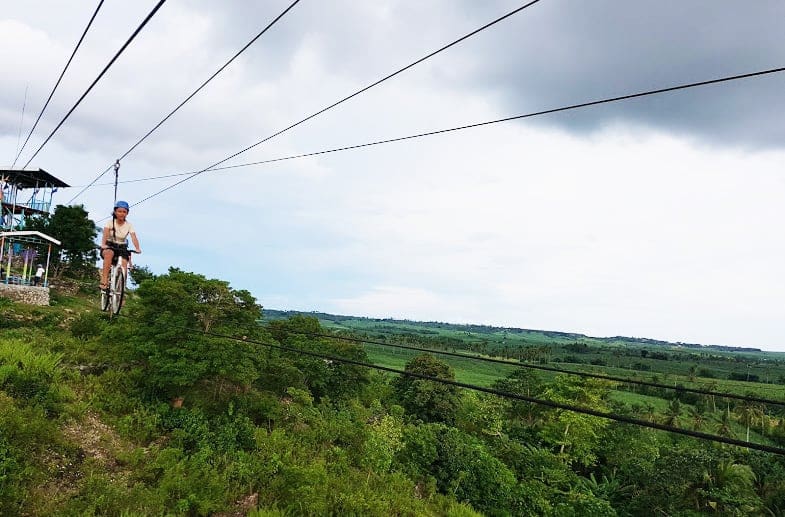 If there are sky diving and sky walking, there's also sky biking. And it offers a different kind of thrill that you must also experience. The great thing about this activity is, you can take your time biking while enjoying the panoramic view of the place's nature.
How much would it cost? PHP 100 per ride
Where in Cebu? Brgy. Caputatan Norte, Medellin / Danasan Eco Adventure Park in Danao City

These are just some of the many outdoor activities you can do in Cebu, proving there's no need to travel further. No need to buy expensive plane tickets just to try them all one-by-one in different places, because Cebu truly has a lot to offer. I honestly admit that I haven't tried these all, but every item in this list is definitely in my bucketlist. And I can't wait to experience them all!
Do you have something to add in the list? Or a great experience in any of these adventures that you would like to share? Feel free to comment below.