If you have been on Tiktok lately, you might have seen the adorable and heartwarming video of a guy who cares for his Grandmother.
That guy might have been 29-year-old Chris Punsalan, a full-time caregiver to his 96-year-old grandmother. Chris' videos are usually about what it looks like to take care of his ailing grandmother, and most of the time, they would have adorable conversations or banters.
The way Chris interacts with his Grandmother immediately captured the hearts of Netizens from around the world. The 29-year-old's Tiktok videos now have millions of views.
Chris, his grandmother, and his family reside in Nevada, USA. His family hailed from Pampanga, Philippines but decided to migrate to Nevada.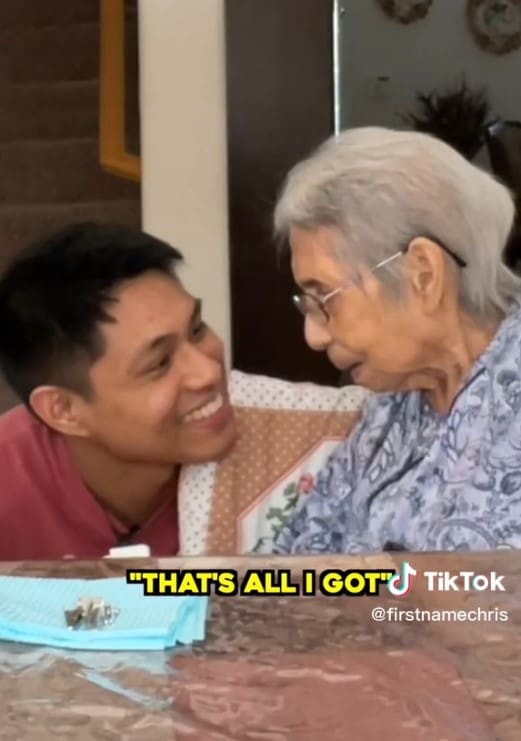 So, how did Chris become his grandmother's full-time caregiver?
Chris revealed that it was his decision to volunteer. His grandmother took care of him while he was growing up, and he hated the idea of seeing her go to home care. Chris' grandmother has osteoporosis and is unable to walk.
Sharing Experiences on Tiktok
Chris started posting on Tiktok back in 2019. Meanwhile, in 2020, he started posting mini day-in-the-life vlogs on the video-sharing platform.
Of course, posting on social media comes with the price of getting bashed. People have been people sending hate or negative comments to the content creator. Some branded him as a "clout-chaser." However, Chris denied the allegations of using his grandmother for fame.
The 29-year-old even shared that people commenting negatively are often fellow caregivers. However, he stressed that caregiving is complex and can be very isolating.
But Chris did not let the negativity get to him. Because of his videos, many people have been stepping up and telling him that he inspires them to care for their grandparents.
The Ups and Downs of Chris Punsalan
Even on Tiktok, Chris is open to his mental and emotional struggles as his grandmother's caregiver. He even shared how difficult it is when his grandmother forgets about him sometimes.
Chris also urges his viewers and everyone to cherish their grandparents and loved ones because, according to Chris, "Life is so fragile."
For those who still have grandparents around, tell them you love them, kiss them, hug them, and just cherish all the time you have with them.