What does it mean to "Manifest" something in your life? Is it ignoring all the negatives and daydreaming about what kind of future is waiting for you? Not quite. It is visualizing your life goals and taking action to acquire them.
That's what a teacher and motivational speaker did; she manifested the kind of life she wanted in the future, and she was able to turn her whole life around.
Award-winning, Teacher MJ
Mary Jane Flores Pernites is an award-winning motivational speaker and teacher. She has won awards at different prestigious events.
Just recently, Teacher MJ was awarded the title of "BEST PLENARY SPEAKER" during the 2023 International Educators Conference & Global Educators held in Ho Chi Min City, Vietnam. Teacher MJ was awarded because of her excellent speakership during the event, thus bringing honor to her 'beloved Cebu'.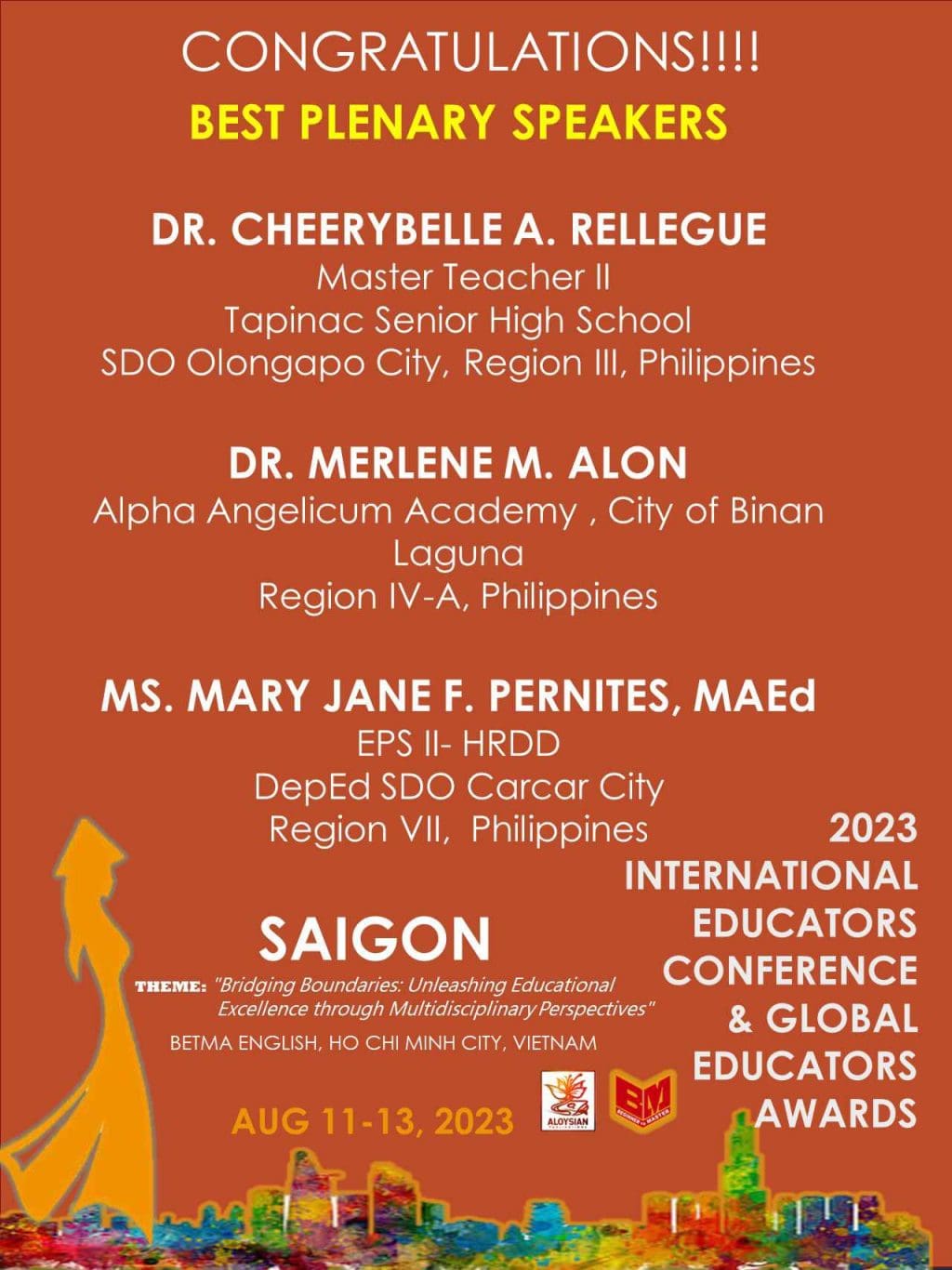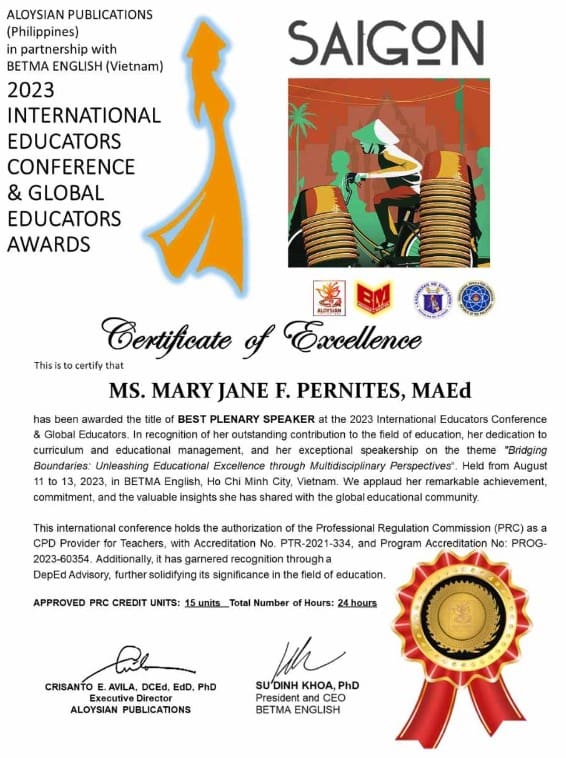 But behind the awards and the recognition, behind the well-spoken woman, there was a scavenger dreamer who went against all odds just to become what she is today.
Let us witness the story of Mary Jane Flores Pernites, aka Teacher MJ, for this month's first The Sugboanon Feature.
Before 'Teacher MJ,' There Was a Little Girl With Big Dreams
Mary Jane Flores Pernites grew up in the slums of Talisay City, Cebu, with her family. At a young age, she had to collect trash from the dump site and sell goods to get extra income.
Even at school, the young MJ still had to sell food to her classmates and teachers. Not only that, she was also able to experience selling ice drop and maja at SRP. Imagine risking your life, running across one of the busiest roads in Cebu just to have enough money to feed you and your family.
When MJ was in high school, she also worked as a house helper and endured mistreatment from her previous employers. Because of this, MJ decided to go back home and collect garbage again.
She still had to juggle her studies and her gigs; however, she was able to graduate from Talisay City National High School and receive a scholarship from the YMCA.
Finally 2010, Teacher MJ graduated with a Bachelor's degree in Secondary Education.
The Challenges of Teacher MJ
Teacher MJ still faced many challenges that tested her faith and her strength. Her sister got into an accident, and she had to juggle everything while studying for the board exams.
On the day of her board exams, Teacher MJ was also reprimanded and humiliated by the exam proctor because of an incident regarding her exam paper. However, with tear-stained exam sheets, Teacher MJ still decided to finish and submit her test.
She didn't think she would make it to the list of passers. She even told a friend to only send her a text message if her name was on the list. But with God's grace and Teacher MJ's faith, her friend texted her saying she passed.
On another account of her life, Teacher MJ worked as a call center agent in Manila, where she experienced discrimination towards Bisaya people.
Teacher MJ Becomes Super Energetic Host MJ
Teacher MJ knew that she had a God-given talent for public speaking, and she has since participated in hosting gigs during local fiestas. However, her professional hosting career started when she was asked to do a hosting gig with the Celebrity Steven Silva.
Many people commended Teacher MJ's skills, and that was when she decided to create her official Facebook page for hosting.
"I Manifested myself as an experienced Emcee; it's just that I did not make my Facebook page yet,"

Teacher MJ.
She started out doing pro-bono gigs for friends until such time that people booked her for weddings, company events, and more.
Teacher MJ Becomes a Motivational Speaker
The first talk she did as a motivational speaker was for a team-building activity. What she didn't expect was to see people crying. She saw how her words were able to move and touch them.
"I realized that I wasn't the only one who experienced hardships; they are just waiting for someone already successful to show them that they too can become successful,"

Teacher MJ shared.
One person even messaged Teacher MJ on Facebook, telling her how much she had impacted their lives.
Teacher MJ's Recipe on Positively Romanticizing Life
We asked teacher MJ about her recipe for success and manifesting, and she told us five steps.
See your Goals Clearly and Manifest Them

If you wish to become something in the future, you must see it clearly. You have to claim that you are already that person to be able to manifest it.
"I already Manifested that I will be awarded as a motivational speaker. Wala pa na siya nahitabo, that's already clear in my mind."
Take Action and Sell Yourself

Meet people, build connections, offer services, and add value to everyone you meet.
Receive Your Success, Invest in Yourself, and Know Your Value
Repeat
Teacher MJ also emphasized how important it is to be motivated and disciplined.
"Motivation is important because it is like a fuel that keeps us going. However, we may not be motivated every day, which is why self-discipline comes in,"

said Teacher MJ.
We need to be disciplined enough to continue motivating ourselves because "No one can give you more motivation than yourself."
Lastly, Teacher MJ also stresses not to see things as "failures" but instead see them as learning. See every rejection as a redirection to something even better that God has planned for you.
Teacher MJ Now
After all, she endured, Teacher MJ is now a DepEd Education Program Specialist and an educator who handles education students. She still continues hosting gigs and motivational speaking shows where she gives off the most energetic energy to bring smiles and impact people's lives.
Teacher MJ sees that she penetrates different organizations to share her story and inspire people to achieve their dreams.
What's interesting is Teacher MJ's life story was turned into an official entry for DeEd's EsPelikula. The short film earned the 4th spot.
Teacher Mary Jane Flores Pernites also received awards such as the "Most Outstanding Influential Educator and Host" and the "Most Empowered Educator and Motivational Speaker of the Year."
Teacher MJ is living proof that faith and manifestation will go a long way as long as you take action and work for it. But most importantly, whatever success you achieve, always pay it forward but make a mark on other people's lives.