Are you going anywhere this weekend? Not to worry! Enter the vibrant surroundings of IT Park to discover a world of limitless enjoyment! Expect a symphony of entertainment and an array of exciting experiences that will leave you wanting more.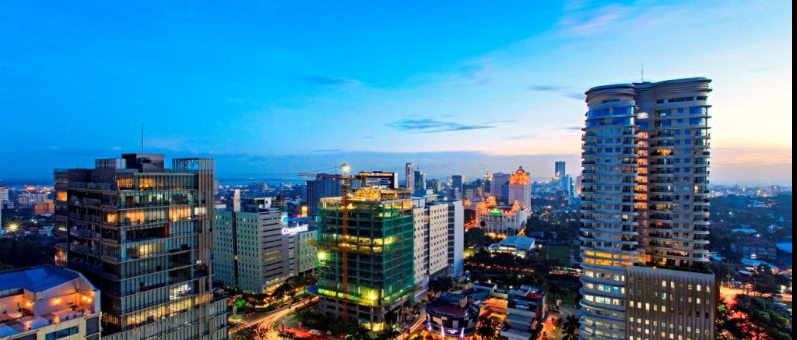 Cebu IT Park is Cebu City, Philippines' leading technological park, it is a large integrated complex with numerous amenities for businesses and IT specialists. However, whether you work or not, this place is everything! IT Park represents one of Cebu's most lively landmarks, as well as one of the city's greatest nightlife destinations.
Fill Your Stomachs at IT Park
Sugbo Mercado is widely regarded as the premier dinnertime destination for Cebuanos. It is thought to be Cebu's first food park, with dozens of independent Filipino entrepreneurs for a Filipino food crawl.
Sugbo Mercado drew a large number of foodies when it first opened in September 2015, and it is still the city's most popular weekend food market and a must-see when visiting Cebu IT Park.
There are plenty of stalls to choose from, serving something from international cuisines like Japanese, Thai, and Indonesian to Filipino and Cebuano food to satisfy everyone's appetites. There is surely a stall for foods you didn't even realize you were craving, so you can bet on that.
Exact location: Garden Bloc, Cebu IT Park
Cebu's well-known shopping mall
If you prefer shopping, stop by this enormous mall, which occupies a 27-hectare space and is home to a variety of delectable dining establishments, fashionable shops, and entertainment venues.
Many of the most renowned I.T. companies are located in the Ayala Malls Central Bloc. It wouldn't be an awful plan to take a leisurely walk on the stone pathways after visiting all of the dining establishments and hopping from bar to bar.
Exact location: Ayala Malls Central Bloc, Cebu IT Park, Cebu City (across Sugbo Mercado)
There are a lot of bars!
These drinking establishments not only provide a variety of cool drinks, but each one has something unique to offer.
When visiting IT Park, there are various bars made just for you to visit. Park Social is a sports bar that serves alcoholic beverages and hefty food for an enjoyable drinking session. It's one of the top Cebu pubs with live music, and it's the ideal place to catch up on the hottest sporting events from around the world.
Park Social, Exact location: Cebu I.T. Park, Lot1-A-2 W Geonzon St, Apas, Cebu City, 6000 Cebu
Customers also enjoy hanging out at Pipeline Bar & Grill, an enticing bar located next to Sugbo Mercado that is well-known for the pool tables that customers can play at while enjoying a beer with friends.
Pipeline Bar & Grill, Exact location: Garden Bloc, Cebu IT Park, Cebu City (near Sugbo Mercado & The Pyramid)
Are you also looking for a perfect ambiance, good food, and a bar with the best selection of drinks? Ambiance Bar has the perfect ambiance and aesthetics for romantic dinners and a night out with friends. A performer serenades you throughout the night to round off the experience.
Exact location: Garden Row, Cebu IT Park, Cebu City (in line with Coffee Bean, Boy Zugba, and Sachi restaurant near AyalaMalls Central Bloc and The Walk)
Embrace serenity at IT Park's spacious open field
If you want to spend an evening away from home in a solemn setting. There's no need to spend a lot of money, just find a place where you and your buddies can sit down and have meaningful discussions. Jogging and brisk walking are options. Relax on the lush grass or the seats.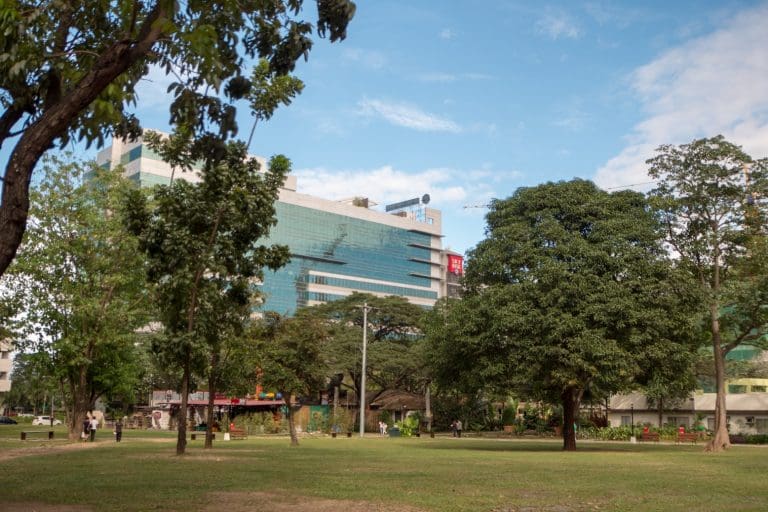 OTHER INFORMATION
HOW TO GET THERE
Exact location: Cebu I.T. Park, Lahug, Cebu City — 15-20 minutes away from Ayala Center Cebu, 30-45 minutes away from SM City Cebu.
BY TAXI/BUS: If you're already in Cebu City, just hail a taxi cab or ride a bus that's going to IT park. IT Park is quite big and easy to get lost in so it would be best to know your destination before going out.
BY CAR: Navigate with Waze or Google Maps and set your destination to "I.T. Park" in Cebu City. Multiple parking spaces are available within the park.