What makes a school international? A lot of us may identify international schools as merely expensive institutions that only the most privileged or the smartest and most talented (hence getting scholarships) can get into, but in essence, there is a reason why international schools are built in the first place.
International schools are institutions that follow an international or national curriculum but one that is different from the host country. Here, there is an emphasis on international education.
According to The International Educator, the following are the IASL criteria for international schools:
Transferability of students' education across international schools
A moving population (higher than in national public schools)
Multinational and multilingual student body
An international curriculum (i.e., IB – DP, MYP, PYP)
International accreditation (e.g., CIS, IBO, North Eastern ASC, Western Ass. of Schools and colleges, etc.)
A transient and multinational teacher population
Non-selective student enrollment
Usually English or bi-lingual is the language of instruction
Students of international schools are usually children of those who work for international organizations or businesses, missionary programs, and foreign embassies. However, some locals also send their children to international schools in order for them to obtain a higher education that can provide more opportunities once the student decides to leave their country of origin.
If you're interested in going to one or just want to know more about the international schools we have, here are the top five international schools in Cebu.
1. International Culinary Arts Academy Cebu
Photo from International Culinary Arts Academy Cebu Facebook Page

Photo from International Culinary Arts Academy Cebu Facebook Page

Photo from International Culinary Arts Academy Cebu Facebook Page

Photo from International Culinary Arts Academy Cebu Facebook Page

Photo from International Culinary Arts Academy Cebu Facebook Page

Photo from International Culinary Arts Academy Cebu Facebook Page
Culinary arts is easily one of the programs that ensure flexibility, allowing a person to get opportunities wherever they may be. With the advent of globalization, international cuisines are being studied by everyone who practices the art of cooking. The International Culinary Arts Academy Cebu provides education to those who specialize in the aforementioned, proving itself to be one of the finest schools for those who want to work in the hospitality industry.
Founded in 2002, the ICAAC established itself as one of the most prominent international schools in the region. You may take the Two Year Culinary Arts Chefs Programme if you wish to get in, taking an assessment examination and an interview with the dean.
The tuition fee ranges from P60,000-300,000 per year.
2. Lapulapu-Cebu International College Inc.
Lapulapu-Cebu International College Inc. offers three flagship programs: Tourism Management, Physical Therapy, and Foreign Language. They both participate in and accept student exchange programs for further cultural immersion.
Tourism Management is one of the programs they focus on, making it easier for students to network even while in school, considering how important this is in terms of working in the tourism industry. Navigating a career in hospitality, travel, and tourism, a global perspective is needed for students to truly connect with the spirit of their program of choice.
The same can be said for the Foreign Language program. To really learn the heart and contours of a language, it is not enough to learn it from a textbook. LLCIC ensures that Foreign Language students get to transcend both cultural and linguistic barriers through a learning journey that goes beyond the classroom.
Through their state-of-the-art education, it is guaranteed that their Physical Therapy program will not fall short. LLCIC prepares students for excellent clinical practice wherever in the world they may choose to work.
The tuition fee ranges from P62,300 – P76,800 per semester depending on the chosen course.
3. CIE British School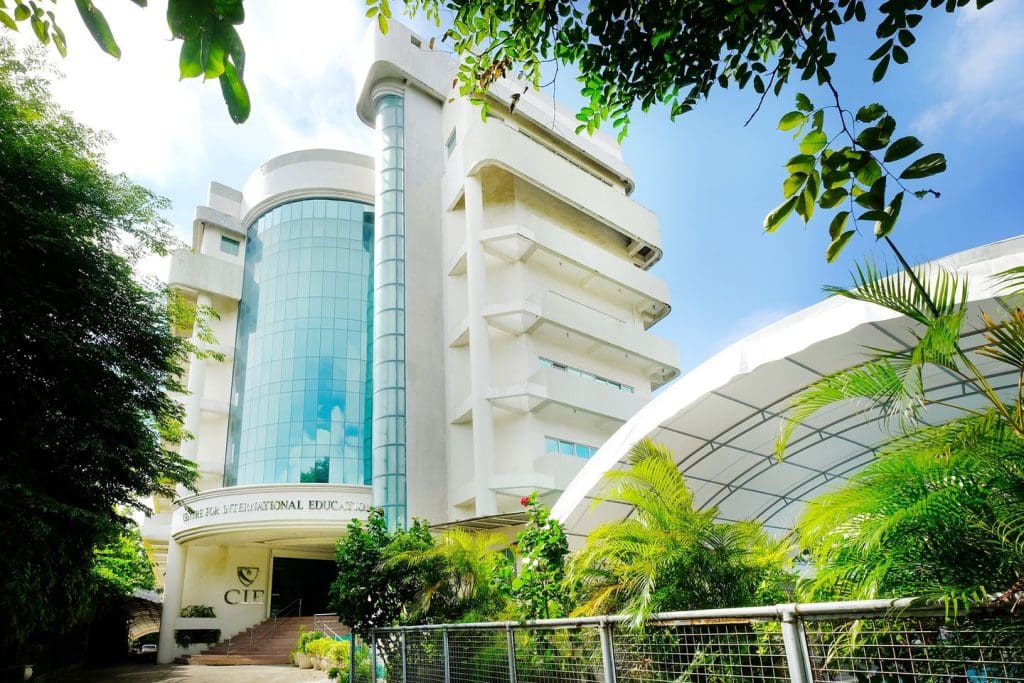 CIE British School is well-known for its education to students in their formative years. Focusing on primary to senior high school education, CIE ensures not only the educational growth of their students but also one that makes up who they are outside of school. According to them, they not only feed minds with theories and concepts, but they also hone skills and talents.
CIE holds programs like music recitals for their students for an emphasis on their non-academic life and has won multiple awards in athletic events beyond the school, such as in swimming.
The tuition fee ranges from P400,000-500,000 per year.
4. Athenaeum International School
Athenaeum International School lives up to its namesake— a school founded in Ancient Rome concentrating on literature and scientific studies. Its offered programs are preschool (Nursery and Kindergarten) and basic education (Grades 1 to 10).
In high school, they promise their students an enhanced, context-based, and spiral progression learning curve with the following subjects:
Mother Tongue
Filipino
English
Mathematics
Science
Araling Panlipunan
Edukasyon sa Pagpapakatao (EsP)
Music
Arts
Health
Edukasyong Pantahanan at Pangkabuhayan (EPP)
Technology and Livelihood Education (TLE)
They also offer a sibling discount as well as an alumni discount, with a 25% discount on the Grade 1 tuition fee for AIS Kindergarten completers and a 50% discount on the Grade 7 tuition fee for AIS Grade 6 graduates.
5. Cebu International School
The Cebu International School encourages and fosters global engagement and implements an educational system that produces highly competent students. It adapts an International Baccalaureate Primary Years Programme that guarantees a strong learning foundation, especially for children in their formative years. CIS offers programs for primary education, elementary, and junior and senior high school students.
The tuition fee ranges from P299,158 to P1,328,228, gradually increasing as the student progresses to the next year level.
Each international school has its own approach to education, allowing a diverse educational system to exist in a host country. All of them have their own strengths, but overall, the proliferation of international topics and varieties of curricula undoubtedly builds a stronger foundation of cultural understanding and intersectionality.