Cebu is a melting pot of cultures, which is also true for its food scene. There is something for everyone to appreciate, whether they are Filipino, Chinese, or Korean. However, you're in for a treat if you enjoy Japanese cuisine. There are several well-known Japanese eateries in Cebu provide anything from ramen to sushi to udon.
We'll look at five of Cebu's best-known Japanese food places based on reviews and comments from previous patrons. So, whether you've enjoyed Japanese food for a while or are just starting to explore, check out these great spots.
1. Mendokoro Ramenba
Mendokoro Ramenba is a must-visit if you enjoy ramen. This popular ramen restaurant from Manila opened in Cebu IT Park and has swiftly become a favorite among locals and visitors.
Mendokoro Ramenba delivers a variety of delectable ramen bowls with a thick broth that explodes with flavor. The thick cold noodles in their Tsukemen dish are "brushed" beautifully for display, and the dipping ramen broth is tasty and up to our standards. They also serve delectable gyoza and chashu.
MENU: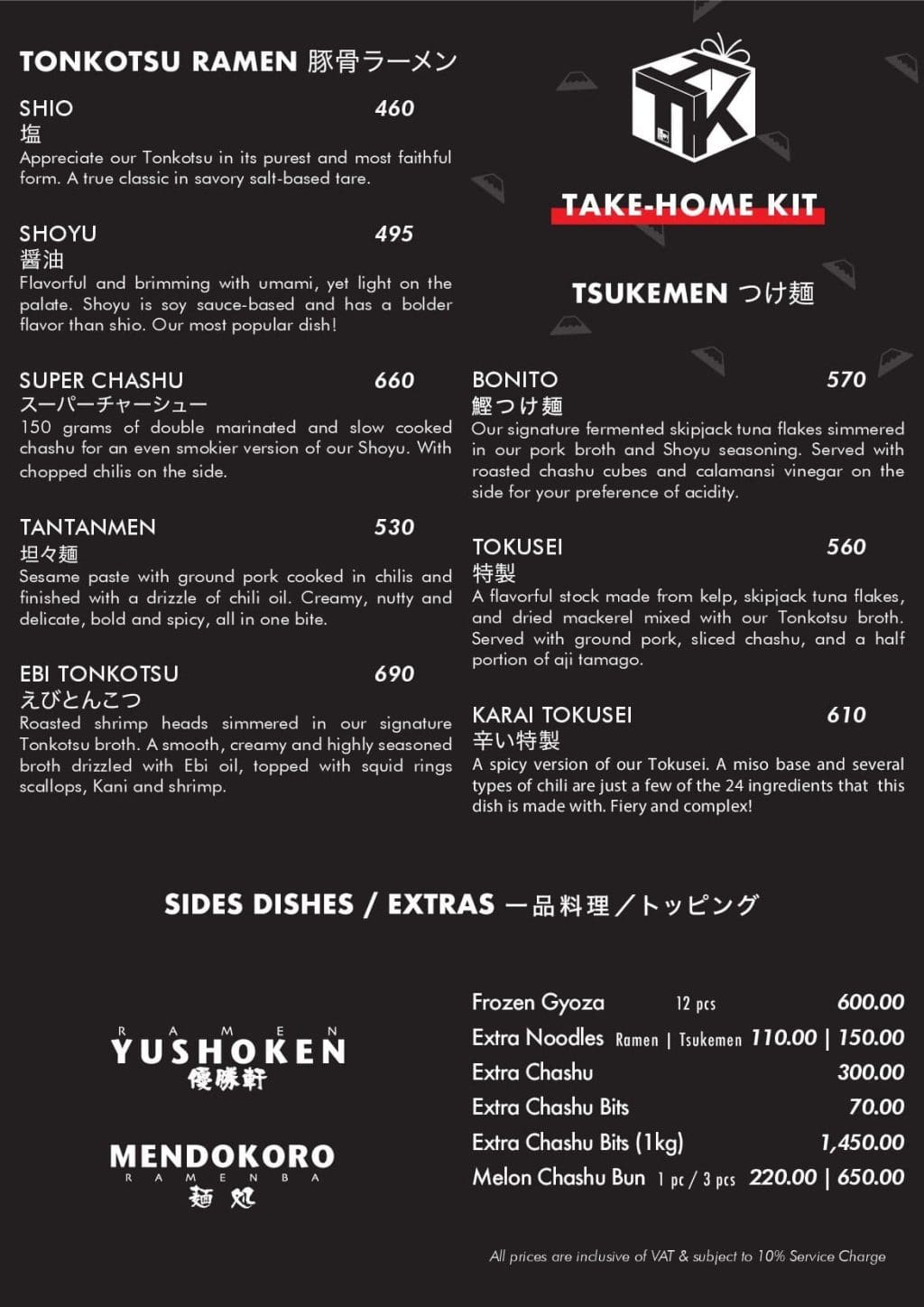 OTHER INFORMATION
Exact location: Ayala Malls Central Bloc, Cebu I.T. Park, Cebu City
2. YAYOI Philippines
Yayoi is a popular Japanese restaurant worldwide, with branches in Japan, the U.S.A., Australia, Singapore, Thailand, and Taiwan. Because of its unique approach, Japanese food has gained a certain influence in the global culinary scene.
Their menu includes Teishoku, sushi, Salmon roll, chicken katsu, and many other options. They also provide a selection of set meals, a wonderful alternative if you need help deciding what to order.
MENU:
OTHER INFORMATION
Exact location: Upper Ground Lvl, Seaview Wing SM Seaside, Cebu
3. Marugame Udon
Marugame Udon is ready to serve you authentic, handcrafted Japanese dishes that have been enjoyed for generations! A well-known Japanese restaurant chain noted for its fresh udon noodles. Marugame Udon's pleasant atmosphere, friendly smiles, and scrumptious foods are ready for your tummy here in Cebu!
MENU:
OTHER INFORMATION
Exact location:  Marugame Udon at SM City Cebu
4. BOTEJYU Philippines
Botejyu is a notable Japanese restaurant that is known for authentic and traditional Japanese food, serving their popular Okos & bestseller Okonomiyaki.
They also serve sushi, sashimi, Pork Miso Tonkotsu Ramen, Prawn Tempura, Beef Hayashi Rice, and a variety of other Japanese delicacies. It is an excellent spot to satisfy your needs for Japanese cuisine.
MENU:
OTHER INFORMATION
Exact location: Upper Ground Floor SM Seaside Mambaling Cebu City.
5. Kazuwa Prime CEBU
Kazuwa is a Japanese fine-dining restaurant recognized for its authentic Japanese food and sophisticated atmosphere. They have a Teppanyaki set good for groups and other meal variants, especially their Chef choice: Sashimi, sushi, and Temmaki.
And guess what? Aside from their cuisine, which is satisfying, the service is outstanding, and the atmosphere is exquisite. Through perfectly made food, excellent service, and a pleasant ambiance, their objective is to convey their customers to the heart of Japanese culture.
MENU:
RESERVATION/ DOWNPAYMENT/TABLE FEE:
Consumable; Non – Refundable
Teppanyaki Seats: P5000
VIP 1 (14 seats): P10000
VIP 2 (10 seats) P5000
VIP 3 (10 seats): P5000
OTHER INFORMATION
Exact location: Lvl 1, The Strip, NUSTAR RESORT 7 CASINO, Cebu City, Philippines
You're sure to find the ideal Japanese restaurant on this list, regardless of your price range or the style of cuisine you're craving. In other words, make sure to visit one of these fantastic restaurants the next time you're looking for a nice Japanese meal.