A focused mind is a magnetic force that attracts success.
Having a space for concentration is a must when it comes to those who strive to succeed. There are plenty of places you can go to in order to hyperfocus, such as libraries, coffee shops, and even coworking spaces. Speaking of a coworking space, there is one in Cebu that does not only help you be productive but will also help you grow and become empowered to take on challenges — enspace Cebu.
enspace Cebu: Creating a GLOCAL world where various "fate" intersect
GLOCALization is a portmanteau of the words "globalization" and "localization." It refers to the process of adapting global products, services, ideas, and technologies to local markets and cultures. Glocalization is a way of balancing the need for global uniformity with the need for local diversity.
Nestled in the heart of Cebu's information technology industry jungle, enspace Cebu is a company that offers coworking spaces, private offices, meeting rooms, virtual office address, and business support services.
According to enspace's Community Manager and the COO of Enrise Global Inc., Ryota Yamada, enspace aims to "create a glocal (global and local) world where various 'fate' intersect." The company strives to support students, start-up business owners, freelancers, and more by providing a safe space for them to focus and also collaborate.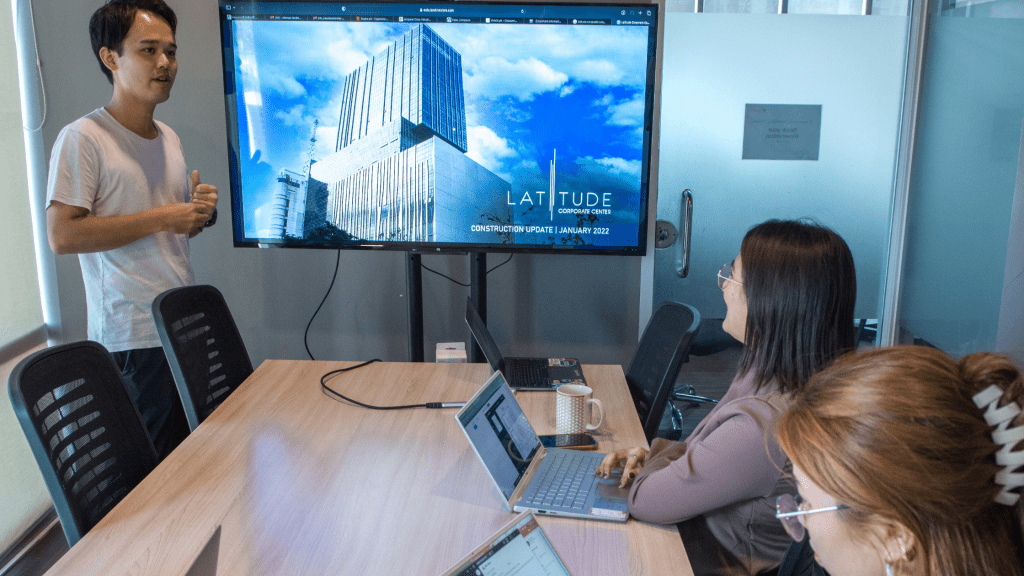 enspace Services
As mentioned above, enspace provides services such as Coworking spaces, Private offices, Meeting rooms, and Virtual office address. Not only that, but they also have Business support Services where businesses can ask for Corporate Business Registration, Accounting & Bookkeeping, Payroll & HR Management, and Legal Services assistance that they need.
Apart from the services, at enspace Cebu, guests and members can expect the following facilities:
Dedicated High-speed Fiber Internet up to 100 Mbps with backup
Unlimited Brewed Premium Coffee & FREE Water
Meeting Rooms & Offices with a view
Ergonomic workstation with own outlet
FREE Use of Projector, Whiteboard, LED Monitor, Camera & Logicool Speaker
Student & Community Partnership Discounts
1-minute walk to Ayala Malls, Coffee Shops, and convenience stores
CCTV and Backup Power & Generator
Office Lockers & Drawers for rent (optional)
High-quality printing & scanning services
24/7 Access for Office & Coworking Members
Accepts GCASH, Cash, or Fund Transfer payments (credit cards soon)
Premium Access to Community Events (FREE)
Japanese & Local Operation Staff
The History of enspace
enspace started in Japan, specifically in Sendai City. Ryota Yamada recounted that their CEO, Katsuhiro Ago, went to Sendai and saw many promising people, especially those with small businesses, that inspired him to establish Enspace.
"To provide coworking space for startups and the local community,"

YAMADA STATED.
enspace in Cebu
So, how did enspace get to Cebu?
Because of enspace' success in Japan, clients wanted to try marketing the company abroad. and because ASEAN countries were closer to Japan, the CEO decided to expand to the Philippines. Moreover, the decision was also influenced by the fact that many people speak fluent English in the Philippines, especially Cebu. Aside from that, there are many foreigners, especially Japanese, that need a place to work or help kick start their business.
The "en" in enspace
The "en" in enspace means different things in English.
First is "Enjoy"; as stated by Yamada, when people work, it is best to enjoy the process. Next is "English"; Enspace believes learning English is essential when starting a business. Third is "Engineers"; the company brings importance to tech engineers as they play a vital part in our lives, especially now that technology is around us. This is why they also want to provide a space where people in the tech industry can work on their careers.
If you want to partner with enspace Cebu, kindly complete this form: bit.ly/enspacePartnerships
But there's a Japanese meaning of "en" that fully describes what enspace is all about— en meaning "Fate."
Students, freelancers, business owners, and people of different backgrounds come together to share one space that intertwines their fate and helps them grow, succeed, and be the empowered version of themselves.
Get Keen for enspace Cebu at Business Park
enspace expands yet again as it will soon open its new branch at Cebu Business Park.
Ryota Yamada teased that the next branch would have a more Japanese feel to it. enspace's goal is to create another space where people can feel a mother's love. But what does it mean with "a mother's love"? enspace wants to give people a place to nurture and grow themselves and their businesses by providing more functional services.
A space to work, collaborate, and even start your own business all in one place — Only at enspace.
enspace Cebu will continue to support the initiatives for emerging Tech Communities such Web3, AI, Metaverse, AR/VR and beyond together with our existing and future partners. Our future event space can hold up to a hundred of audience/attendees.
As well as Local businesses, Developer's Communities and Startups in the Philippines. We have a vision to be the Glocal Tech Hub in the city, where both Japanese and the locals can connect, collaborate and cultivate new ideas and events.
RATES & MEMBERSHIPS:
Coworking

Per Hour: ₱50 (min. 2hrs)
Early Bird: ₱300/day (start use from 8 AM to 10 AM)
Regular Drop-in: ₱400/day (Mon-Fri, 10 AM – 9 PM)
Overnight Pass: ₱500/pass (Mon-Fri 9 PM to 7 AM)

Monthly Coworking

Hybrid Pass – 3,500 php/pass (10 days consumable Coworking Pass valid for 2 months)
Student Monthly Membership – ₱4,500/month (student discount applied)
Free Desk Membership – ₱6,500/month (free seating)
Dedicated Desk Membership – ₱9,000/month (dedicated workspace+business address)

Meeting Rooms & Event Space

2-person Meeting Room- ₱120/hr
8-person Meeting Room- ₱450/hr
10-12-person Meeting Room- ₱700/hr
20-30 people Event space – ₱1,700/hour

Virtual Office Address Plans

Virtual Office Address – ₱2,500/month (Business Address+Mailbox service)
Virtual Office Hybrid – ₱4,000/month (Business Address, Mailbox service, FREE 5 days Coworking pass & 4 hrs meeting room per month)
Virtual Office Pro – ₱5,500/month (Business Address, Mailbox service, FREE 10 days Coworking pass & 4 hrs meeting room per month)

Private Offices

₱10,500/seat (negotiable rate)
24/7 Access in Coworking & Office
Business Address use
Free 8-hrs Meeting room use per month
Unlimited Brewed Coffee
Desktop/Laptop unit Rental (optional)
Other Services:
Accounting/Bookkeeping
Payroll/ HR Management
Zero Accounting Report
Legal Services for Business
If you wish to get a quote form, you may do so here.
Other Information:
HOW TO GET THERE?
Exact location: Unit 1102, 11th floor, Park Centrale Building, Jose Maria del Mar St. IT Park, Cebu City, Cebu.
BY COMMUTE: From Colon, you can ride any jeep to IT Park (17B). Ask the driver to drop you off at the Park Centrale Building.
Once you get to Park Centrale, show your ID to the guard at the building entrance. Then, head to the elevator and press the 11th floor.
BY CAR: Navigate with Waze or Google Maps and set your destination to "Park Centrale" in Cebu. Parking space is available.