Rainy season has officially started – but rain or shine, coffee lovers can rejoice throughout the month! 
SM Seaside is brewing up a delightful campaign this July, putting the spotlight on the perfect coffee pairings.
From delectable pastries to refreshing ice cream, there's something for every coffee aficionado at this month's Coffee Time event.
Relax, chill, and enjoy delicious coffee until July 16 at the Coffee Time Hangout located at the Upper Ground Level, Cube Wing in SM Seaside.
1. Waffles and Coffee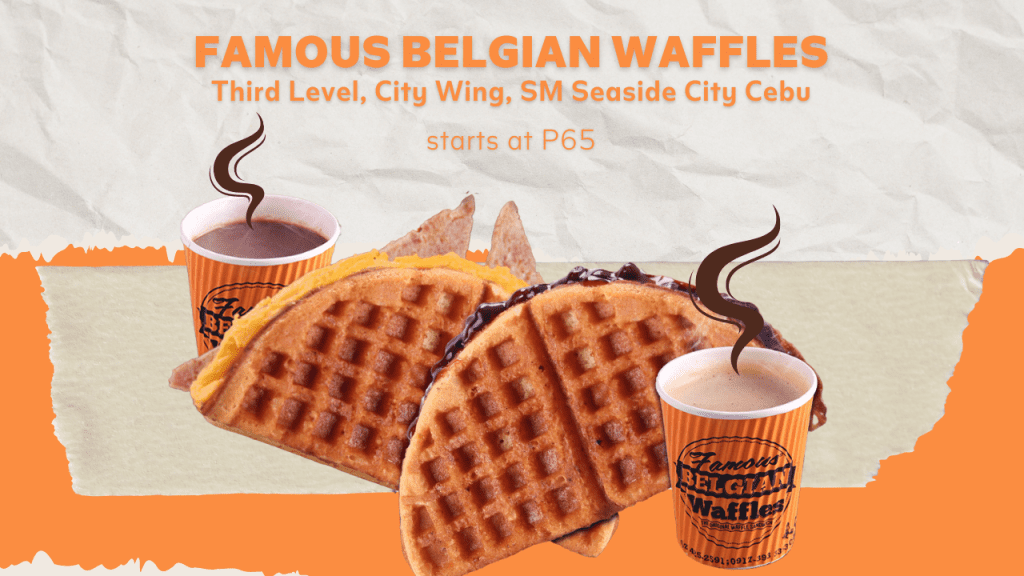 Famous Belgian Waffles | Third Level, City Wing | SM Seaside City Cebu
Indulge your taste buds with the heavenly combination of Belgian Waffles and a steaming cup of coffee. Located on the third level of the City Wing, this waffle haven offers a wide variety of flavors, from classic to adventurous. Whether you prefer your waffles topped with fresh fruits, whipped cream, or a drizzle of syrup, they are the perfect complement to your favorite coffee blend.
2. Ice Cream and Coffee / Affogato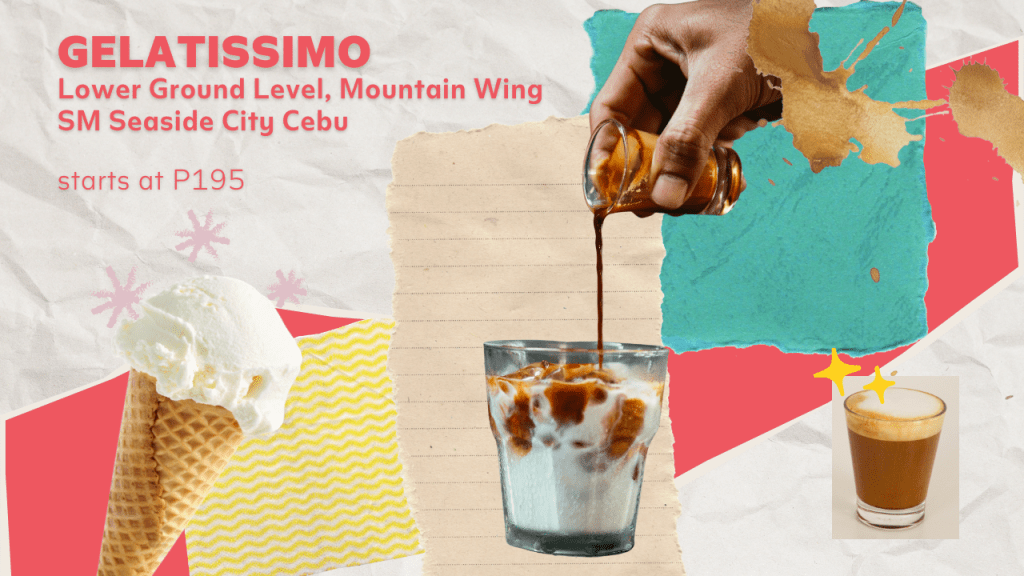 Gelatissimo | Lower Ground Level, Mountain Wing | SM Seaside City Cebu
Escape the summer heat and discover the irresistible pairing of ice cream and coffee at Gelatissimo, situated on the Lower Ground Level of the Mountain Wing. Treat yourself to an indulgent Affogato, where a scoop of rich, creamy gelato is drenched with a shot of freshly brewed espresso. The contrasting temperatures and flavors create a heavenly harmony that will leave you craving for more!
3. Cookies and Coffee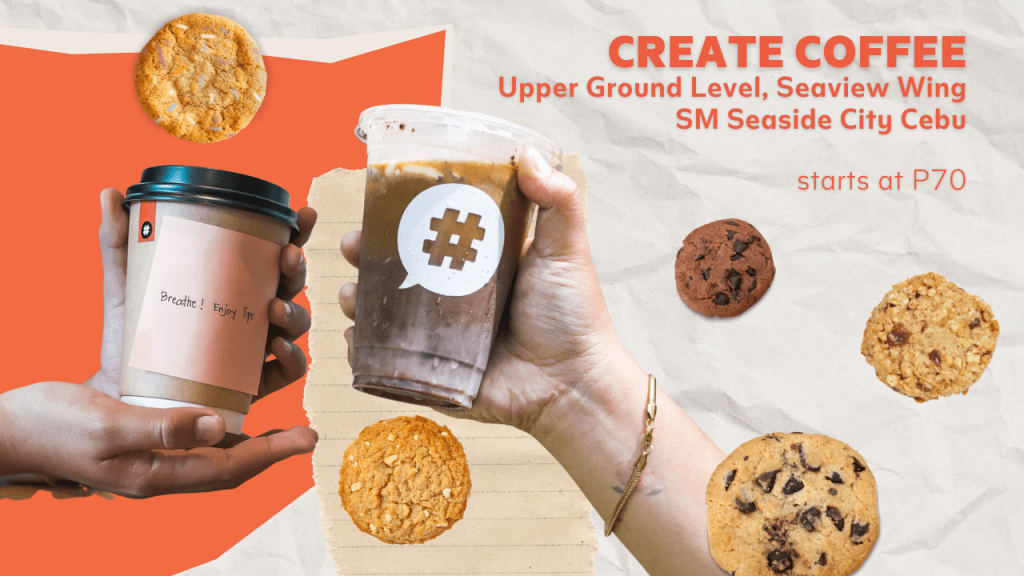 Create Coffee | Upper Ground Level, Seaview Wing | SM Seaside City Cebu
Craving a cozy afternoon treat? Head over to Create Coffee on the Upper Ground Level of the Seaview Wing, where you can savor the delightful combination of cookies and coffee. Sink your teeth into freshly baked cookies, perfectly paired with a warm cup of aromatic coffee. Whether you prefer chocolate chip, oatmeal, or peanut butter cookies, Create Coffee has an assortment of options to satisfy your sweet tooth.
4. Cakes and Coffee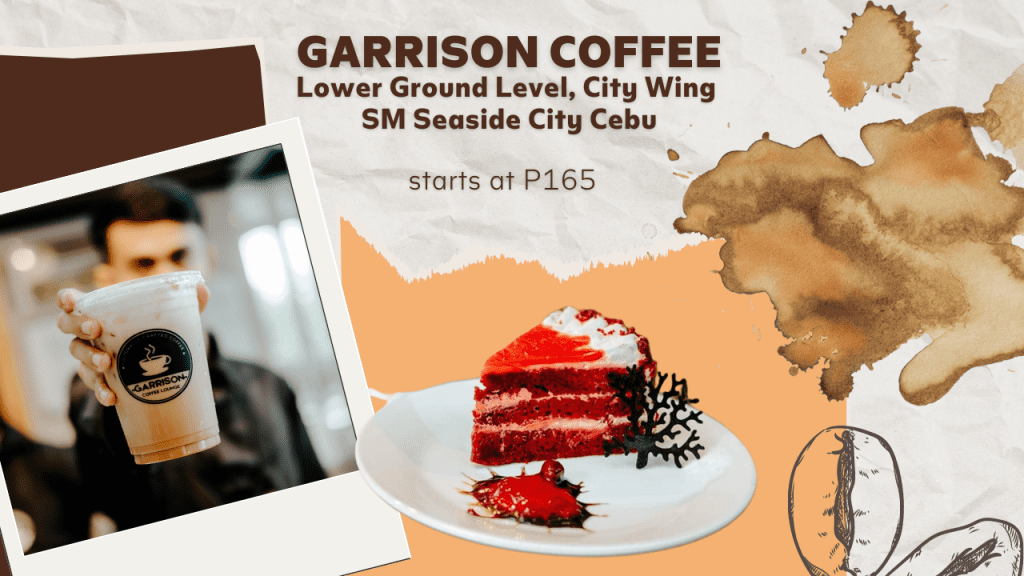 Garrison Coffee | Lower Ground Level, City Wing | SM Seaside City Cebu
Garrison Coffee, nestled on the Lower Ground Level of the City Wing, is a haven for cake enthusiasts. Discover the art of pairing cakes and coffee as you indulge in decadent slices of moist cakes accompanied by a fragrant cup of coffee. From classic flavors like chocolate and vanilla to unique creations, Garrisson Coffee offers a wide selection of cakes that will tantalize your taste buds.
5. Sparkling Espresso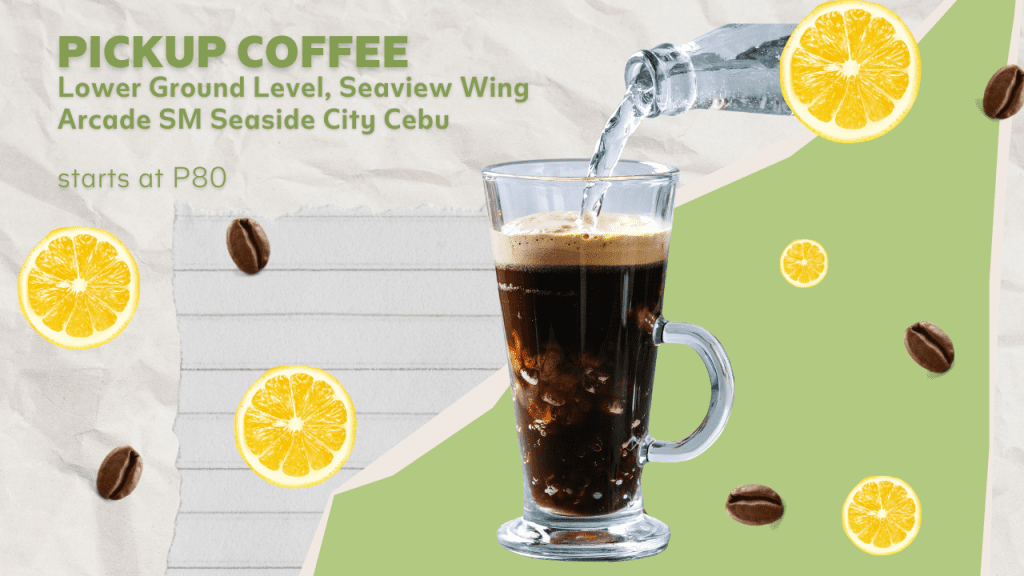 Pickup Coffee | Lower Ground Level, Seaview Arcade (near LTO) | SM Seaside City Cebu
For those looking to quench their thirst while enjoying their caffeine fix, Pickup Coffee introduces a refreshing twist with sparkling water and coffee pairing. This innovative combination offers a unique sensory experience, bringing together the effervescence of sparkling water with the rich flavors of coffee.
COFFEE TIME DEALS
Your favorite cafes and pastry shops are getting in on the Coffee Time fun too! Take a sip and enjoy fun freebies or discounts when you dine at these establishments:
This July, SM Seaside invites you to embark on a coffee adventure, exploring the perfect pairings that elevate your coffee experience.
Celebrate the harmonious combination of coffee with various delectable treats. Whether you are someone who cannot function well without coffee, or someone who simply enjoys a cuppa when it is cold out.
Grab your friends, head to SM Seaside, and immerse yourself this July with a delightful Coffee Time!
HOW TO GET THERE?
Exact Location: SM Seaside City Cebu in South Road Properties (SRP), Cebu City.
BY MYBUS: You can take a FREE MyBus ride from/to BDO Fuente Osmena from 8:20am to 10:00pm. You can also ride any MyBus from SM City Cebu, Talisay, Mandaue City, Parkmall and any Cibus to get to and from SM Seaside city Cebu Drop-off point is at the City Wing Entrance.
BY CAR/GRAB/TAXI: Navigate with Waze or Google Maps and set your destination to "SM Seaside City Cebu". Parking space is free.