Ever wanted to just escape from the bustles in the city?
Alhibé Farm, a one hectare private property situated in the mountains of Carmen, was developed as a natural farm & a boutique mountain getaway for guests with families & friends who wants to take respite from city life and immerse oneself back to nature.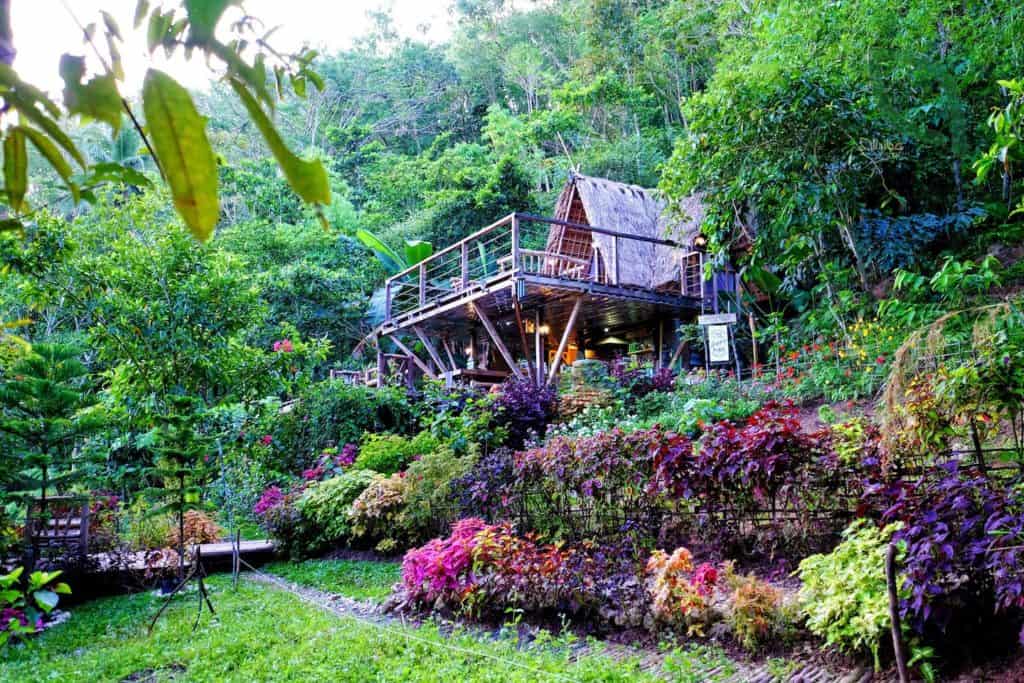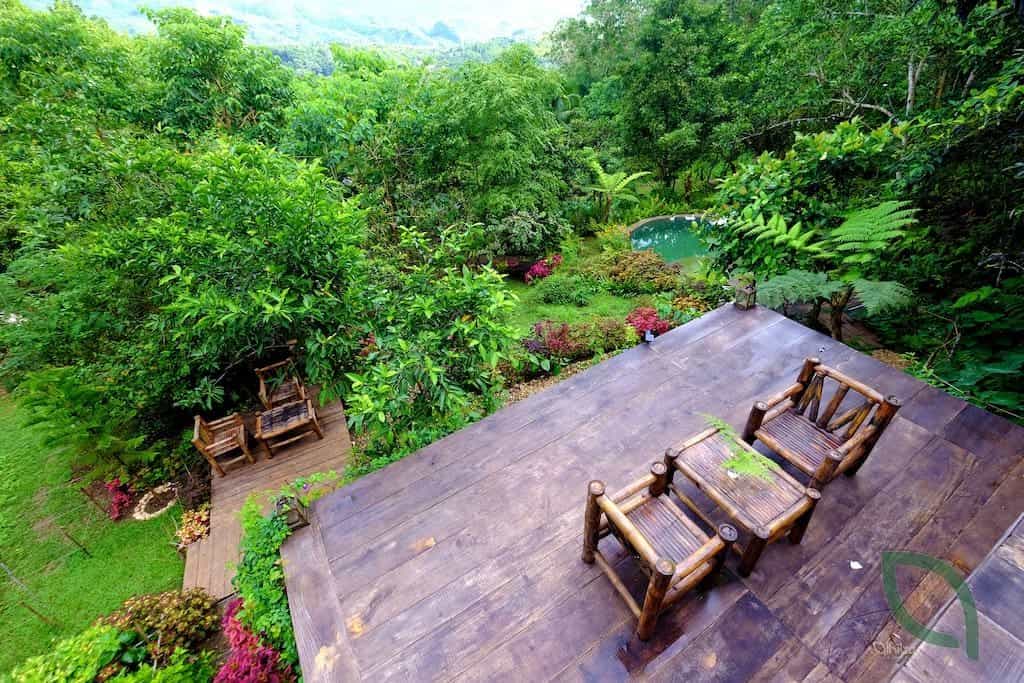 The farm is a catch basin of the natural spring water from the nearby hills & mountains. Guests are treated with an exclusive use of the whole property at the same time having a farm stay experience that offers the following activities:
Nature Walk & Farm Exploration
Bonfire Activities
Group Activities at the 'Patag" area
Relaxing at Hammock Area
Spring-Fed Pool
Star Gazing
Firefly watchingThe space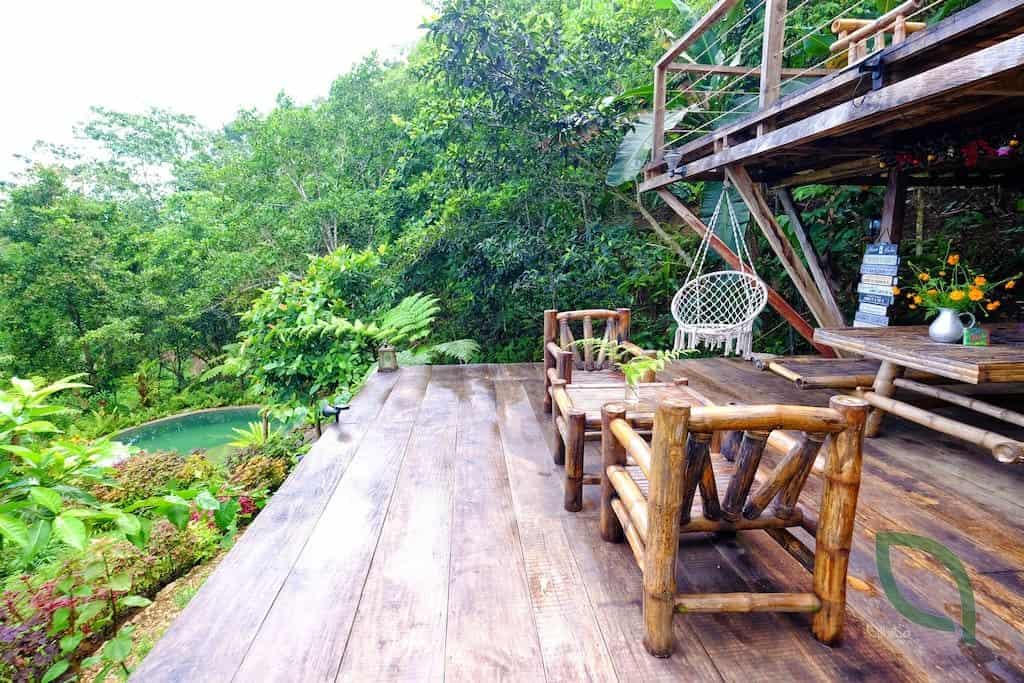 The farm is also the home of fruit trees & local indigenous trees that are slowly unavailable to new generations to appreciate & enjoy. A natural spring water pool will be developed by phases in different parts of the property.
The spring-fed pool will be continuously refilled with fresh water naturally and overflows to man-made creeks to water the surrounding farm flowing to supply the future fishing ponds to maximize the use of flowing spring water.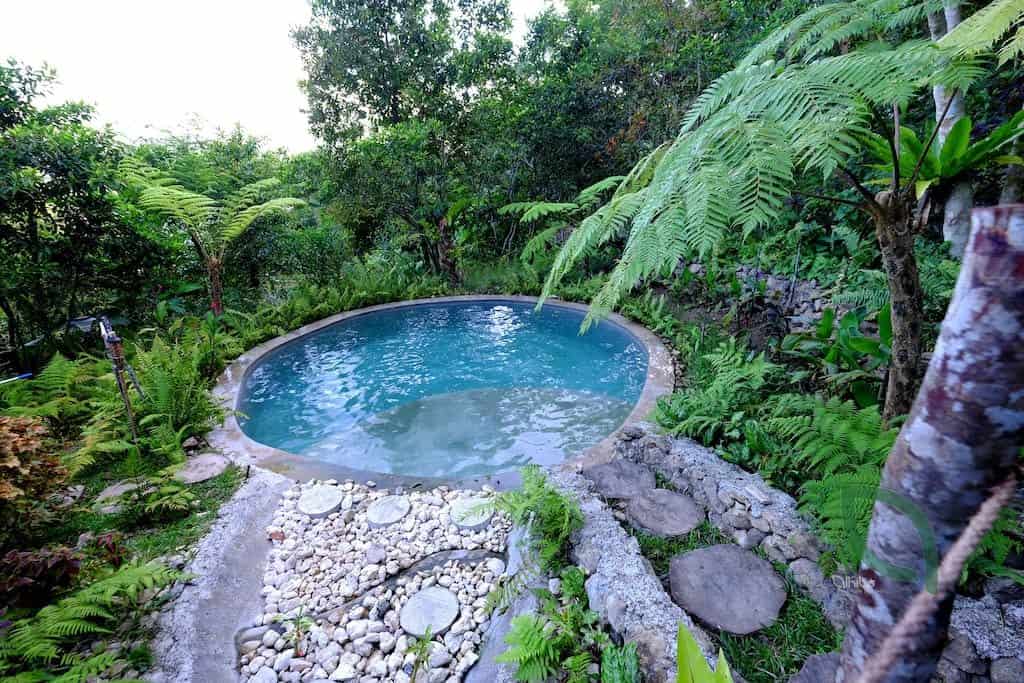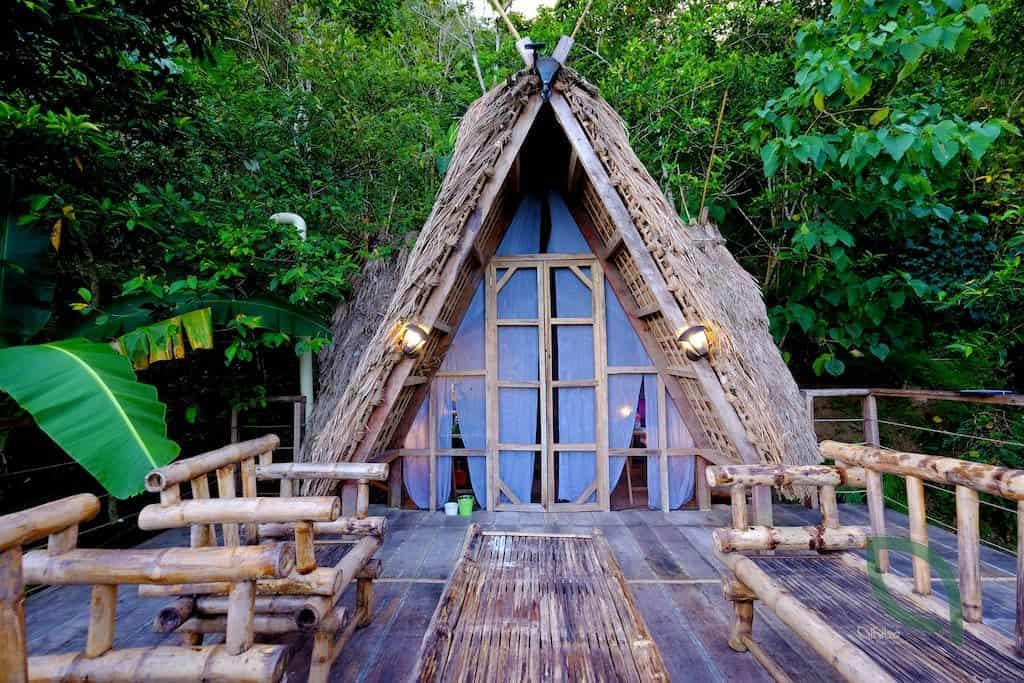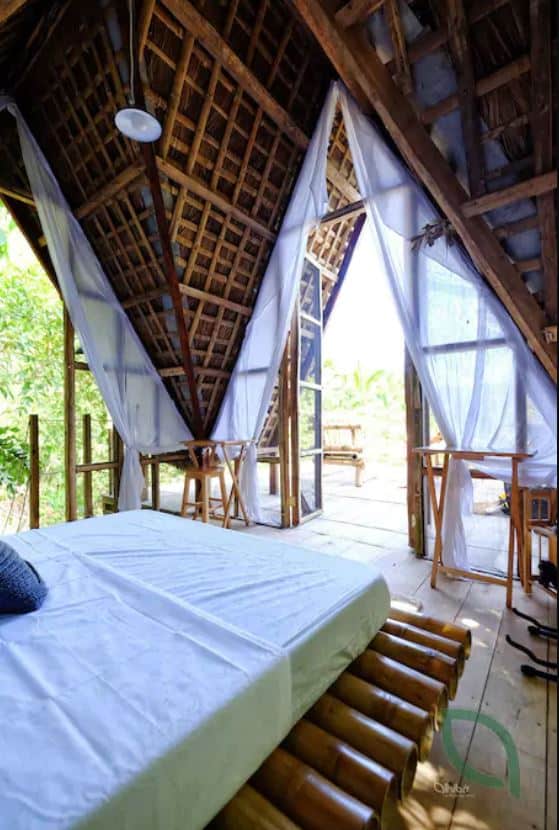 The hut has a 1-Bedroom accommodation with a wide wooden deck, common kitchen & dining and an indoor Toilet & Bath.
Guest have an exclusive use, access and can do all the activities available in the farm.
Rates & Other Information
NOTE: Walk-ins are NOT allowed. Make sure to book a reservation first using the links provided below.
The Homestay Experience includes up to 6 Guests with breakfast and Hut+Bell Tent/s accomodation". For bigger groups, additional guests can be accommodated up to 17.
The farm is a catch basin of natural spring water from the nearby hills & mountains which is an on-going development for a Permaculture Farm Site. Guests are treated with an Exclusive use of the 1-Hectare property of farmstay experience.
Overnight Rates
Weekdays: P10,500 per night, good for 6 w/ breakfast and dinner
Weekends: P11,500 per night, good for 6 w/ breakfast and dinner
Holidays: P12,000 to P13,000 per night, good for 6 w/ breakfast and dinner
Check-in at 1PM; Check-out at 11AM the following day  
ADDITIONAL RATES
 Additional Guests from the Basic Package of 6:
Php 1,500/ head for over 10 years old
Php 1,300/head for 4 to 10 Years Old
3 Years old & below (which won't require an extra bed & meal inclusions, is Free of Charge)
Total maximum number of Guests is 20 pax
Accommodation: 3 pax per tent; (Main hut that fits two pax is closed for renovation)
ACCOMMODATION
Rate is not per room, but for the exclusivity of the place. These are the accommodations at the location for your group (Can accommodate maximum 20 pax)
TENTS 1  to 6 = fits 3 pax each (18 pax)
TENT 7 = fits 2 pax
THE FARM EXPERIENCE
– Private & exclusive use of the place
– Parking area outside the gate up to 4 slots only. The rest will be street parking
– Fresh coco water welcome refreshments upon your arrival or at your preferred time
– CHILL & BONDING TIME: Musical instruments, books, board games & movie night at the kupkop
– LINAW UNO & DOS: cool down in the spring-fed pool or shower under the tree canopies- BONFIRE: Enjoy the heat from the Bonfire pit with 1-set of firewood
– PATAG: Stargazing, playing outdoors (with available badminton rackets & a football) or just simply walking barefoot for grounding
– KADUYANAN: hammock area for chilling and napping under the tree canopies
– ALHIBE SWING: swing in between 2 large trees amidst the greeneries
– FARM PETS: Rabbits and turtles (playing with Golden Retriever Dog/s upon request)
– BAKTASANAN: a forest trail for nature walks
– FARM HELP: Can assist with vegetable or other gardening activities
– FARM EXPLORATION: Self-guided exploration, just follow the signs along the trails
MEAL INCLUSIONS
Dinner: Between 5pm to 7pm at either Agwas Cafe or Kupkop
Breakfast: 8am at either Agwas Cafe or Kupkop
1 plated meal for dinner, 1 plated meal for breakfast (drinks excluded)
Can choose from the menu under "breakfast", "seafoods", "plantbase meals", "pasta", "pancakes/breads", "meats" 
FARM STAY NOTES
GARBAGE FEE:
A garbage fee of 1,000.00 will be collected upon your arrival. This is refundable if you will bring your non biodegradable waste with you upon check-out. Only biodegradable ('Malata') waste is allowed within the farm premises. We will greatly appreciate it if you bring your trash with you upon check-out.
WHAT TO BRING & WEAR:
Comfortable clothes and non slip footwear, hat and sunglasses
Jacket / sweater, since it's cold at night
Flashlight, since we keep our night lights at a minimal in order to retain and be mindful of firefly presence in the area
Insect repellants
Water tumbler
Should you wish to bring laptops /tablets, although not needed, but have in mind we only have limited power outlets in the tent. There is WIFI in the area but sometimes unstable. Network signal for regular calls and texts is intermittent.
FREQUENTLY ASKED QUESTIONS:
MENU/FOOD INCLUSIONS:  For the complimentary food (dinner and breakfast), regardless of price in the menu, you can choose from these (1 per meal), except for drinks, social spreads, desserts, native chicken soup and herbal soup. Price indicated are for additional order reference. Click here for the MENU.
CAN GUESTS COOK: Guests can also bring and cook additional food aside from dinner and breakfast inclusions. We have basic kitchen utensils, basic condiments (salt, pepper, vinegar, soy sauce, oil), dinner wares, glass wares, cutleries.
SERVICE WATER: Filtered spring water for drinking. There's no bottled water for sale.
ICE: ice is for sale at 5.00 per small ice bag subject to availability.
REFRIGERATOR: There's a 3 cubic mini fridge at the Main Hut kitchen
GRILL AREA: There's a designated grilling area, you can bring your own charcoal or purchase at the staff store.
SMORES FOR BONFIRE: There's smore ingredients for sale at the staff store or you can bring your own. There are smores sticks provided at the farm.
INTERNET CONNECTION: There's intermittent 1 to 2 bars signal for Globe, Smart, and TM. There's Smart wifi connection at the farm and cafe, but sometimes unstable. Bring back up GLOBE or TM sim incase Smart network is down in the area.
PRENUPS / PHOTOSHOOTS: We don't have special package or rates for prenups or photoshoot alone, since we cannot let other guests in while place is already booked. You may avail the "AFTERNOON FROLIC PACKAGE" to grant you access and use of the entire place. In line with this, since you will have crews (photographers, MUA, stylist,etc) coming along, we only charge them 150 per head for entrance since plainly doing the shoot. Additional payment may be for additional food and drinks, and 700 per head if will use same inclusions/amenities as paying guests.
VISITORS: Only Guests staying overnight are allowed to enter the Farm premises. If you have visitor/s, kindly entertain them outside the Farm gate or at the Cafe. If they enter the premises, a fixed rate of 150.00 (crew/staff) or 600.00 (with 1 meal & use of amenities for day use visitors) will be charged as an Entry Fee per head and should be up to 8pm only. If your Visitor/s will stay over 8pm charges will be at full rate as an additional overnight staying Guest.
CANCELATION/REBOOKING POLICY:
*Full refund for cancelations or rebooking made within 48 hours of confirmed booking, if the check-in date is at least 14 days away.
*50% refund for cancelations or rebooking made at least 7 days before check-in.
*No refund for cancelations or rebooking made within 7 days of check-in.
For Force Majeure situations, date of stay may be moved to a later available date.
SENIOR OR WHEELCHAIR FRIENDLY: Walkways are a combination of ramp and steps due to its sloping terrain. From parking and gate, about 40 meters to the main hut. More walking as well within the premises for other amenities. 2 of the tents are just near the bathrooms for convenience. Not wheelchair friendly as pathways are combined with steps.
KIDS HEADCOUNT: Yes kids are included in the headcount, If your number of pax is within 6 only. Since the package basically includes 6. If you're more than 6, then adults can be counted among the 6 then plus your kid/s, if already 4 years old and above. 3 years old and below are free of charge, provided they share beds with an adult, and does not require the meal and drink, as these ages usually has their own baby / toddler foods.
VIDEOKE/KARAOKE: Since we are located in a mountain area, you may hear some nearby community music, please advise our staff if you are uncomfortable so we can ask them to minimize it during your stay. Bringing in Karaoke Machines or Loud Sound Systems are Not allowed. With respect to surrounding communities, loud music is allowed only up to 9pm. Use of Kupkop sound system is only for a special Dinner setup and should be operated by the staff only.
How to book?
Click this link first: https://www.airbnb.com/c/ramm357 and sign up. Then go to this link.
Other information
How to get there?
Exact location: Sito Baucan, Brgy. Sac-on, Carmen, Northern Cebu — at the back of the Cebu Safari & Adventure Park.
NOTE: Again, walk-ins are NOT allowed. Make sure to book a reservation first using the links provided above.
RENT A CAR: The farm offers air conditioned Van Transportation as per availability with certain charges. You can also rent a car via SquadPH Travels.
BY CAR: Just navigate with Waze or Google Maps and set your destination to Cebu Safari and Adventure Park. From there, ask around where you can find Alhibe Farm.
BY BUS: For commuting guests, a bus ride from the city's North Terminal and getting off at Carmen Public Market is the easiest way. The farm is located in Barangay Sacon, 10km from the National Highway and is about a 30minute drive of uphills & downhills, river crossing & a single-lane rough road experience before arriving. There are no regular public transit system going to Barangay Sacon from the town proper, however Motorcycles for hire "habal-habal'' are readily available for a P50 per head, minimum of 2 per trip. Most of the motorcycle drivers are familiar with the fenced farm, few meters from the MLhuillier's Safari back gate going to Barangay Lanipga.