Who's up for buffet and hotpot cooking?
Hotpots and shabu-shabu are two of Cebu's favorite dining choices. They are exquisite, affordable, and ideal for sharing with loved ones. But knowing where to begin with so many dining options might be challenging.
But don't worry! We've compiled the seven best-unlimited shabu-shabu and hotpots in Cebu, whether you're looking for a casual meal or a memorable occasion dining experience.
Prepare yourself because we will unveil these great restaurants offering many mouth-watering dishes, exciting ambiance, and accommodating staff.
1. Meatogether at Ayala Central Bloc
Meatogether is a new buffet restaurant that serves a wide range of choices for meat for shabu-shabu and hotpot. Their unlimited menu, which includes a variety of broths, veggies, and sides, starts at 499 pesos. On top of that, they offer endless beer and ice cream. Meatogether is also widely recognized for its pleasant and accommodating service, making it an excellent choice for a meal with friends and family.
MENU: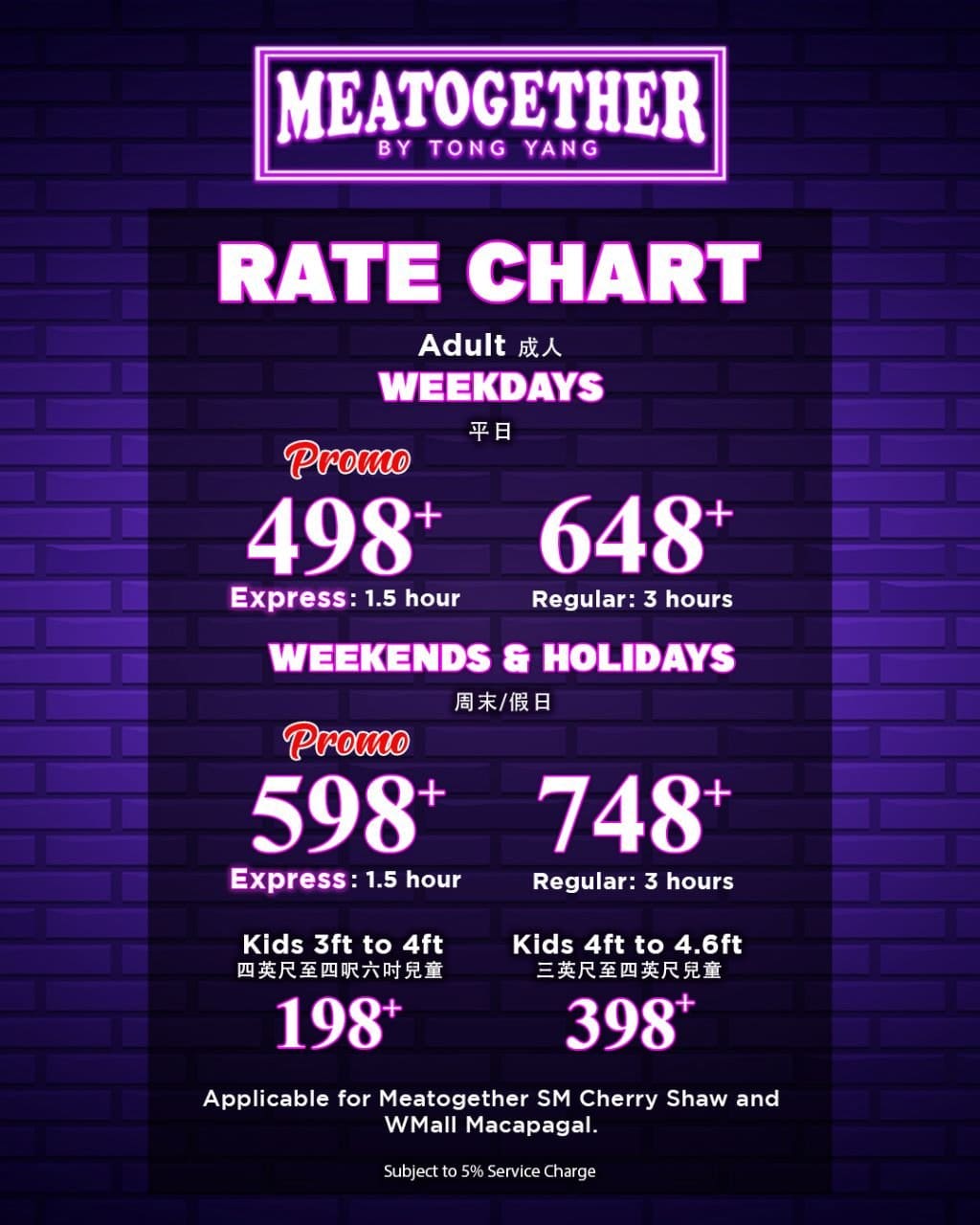 Adult Weekdays: 588.00 (Regular 3 hours)
Beer All You Can: Plus 100.00
Kids 3FT-4FT: 198.00
Kids 4FT-4.6FT:  398.00
OTHER INFORMATION
Operation hours:
Sunday to Thursday
11 AM – 9 PM
Friday to Saturday
11 AM – 10 PM
HOW TO GET THERE?
Exact location: Level 1 F&B 8 Ayala Malls Central Bloc Cebu IT Park, Cebu City, Philippines
2. Premier Samgyupsal at IL Corso
K-drama fan? Premier the Samgyupsal is officially open in Cebu's Il Corso, and it's everything you've ever wanted. This place is ideal for satisfying your cravings, with a broad selection of premium-quality meats, 12+ side dishes, and mouth-watering sauces. Whether you prefer pork, chicken, or beef, you'll find something you like. It's all you can eat! You can grill, dip, and devour as much as you want.
MENU: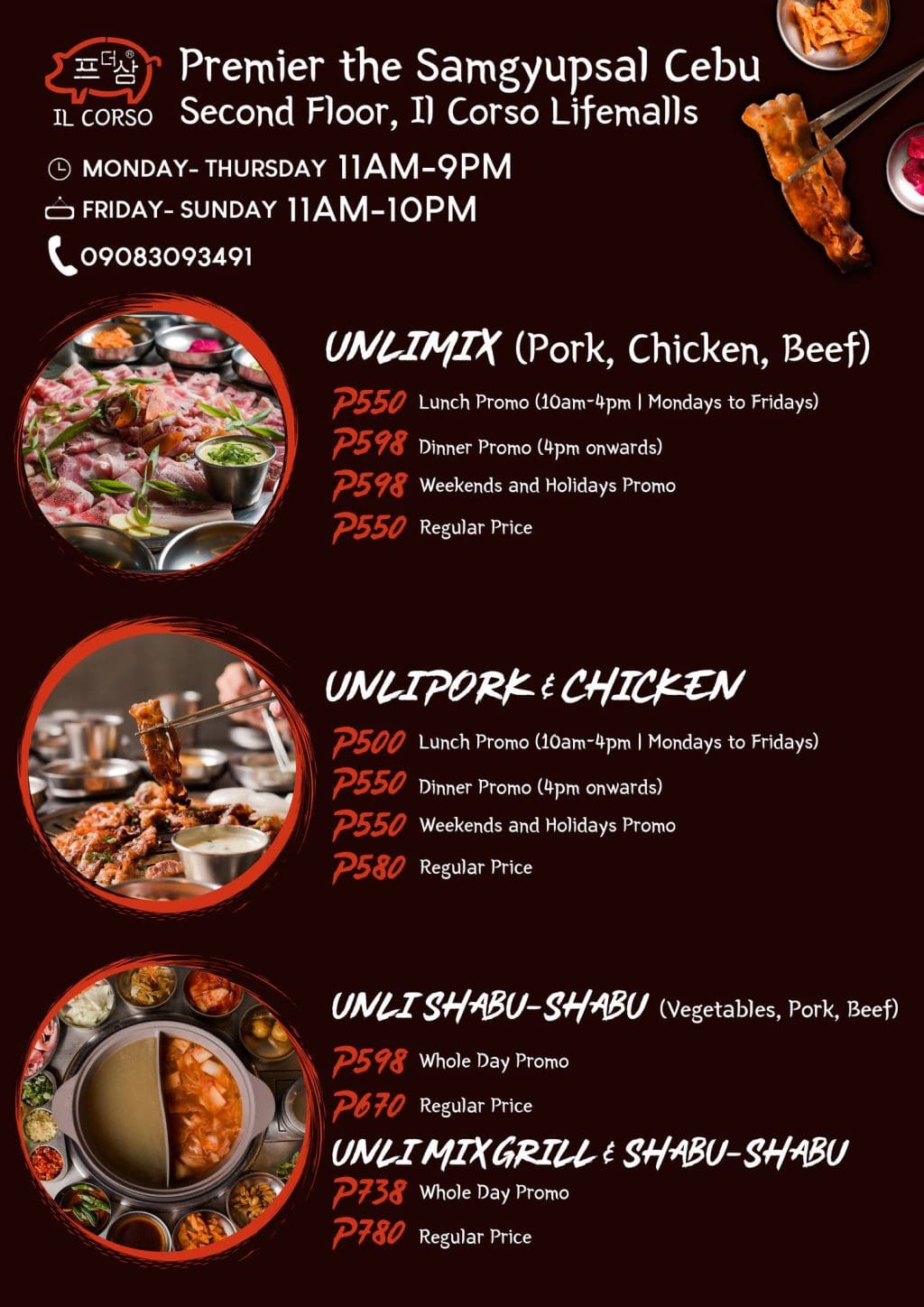 P500 – Weekday Lunch Promo (11 AM-4 PM)
P550 – Regular Price (4 PM onwards)
UNLIMIX (Unli pork, chicken & beef) — a best seller!
P550 – Weekday Lunch Promo (11 AM – 4 PM)
P598 – Regular Price (4 PM onwards)
UNLIMIX + UNLI SHABU-SHABU
All orders come with 12++ unlimited complimentary side dishes, including steamed egg and 2 free soups (daenjang soup & spicy seafood soup), unlimited rice, cheese dip, and iced tea.
OTHER INFORMATION
Monday – Thursday (11 AM – 9 PM)
Friday – Sunday (11 AM – 10 PM)
HOW TO GET THERE?
Exact location:  2nd Floor, North Coast Retail Building, IL Corso Lifemalls, SRP
3. Tong Yang Plus at SM Seaside
Do you enjoy Japanese shabu-shabu? If so, Tong Yang Plus is the place to be! Tong Yang Plus, with a wide choice of fresh ingredients to grill and dip in your hotpot. Additionally, this place is more than just shabu-shabu. It also serves many other Japanese cuisines, including tempura, dim sum, and sushi rolls. Of course, lunch would only be complete with dessert! Tong Yang Plus offers a dedicated dessert table with a large selection of delicacies such as kakanin, cakes, mousse, and even halo-halo.
MENU: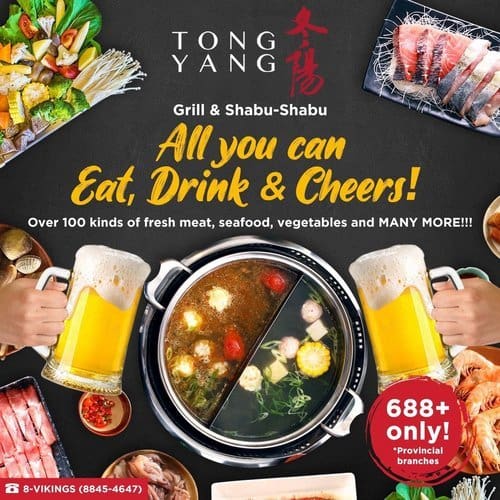 OTHER INFORMATION
Mon-Thurs/ Sunday
Fri & Sat
HOW TO GET THERE?
Exact location: Lower Ground Floor Seaview Wing, SM City Seaside, Cebu City
4. NeoTokyo at Chatswood Mandaue
Neo Tokyo Food Street is Cebu's first Japanese food street, and it's the ideal destination for experiencing Japanese flavors and cuisine without leaving the country. Neo Tokyo offers something for everyone, with six Japanese-owned and operated restaurants serving authentic udon, ramen, yakitori, rice bowls, and shabu-shabu. The best part is that you may indulge in this exquisite food in a natural Japanese setting. Neo Tokyo is designed to appear and feel like an actual Japanese food street. So, Neo Tokyo is the place to go whether you want a quick and casual meal or a more formal dining experience.
OTHER INFORMATION
HOW TO GET THERE?
Exact location: Ground Floor, Chatswood Drive Center, A.S. Fortuna St, Banilad, Mandaue City, Philippines
5. Hachimitsu in Capitol
Unli Yakiniku-Samgyeopsal and Hotpot with a View! A famous Eat-All-You-Can-Eat Beef Buffet with superb options like Yakiniku, Salmon, Yakitori, Pork Belly, and Hotpot Buffet. Not only that, but they offer an endless supply of imported premium beef, pig, chicken, and Korean-Japanese Asian Fusion Special Dishes for an affordable price!. Plus! You will be able to experience their live indie acoustic nights. It's such a lovely and peaceful setting, isn't it?
MENU:
Weekdays:
Lunch: 12nn-2pm at P495/pax
Dinner: 6 PM-9 PM P 545/pax
Weekends:
Lunch: 12nn-2pm P545/pax
Dinner: 6 PM-9 PM P599/pax
(Regular Rate After Promo: 645)
OTHER INFORMATION
Tuesday to Sunday:
Lunch at 12nn
Dinner at 6 PM
HOW TO GET THERE?
Exact location: A. Villalon Dr., Capitol Cebu City
Landmark: Across Cebu Christian Church Center
6. All4U at Primeway Fuente
Do you want some tasty Korean samgyupsal and shabu-shabu? ALL4U, a prominent Korean restaurant in Cebu City, offers an endless buffet for only 599 pesos per person. ALL4U provides a diverse selection of high-quality meats and seafood for its samgyupsal and shabu-shabu dishes. There are several pork slices to pick from, including pork belly, marinated pork belly, and pork shoulder. You can also choose from thinly sliced beef, chicken, and seafood.
MENU:
Regular rate:
₱599 per head (from ₱699)
Kids below 4'5ft: ₱350 per head
Solo Diners: ₱699
Kids 3'5ft below: FREE
OTHER INFORMATION
HOW TO GET THERE?
Exact location: Primeway Plaza F. Ramos Street near Robinson Fuente.
7. Matsunoya Shabu-Shabu at Chatswood Mandaue
Have you ever been craving a tasty, authentic Japanese shabu-shabu meal? Then you should visit Matsunoya Shabu-Shabu, a well-known Japanese restaurant in Cebu. It has both all-you-can-eat and non-all-you-can-eat options, allowing you to choose the one that best satisfies your tastes.
Matsunoya Shabu-Shabu is the place to go if you enjoy Japanese cuisine or simply want a tasty and unique eating experience. Shabu-Shabu Matsunoya's authentic Japanese flavor and a wide variety of options will impress everyone in your group.
MENU: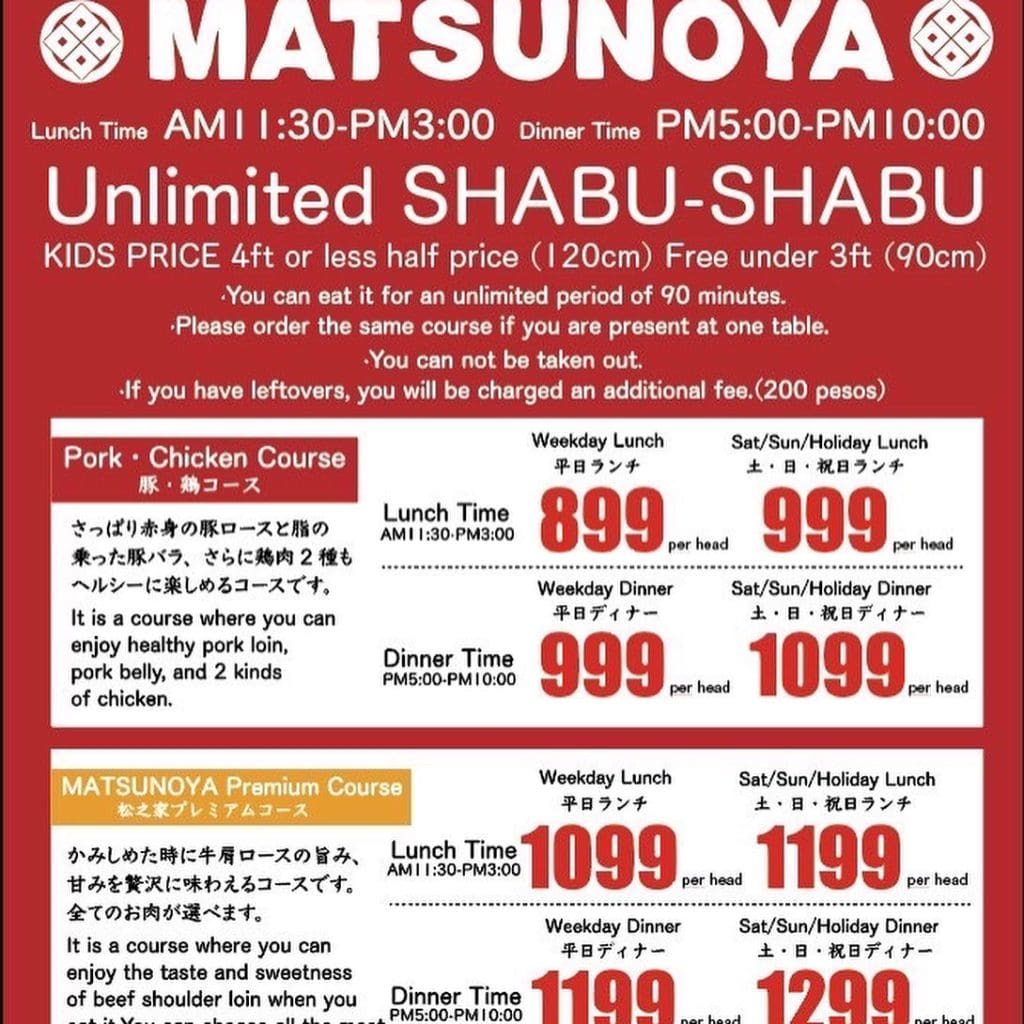 OTHER INFORMATION
Mon-Sun

Lunchtime 11:30 PM-3:00 PM

(Last entrance 2:00)
(Last entrance 9:00 PM)
HOW TO GET THERE?
Exact location: Chatswood Drive, AS Fortuna, Banilad, Mandaue City, Cebu.
These amazing buffet and shabu-shabu restaurants are a must to try it! So, to your next payday? Make sure to dine with them surely with its wide variety of options, there's something for everyone to enjoy.