On Tuesday, the Supreme Court announced that 8,241 examinees out of 11,402 who took the 2020/2021 Bar Examination passed with a 72.28 percent passing rate, dubbed the "Biggest Bar Ever."
There are 761 takers on the exemplary list, which includes individuals who received outstanding grades. In the meantime, 14 people are on the excellent list. This is in lieu of the usual Top 10 as practiced in the past.
The Supreme Court also released the ranking of law schools according to the passing rate. It categorized the schools into four groups based on their number of Bar takers.
Group 1 – Law schools with more than 100 bar takers
Group 2 – Law schools with 51 to 100 bar takers
Group 3 – Law schools with 11 to 50 bar takers
Group 4 – Law schools with 10 or fewer bar takers
The University of Cebu (UC) ranked 2nd under Group 2 with a rate of 97.4026% while the University of San Carlos (USC) ranked 3rd under Group 1 with a whopping 98.00% passing rate.
Group 4: 100% passing rate for first-time takers
Abra Valley Colleges
Batangas State University
Rizal Memorial Colleges
Tabaco College
University of Makati
Western Leyte College
Group 3: 100% passing rate for first-time takers
Ateneo de Naga University
Bulacan State University
Jose Maria College
Mariano Marcos State University
Pamantasan ng Lungsod ng Maynila
Silliman University
University of Asia and the Pacific
Group 2: Top 5 among the 22 law schools
Saint Louis University – 98.6667%
University of Cebu – 97.4026%
Xavier University-Ateneo de Cagayan – 96.9388%
Ateneo de Davao University – 96.4912%
Lyceum of the Philippines University – 94.3396%
Group 1: Top 5 law schools among the 15 law schools
Ateneo de Manila University – 99.6429%
University of the Philippines – 98.8406%
San Beda University – 98.1061%
University of San Carlos – 98.0000%
University of Santo Tomas-Manila – 93.0556%
Meanwhile, the Supreme Court honored Bar examinees who demonstrated "exemplary achievement," defined as a grade of 85 percent or higher on the exam.
List of Passers with Excellent Performance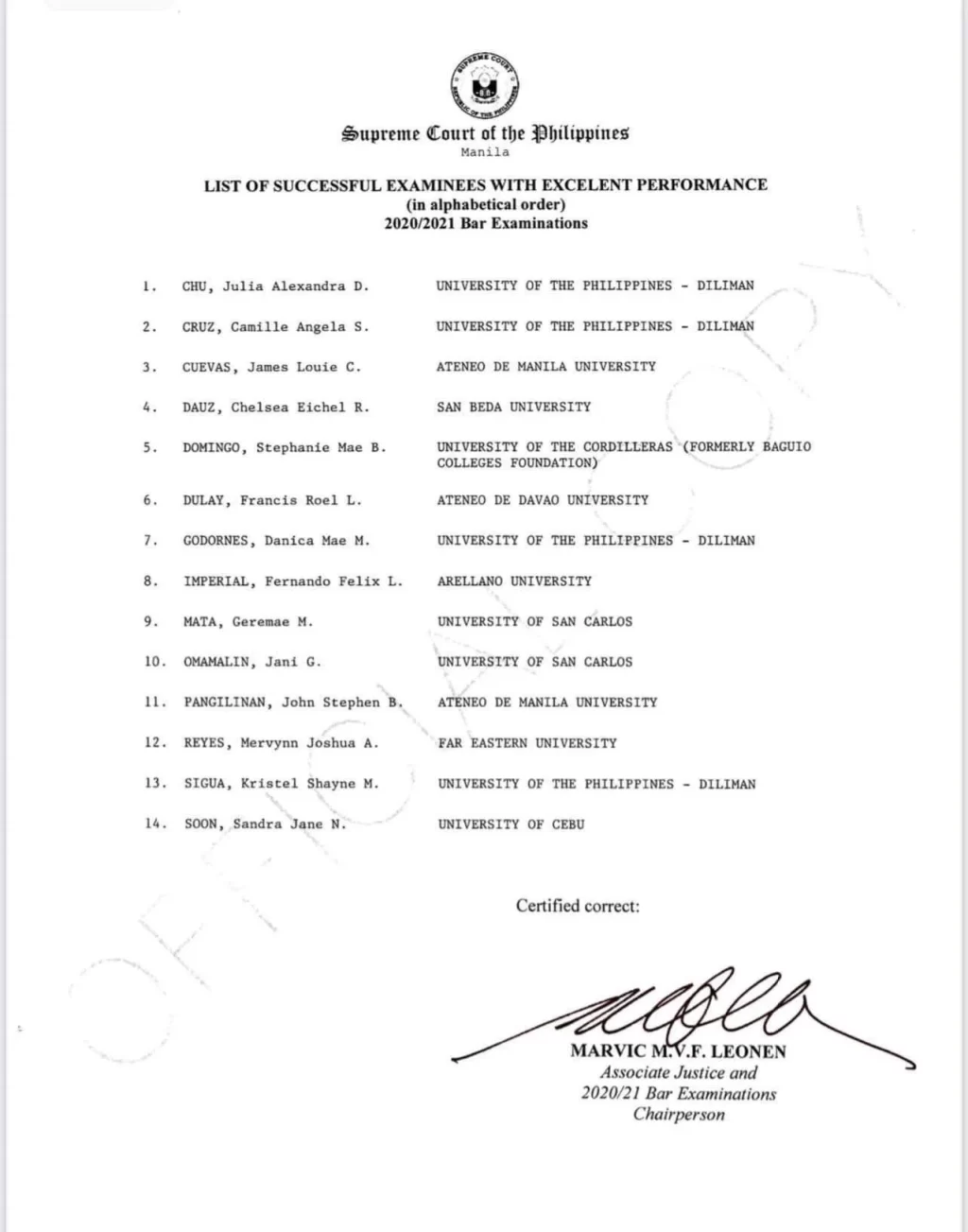 List of Examinees with Exemplary Passers
Law Schools with Candidates with Excellent Performance
The successful Bar examinees will take their oath on May 2, 2022.
For the full list of Bar passers, you can check here: https://www.prcboard.com/topnotchers-2022-bar-exam-results-for-batch-2020-2021/