Success is a term that cannot be defined easily simply because its definition may differ from one person to another. For example, my friend believes that success is when you get to relax in a house somewhere in the province far away from the city life. Another friend of mine sees success as having the luxury to buy whatever you want.
All of us want to be successful, yet we have our own definition to what it is. Here, however, is a list of Cebuano entrepreneurs who hit most definitions of successful among the masses. Hopefully, these people will be an inspiration for young entrepreneurs who have big dreams.
1. Kenneth Cobonpue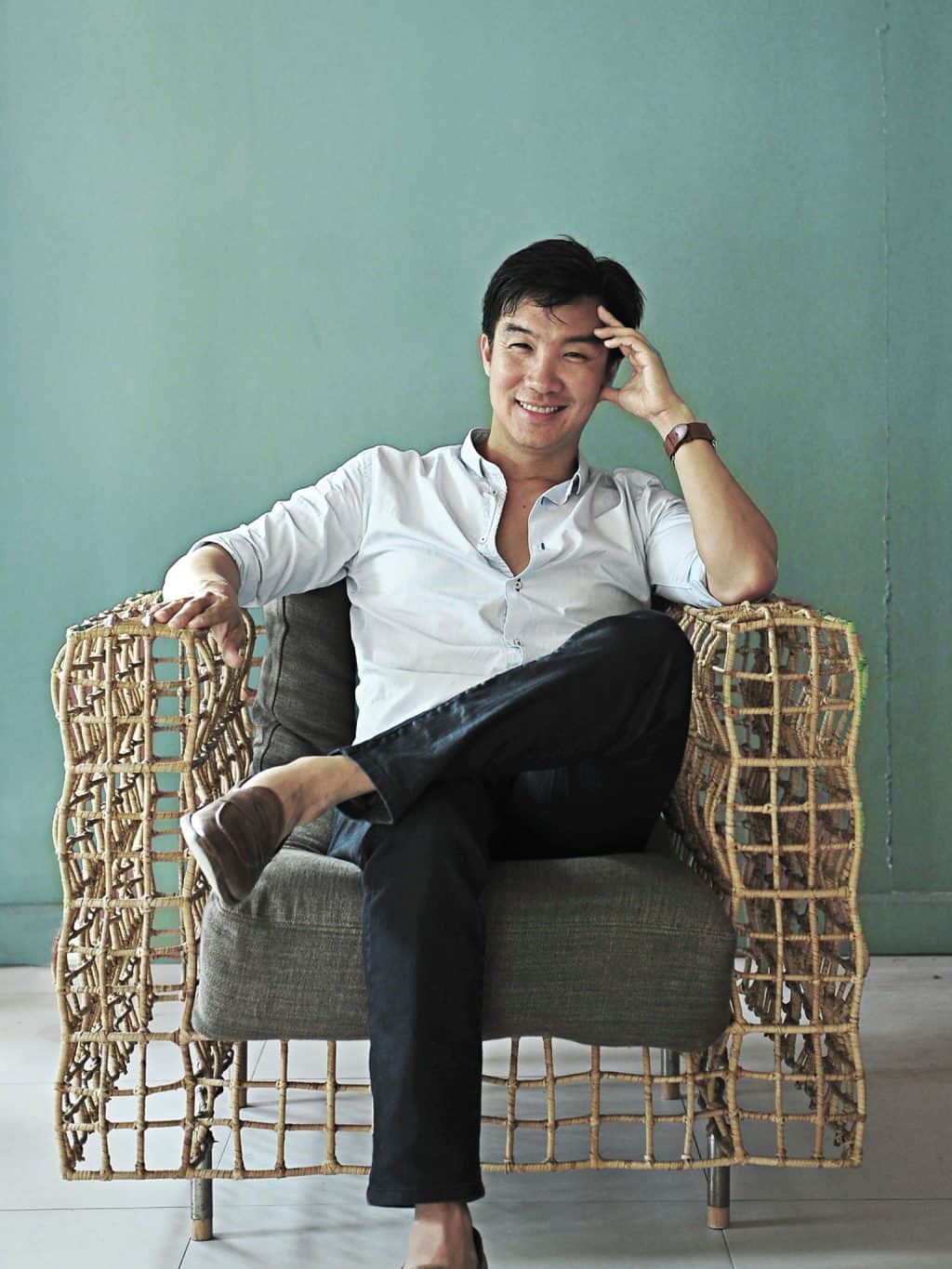 Filipino Industrial Designer
Founder of KennethCobonpue Brand
Rattan's First Virtuoso by Time Magazine, 2006
Designer of the Year Award from 1st Edition of Maison et Objet Asia, Singapore, 2014
Kenneth Cobonpue is a multi-awarded furniture designer and manufacturer from Cebu, Philippines. His passage to design began in 1987, studying Industrial Design at the Pratt Institute in New York. While completing his studies, he apprenticed for a leather and wood workshop near Florence, Italy. He went on to study Furniture Marketing and Production at the Export-Akademie Baden-Württemberg in Reutlingen, Germany, under a private and state scholarship program, and subsequently worked in Bielefeld and Munich.
Awards to his credit include five (5) Japan Good Design Awards, the grand prize at Singapore International Design Competition, the Design for Asia Award of Hong Kong, the American Society of Interior Design Top Pick selection and the French Coup de Coeur award. Several of his designs were selected for several editions of the International Design Yearbook published in London and New York. Phaidon's book entitled "& FORK" underscores Kenneth's position as a leader of a new movement incorporating new technologies with crafts. In 2007, TIME magazine called him "rattan's first virtuoso." Kenneth was named the Designer of the Year in the first edition of Maison et Objet Asia held in March 2014 in Singapore.
Kenneth reveals new work each year in design shows from Milan to New York, and he speaks regularly about design all over the world. He has also appeared in European television and in countless international magazines and newspapers around the world. Various Cobonpue designs have also appeared in full-length feature films and television, such as Oceans 13 and CSI.
2. Justin Uy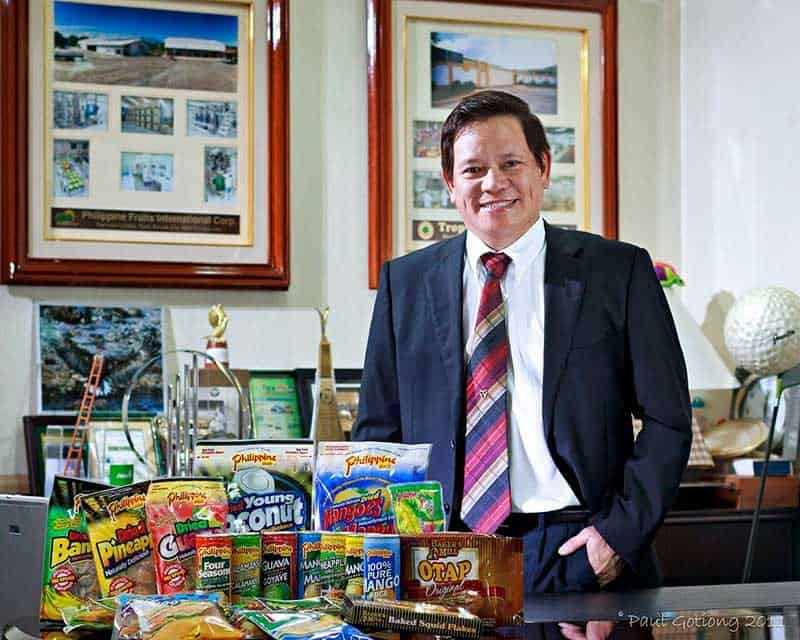 Founder of Profood International Corp.
Owner of JPark Island Resort and Waterpark
Founder of J Centre Mall
Cebuano entrepreneur Justin Uy is known as the Philippines' Mango King being the organizer of one of the best Filipino food trading company today, Profood International Inc.
Profood sells dried/processed fruits, including juices, in local and international markets across 54 countries. Its core product is dried mangoes, which has been expanding in the global market year on year.
Justin Uy also owns the 5-star Jpark Island Resort and Waterpark in Mactan Island and J Centre Mall in Mandaue City.
The 59-year-old businessman shared his four values in life: time, family, knowledge and value for money.
3. Jose "Joe" Soberano III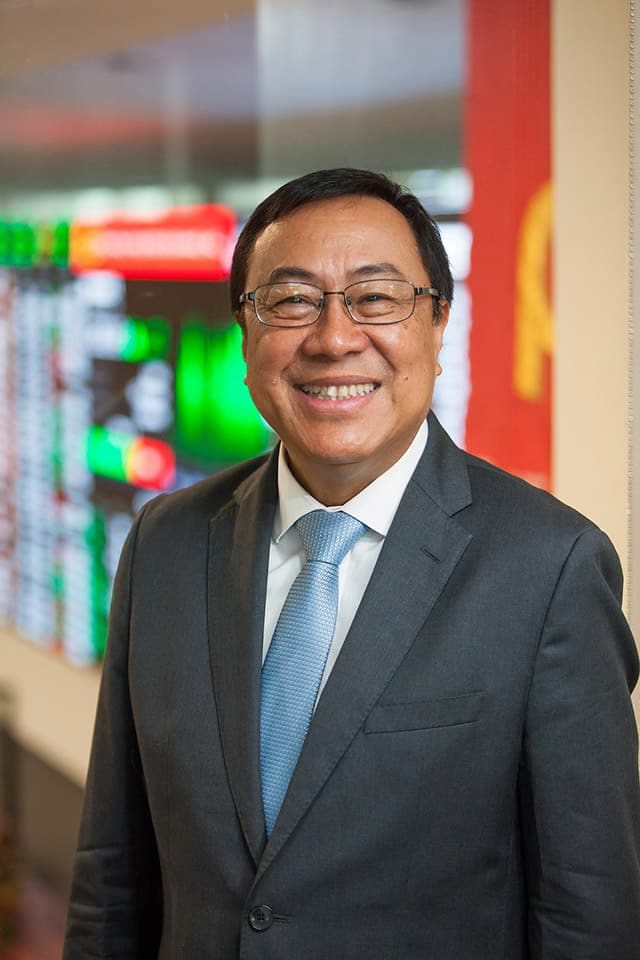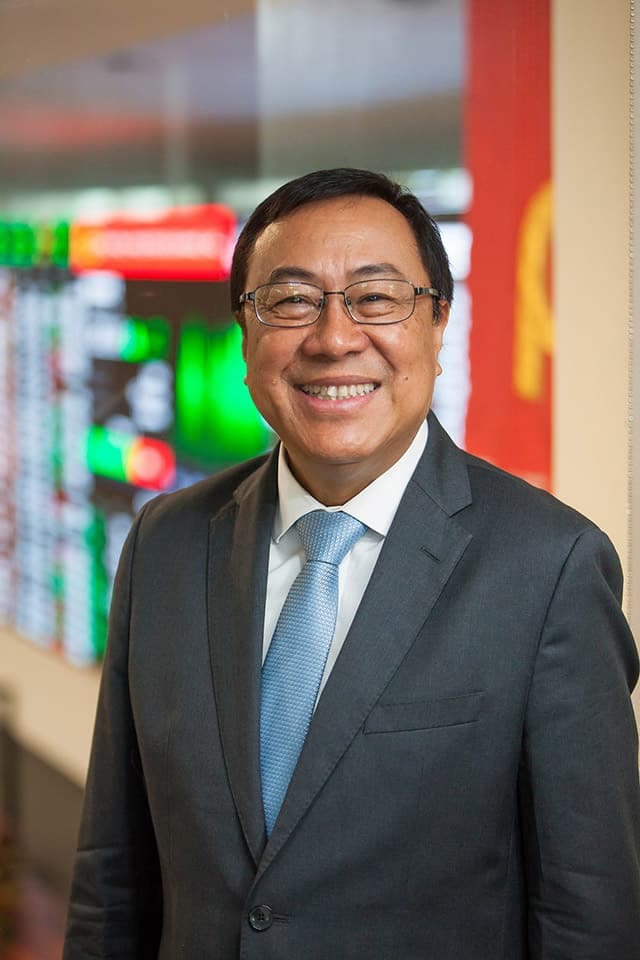 Cebu Landmasters Inc. Chairman, President, and CEO
Senior Division Manager at Ayala Land
Vice-President of Cebu Holdings
Chairman of the Board at the Center for Industrial Technology and Enterprise (CITE)
Joe Soberano leads Cebu Landmasters, Inc. as its Chairman and CEO.
Prior to establishing Cebu Landmasters in 2003, he worked for the Ayala Group of Companies for over 23 years. His experience included various stints with Ayala Investment, Bank of the Philippine Islands and Ayala Land, Inc. He was part of the pioneering group that established Cebu Holdings, the Ayala Land subsidiary in Cebu City, where he led various vertical and horizontal developments, and played an integral part in the development of both the Cebu Business Park and Cebu IT Park – urban redevelopments that have proven vital to Cebu's economic present and future.
He rose through the ranks to become Senior Division Manager at Ayala Land and Vice-President of Cebu Holdings. Joe brings not only his extensive Real Estate Development experience to Cebu Landmasters, but also his passion to positively impact cities and communities through masterfully-planned and executed developments.
Joe also recognizes his role as a member of the Cebuano community. He has served as president of the Rotary Club of Cebu, president of the Chamber of Real Estate Builders Association (CREBA), and is currently the Chairman of the Board at the Center for Industrial Technology and Enterprise (CITE), a socially oriented institution that offers technical training to less privileged youth.
Joe graduated with an AB Economics Degree from the Ateneo de Manila University in 1976, and completed the Strategic Business Economics Program (SBEP) at the University of Asia and the Pacific. In July 2015, he became an alumnus of the Harvard University Graduate School of Design after completing the Advanced Management Development Program in Real Estate.
5. John Gokongwei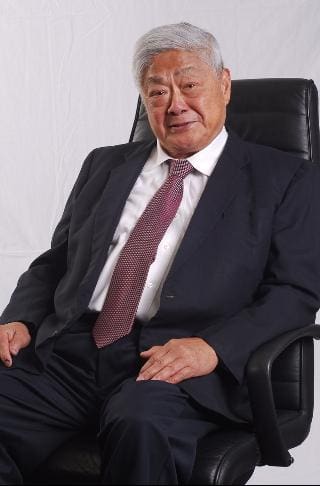 JG Summit Holdings Founder
Universal Robina Corporation Founder
Cebu Pacific Air Owner
Digital Telecommunications Philippines Founder
John Robinson Lim Gokongwei Jr. was a Filipino, Cebuano billionaire businessman and philanthropist. He had holdings in telecommunications, financial services, petrochemicals, power generation, aviation, food, beverage, and livestock farming.
In the early 1950s, along with his brothers and sisters who returned from China, he started to import cigarettes and whiskey too. By 1957, seeing that trading would always have low margins and would always be dependent on government policies, the family concern shifted towards manufacturing. With a loan of 500 thousand pesos from Albino Sycip, then chairman of China Bank, and Dee K. Chiong, he started a corn milling plant producing glucose and corn starch. The company was named Universal Corn Products (which later evolved into Universal Robina Corporation). San Miguel Corporation was a big customer of theirs.
In 1961, he established Consolidated Food Corporation (later known as CFC Corporation, which later merged with Universal Robina Corporation) launched its instant coffee brand Blend 45.
In 1977, Gokongwei earned his MBA from De La Salle University. A decade later, he attended a 14-week advanced management program at Harvard.
In November 1990, Gokongwei incorporated JG Summit Holdings as his publicly-listed holding company. In March 1996, Cebu Pacific Air began operations. In 2010, the airline underwent major refleeting with a $3 billion order with Airbus. From 2003, his telecom company Digital Telecommunications Philippines spent nearly $800 million for its mobile carrier, Sun Cellular which is the 3rd largest mobile operator in the Philippines at that time before selling to the PLDT group for $1.7 billion. He attempted a $1 billion takeover of United Industrial Corporation Ltd (UIC), a property giant from Singapore of which he owned in excess of 30%. UIC controls Singapore Land, one of the biggest property landlords in Singapore.
In 2013, his company bought the stake of San Miguel Corporation in MERALCO, the largest power distributor in the country, for close to $1.8 billion. In July 2014, Universal Robina acquired Griffin's Foods from Pacific Equity Partners, a New Zealand food company for $609 million.
He also owned Robinsons Retail Holdings, Inc. and Robinsons Land Corporation.
The Gokongwei family controls over $20 billion of combined market capitalization for all the companies they own.
In February 2008, Forbes Asia magazine's first Heroes of Philanthropy list included four Filipinos – Gokongwei, Jaime Zobel de Ayala, Ramón del Rosario Jr. and Oscar López. The list was composed of four philanthropists each from 13 selected countries and territories in Asia.
5. Michel Lhuillier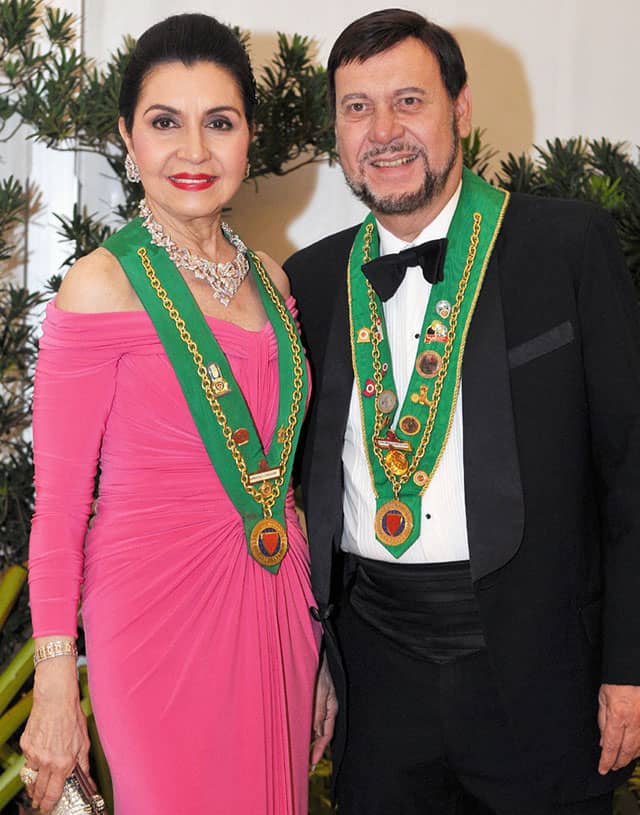 M Lhuillier Group of Companies Founder and Chairman
Cebu Provincial Sports Commission Chairman
Honorary consul of France in Cebu
Cebu Safari Adventure and Adventure Park Founder
Founder and chairman of the M Lhuillier Group of Companies, Michael Lhuillier is known as the country's 'Pawnshop King'.
Aside from his popular pawnshop business, the French-born Cebuano businessman also owns other business in various industries such as food and beverage, tourism, financial services, retail, and real estate, among others.
Lhuillier is the owner of the famous French restaurant La Vie Parisienne in Lahug, the world-class Cebu Safari Adventure and Adventure Park in Carmen, a beach resort in Sogod, among others.
6. Frank Gaisano
Metro Retail Stores Group, Inc. (MRSGI) Chairman and CEO
AB Capital and Investment Chairman
Pacific Mall Corporation Chairman
Vicsal Investment, Inc Chairman
Taft Property, Filipino Fund, Inc. Director
Frank S. Gaisano is the Chairman and CEO of the Metro Retail Stores Group, Inc. (MRSGI). Before his appointment, he served as the company's Director from 2003 to 2011.
As Chief Executive Officer, Gaisano is widely recognized as one of the country's innovative and forward-looking leaders in the retail industry.
Concurrently, Gaisano sits as chairman of the boards of AB Capital and Investment, Pacific Mall Corporation, and Vicsal Investment, Inc. He also holds director posts for Vicsal Development Corporation, Taft Property, Filipino Fund, Inc., Taft Punta Engaño Property, Inc., and Direct Model Holdings, Inc.
He received his Bachelor of Science degree in Civil Engineering from the Cebu Institute of Technology, and has completed several courses at the Institute of Corporate Directors.
7. Augusto Go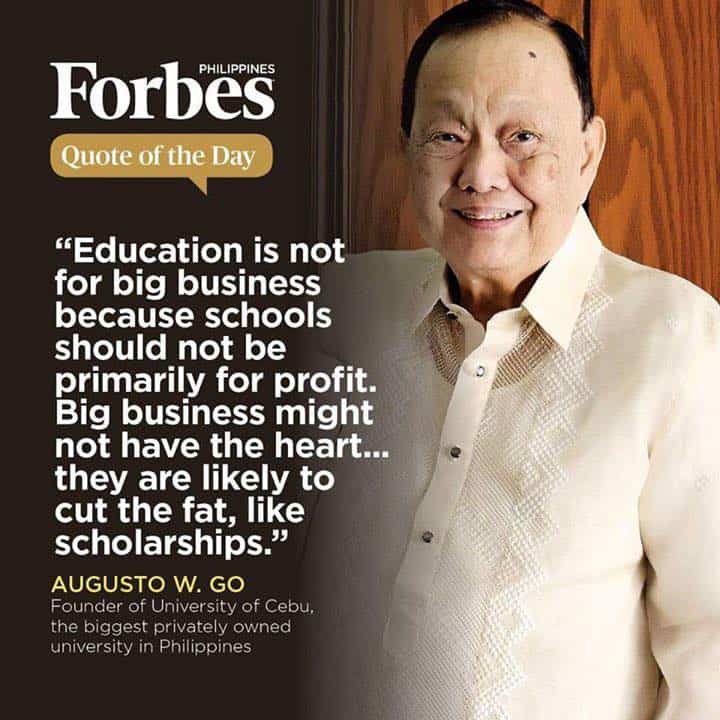 University of Cebu Founder and President
Toyota Cebu City Chairman
Board of Aspac Rural Bank Inc. Chairman
Cebu Central Realty Corp. Chairman
Augusto Go, president of the University of Cebu (UC), kept this thought in mind and succeeded by combining business and education in his own radical way.
In 1964, Go created a balance between business and education by starting UC, believing that the quality of Philippine education is on a decline. He rendered UC a student-friendly school by providing numerous teaching aids, computers, and speech labs for its students.
Go's University of Cebu is now the country's largest private university with more than 50,000 students in over 44 campuses, who basically helps Go run his hospital business, UC Medical.
Go is also the president of Cebu Eastern College. He is chairman of the board of the College of Technological Sciences-Cebu and a member of the board of Sacred Heart School-Jesuits as well.
In addition, he chairs Aspac Rural Bank Inc., Cebu Central Realty Corp. (Elizabeth Mall), Cebu Coliseum Complex Inc., Metro Ferry Inc., Visayan Surety and Insurance Corp., and AWG Development Corp.; and is a member of the board of directors of Salcon Power Corp., Hyundai Cebu Inc., Chong Hua Hospital/Asociacion Benevola de Cebu, and East West Banking Corp.
8. Erramon Aboitiz
Aboitiz Equity Ventures Chief Executive
#48 in Forbe's 2017 Philippines 50 Richest Net Worth
Entrepreneur of the Year 2011 by SGV Foundation
Erramon Isidro Aboitiz is a Philippine businessperson who has been at the head of 36 different companies and currently is Chairman for Lima Enerzone Corp., Chairman at CRH Aboitiz Holdings, Inc., Chairman at Abovant Holdings, Inc., Chairman at San Fernando Electric Light & Power Co., Inc., Chairman for Manila Oslo Renewable Enterprises, Inc., Chairman of Mactan Enerzone Corp., Chairman at Aboitiz Infracapital, Inc., President & Chief Executive Officer at Aboitiz Group, Chairman at Subic Enerzone Corp., Chairman at AboitizPower International Pte Ltd., Chairman for Aseagas Corp., Chairman of Aboitiz Power Corp., Chairman for Balamban Enerzone Corp., Chairman for AboitizLand, Inc., Chairman at Lima Utilities Corp., Chairman of SN Aboitiz Power-Magat, Inc., Chairman of SN Aboitiz Power-Benguet, Inc. and President, Chief Executive Officer & Director at Aboitiz & Co., Inc.
He is also Chairman of Aboitiz Foundation, Inc. and on the board of 19 other companies.
In the past Mr. Aboitiz held the position of Chairman for Davao Light & Power Co., Inc., Chairman for Cotabato Light & Power Co., Inc., Chairman at East Asia Utilities Corp., Chairman at Cebu Private Power Corp., Chairman & Chief Executive Officer at Hedcor, Inc., Chairman of Therma Mobile, Inc., Chairman of Aboitiz Energy Solutions, Inc., Chairman for Therma Marine, Inc., Chairman of Aboitiz Renewables, Inc., Chairman of Therma Luzon, Inc. and Chairman at Therma South, Inc.
He received an undergraduate degree from Gonzaga University.
9. Bunny Pages
Founder & CEO of Pages Holdings, Inc. which owns House of Lechon, Mooon Cafe, Thirsty, Top of Cebu, Sushi Boy, Lantaw Native Restaurant, Taters, among others.
2015 Grand Chamber's Entrepreneur of the Year
Bunny is one of Cebu's most successful entrepreneurs. He was selected as the Entrepreneur of the Year in 2015 by the Cebu Chamber of Commerce and Industry. He also received the Outstanding Cebuano Award from the Cebu Association of Media Practitioners, Inc. in 2018.
As chairman and CEO of the Pages Group, he maintains a growth mindset and encourages his children and staff to innovate, learn from mistakes, and thrive. He is a productivity powerhouse who makes sure he closes open loops as soon as he can. He is the group's No. 1 salesman, never failing to put customers' needs first. That number on every Thirsty cup? Text or call it and Bunny would be at your service.
10. Jay Aldeguer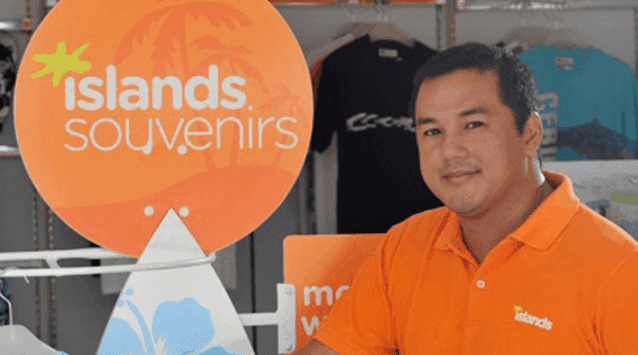 The Islands Group Founder and Chairman
Our Islands Foundation Founder
"The Outstanding Young Men" (TOYM) award
International Young Design Entrepreneur of the Year
Known as Cebu's "souvenir virtuoso," Jay Aldeguer is considered as one of Cebu's most creative and innovative entrepreneurs. To this day, the founder and chairman of "The Islands Group" continues to introduce fresh and exciting ideas and encourages people to think and act global.
After a backpacking trip in Europe, he came up with the idea for Island Souvenirs. Introduced in early 1992, Island Souvenirs completely revolutionized the way souvenirs are presented. Today, the most awarded retail concept in the Philippines continues to dominate the souvenir industry.
Learn more about him at TBP Podcast: http://thebigpicture.ph/episode44/