In anticipation of the exponential rise in COVID-19 cases, the Inter-Agency Task Force for the Management of Emerging Infectious Diseases (IATF) announced Metro Manila's transition to Alert Level 3 starting tomorrow until January 15.
What is the Omicron variant?
The Omicron (B.1.1.529) Variant is a mutated COVID-19 virus first described in
South Africa last November 2021. Initial studies associate the Omicron Variant to
have evading immune protection and increased transmissibility.
When a virus circulates widely and causes numerous infections, the likelihood of a
virus mutating increases. The more opportunities a virus has to spread, the more opportunities it has to undergo changes.
The GOOD news?
Omicron cases have been documented to be mild, especially among those vaccinated and boosted, and vaccines and boosters do work.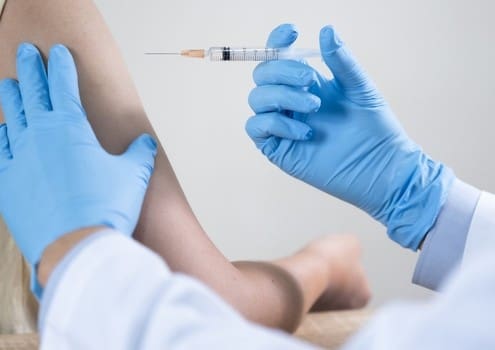 The NOT-SO-GOOD news?
People who experience mild symptoms can easily transmit the virus when minimum public health standards (MPHS) are not diligently followed. Healthcare workers with
breakthrough infections will still need to undergo full 10-day isolation even if symptoms are mild – that means our hospitals are at risk of being understaffed again.
Hence, the Department of Health (DOH) calls on everyone to be "agents of compassion", not "agents of transmission." DOH urges the public to have the utmost concern for our health workers, for kids and sick people, and for the people around us.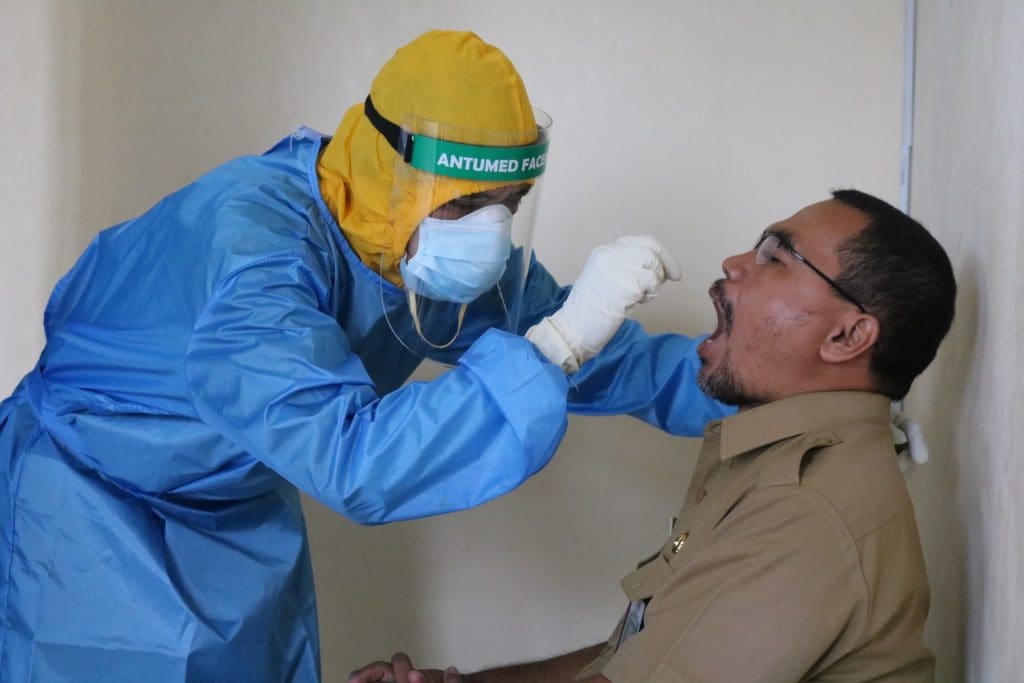 Important Reminders:
If you are exposed, get yourself tested with the RIGHT TEST at the RIGHT TIME. Antigen tests help you determine the need to isolate but it has its limitations. It is most accurate when used by anyone experiencing symptoms.
While waiting for test results or when confirmed positive, ISOLATE, ISOLATE, and ISOLATE. Once confirmed, isolate for full 10 days from symptom onset (if with symptoms) or from time test was taken (if asymptomatic)
If you have been exposed to a suspect or confirmed COVID-19 case, don't take this lightly. Automatically QUARANTINE for 7 days, if vaccinated; for 14 days, if not vaccinated.
Mind your mental health while isolated or in quarantine – download and use the Lusog-Isip App – it's free!
If you have mild symptoms, use DOH-provided checklists to care for yourself at home. Get professional advice from telemedicine hotlines or primary care facilities especially when are fully vaccinated and boosted already. This shall help in keeping our hospital beds open for severe and critical COVID-19 cases, children who are not yet vaccinated as well as other patients suffering from non-COVID illnesses.
Omicron Variant Symptoms
Cold-like symptoms were the most commonly reported by those with the novel Omicron variety, according to early data provided on December 16 by the COVID Symptoms Study, which is run by the health science business Zoe and King's College London.
Below are the top 5 symptoms reported:
Runny nose
Headache
Fatigue (moderate or severe)
Sneezing
Sore throat
Hans Kluge, the World Health Organization's senior official in Europe, noted that 89% of patients in Europe with confirmed Omicron infections had symptoms similar to other coronavirus variations, such as cough, sore throat, and fever.
According to medical experts, the signs of Omicron infection in vaccinated persons may be much less than those who are unvaccinated, which could lead to instances being ignored.
ARE COVID-19 VACCINES EFFECTIVE AGAINST OMICRON VARIANT?
Yes. COVID-19 vaccines are effective for severe and critical forms of illness
caused by Omicron variant, which leads to hospitalization and death.
DOH Hotlines
For health concerns and emergencies, contact the DOH Central Visayas Center for Health Development 711 HealthLine: DIAL #0711 (Don't forget to press the hashtag key on your phone for Globe and TM subscribers)
Other available contact numbers:
Globe: 0967 221 9120
TM: 0956 817 8967
Smart: 0923 196 8249 / 0961 577 7463
Telephone: (032) 411-6900
For the list of hospitals in Cebu with the corresponding hotlines, head on to https://sugbo.ph/2021/cebu-hospitals-hotline/.
Sudden rise of cases
The Department of Health (DOH) reported 4,600 additional cases of COVID-19 cases on Sunday, January 2. The top regions with most cases in the recent two weeks were the National Capital Region (NCR) with 3,729 or 72 percent; Calabarzon, 676 or 15 percent; and Region 3 (Central Luzon), 252 or 6 percent of the new cases.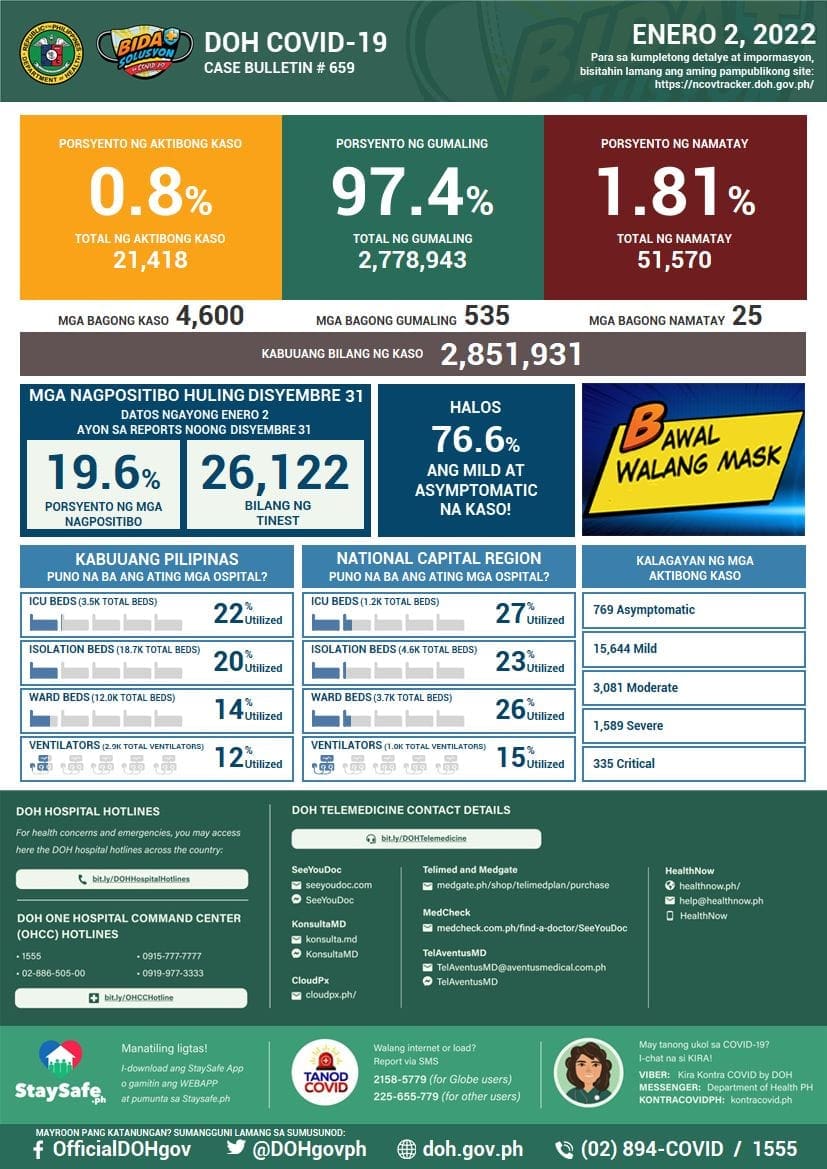 With the detection of the imported cases of Omicron variant, the Department also urges everyone to adhere to the minimum public standards and properly wear face masks, frequently wash hands with soap and water or alcohol, observe physical distancing, ensure proper ventilation, and avoid crowded areas.
We need to sustainably cut transmission through a combination of vaccination
and booster shots once eligible, diligent practice of mask-hugas-iwas-airflow, and early isolation if with symptoms. These actions have been effective against other
variants.
Sugboanons, let's do our part to avoid locking down. Compassion, not transmission.