A lucky bettor from Moalboal, Cebu won the P28.8 million jackpot price for 6/42 lotto draw yesterday, February 24, as announced by The Philippine Charity Sweepstakes Office (PCSO).
According to the agency, the lucky ticket was sold at an outlet in Moalboal, Cebu with a winning combination of 12-29-15-03-06-20 with a jackpot prize of P28,851,800.80.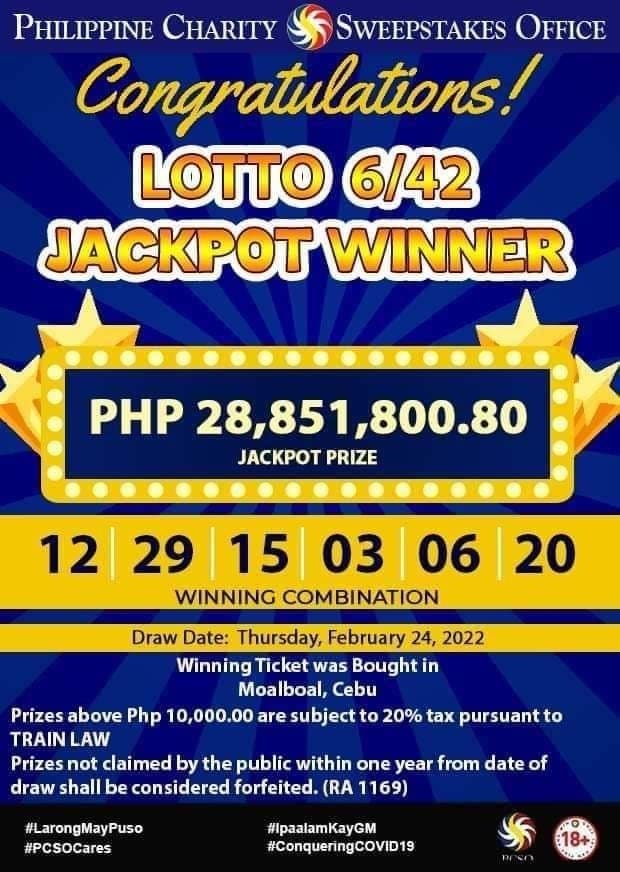 Meanwhile, a total of 121 individuals got five of the six combinations that could take home P24,000.00 each.
The jackpot prize of Superlotto went up to P25,861,864.80 after no one got six combinations last night. While two individuals can take home P50,000.00 each after getting five of the six combinations.
Under the TRAIN Law (Republic Act No. 1169), PCSO lotto prizes worth more than P10,000 are subject to a 20% tax. This means, the winner will take home (still) a whopping ₱23,081,440 after tax.
Lotto 6/42 is drawn every Tuesday, Thursday and Saturday.