Live concerts are back!
This is what we have been craving for the past years of pandemic and it has finally arrived. We can now see our favorite artists in person.
Ready your budgets as they are coming to the Philippines this 2022 starting July and we have here the list as your guide on the when and where of these live performances.
1. LOUIS TOMLINSON WORLD TOUR 2022
Tickets Range: P1,500-P4,100
From being a member of the boy band One Direction, Louis has since then carved his own path in the music industry. His famous songs include "Back To You" ft Bebe Rexha and "Just Hold On" with Steve Aoki. His Grand World tour is in support of his debut album "Walls".
When: July 16
Where: New Frontier Theater, Manila
2. ALL TIME LOW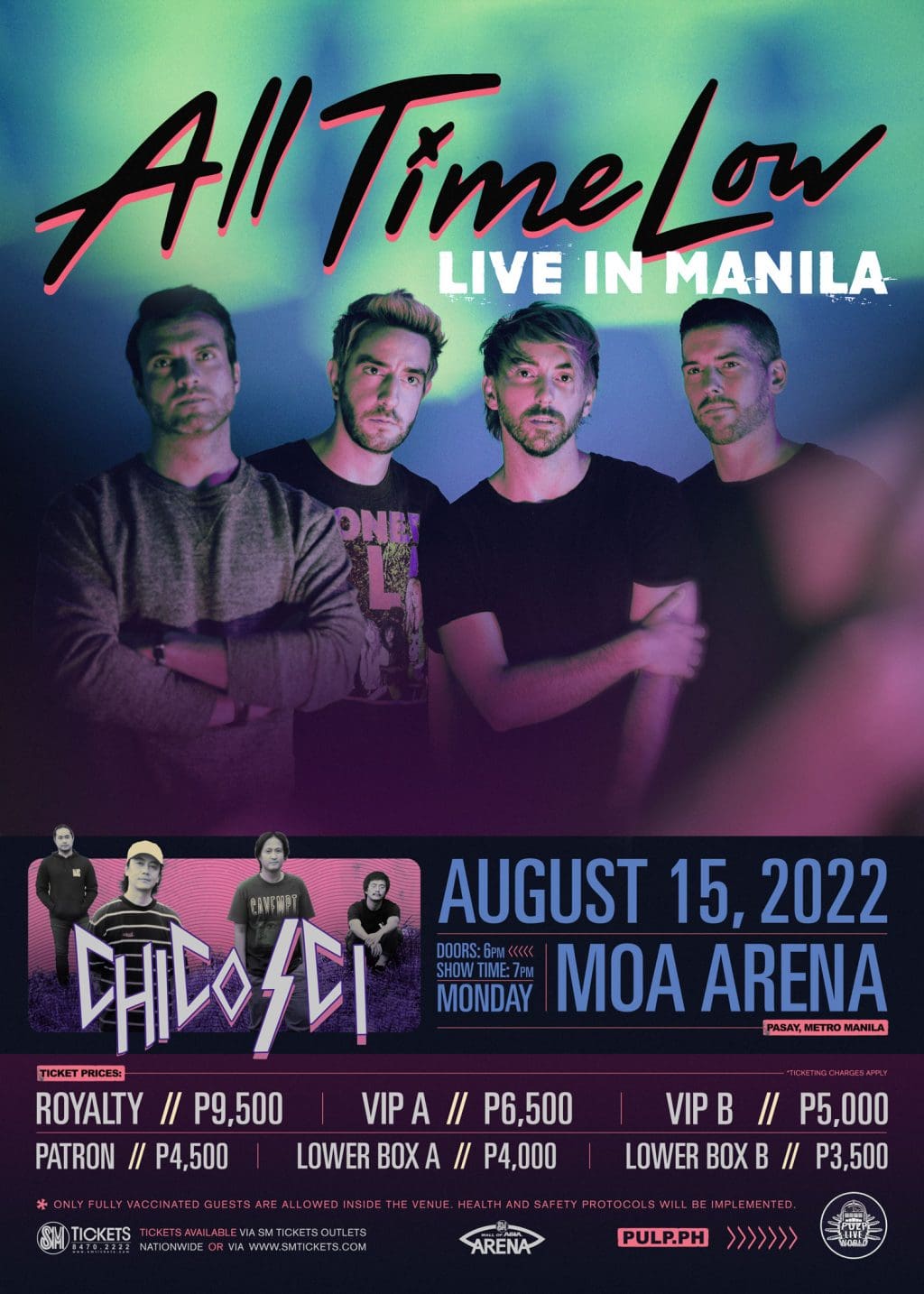 Tickets Range: P3,500-P9,500
One of the all-time favorite rock band, All Time Low will have the "Remembering Sunday" act in the Philippines as part of their Asia Pacific Tour. Millenials will never forget their iconic song "Dear Maria Count Me In". They will be joined by local rock act Chicosci on their concert.
When: August 15
Where: Mall of Asia Arena, Pasay City
3. THE MAINE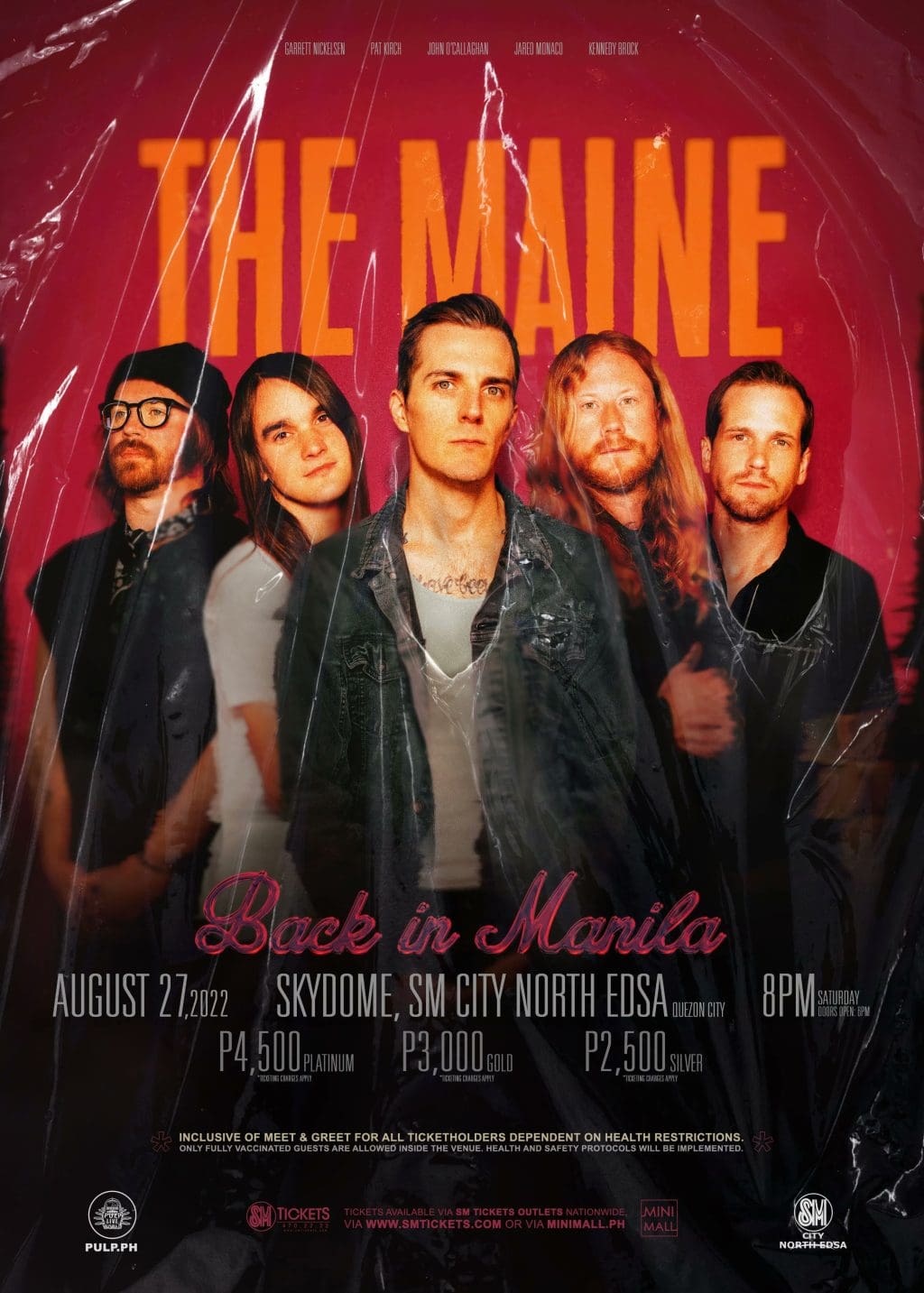 Tickets Range: P2,500-P4,500
The Maine is returning as part of PULP Live World's first show since covid. This is following the release of their 8th album XOXO: From Love and Anxiety in Real Time. They have been in the Philippines in 2019 already for their "You Are OK" album.
When: August 27
Where: Sky Dome
4. THE SCRIPT GREATEST HITS TOUR 2022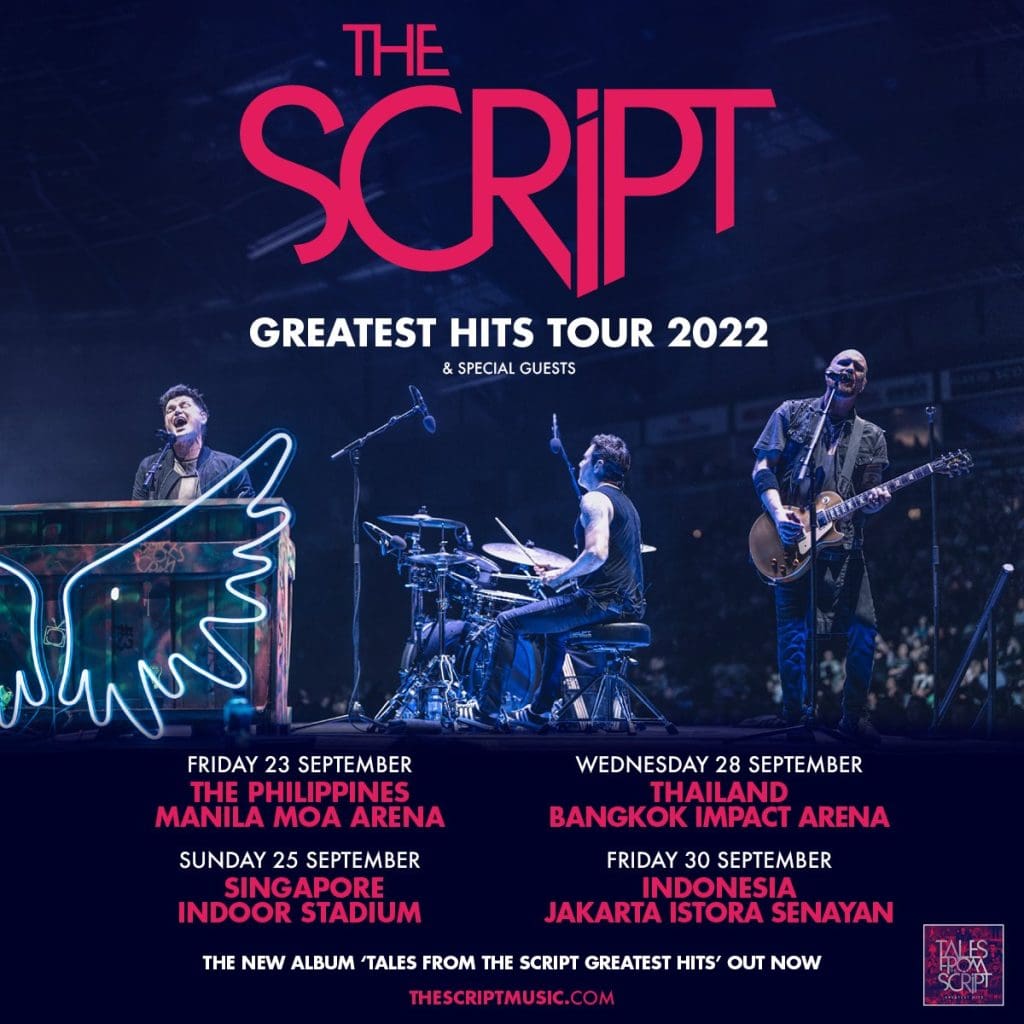 Tickets Range: TBA
Our favorite Irish rock band who holds true to their names gives us the most beautiful lyrics and songs are coming. Their famous singles like "The Man Who Can't Be Moved" and "Breakeven" will be something to watch out for in their Greatest Hits Tour 2022 including their new album "Tales From The Script".
When: September 23
Where: Mall of Asia Arena, Pasay City
5. BOYS LIKE GIRLS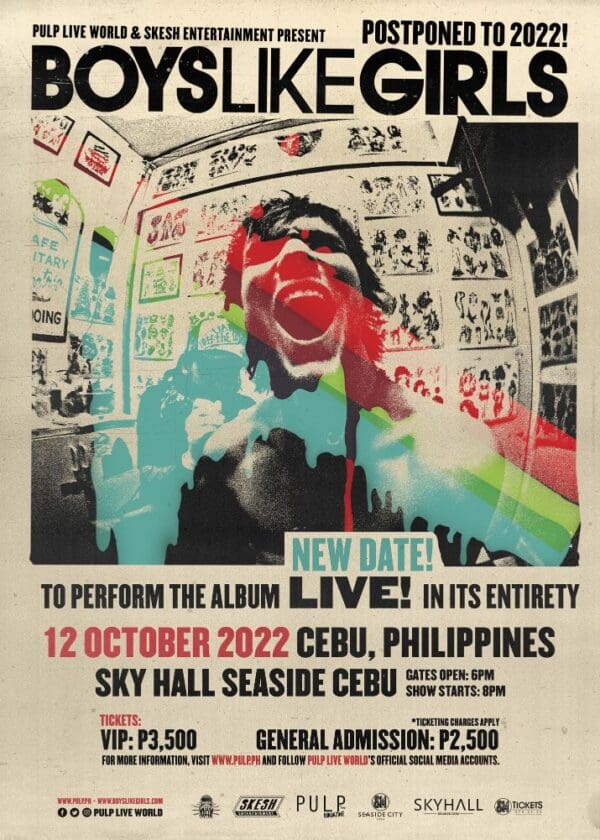 Tickets Range: P2,500-P4,500
Who could forget the high school anthem "Thunder". Cebuanos will be rejoicing indeed as Boys Like Girls' will have their concert in Sky Hall Seaside Cebu. They will be in Manila beforehand. Be ready to shout your hearts out.
When: Oct 10-11; Oct 12
Where: New Frontier Theater in Araneta City, Cubao, Quezon City (Oct 10-11)

Sky Hall Seaside Cebu, SM Seaside City, Cebu (Oct 12)
6. JUSTIN BIEBER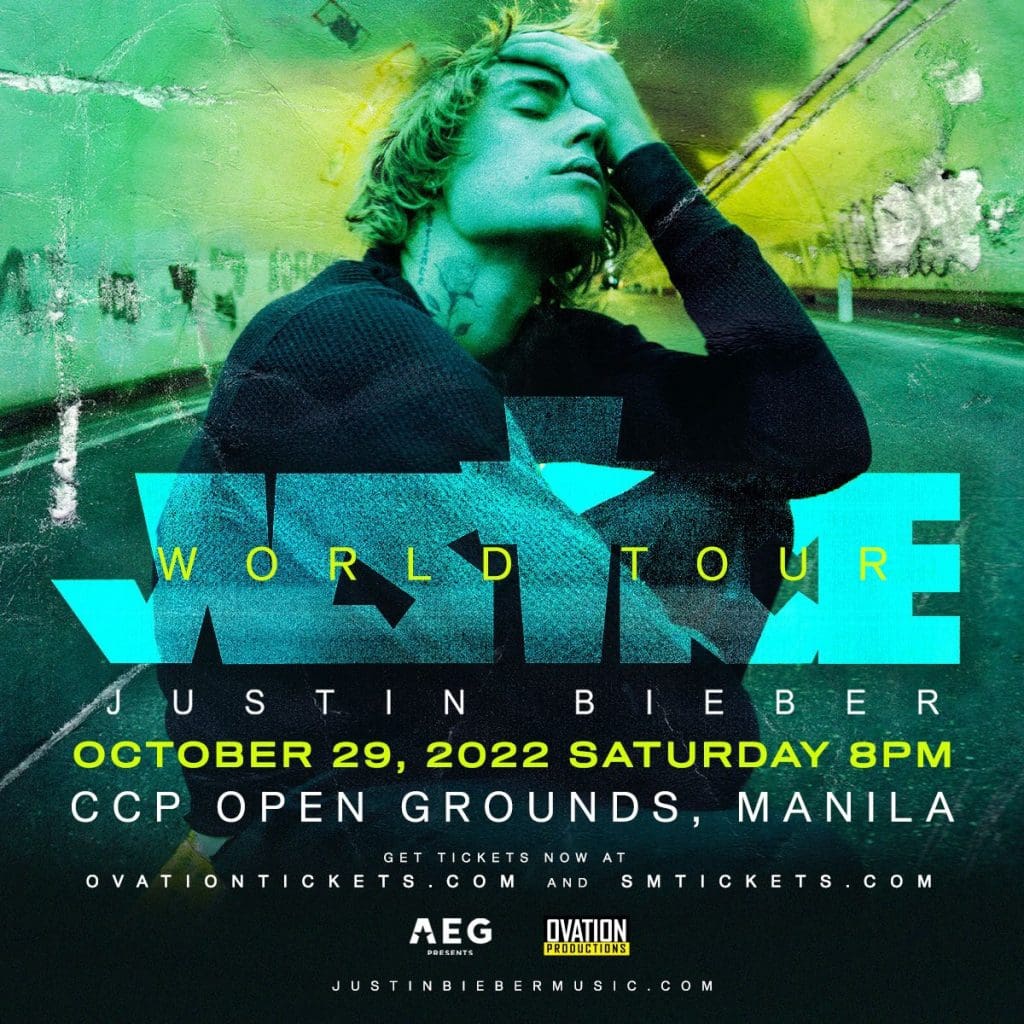 Tickets Range: P2,500-P19,000
Believers are over the moon in joy as the Candian Pop star will be having his Justice World Tour. The tour will be in support of his fifth and sixth studio albums, Changes and Justice. He has countless hits but some of his recent ones are "Peaches" ft. Daniel Caesar, Giveon and "Ghost".
When: October 29
Where: CCP Open Grounds
7. LANY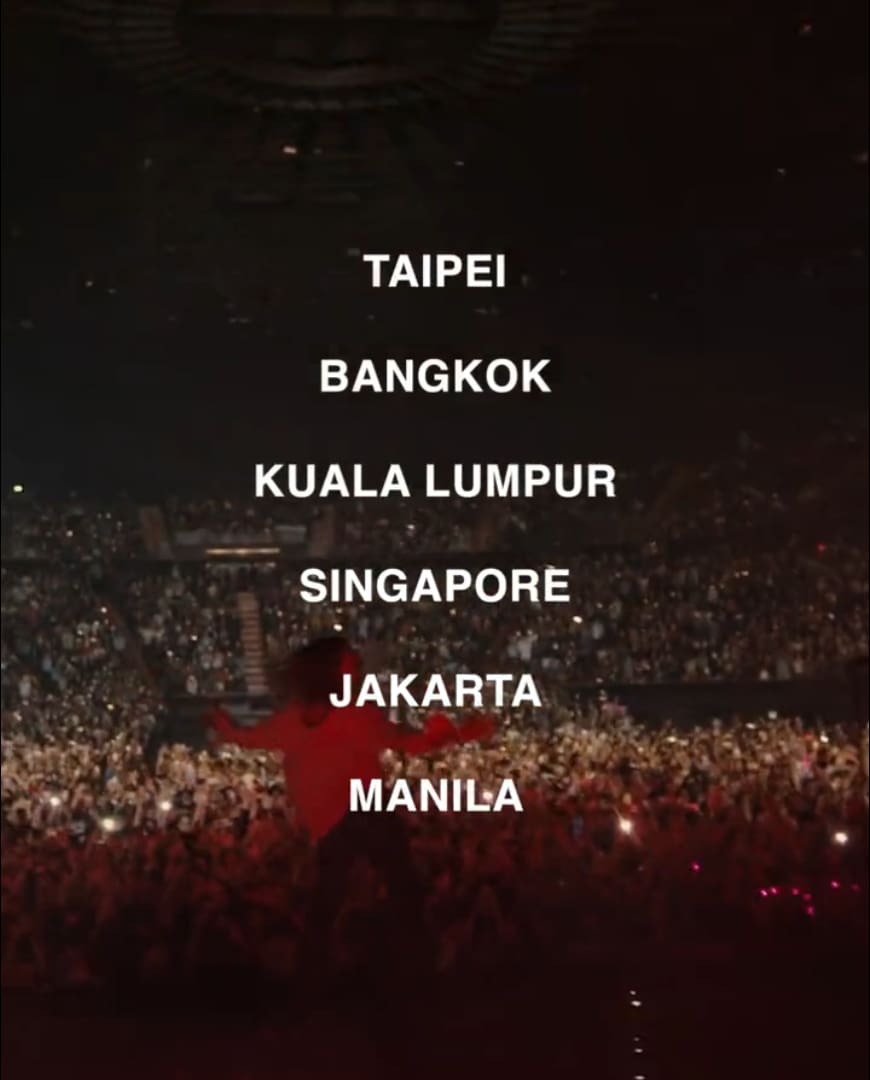 Tickets Range: TBA
The anthem songs that are ILYSB and Malibu Nights will be heard again here in the Philippines. The pop rock band's latest hits are "If this is the last time" and "Heart Won't Let Me". Their last album released is "gg bb xx".
8. AVRIL LAVIGNE Head Above Water World Tour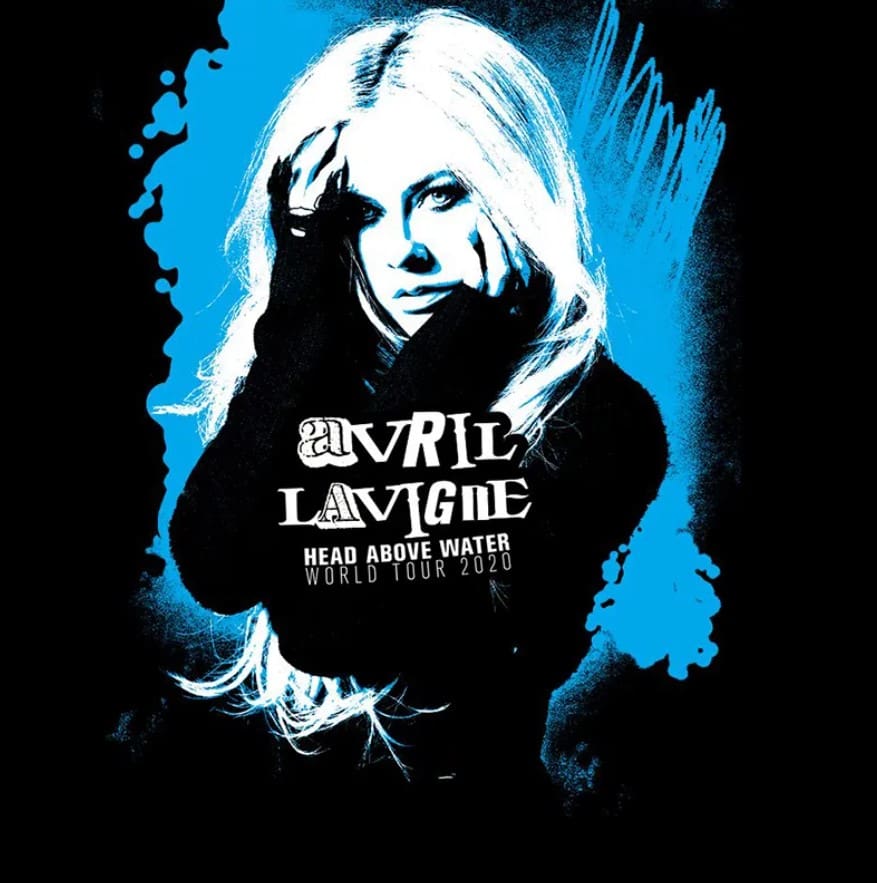 Tickets Range: P1,000-P9,000
After many postponements, finally Avril Lavigne's world tour is happening. Considered to be a pop punk sensation, Avril is an icon to every music lover out there. Her world tour is for her sixth studio album, 'Head Above Water,' which was released in early 2019.
When: November 3
Where: Smart Araneta Coliseum, Cubao, Quezon City
9. RUSS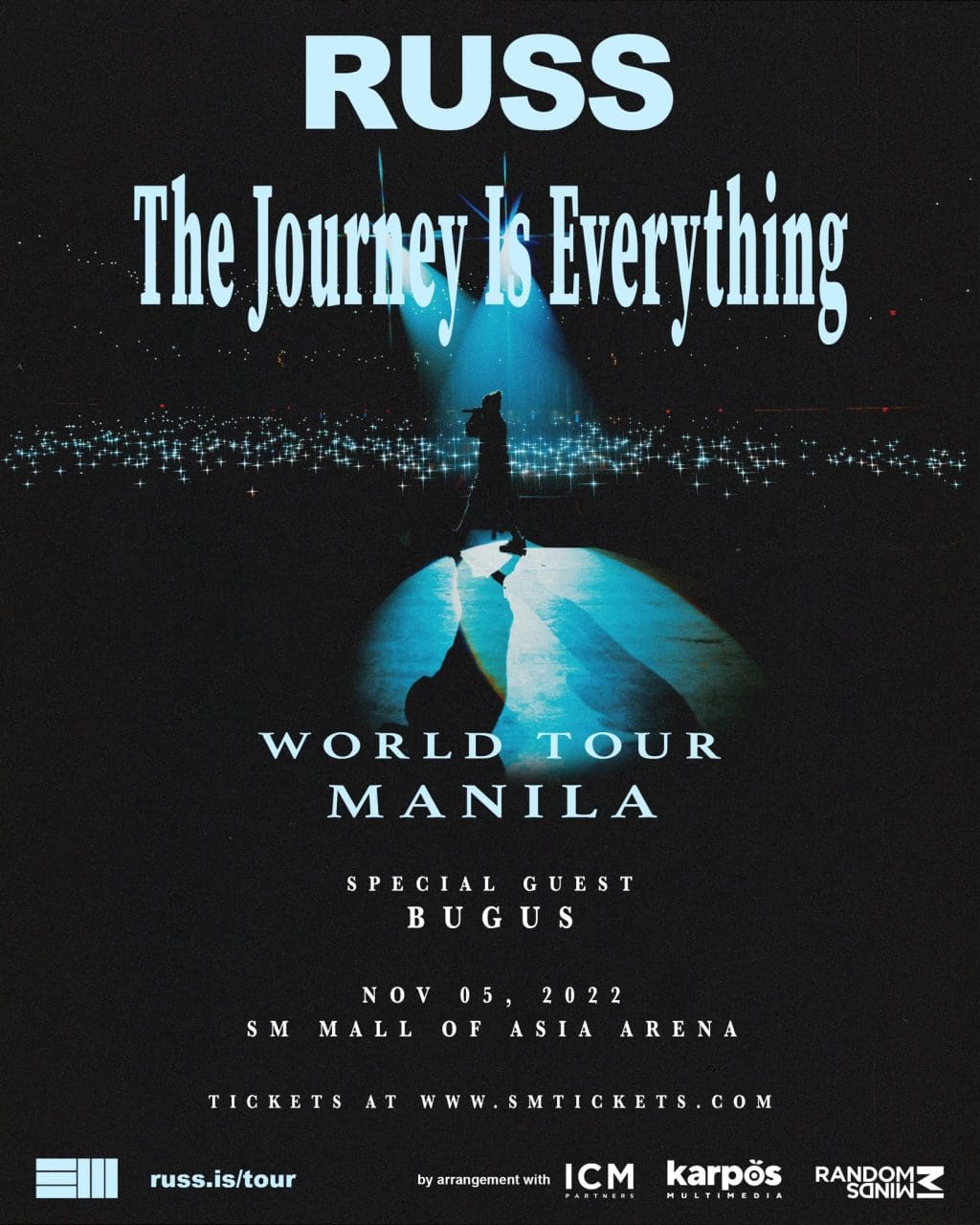 When: November 5
Where: MOA Arena
10. ALANIS MORISETTE 2022 World Tour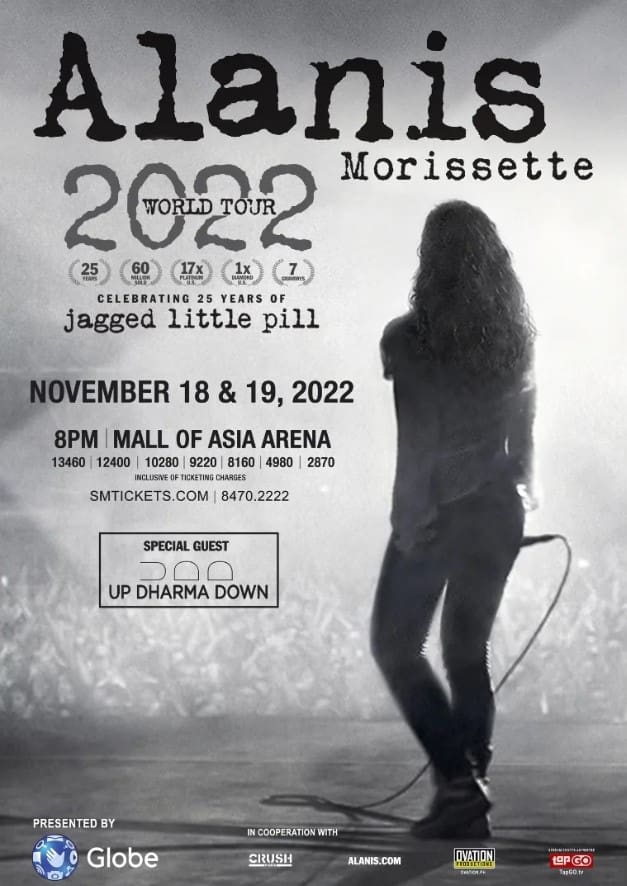 Tickets Range: P2,500-P13,500
A seven-time Grammy winner, Alanis is already a legend. The 'Ironic' singer's World Tour concert is long overdue because of the pandemic. Her new album of meditation music titled "The Storm Before the Calm" is set to be released on June 17, 2022
When: November 18-19
Where: Mall of Asia Arena, Pasay City
What are you waiting for? Buy those tickets now to get the best seats.