One of the tell-tale signs that you are going through your 'adulting' phase is acquiring your valid IDs – Voter's ID, Philhealth, SSS, PAG-IBIG, etc – getting all these IDs can be very tiresome and hectic. For sure, one of the sought valid IDs is the driver's license, but only few bother to go through the process seriously fearing it is difficult and lengthy. In reality, it is actually very easy as long as you are prepared to acquire it. Here's a step by step guide on how to get your driver's license.
Before we dig in, LTO requires certain qualifications before an individual can get their license. Listed below are the following qualifications, as posted from LTO's official website:
Qualifications
Must be at least 17 years old for Non-Professional (18 years old for Professional)
Must be physically and mentally fit to operate a motor vehicle
Must be literate in either Filipino, English or local dialect
Must be a holder of a valid student permit
Must be clean, neat and presentable (don't wear underskirt/sando alone, sports shorts, and slippers during examinations and picture-taking)
Must pass the written and practical driving examination
Requirements
STUDENT PERMIT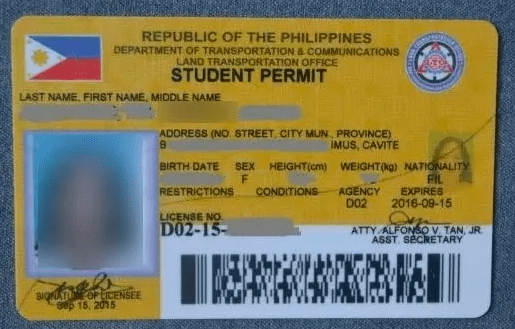 Drivers with Student Permit License are NOT allowed to drive alone and must be accompanied by someone with a Professional or Non-Professional License. Drivers with Student Permit may apply for a Non-Professional License after one month.
Requirements:
PSA/NSO Birth Certificate (ORIGINAL COPY is REQUIRED)
Marriage Certificate (For married women only)
Medical Certificate
Theoretical Driving Certificate (TDC) to prove completion of the required theoretical driving course given by LTO or any LTO-accredited driving schools (check the list here). This course is purely lectures.
Breakdown of fees:
Birth certificate: ₱330-365 (disregard if you already have one). You can also present a Philippine Passport instead.
Medical examination: ₱450-500 (depending on your location)
Theoretical Driving Course: Free to ₱5,000 (depending on the driving school)
Student Permit Fee: ₱317.63 (may change without prior notice)
Estimated Total Cost: ₱1,000-6,000 (depending on location, driving school)
Non-Professional Driver's License (New)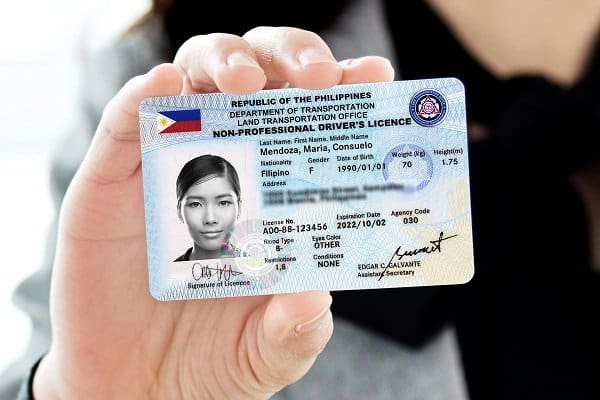 After one month, a Student Permit holder can apply for a Non-Professional Driver's License that allows the individual to drive a vehicle independently. 
Requirements:
Student permit (at least 1 month old to be valid)
Filled out driver's license Application Form for Driver's License (ADL)
Medical Certificate (hard copy) stating that you are physically and mentally fit to drive a vehicle. This must be issued by an accredited LTO medical clinic and registered physician. (A copy of the certificate must be electronically uploaded by the clinic/physician to the LTO IT system)
Practical Driving Certificate (PDC) to prove completion of the required practical driving course given by LTO or any LTO-accredited driving schools (check the list here)
Must have passed the written and practical examinations*.
Fees:

₱100 – Application fee
₱585 – Non-Professional / Professional Driver's License application fee
It should be noted that before you can apply for the driver's license, you still need to get a student's permit and wait for at least 30 days upon securing the said permit before you can apply for a license.
Renewal of Driver's License
Requirements:
Non-professional/Professional Driver's License
Medical Certificate
Fees:

₱ 652.63 ADVANCE RENEWAL / NOT EXPIRED
₱ 727.63 One (1) Day to One (1) Year Expired
₱ 802.63 One (1) Year to Two (2) Years Expired
How to Get Your LTO Driver's License
Secure the driver's license application form by going to your nearest LTO licensing center or download it online.
Prepare a checklist of the requirements above and make sure you bring them with you upon arrival at the center. Queue and wait for your number to be called.
Once called at the counter, submit all required documents. The officer will check it for completeness and authenticity.
Once the requirements are inspected, they will have your photo and signature taken.
Next, you will be paying the testing fees depending on the type of document you will get.
After paying, stay seated at the waiting area for the lecture and exam. The sequence is first there will be a lecture, then the written exam and finally the practical exam.
After taking all the exams, wait to check if you passed both. You will be then required to pay other fees (ID, registration, etc) so that you can obtain an official receipt (OR).'
Proceed to the releasing counter once your name is called. You need to present the OR in order to claim your license.
Examinations
LTO requires you to pass their two exams – practical and written exams. The practical exam is where you need to demonstrate your actual driving skills while in the written exam, LTO has a 40 to 60-item questionnaire (40 items for non-professional and 60 items for professional) with a 75% passing rate.
In the written exam, traffic rules, signs and laws are tackled, and some situational questions are asked. I highly suggest using pinoydriver.com to review for the written exam; their website is UI friendly and the multiple-choice questions are neatly made.
How to renew online? (Renewals only)
1. You have to register online by clicking this link: https://portal.lto.gov.ph/ords/f?p=1200:HOME:116425943499590:::::
All the details needed for you to secure youe driver's license will be on the page, so as your CDE.
2. Should you pass the exam, a certificate will be sent to you via e-mail as proof that you have passed the exam. You will then be given a paper for renewal.
You will then proceed to Window 1 and pass your requirements;
Old driver's license
Medical Results
Passed CDE Exam
Then, wait for the cashier in Window 7 to call your attention.
3. Once called by the cashier, you just have to pay P585.00 for the renewal of your license. Thereafter, you will then know whether you are qualified for the 10-year or 5-year renewal. You just have to wait for the clerk from Windows 2 and/or 3.
4. You will then proceed to Windows 2&3 for your biometrics to be registered;
Fingerprint
Picture
Signature
LTO Satellite Offices in Cebu
Cebu City LTO Region VII Office – N. Bacalso
Cebu City Mega Licensing Center at SM Seaside
Mandaue City Licensing Center at JCenter Mall
Robinsons Fuente Cebu
Lapu-Lapu District Office
Island Mall Mactan Licensing Center
Talisay Extension Office at Robinsons Lawaan
Carcar District Office
Balamban Licensing Center
Danao District Office
Medellin Extension Office
Camotes Extension Office
Bantayan Extension Office
Getting your driver's license is a must these days, regardless if you have your own vehicle or not. Aside from it being a valid government ID, having your driver's license is a privilege. With it comes great responsibility, and securing one should not be taken for granted. Trust the process and say no to fixers!
For latest updates from LTO-7, follow their official Facebook Page.