Heads up, shoppers!
The Great Seaside Sale is all set, offering great price drops of up to 70% OFF this November 18, 19 & 20 and we've compiled 6 great deals to watch out for this week at SM Seaside City Cebu.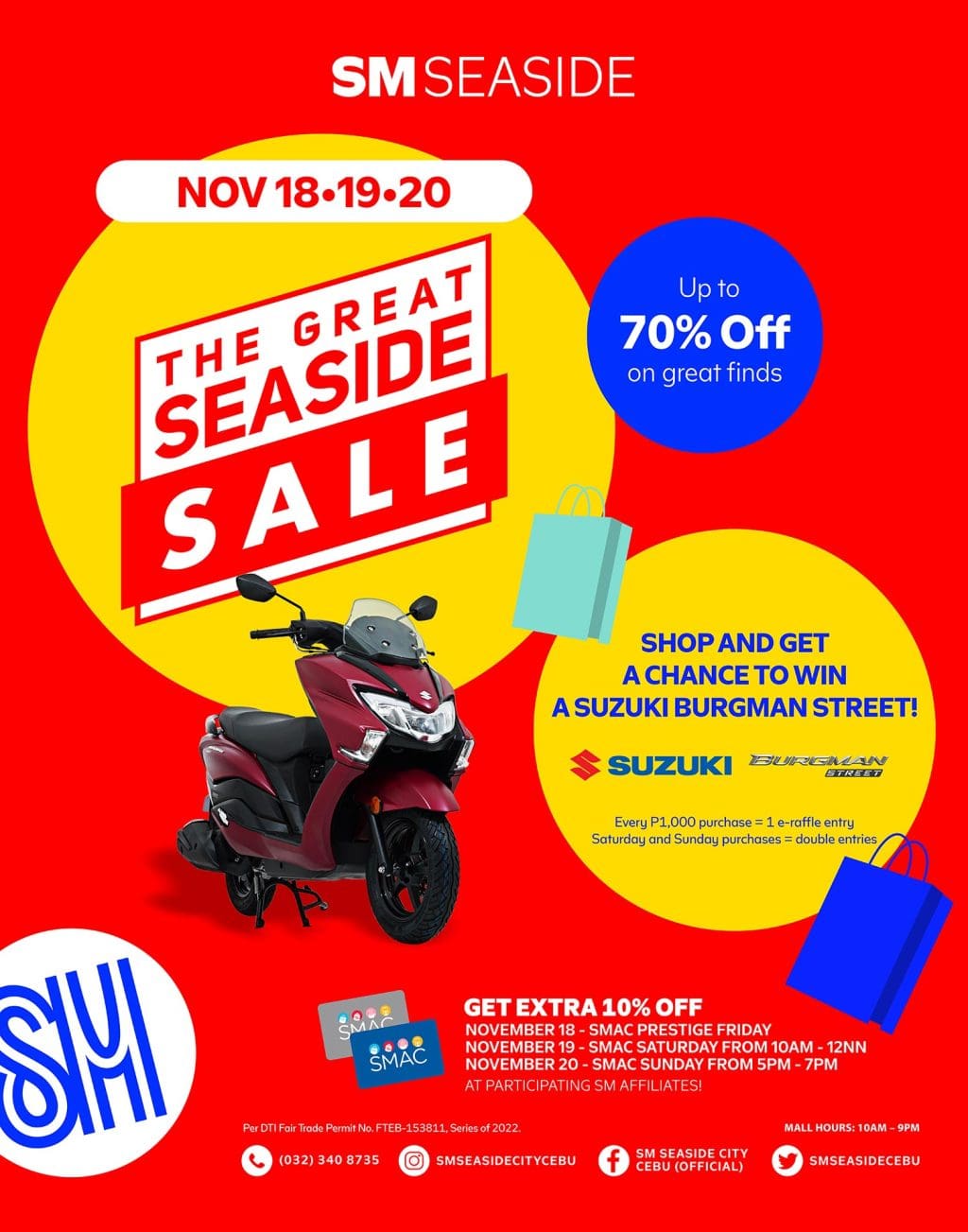 1. Great SMAC Opportunities
It's time for your SM Advantage Cards (SMAC) to shine. They have always been our ally in our shopping adventure, and they are going to be one of our greatest assets on The Great Seaside Sale. You will get an EXTRA 10% OFF when you use your Prestige Card and/or SMAC cards on November 18- 20 at The SM Store and participating SM Affiliates.
· November 18 – SMAC Prestige Friday
· November 19 – SMAC Saturday from 10am – 12nn
· November 20 – SMAC Sunday from 5pm – 7pm
Don't miss out on these limited SMAC offers!
2. Great Discounts
The core of a sale event are the price drops and discounts, and SM Seaside City Cebu clearly did not disappoint as the prices dropped up to 70% OFF. That is a steal of more than half the price, and discounts are not even the only thing offered as there are deals and price off's on selected stores.
Quickly scan here for some of the great discounts that will be worth a visit.
· Our Home– Up to 80% OFF on selected items
· GUESS– Up to 50% OFF on Men's and Ladies' Apparel
· Games & Gadgets– P2,000 OFF on selected items
· Shawarma Shack– Buy 1 Take 1 on rice bowl and shawarma wrap
· Bangs Prime Salon– Up to 65% OFF on Hair Rebonding, Hair Color and Hair Treatment
· Kid's Paradise– Up to 50% OFF per kid
· Islands Souvenirs– Up to 50% OFF on Selected items
3. The Great Seaside Sale Assembly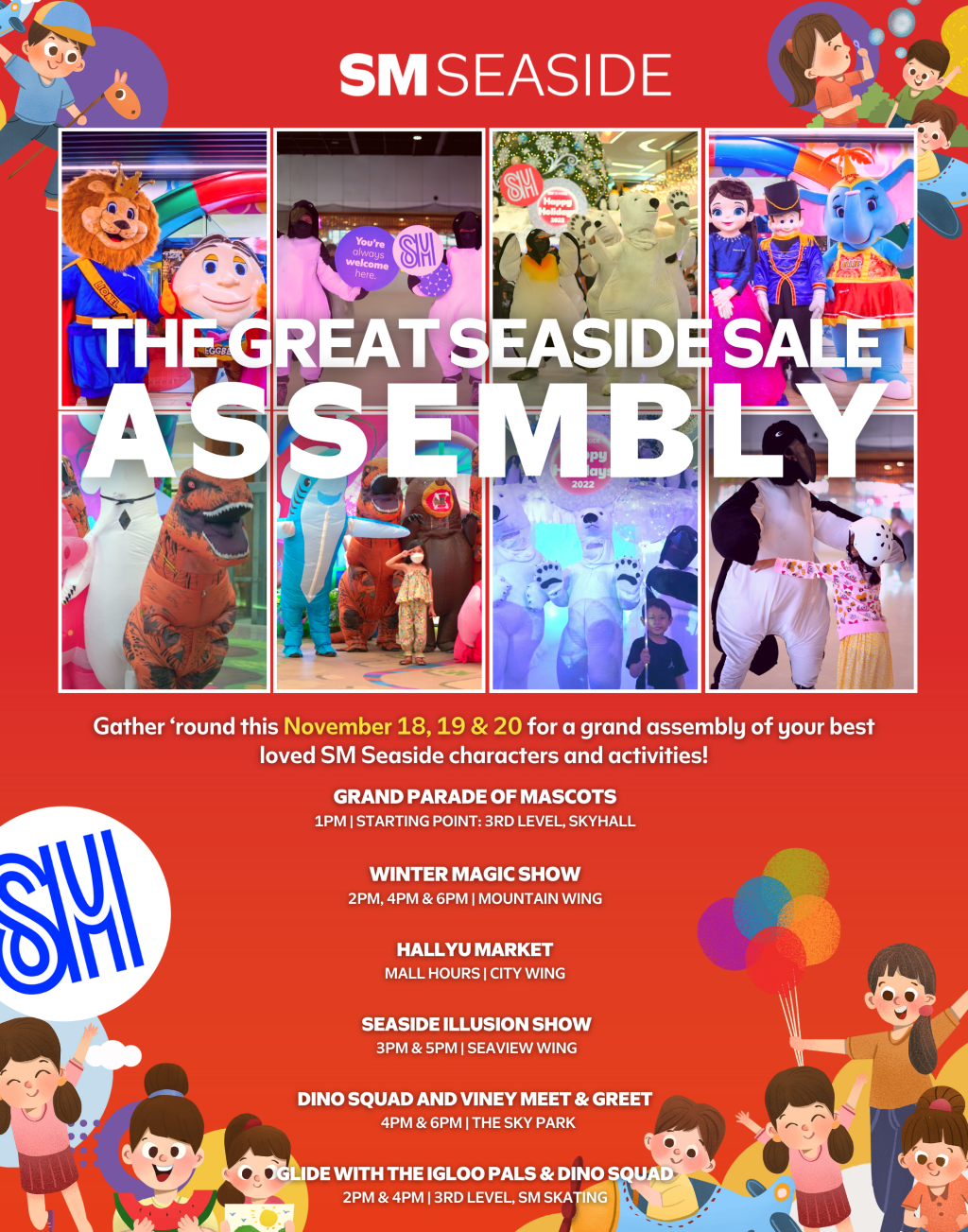 What is an SM Seaside sale without the festivities that come with it? And this time, they went above and beyond with not one but six epic fun activities to make sure your shopping experience is one for the books. #TheGreatSeasideSale Assembly will feature your best-loved SM Seaside characters in a grand parade, offer everything Hallyu, entertain you for a cool Winter Magic performance, and many more.
Grand Parade of Mascots
Time: 1PM
Location: 3rd Level Sky Hall-starting point
Winter Magic Show
Time: 2PM, 4PM and 6PM
Location: Mountain Wing
Hallyu Market
Time: Mall Hours
Location: City Wing
Seaside Illusion Show
Time: 3PM and 5PM
Location: Seaview Wing
Dino Squad and Viney Meet & Greet
Time: 4PM and 6PM
Location: The Sky Park
Glide with the Igloo Pals and Dino Squad
Time: 2PM and 4PM
Location: 3rd Level SM Skating
4. Great Prize
Shop till you drop and then win a motorcycle. Yes, SM Seaside City Cebu will be giving away a BRAND-NEW Suzuki Burgman Street Motor on the #TheGreatSeasideSale.
You can have a chance at a prize that costs almost P90,000 by just collecting P1000 single or accumulated receipts. The raffle redemption booth is located on the Lower Ground Floor, Mountain Wing Atrium.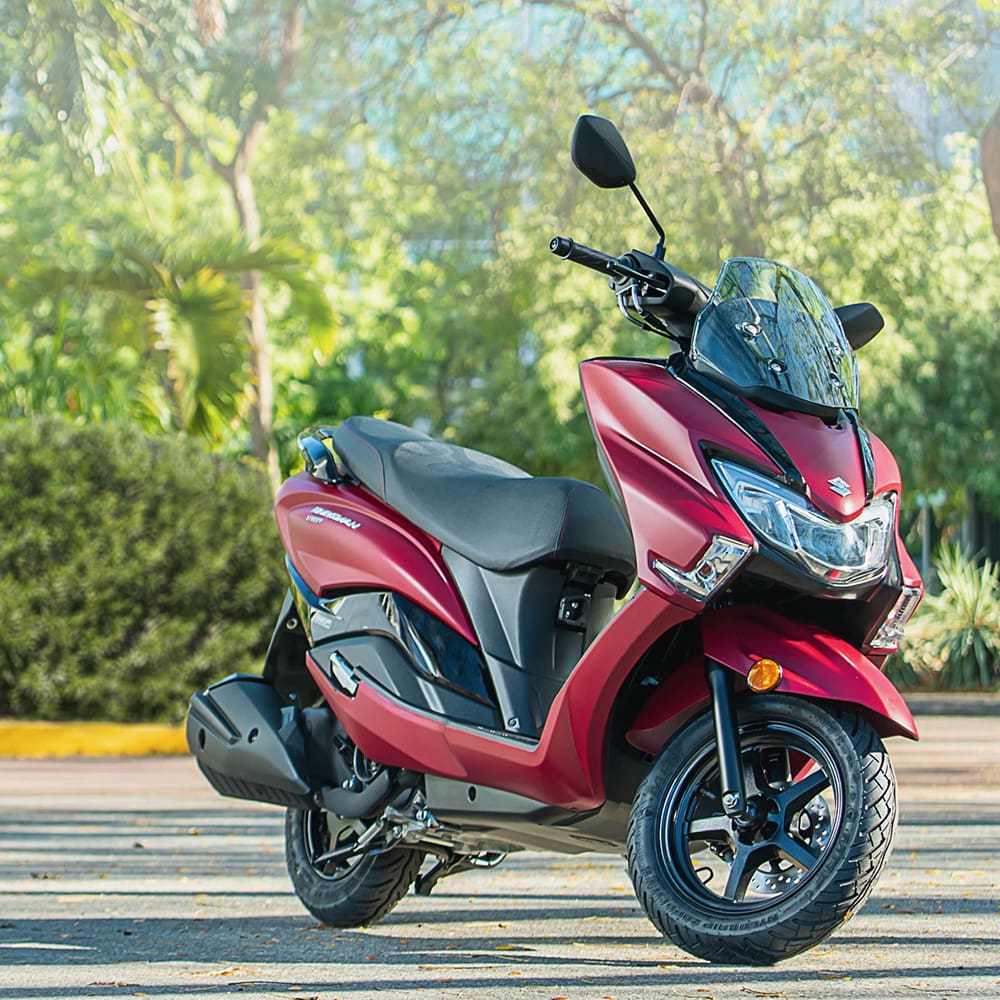 5. GREAT PROMO CODE WITH GRAB
Get P70 off on your ride to The Great Seaside Sale! Use promo code: SMSEASIDE70 to get P70 off on your GrabCar protect ride to & from SM Seaside City Cebu from November 18 to 20.
Terms & Conditions:
P70 off on GrabCar rides up to 2 times per use/day with a minimum fare of P200.
Promo code is valid for rides to and from SM Seaside City Cebu only.
Up to 1,000 redemptions per day.
Promo code valid from November 18-20 2022 only.
6. GREAT TIME TO SHOP
Extended shopping, dining, and all-out-of-the-fun because mall hours are also extended until 10 PM from November 18 – 20, 2022.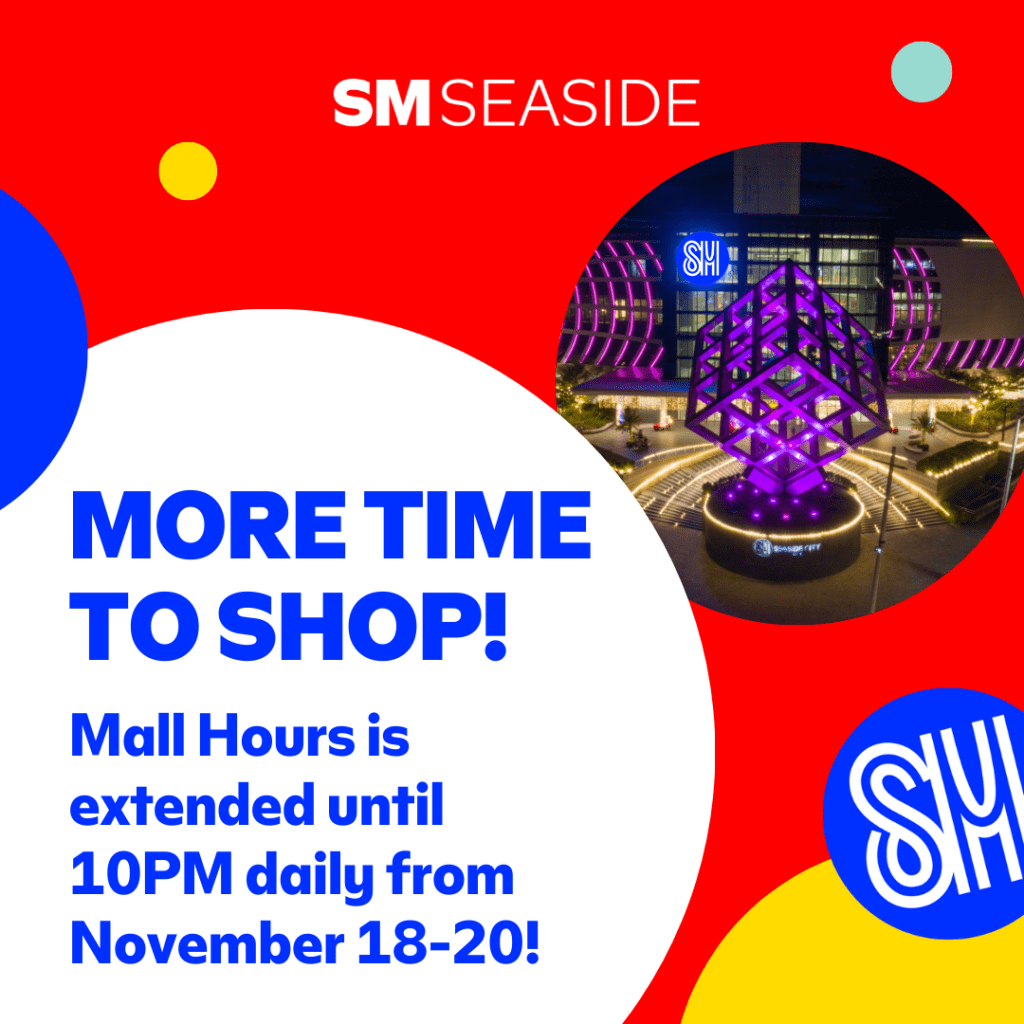 What are you waiting for? Mark your calendars this November 18, 19 & 20 because all roads lead to SM Seaside City Cebu this weekend!