With Cebu having been recording at least 800 COVID cases daily since January 15, a lot of Cebuanos are literally sick now. But not everyone knows what to do and what medicines to buy.
The good news though, Cebu residents can now seek medical advice from physicians without going to the hospitals with the launching of the Cebu COVID-19 TeleGaBAI by Vicente Sotto Memorial Medical Center (VSMMC).
This service is in partnership with the Philippine College of Physicians, the Cebu Medical Society, and other local medical societies.
Cebu COVID-19 TeleGaBAI
The public can consult physicians by calling the TeleGABAI hotline numbers or sending a message through the official Facebook page.
Contact: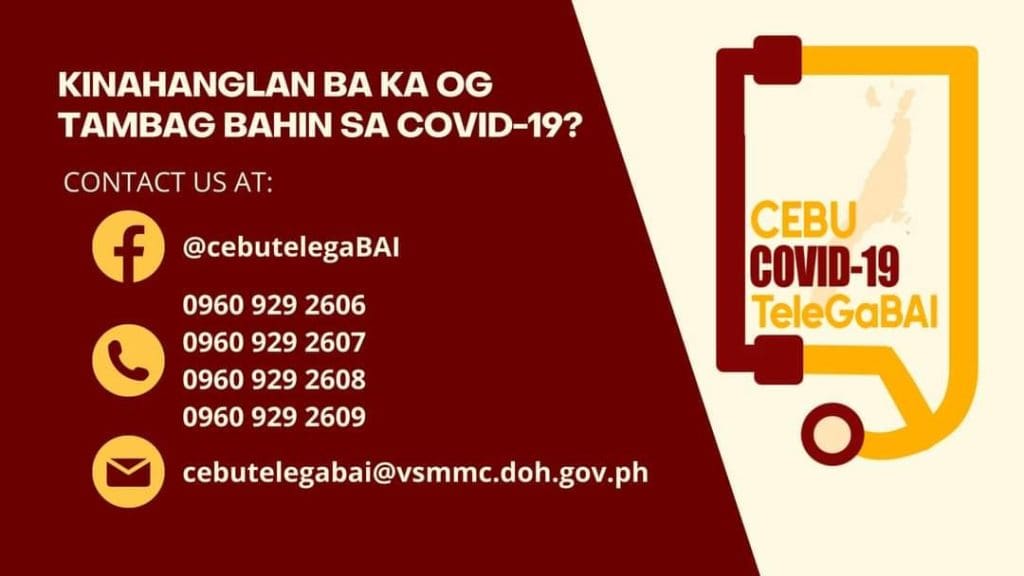 Doctors from different provincial and district hospitals and even patients can ask for medical assistance from their medical experts via the Cebu TeleGaBAI.
The VSMMC initiated the 24/7 Cebu Covid-19 TeleGaBAI program to help decongest the Cebu emergency rooms and hospitals from asymptomatic and mild patients.
The program provides a venue for licensed doctors to guide and advise patients and their families to manage their infections at home.
Please quarantine immediately if you have known exposure to a COVID-positive or suspect patient. Isolate yourself if you have symptoms.