Seafood is a foodie favorite. Those who love exploring the different flavors of the world will surely say the same thing.
In the Philippines especially, seafood is abundant because of the tropical climate that makes its seas habitable for many different underwater species. For that reason, this country is filled with various underwater flavors that seafood lovers can feast on to their hearts' content.
The island of Cebu alone already has a lot of seaside towns that catch fishes and other seafoods. Although there are many far-flung towns that practice the art of seafood cuisine, there are also a select few within the main city itself that serves fresh and flavorful seafood dishes.
Follow the aroma and flavors of the sea in these must-try seafood restaurants in Cebu.
1. Oyster Bay Seafood Restaurant
Oyster Bay Seafood Restaurant is one of the oldest seafood restos in Cebu that has stood the test of time. It is home to flavorful and fresh seafood and has been serving customers for more than 11 years now.
Being one of the longest-standing seafood restaurants, diners are guaranteed to taste authentic and original seafood recipes that have been cultivated over the years.
Their dishes are well-prepared and loved by many of their customers. With Oyster Bay Seafood Restaurant having the most experience, they deserve to be placed at the top of this list.
Exact Location: Bridges Town Square, Plaridel St., Alang-Alang, Mandaue City, Cebu
Best-Sellers:
Oyster Bay Crab
Pork Sisig Pouch
Baked Scallops with Cheese & Garlic
Crispy Crablets
Siomai Roll
Halaan Soup
Deep Fried Baby Squid
Oyster Bay Shrimp
Pepper Calamari
Lechon Kawali
Grilled Prawns in Lemon Butter Sauce
Bacolod Chicken Barbecue
That Famous Sizzling Pochero
Bagoong Bamboo Rice
Full Menu Here: https://tuara.me/oysterbayseafoodrestaurant/
OTHER INFORMATION
Opening Hours: 11AM – 7PM, Tuesdays to Sundays
Contact Numbers: (032) 420-0920/ 344-7038/ 0917-620-6246/ 511-6089
Email address:

[email protected]
2. STK Ta Bai!
STK Ta Bai is one of the more popular seafood and grill restaurants of the metro. Aside from the sumptuous seafood that they serve, STK Ta Bay also has a charming restaurant. Their restaurant is basically a heritage house that was converted into the seafood establishment that it is now. They have various memorabilia of the past dating back to the 1900s that are on display in many rooms of the house which also serve as decorations that add to the overall ambiance of the resto.
This seafood establishment at the heart of the city is the best place to take families and relatives to a lunch or dinner reunion. They serve large servings of mouth-watering seafood that are both affordable and heavy on the stomach.
They usually easily get full during lunch and dinner but fortunately for everybody, they have multiple branches located just within the city so no one will miss out on their delicious seafood recipes.
For families that enjoy eating traditional Filipino dishes in a traditional setting, this is surely the place to go.
BRANCHES:
Capitol Site
SM Seaside
SM City Cebu
MENU: https://stktabay.com/stk-menu/
OPERATING HOURS
Capitol Site Branch: 10AM – 3PM, Weekdays; 5PM-10PM, Weekends
SM Seaside and SM Cebu: 10AM-10PM, Everyday
OTHER INFORMATION
3. Dianne's Seafood House
Located at General Luna St., Carcar City, Dianne's Seafood House offers you shrimps, scallops, tuna, squids, and many more. Our seafood addict hearts are shaking.
Dianne's Seafood House in Carcar City is definitely more than just a gastronomic seafood experience, but also a destination where you can enjoy the relaxing and peaceful ambiance of the restaurant.
Freshly caught seafood is the best. No contest. Which is why Dianne's Seafood House offers you the 'Pond to Pan' experience. The enormous pond is right beside the restaurant. It is clean, aerated and well maintained so you will have no worries there.
Best sellers:
Calamari and shrimp w/ special sauce
Baked scallops
Chopsuey
Menu:
Function Rooms:
Package A

Php 8,000 consumable
Good for 20-30pax

Package B

Php 10,000 consumable
Good for 30-50 pax

Package C

Php 15,000 consumable
Venue extendable to Garden Area
Good for 50 pax and above
Note:
All reservations and agreement are made upon, and are subject to the Terms and Conditions of Dianne's Seafood House.
All package is only up to 4 hours. Additional Php 1,000/hr charge for succeeding hours
Sound System and projector are for rent for Php 100/hour
Lechon is subject to corkage charge.
Other Information:
HOW TO GET THERE?
Exact location: General Luna St., Tulay, Poblacion 3, Carcar City– approx. 2 hours away from the city.
BY BUS: From the South Bus Terminal. Look for the one heading to Carcar City, and ask the driver to drop you off at Carcar City rotonda. From there you can ride a tricycle to Dianne's Seafood house. The place is relatively new but residents are already familiar with the place.
BY CAR: Navigate with Waze or Google Maps and set your destination to "Dianne's Seafood House" in Carcar. Large parking space is available.
4. Isla Sugbo Seafood City
Isla Sugbo Seafood City started its first restaurant way back in 1989 but it was still known as Seafood City back then. It was closed in 2004 due to some unforeseen circumstances but reopened with a new name and face in 2015. The name Ïsla Sugbo" serves as an homage to its starting roots: Cebu. Three years after reopening, they brought their seafood specialties to Taguig City and opened a branch in Venice Grand Canal Mall.
Isla Sugbo Seafood City stands out from other seafood restaurants due to their seafood delicacies being served in unlimited plates. This sets them apart from many seafood restaurants and has even helped them garner multiple awards as the best seafood restaurant for three years in a row.
It is well-loved and well-received by many Cebuanos due to their fresh servings of seafood specials that just makes the mouth water. They are the pioneers of the "paluto-all-you-can" method of serving the seafoods wherein customers choose from a selection of fresh seafood that are displayed which are then cooked immediately.
Exact Location: The Grand Convention Center of Cebu, Archbishop Reyes Ave., Lahug, Cebu City
RATES:
Paluto-All-You-Can: P695 per person
OTHER INFORMATION
5. Parilya
Cebuanos love to eat and that is one of the strongest reasons why Cebu is considered and has become a melting pot of various dishes and cuisines in the south. To be able to satisfy the insatiable hunger of the Cebuanos, the Laguna group launched an addition to their chain of restaurants that gave the Filipinos different traditional and modern flavors.
The sixth restaurant, which was named Parilya, is a special restaurant because it serves various grilled specialties. Cebuano favorites such as lechon, seafood, and grilled dishes are part of their menu which instantly makes them a go-to for Cebuanos.
They have the perfect location to set up a restaurant beside the seaside views of the South Road Properties. The aroma of the seafood they serve pairs well with the salty breeze of the sea and brings forth a unique experience of the sea through the different senses.
Exact Location: Il Corso, City di Mare, South Road Properties, Cebu City Philippines
MENU: http://bit.ly/ParilyaMenu
OTHER INFORMATION
6. Co Jordan Consolacion
Co Jordan Consolacion is a family-friendly seafood restaurant that serves great food in their hidden seafood haven in Consolacion, Cebu. This particular restaurant packs the full experience of the sea in their floating restaurant that's nestled over a lagoon in the municipality.
The lagoon is teeming with fishes that are even available for those who want to go fishing. For those who are lucky enough to catch a fish, they can then request the restaurant to cook the fish they caught.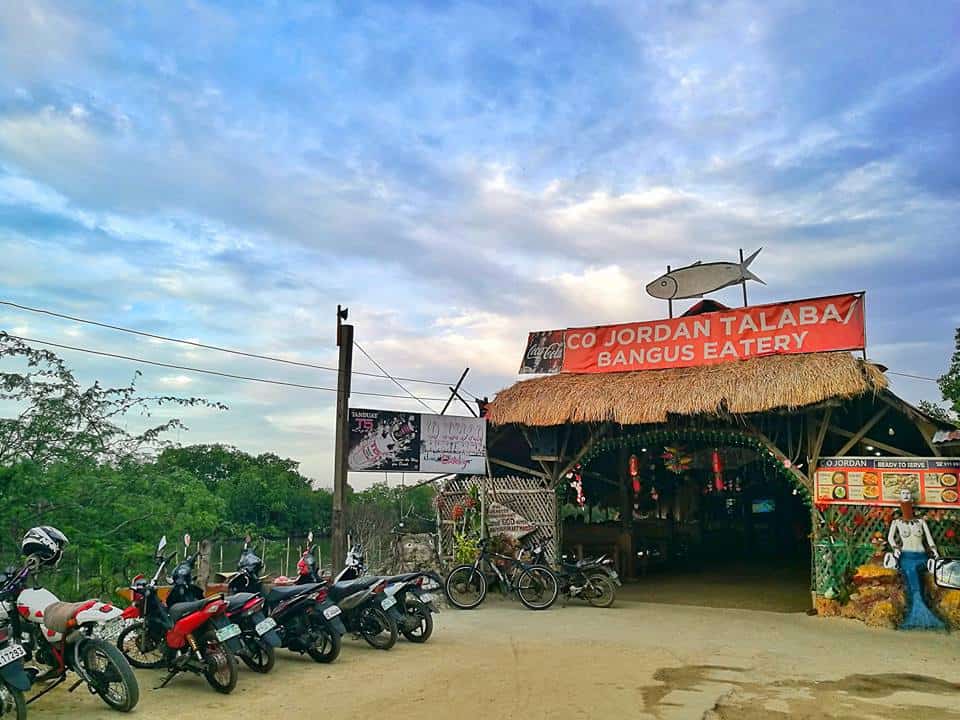 Co Jordan Consolacion has a very welcoming atmosphere with an open-space dining that's covered in native designs and bamboo. It's the place to go for celebrations and reunions with close friends and family because of the lively atmosphere that's made even livelier by karaoke machines.
Exact Location: Tayud, Consolacion, Cebu
RATES & OTHER INFORMATION
MENU:
OTHER INFORMATION
Operational Hours: 8AM – 10PM everyday
Contact Numbers: (032) 266 3139
7. Parr't Ebelles Tinola
A food excursion that's unique to the Philippines is the culture of sinugba or grilling food. It is loved by Filipinos, especially Cebuanos, due to the unique smoky aroma and deep flavors of grilled food. Parr't Ebelle is an eatery that specializes in and highlights the flavors of grilled food and combines it with the deep sea flavors of seafood to unlock a much more explosive flavor that foodies will love and remember.
Cebuanos consider Parr't Ebelles Tinola as home to various Cebuano Flavors that just reminds them of their hometown. It is even recommended to foodies visiting the island of Cebu for them to be able to experience the local flavors that Cebuanos crave.
They serve large servings of fresh fish that's been grilled over a bed of red hot charcoal. Not only are their servings large, they are also very affordable which makes it budget-friendly and very attractive to the ears and noses of passers by.
Exact Location: J. De Veyra St., Cebu City – North Reclamation Area near SM City Mall
OTHER INFORMATION