Your next visit to Oslob might just give you the extra kick you need.
Few minutes away from the well-known whale shark spot in town is a resort that treats you with both the refreshing vibes in a beach stay and the adventure thrills you get when canyoneering, mountain-trekking or diving.
Seafari Resort is an adventure resort tucked in a breathtaking cliff area in Brgy. Tanawan, Oslob. It prides itself for the luxurious and tranquil atmosphere its guests enjoy during the stay. Here you will find their swimming pools, air-conditioned rooms, studios and apartments with sea view which caters comfort and relaxation.
The catch? You need to traverse more than 200 steps down the cliff to access these amenities.
For some gastronomic adventure, you can enjoy the tasty dishes served at their in-house restaurant. They serve international food for breakfast, lunch and dinner at very affordable prices. Their chilled drinks and cocktails at their bar are must-tries too. Chillin' by the poolside with the heavenly view of the sea becomes more rewarding with a sip of your favorite beer.
Aside from overnight stays, the resort also accepts long-term apartment rentals, from 3 – 6 – 12 months and more, all-inclusive for safe and healthy living, resort life at the beach and nature.
The best part of booking an accommodation at Seafari Resort is that they can arrange exciting excursion activities at reasonable prices so that you can enjoy the different top-rated tourist destinations in the southern parts of Cebu.
EXCITING EXCURSION ACTIVITIES
The place, being just a stone throw away from many must-visit spots in the south, also offers exciting day tour packages to these places. Check them out:
Diving (Whale Shark Area/Sumilon Island) – Seafari Resort can arrange this activity for your convenience so you can enjoy snorkeling under the waters of Sumilon Island and Oslob Whale Shark Area that are teeming with abundant marine biodiversity.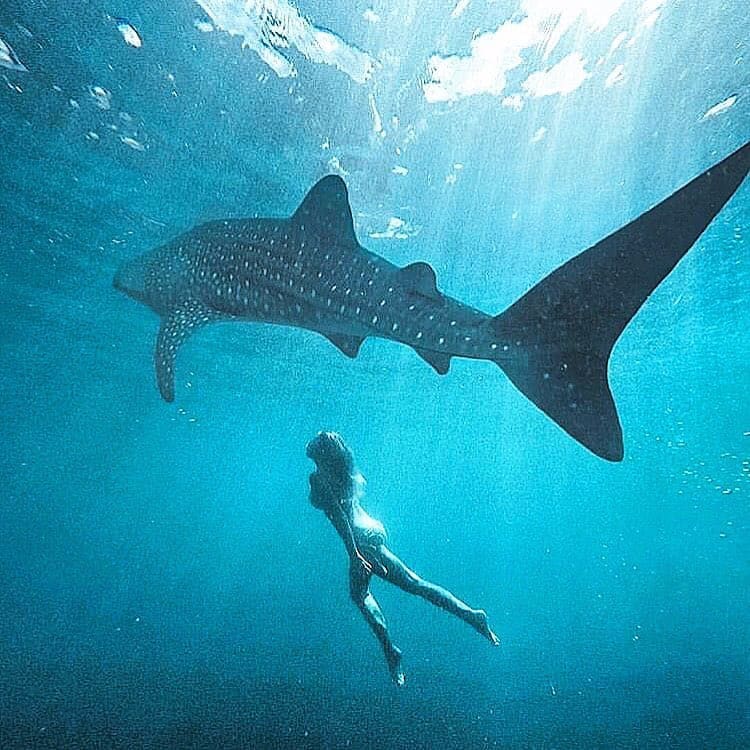 Whale Shark Encounter – Whale shark watching in Cebu started last September 2011 and it became popular all over the world when the news hit in the internet last November 2011. Don't miss to be fascinated with the friendly creatures of the sea as you enjoy watching and swimming with the friendly whale sharks in Oslob, Cebu.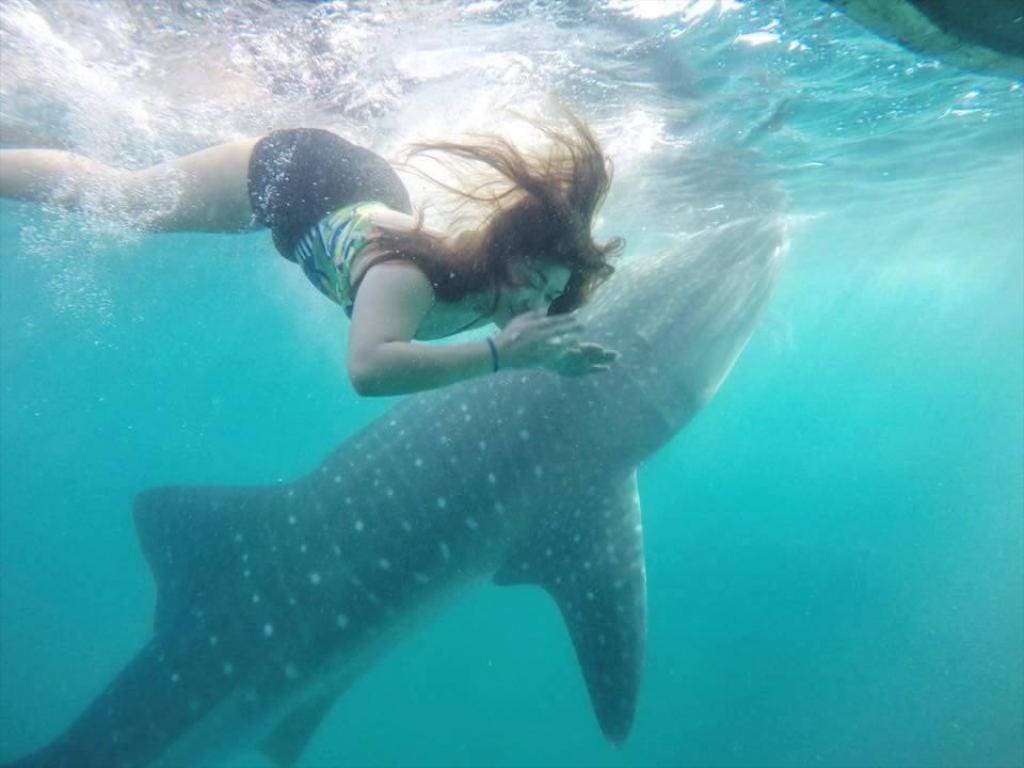 Sumilon Island – Sumilon is a 24-hectare island located in the southeastern tip of Cebu that is a favorite spot for diving enthusiasts because of its marine flora and fauna species. Its white sand beaches are a venue for all beach sports and activities. It was declared a fish sanctuary in 1974 by the initiative of Silliman University Marine Reserve.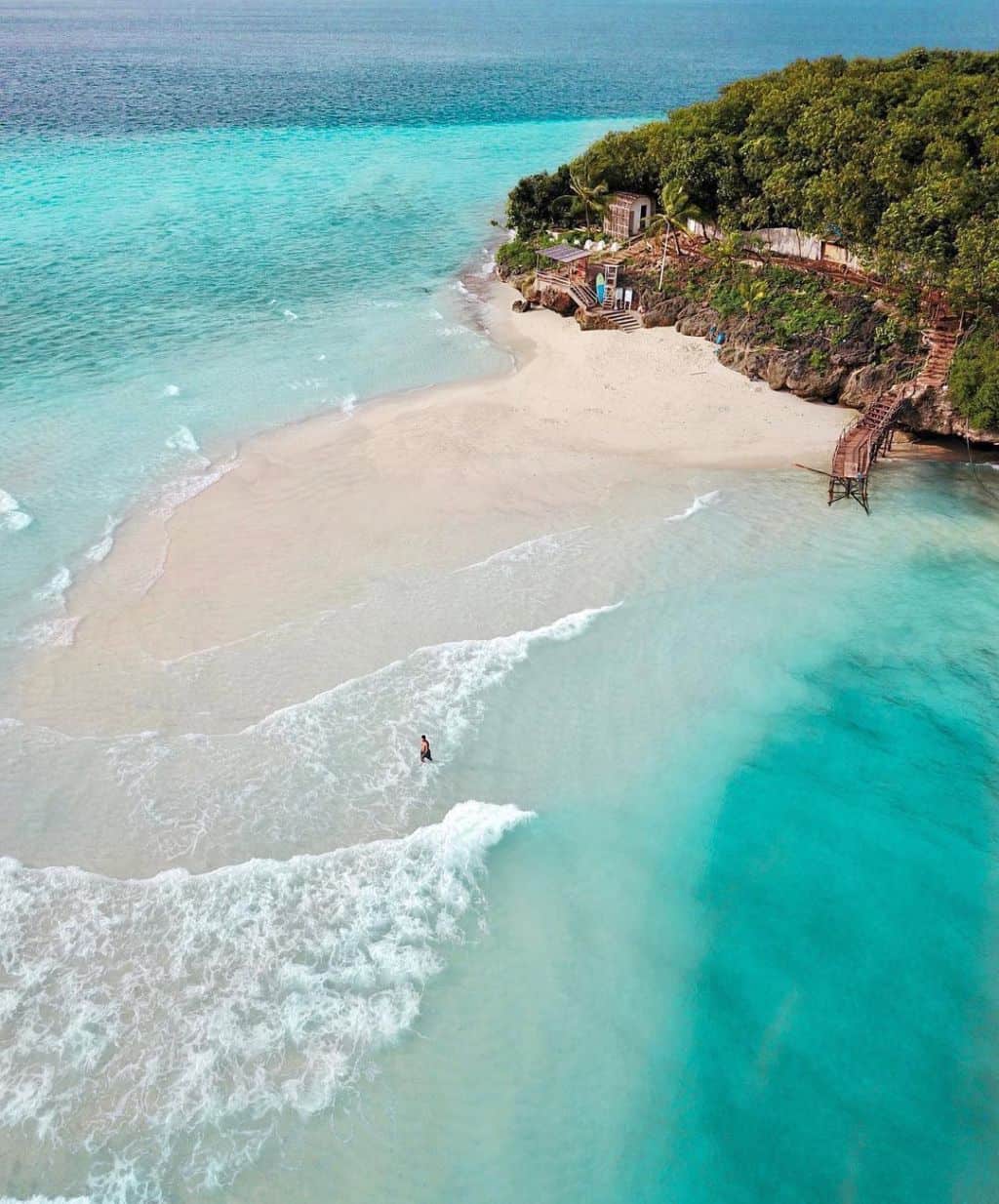 Tumalog Falls – Another must-see and recently discovered place in Oslob is the exceptional beauty of Tumalog Falls. The falls have mini-umbrellas that create fine strands of cold, fresh water cascading on a rough mossy wall.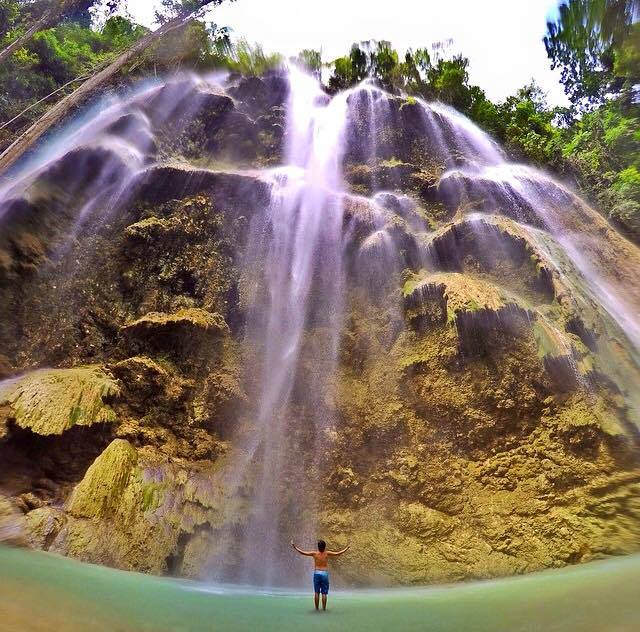 Oslob-Boljoon Tour – Oslob-Boljoon Tour caters the round-trip transfer from the resort to places where most of the tourists love to visit aside from whale watching. This tour includes going to Oslob's known Baluarte, Oslob Cuartel Heritage Park, Oslob Parish Church, Museo Oslob, Boljoon's Eli Rock and Boljoon's Church.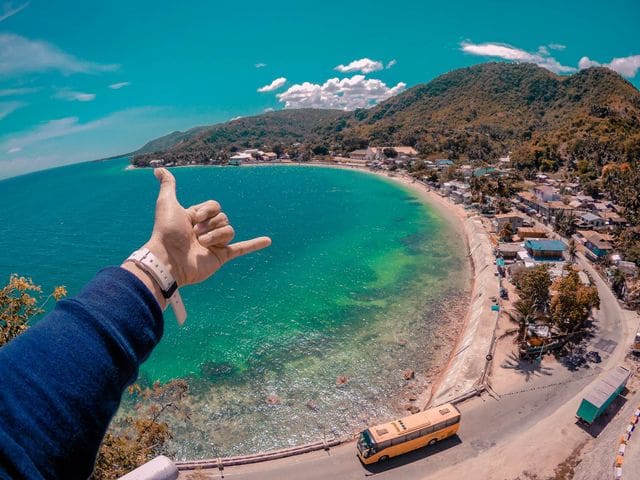 Aguinid Falls – Aguinid Falls is unique because it is not a single waterfall. Rather, it is a system of waterfalls that runs for a couple of kilometers along Tangbo River. Since it was promoted as an eco-tourism destination, locals and foreigners have witnessed this one-of-a-kind, multi-tiered waterfall system.
Osmeña Peak – Osmeña Peak, the highest mountain in Cebu is a cluster of green jagged hills like a deformed twin of Chocolate Hills of Bohol hugging the shorelines of Badian. It is nestled in a serene town with low temperatures dotted with pine trees.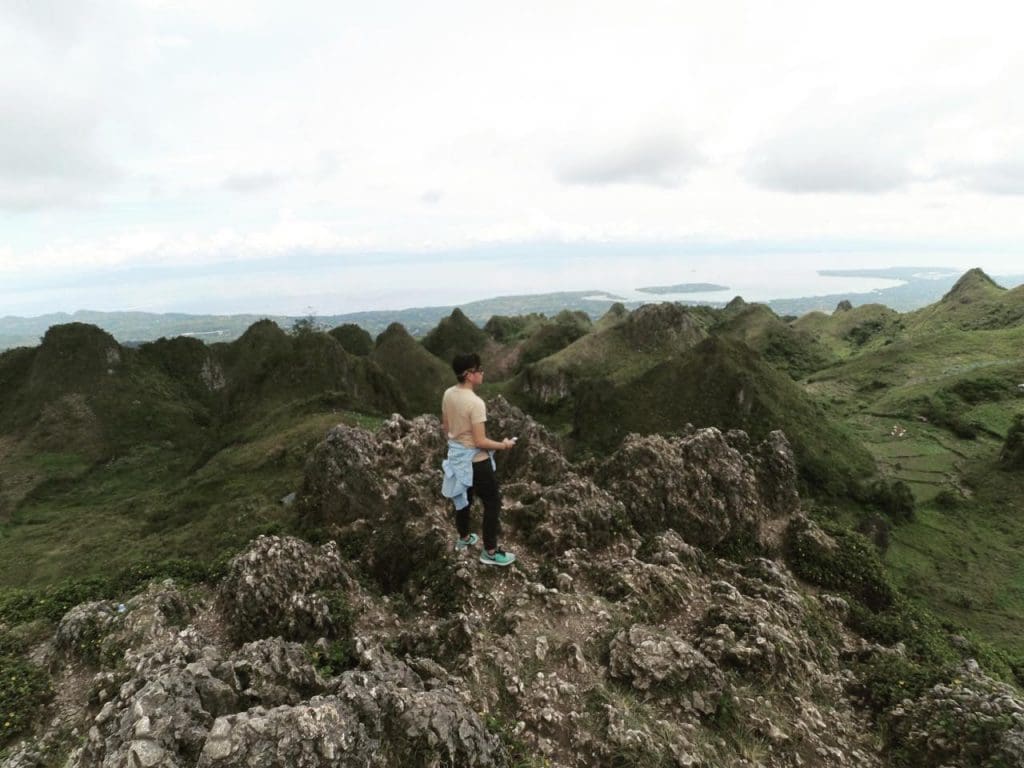 Kandungaw Peak/Strawberry Farm – Sergio's Farm brings strawberries closer to Cebuanos. It is a farm with a goal to promote the cultivation among local farmers and consumption by Cebuanos of naturally-grown vegetables and fruits without the synthetic chemicals and fertilizers.
Kawasan Falls – Kawasan Falls is a three-layered waterfall system located at Barangay Matutinao. The water is fresh and crystal clear. The magical landscape of Kawasan Falls is very cool and refreshing – an ideal paradise to anyone who loves and want to get intimate with nature.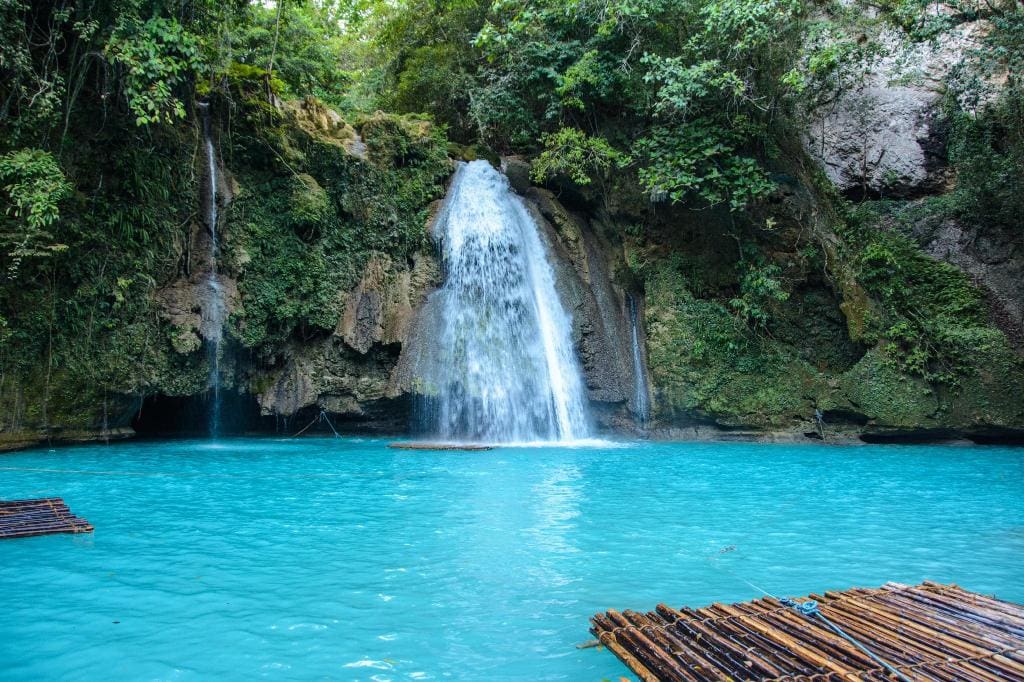 Canyoneering Cebu – Canyoneering or Canyoning is the term used for traveling in canyons using a variety of techniques that may include other outdoor activities such as walking, scrambling, climbing, jumping, rappelling, and swimming.
Miraculous Shrine of Simala – Sacred and downright beautiful, the Simala Shrine is a splendid monastery with a medieval castle-like architecture. Known as a miraculous church, Simala Shrine is usually flocked with pilgrims who would pray and show their devotions to Mother Mary.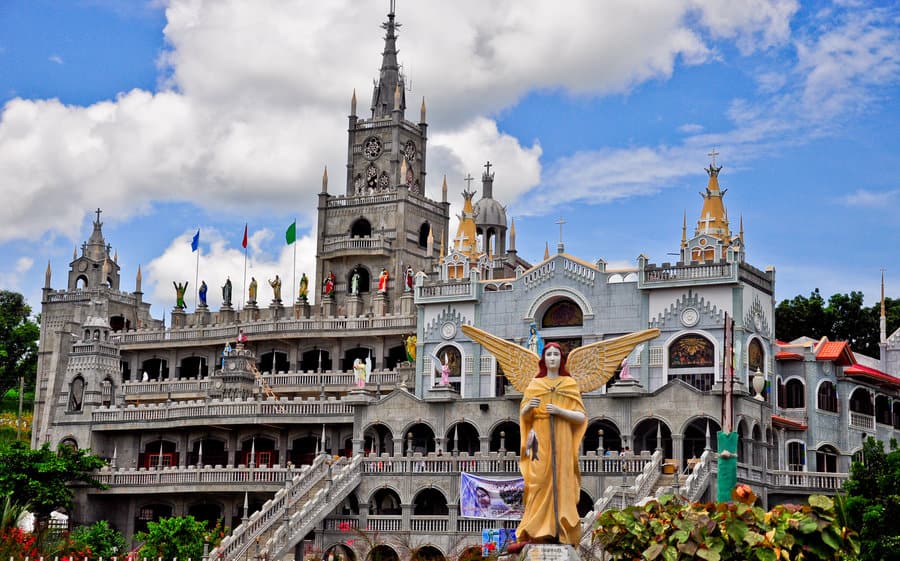 RATES & OTHER INFORMATION
DAY USE:
Entrance Fee: P750/person (w/ lunch plate)
Opening Hours: 10AM – 5PM
ALL INCLUSIVE USE:
Entrance Fee: P1,500/person (w/ breakfast, lunch/dinner plate, snack, (soft)drinks)
Opening Hours: 7AM – 10:30PM
ROOM RATES:
DESTINATION/ACTIVITIES PACKAGE RATES:
Whale Shark Area Diving: P3,500/person (diving w/ gear); P2800/person (diving w/o gear)
Sumilon Island Diving:

P3,000/person (1-hour dive); P4,000/person (2-hours dive)

Diving rate does not include the boat transfer therefore, guests are obliged to pay P1,700 for boat transfer to Sumilon dive spot
Whale Shark Encounter:

Viewing: P300/person (Filipinos); P500/person (Foreigners)

Snorkeling: P500/person (Filipinos); P1000/person (Foreigners)
Sumilon Island (Boat Rental):
Tumalog Falls (Jeepney/Multicab):

P400 (2 persons); P150/person (excess)

Entrance Fee included good for 1 hour

Excess waiting time: P100/30 mins
Oslob-Boljoon Tour (Jeepney/Multicab):

Good for 3 hours; excess waiting time (P500/30 mins)
Aguinid Falls (Jeepney/Multicab):

P1,500 (1-3 persons); P250/excess person

Good for 3 hours; excess waiting time P500/30 minutes
Osmeña Peak (Jeepney/Multicab):

P2,500 (1-2 persons); P250/excess person

Good for 5 hours; excess waiting time (P500/30 minutes)
Kandungaw Peak/Strawberry Farm with Osmeña Peak (Jeepney or Muticab)

P3,500 (1-2 persons); P250/excess person
Kawasan Falls (Jeepney/Multicab):

P2,000 (1-2 persons); P250/excess persons

Good for 6 hours; excess waiting time (P500/30 minutes)
Canyoneering Cebu (Jeepney/Multicab)

P5,500 (2 persons); P2,000/excess person

Good for 8 hours; excess waiting time (P500/30 minutes)
Miraculous Shrine

Option 1

Oslob to Sibonga and vice versa

P3,500 for 2 persons; P500/excess person

Option 2

From Cebu City and pass by the Shrine
OTHER INFORMATION:
HOW TO GET THERE?
Exact location: Exact location: Cuancua-ay, Tanawan, Oslob, Southern Cebu — approx. 3 from Cebu City.
BY BUS: Head to South Bus Terminal and take a Ceres Bus bound to Oslob. Inform the conductor that you are going to Seafari Resort.
BY CAR: Navigate with Waze or Google Maps and set your destination to "Seafari Resort" in Oslob. Parking space is available.