Unbeknown to many travelers and visitors to the Queen City of the South, the rich history of Cebu City is actually displayed in a certain district and in plain sight.
Standing gloriously in the busy streets of Parian, this amalgamation of Cebu's most significant and symbolic events, structure, and people retell the story of the Queen City through a tableau of concrete, brass, bronze, and steel statues.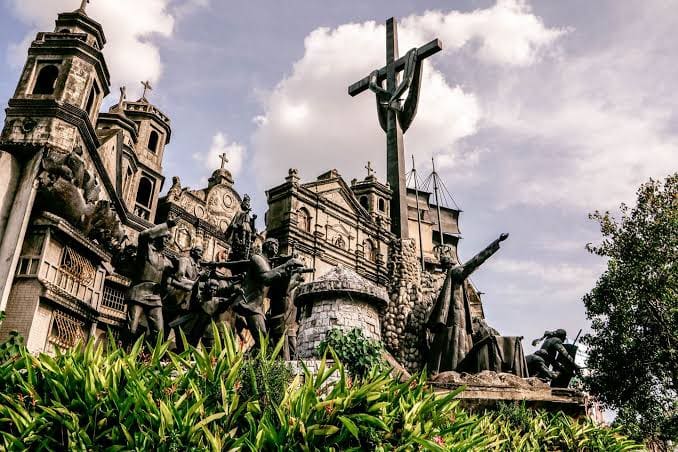 It is the proud work of Cebuano artist Eduardo Castrillo and was finished in just 3 years, from July 1997 until its inauguration in December 2000, with the help of the late Senator Marcelo Fernan and pooled donations from private individuals and organizations.
The monument artistically displays key historical figures, events and structures that involve Cebu. Erected at the center of the monument is the famous Magellan's Cross which marked the acceptance of Roman Catholicism in the country. Other scenes and events depicted in Heritage Monument are the arrival of Ferdinand Magellan and the Spanish colonizers, baptism of Rajah Jumabon, the Battle of Mactan between Lapu-Lapu and Magellan, and a procession of the Sto. Niño.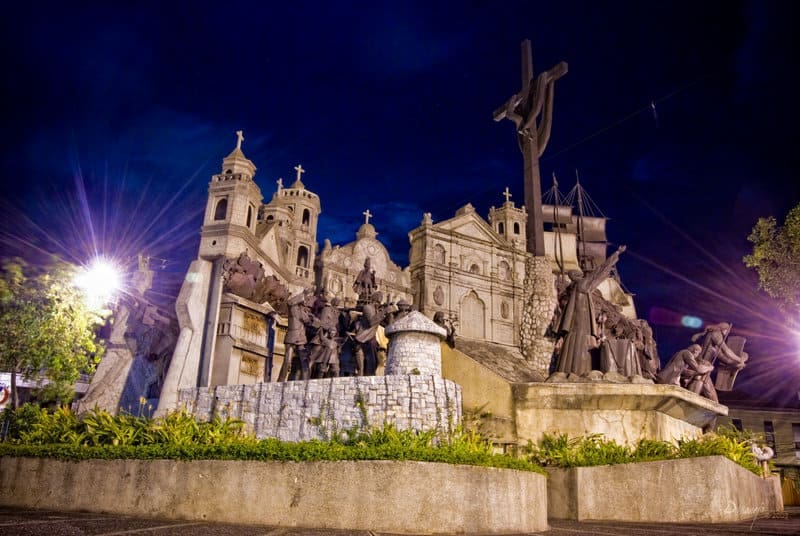 Famous religious structures in Cebu such as the Basilica del Santo Niño, Cebu Metropolitan Cathedral, and St. John the Baptist Church present as well. Finally, historical Cebuano figures such as the late president Sergio Osmeña, Sr. and the recently beatified Pedro Calungsod have also been immortalized.
The Cebu Heritage Monument is also located in the historically significant Parian District – home to prominent families of the old Cebu and the center of trade between locals, Chinese, and Spanish Mestizos. It also served as the venue for lavish events organized by wealthy Chinese merchants. "Parian" was derived from the term "pari-pari" meaning "to barter or trade" which made the perfect name for the district. The rich history of the plaza can be seen from the 17th to 19th Century homes that are still standing up to this day.
RATES & OTHER INFORMATION
ENTRANCE FEES
There are no entrance fees to the monument but donations for its upkeep are greatly appreciated.
HOW TO GET THERE?
Exact location: Colon Street, Parian Plaza, Cebu City
BY JEEPNEY: From Colon Street in Downtown, Cebu City, take a jeep bound for SM and Pier. The jeep will pass by the monument. You may remind the driver to drop you off at the Cebu Heritage Monument.
BY TAXI/GRAB: Taxi cabs are quite familiar with the place. You may ride any taxi or book with an app.
BY CAR: Navigate with Waze or Google Maps and set your destination to Cebu Heritage Monument. Ask locals for directions if you need help.