Subway is on its way, Sugboanons!
I'm sure you've heard it as it has made waves on social media, specifically in Cebu. "Cebu wants Subway" has trended because of sharing its plans to open their first store in Cebu City.
Subway is the largest fast-food chain in the United States and in the world and this haven is planning to open its doors in the Queen City of the South. On their Facebook post published on November 8, 2020, Subway shared that they are awaiting for the response of Axis Entertainment and SM Seaside City Cebu so they can already share to the public the final deets.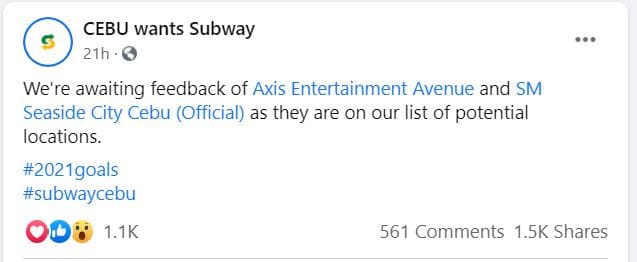 Hence, if you are planning not to succumb to hunger, do it with a stuffed sandwich on hand. Whether you are up for a roasted chicken, ham, meatball marinara, even steak and cheese on your sandwiches, you name it, they'll sure have a sandwich for that!
I guess they are not dubbed to be the largest sandwich hub for nothing, yes? Let's just hope they'll get to open one branch soon so we could all try this much-talked subs.