If Cebu can hit you with its best shot, surely, it'll hit you with sandbars.
Sandbars are long narrow areas sitting above the water, composed of sand, gravel, and fine sediments, and is built by waves offshore from a beach. Cebu, being blessed with abundant beaches, won't leave your Cebu experience half-baked. It shelters a collection of stunning sandbars that you can visit as you explore the region.
Put on your best swim wears and let's head to these seven (7) must-visit sandbars in Cebu. Don't forget to bring your sunblock essentials.
1. Caohagan Island Sandbar
Exact location: Lapu-Lapu City, Cebu — near Nalusuan Island in Olango
Caohagan Island, an island close to Mactan island and part of the Olango group of islands, protrudes a white sandbar from one of its ends. Visitors can take a dip on its cold and clear waters. It's an ideal place for swimming and snorkeling. The inhabitants of the island are making sure that the cleanliness of the shoreline and the sea is strictly enforced.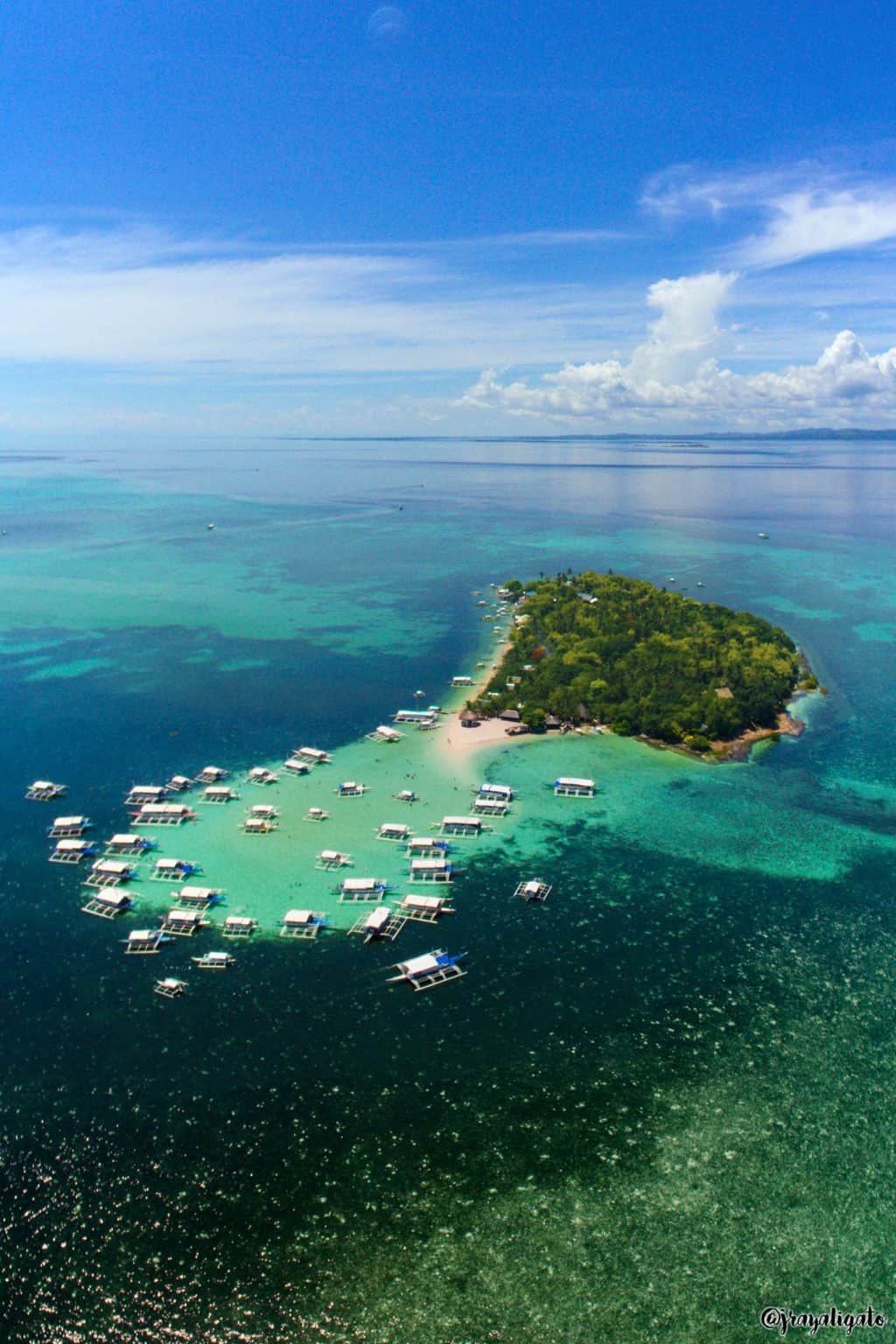 OTHER INFORMATION:
Environmental fee: P200
Cottage Rental: P100
Contact Number (ECebu Finest Island Hopping Tour Partners): 0916-557-7118
HOW TO GET THERE?
You can hire a boat from any tour provider, or you can also rent a 'pumpboat' that can drop you off the island. Pumpboats are available at Angasil port, beside Mactan New Town. Boat fee starts at ₱100 per head.
2. Campalabo Sandbar
Exact location: Brgy. Tajao, Pinamungajan, Cebu – 2-3 hours away from the city.
A strip of white sand 20 minutes away from the mainland, Pinamungajan is proud of this marine resource. The islet or sandbar spans one hectare during low tide and is smaller during high tide.
It sits in the middle of a municipal sea rich in marine life, and holds a spectacular view of the beauty of the town's coastline and the Mt. Kanlaon in neighboring Negros province.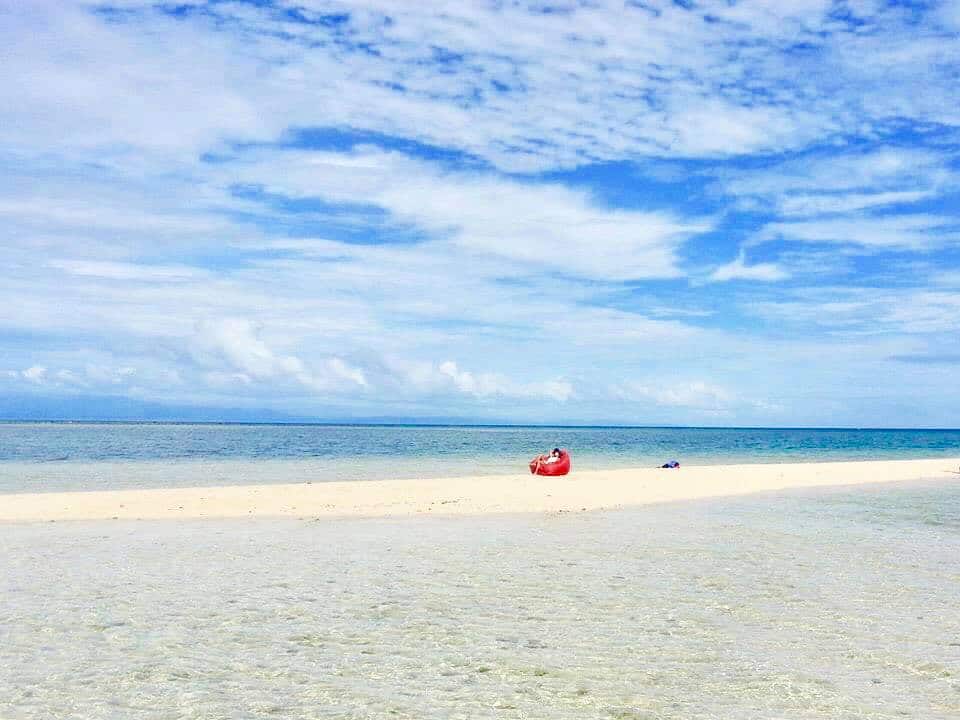 Fees:
Environmental/Entrance Fee: ₱50 per head
Bus fare: ₱80 per person (one-way) / ₱100 for v-hire
Boat fare: ₱150 per person (roundtrip). Minimum of 6pax, or you pay at least ₱200.
Tips:
Best time to go there is 4-5PM. You can then eat dinner at Bugsay Resto Grill in the mainland.
Buy your food and drinks ahead before jumping into the boat.
No cottage. You may bring your own tables and chairs.
You can't put tents in there.
STRICTLY LEAVE NO TRACE!
How to get there?
Exact location: Brgy. Tajao, Pinamungajan, Cebu – 2-3 hours away from the city.
From the South Bus Terminal, ride a bus going to Pinamungajan. Tell the driver to drop you off at Brgy. Tajao or at Bugsay Resto Grill. Bus fare is ₱80 per person (one-way).
There's a lot of sari-sari stores in the area. You can ask them where you can rent a boat going to Campalabo Sandbar and they will assist you – be friendly and negotiate the price with the boat owners. Boat ride will take 20-30mins going to the sandbar.
3. Sumilon Island Sandbar
Exact location: 20-minute boat ride from Oslob, Cebu
Done swimming with the whale sharks in Oslob? Elevate the experience by visiting its nearby sandbar – the Sumilon Island Sandbar. The white sand island remains to be a top tourist destination for its green to bluish waters rich with life underneath. Enjoy snorkeling in this island.
While there are sandbars in other islands that are only accessible at certain parts of the day, the one in Sumilon can be enjoyed all day. To complete your Sumilon Island retreat, you may also check in at Bluewater Sumilon Island Resort, the only resort in the island.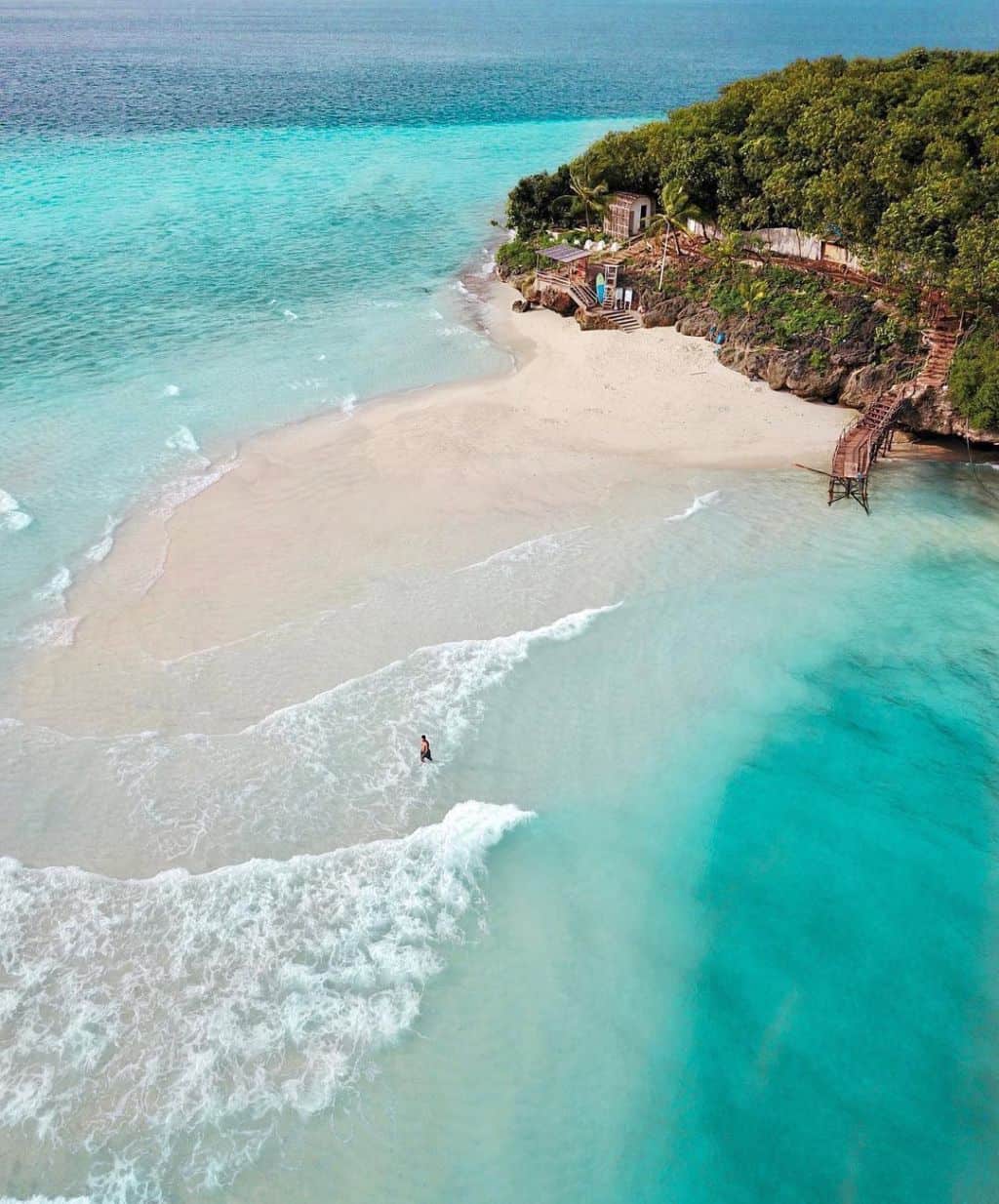 OTHER INFORMATION:
Environmental fee: P50
Contact number (Bluewater Sumilon Island Resort): 0917 868 7392
Email address (Bluewater Sumilon Isalnd Resort): [email protected]
Facebook Page: https://www.facebook.com/bluewater.sumilon/
HOW TO GET THERE?
Take a bus bound to Oslob from the Cebu South Bus Terminal. Tell the conductor or the driver you'd like to be dropped off at the Brumini Resort or at Brgy. Tan-Awan Port. Hire a boat from there to take you to Sumilon Island. It's advisable to go in groups since you will have to hire the whole boat. Prices may start at P1,500.
ALSO READ: Bluewater Sumilon Island Resort: Not your ordinary getaway in the south
4. Mahayahay Beach Sandbar
Exact location: Brgy. Balisong, Argao, Cebu
Argao doesn't fall behind from its nearby towns in terms of tourism and what seems to be a carnival of beautiful destinations in South Cebu. It prides itself for being one of the heritage towns in the region.
Not just that, its very own Mahayahay Beach Resort, a public beach resort, also has its own sandbar where locals and tourists visit during weekends to enjoy.  The beach has cottages for rent and several convenience stores, so you'll never run out of food and drinks while enjoying the beach.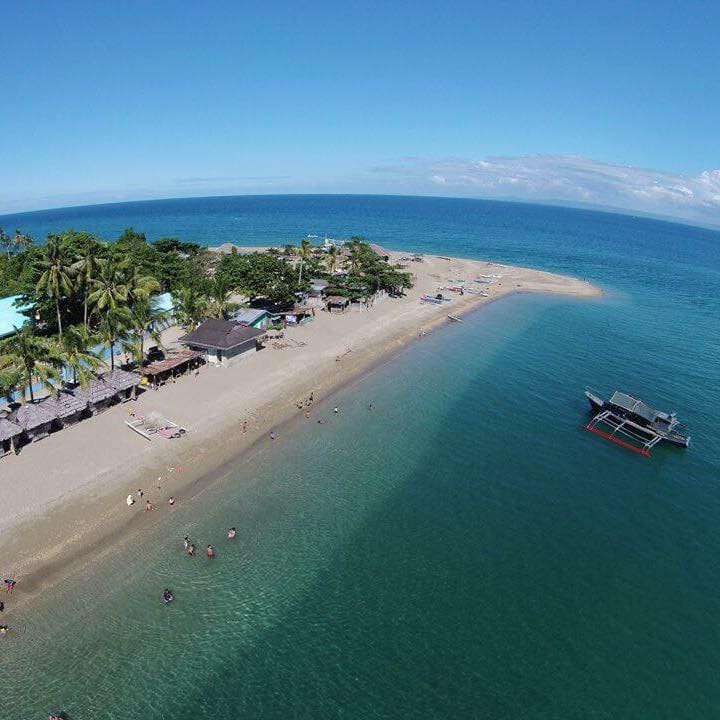 HOW TO GET THERE?
In Cebu South Bus Terminal, get on a bus bound for Bato – Oslob (fare: P90-P120). Tell the driver or conductor that you would like to be dropped off at Brgy. Looc. From there, hail a tricycle that will take you to Mahayahay Beach.
5. Kota Beach Sandbar
Exact location: Bantayan Island, Northern Cebu — 4-5 hours away from the city.
Bantayan Island has already made a remarkable impression, both from local and foreign travelers. One of its most patronized places is the Kota Beach Sandbar.
The sandbar raised Bantayan island's charm as the sandbar offers you a creamy fine white sand kissed by the surrounding blue water. Snorkel? Swim? Frolic on the sand? Name it, you can do them all here. A once in a lifetime experience, you can also choose to book a stay in Kota Beach Resort. They offer exciting activities.
OTHER INFORMATION:
HOW TO GET THERE?
From the Cebu North Bus Terminal, ride a bus headed to Hagnaya (fare: P170). Travel time is 3 to 4 hours. From Hagnaya Port, you will take a 45-minute ferry boat to Sta. Fe, Bantayan Island (ferry and terminal fee: P180). From Sta. Fe, you can take a tricycle to take you to Kota Beach.
ALSO READ: 2020 BUDGET TRAVELING Guide to Sta. Fe, Bantayan Island
6. Gibitngil Island Sandbar
Exact location: Eastern part of Gibitngil Island, Medellin, Northern Cebu — 3-4 hours away from Cebu City
Gibitngil Island, famous for its Funtastic Island activities, is a taste of two worlds. One side offers a great adventure time – zip, dive, swim and paddle. The other side offers you a long stretch of white sand bar.  Situated at the eastern part of Gibitngil Island, it provides another place for the travelers where they can have fun. Truly, it's something you shouldn't miss visiting when you're in the island.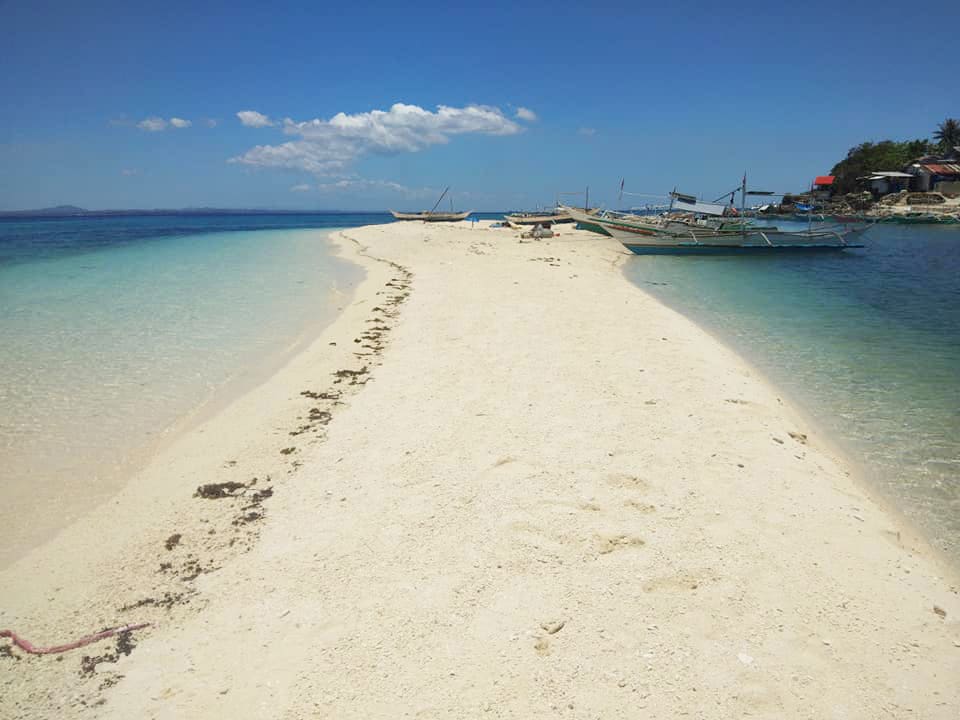 HOW TO GET THERE?
From Cebu North Bus Terminal, take a bus bound for Kawit, Medellin. Tell the driver or conductor you'd like to get off at the Alpine Pantalan in Kawit. You may also take a van/ v-hire if you want to for a shorter travel time. From there, ride a motorboat going to Gibitngil Island. If you opt to bring your car, just navigate with Waze and pin your location to Kawit Medellin or to any beach resort nearby where you can park your car. Parking fee may range from P50 to P150 per day. Then ask around where you can ride a boat going to the island.
Indeed, sandbars are one of the most sought-after pieces of nature. It can't be found everywhere. So, when Cebu is giving us its best shots of sandbars, I guess our only choice then is to get our cameras and take good shots. Nope, best shots.
ALSO READ: Affordable adventure at Funtastic Island in Gibitngil
7. Cordova Sandbar
One of the best things about the Queen City of the South is its proximity to many islands, beaches, hotel and resorts, diving locations and heritage sites, high domestic and foreign tourist arrivals. It fuels the city's tourism industry. And Cebu is well-known for its exquisite white sand beaches located less than an hour away from the city.
Although it's already popular to the locals (of course) and serves to be their "quick cure" for beach cravings, not everyone — before it trended on social media — knows this public beach that flaunts pristine white beach and crystal clear water. This is the Cordova White Sandbar in Mactan, Cebu.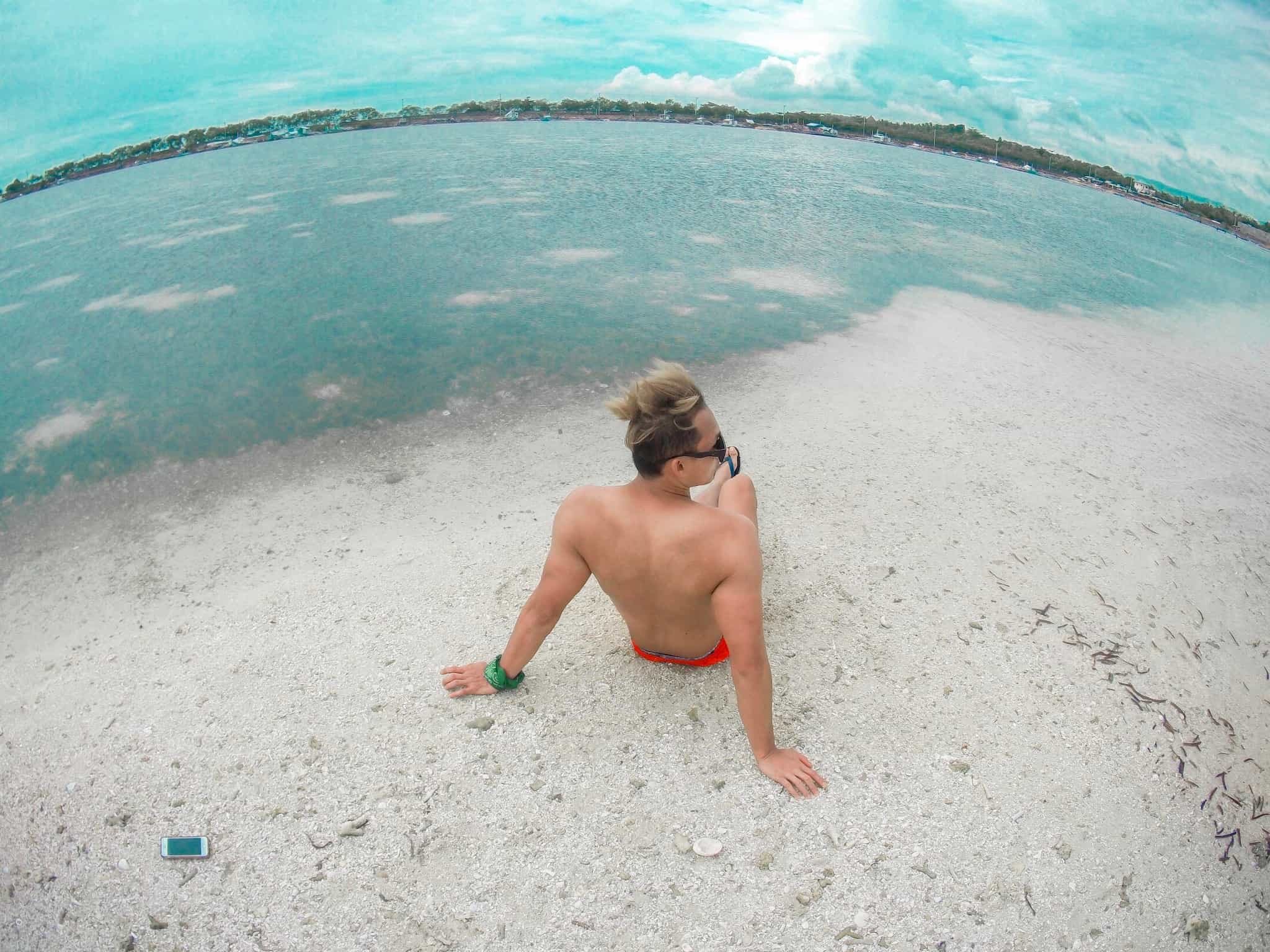 Fees:
P35 per person – V-hire fare from SM City Cebu Terminal to Gaisano Cordova
P50 – Tricycle fare from Gaisano to the Sandbar (good for 6 persons)
Entrance Fee: FREE!
NOTE:
– You can bring your own tent. Or tables and chairs. There's no cottage available in the area.
– There are snacks for sale.
– Bringing of food and drinks is okay for now. Also bring your own trash bag.
– STRICTLY LEAVE NO TRACE.
How to get there?
Travel time: 1-2 hours from Cebu City + ~10 minutes going to the sandbar.
Ride a V-HIRE from van terminal at SM City Cebu going to Gaisano Cordova. From there, ride a tricycle and tell the driver to bring you to the Sandbar at Kimwa near Parola and Roro.
ALTERNATIVE: From Pier 3 in Cebu City, ride a ferry boat goig to Lapu-Lapu City for P14 per head. Then ride a multicab or jeepney going to Gaisano Cordova for P10 per head.
☞
Up to 50% OFF on nearby hotels in Cebu.
IMPORTANT NOTE:
The rates, contact details and other information indicated in this post are accurate from the time of writing but may change without Sugbo.ph's notice. Should you know the updated information, please message us on
Facebook
.