Our favorite coffee store has granted our wishes at last. Satisfy your longing for a cup of your favorite Starbucks drink as they now offer delivery and take-outs.
Select Starbucks branches are now available on GrabFood. All the drinks you've missed are just a click away.
What's more is they are also offering new refreshing Tea-ology beverages that are just perfect for this insane heat.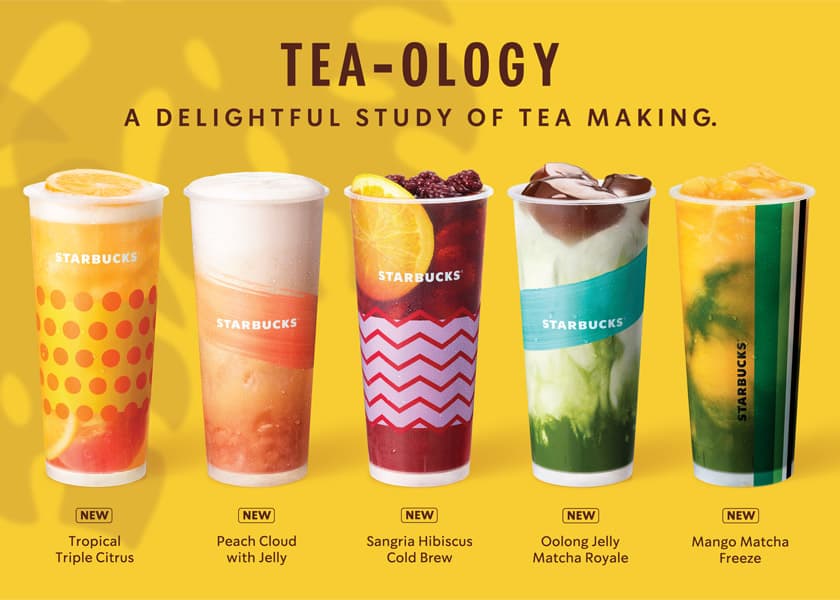 Tropical Triple Citrus – handshaken Teavana™ Emperor's Clouds & Mist green tea mixed with a zesty blend of three orange juices topped with grapefruit, lemon and oranges slices.
Sangria Hibiscus Cold Brew -Made with Teavana™ Hibiscus tea, this drink is flavored with luscious hibiscus flowers and real mixed berries that complement the smooth and naturally sweet flavor of Cold Brew Coffee. Garnished with an orange slice of citrus, the summer beverage is as delicious as it is beautiful.
Peach Cloud with Jelly – Savor sweet, juicy peaches all summer long with the new Peach Cloud with Jelly. A combination of white peach juice, Teavana™ Emperor's Clouds & Mist green tea, peach jelly and diced white peaches. Topped with velvety white peach cold foam for a sweet, creamy finish.
Matcha Mango Freeze – The new Mango Matcha Freeze offers a tangy, tropical twist on our classic Matcha. This summer beverage is an icy blend of smooth and creamy Matcha with mango and passionfruit juice. Complete with a scoop of mango jelly for a vibrant pop of flavor and color.
Oolong Jelly Matcha Royale – The new Oolong Jelly Matcha Royale is a tea lover's dream, featuring lively and rich flavors of Teavana™ Matcha and oolong tea jelly. Matcha is mixed together with silky milk, served over ice and topped with oolong tea jelly, creating a luxurious, smooth finish sure to satisfy your cravings.
Note: These Starbucks beverages are available for take-out and delivery (via GrabFood) at select branches only. If you're opting to take-out from the stores, please follow social distancing and wear a mask.