There's more to love and watch with the whole family as SKY opens up free channels to bring happiness at home. Enjoy even more movies and shows with channels for you and your family starting March 19 to April 30, 2020.
SKY brings you more channels to watch with 44 channels for kids, 45 channels for sports and movies, and 93 channels for lifestyle, general entertainment, and more. These free channels will be automatically added on top of your existing line-up with no additional cost. For the complete list of channels available, visit mysky.com.ph/bringhappinesshome.
After the free view period, the additional channels will no longer be part of your basic line-up. You may opt to upgrade your plan or subscribe to them via SKY Select for as low as P20 per channel.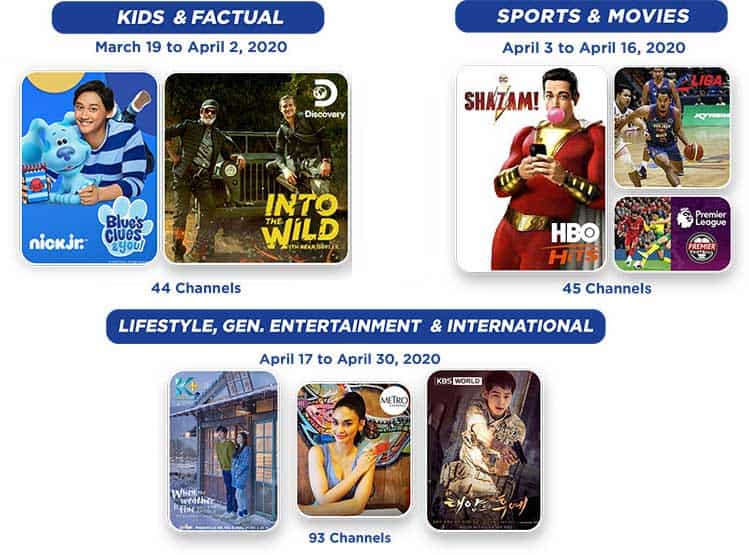 You can also enjoy a whole month of Pinoy movie marathons with the whole family for only P99 with Kapamilya Box Office (KBO) on SKY. Watch all your favorite HBO channels and shows on any device for as low as P99 per month with HBO GO. Enjoy the latest and best K-Dramas and movies for only P99 per month on VIU.
Expand your entertainment options with these streaming services available.
Contact SKY Cebu
To know more about these services, SKY has made the following additional contact points available to you during the enhanced community quarantine.
Kindly text your service concern along with your account name, account number and contact numbers to these numbers from 6 AM to 11 PM:
TM/Globe – 0927 015 6119
Smart/Sun/TNT – 0920 436 2770 
You can also email SKYcable Cebu at [email protected].
For more exciting news at SKY, follow them on Facebook and on Twitter.
LIST OF CHANNELS AVAILABLE
April 3 to 16, 2020
SPORTS, ACTION, GAMING
31
FOX SPORTS
32
FOX SPORTS 2
63
KIX
70
SOLAR SPORTS
86
LIGA
140
FOX SPORTS 3
176
FOX SPORTS 3 HD
183
LIGA HD
187
FIGHT SPORTS
188
TAP SPORTS HD
204
beIN SPORTS 1 HD
205
beIN SPORTS 2 HD
214
EUROSPORT
215
TAP W
218
TAP EDGE
242
KIX HD
253
EUROSPORT HD
254
FOX SPORTS HD
249
FOX SPORTS 2 HD
264
PREMIER TENNIS HD
265
PREMIER FOOTBALL HD
MOVIES
7
CINEMO!
36
CINEMAX
54
HBO
55
FOX MOVIES
56
CINEMA ONE
60
PBO
61
FOX FAMILY MOVIES
74
RED BY HBO
78
FOX ACTION MOVIES
79
K MOVIES PINOY
80
TMC (TAGALIZED MOVIE CHANNEL)
83
Filmbox Arthouse
100
HBO HITS
101
HBO SIGNATURE
102
HBO FAMILY
107
THRILL
168
HBO HD
169
HBO HITS HD
170
FOX MOVIES HD
171
FOX FAMILY MOVIES HD
177
FOX ACTION MOVIES HD
184
CINEMAWORLD HD
185
HBO SIGNATURE HD
186
HBO FAMILY HD
198
CINEMAX HD
April 17 to 30, 2020
LIFESTYLE/ GEN. ENTERTAINMENT
22
ASIAN FOOD CHANNEL
23
MYX
34
WARNER TV
46
ANIMAX
48
FOXLIFE
49
AXN
51
JACK TV
52
METRO CHANNEL
53
BLUE ANT ENTERTAINMENT
62
TLC
64
FOX CRIME
65
LIFETIME CHANNEL
68
FOOD NETWORK
69
CHANNEL V
71
MTV ASIA
73
COMEDY CENTRAL
81
TELENOVELA
82
TRAVEL CHANNEL
88
HGTV
99
CRIME & INVESTIGATION
104
BLUE ANT EXTREME
113
LIVING ASIA / MJCI
115
FOX FILIPINO
116
GEM TV
137
HITS
139
ANIPLUS
171
FOXLIFE HD
172
FOX CHANNEL HD
174
METRO CHANNEL HD
179
OUTDOOR CHANNEL HD
189
COMEDY CENTRAL HD
190
MTV LIVE HD
192
STINGRAY CLASSICA HD
196
BLUE ANT ENTERTAINMENT HD
197
WARNER TV HD
199
LIFETIME HD
201
TRAVEL CHANNEL HD
203
CRIME & INVESTIGATION HD
209
BLUE ANT EXTREME HD
212
TECHSTORM TV
216
OUTDOOR CHANNEL
239
MOR MANILA (audio only)
240
MOR CEBU (audio only)
241
MOR BAGUIO (audio only)
243
TLC HD
245
FOOD NETWORK HD
246
HGTV HD
247
AXN HD
248
ASIAN FOOD CHANNEL HD
251
FOX CRIME HD
252
Mezzo HD
INTERNATIONAL
75
KBS WORLD
89
PHOENIX INFO NEWS
90
PHOENIX CHINESE CH.
91
CGTN
92
CCTV 4
93
CGTN DOCUMENTARY
96
DA-AI/TZUCHI
97
CCM
98
CEC
123
ZEE TV
124
ZEE ANMOL
125
ZEE CINEMA
126
NDTV GOOD TIMES
127
NDTV INDIA
128
Star Plus
130
ABC AUSTRALIA
131
NHK PREMIUM
132
DEUTSCH WELLE
133
TV ESPANOL
134
TV 5 MONDE
135
SAUDI 1
143
CTS KOREA
144
K-PLUS
145
tvN
146
YTN
147
ARIRANG
149
MBN
152
ABP NEWS
153
STAR BHARAT
154
STAR GOLD
191
tvN HD
220
RAI ITALIAN
221
RUSSIA TODAY
222
NHK WORLD JAPAN
225
HUNAN TV
226
CNC
227
TVBS NEWS
228
TVBS ASIA
233
DOORDARSHAN
235
ZEE PUNJABI
237
GOOD TV
RELIGIOUS
44
LIFE TV