The Enhanced Community Quarantine is just around the corner. Soon, there will only be one person allowed in every household to buy the necessary supplies.
Though it is still possible to go out, there is still no safer place than our own homes.
Well worry not because we now present you a list of pages that deliver your basic necessities. They can bring you your groceries, fresh produce and other healthy products.
5 ONLINE GROCERIES
OMG (Oh My Genie): website / Facebook Page
Gaisano Grand Malls (see below for list of participating branches)
Cebu Online Grocery Services: Facebook Page
New Creations Food's Inc.: Facebook Page
Landers Superstore Cebu: www.landers.ph
1. OMG (Oh My Genie)

Order process:
Go to their website to order and add items.
After placing your items in your cart, proceed to checkout.
On the Checkout – Payment page, select the Pay with Cash option.
You will receive an order confirmation email after you have placed your order.
You can now send a payment for the amount indicated at the Grand Total. Send proof of payment (screenshot/photo and reference number) by replying to the order confirmation email.
Order links:
Payment process:
Allowed Payment Process: At this time, they only process pre-paid orders. Payment must be made at least 24 hours before the selected delivery slot.
Deposit to BPI: You can use fund transfer via your bank's mobile app, GCash or PayMaya
2. Gaisano Grand Malls Cebu

Requirement: First of all, you will need a Viber account to order. Viber is a mobile app that can be downloaded for free on iOS or Android devices. Once set up, this will be synced to your mobile number.
Participating Branches:
Gaisano Talamban
Gaisano Fiestamall Tabunok
Gaisano JaiAlai
Gaisano Minglanilla
Gaisano Mandaue North
Gaisano Liloan
Gaisano Mactan branches
Note:
A Viber account is needed for Shop & Go transactions.
Orders made not later than 12NN of the day are guaranteed to be prepared for the same day's pick-up.
All orders will be cancelled if payment is not made within 24 hours.
Step-by-step guide:
Open Viber account and prepare 'Send to' number on your preferred branch.

Talamban: Viber # 0977-284-7578
Tabunok: Viber # 0917-843-3179
Jai-Alai: Viber # 0905-889-5571
Liloan: Viber # 0927-304-1618
Minglanilla: Viber # 0933-476-8041
Mactan: Viber # 0932-976-9105
Mandaue North: Viber # 0915-019-7308

Provide the following details:

Complete name
Address
Contact number (Viber)
Nearby Branch:
Grocery list:

Wait for the check-out reference number.
Online payment options:

BDO (00-268-800-3570) Reference #:
MBTC (172-7-172-51299-9) Reference #:
Cash or card upon pick-up

Pick-up options:

3rd party delivery service: Customer books and pays for the delivery fee.
Store pick-up: Present your checkout reference number to the designated online Shop & Go lanes. Cut-off time is at 5PM.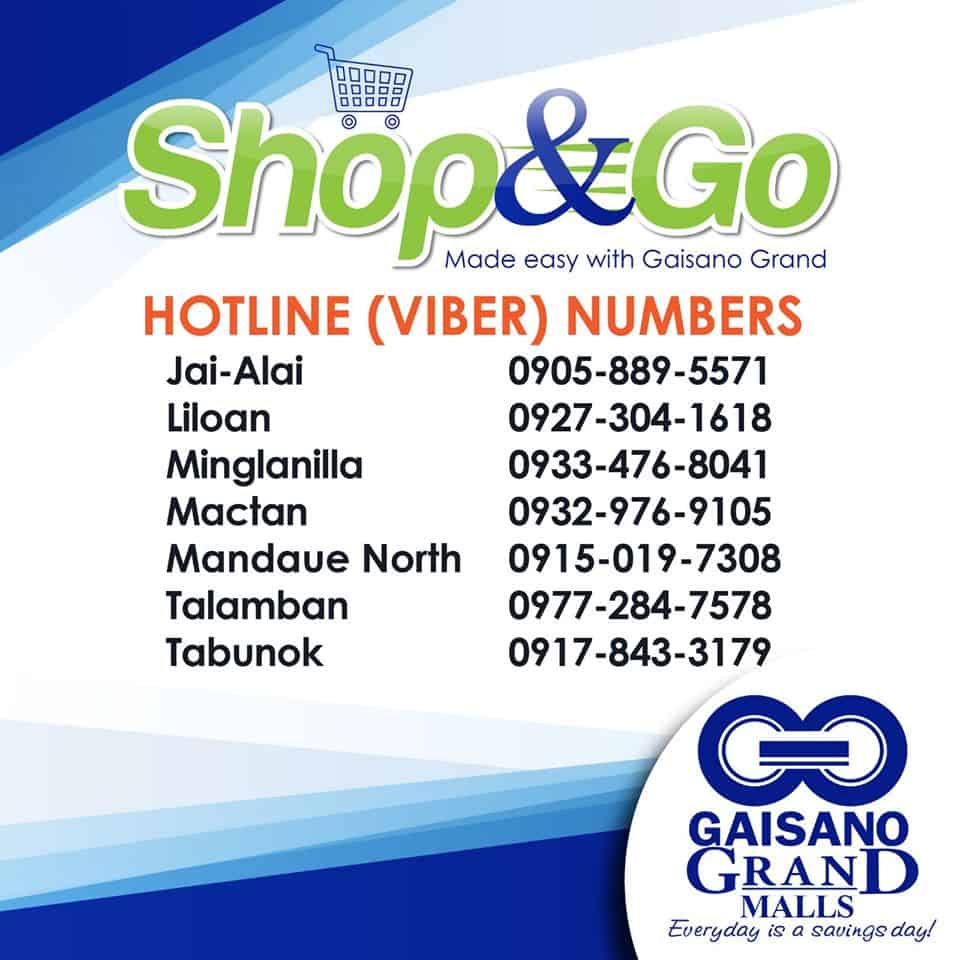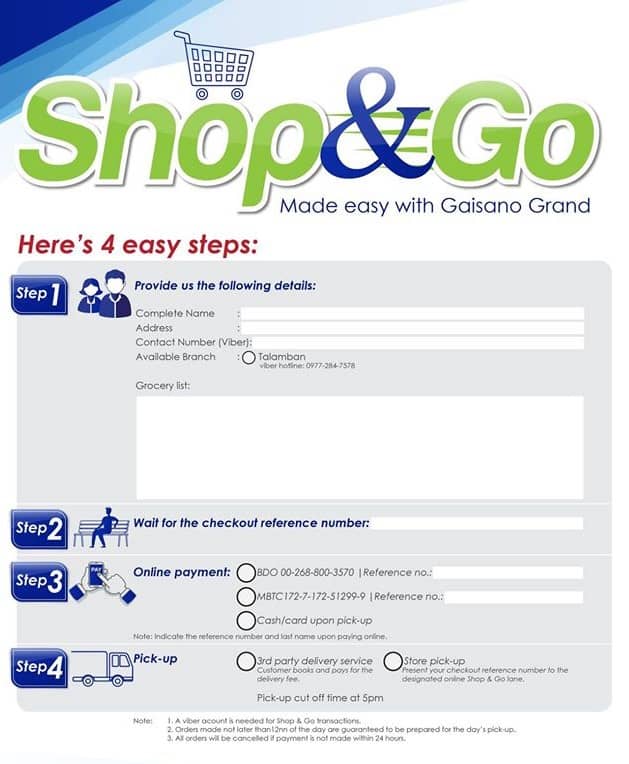 3. Cebu Online Grocery Services

Order process:
Write down all your grocery needs and Private message on their Facebook Page.
The message should contain:

Complete Name:
Mobile Phone Number:
Address to be delivered:
Time and Date to be delivered:
Items to buy:

Once the order is placed, we will buy the items for you and deliver it straight to your house the next day on the time that you prefer to have it delivered.
On-the-day delivery will have an extra charge.
We offer Cash On Delivery and receipts will be provided to you as well.
Cebu and Mandaue area only. Consolacion, Lapu-Lapu, Talisay will have an extra charge of 200. For beyond these areas we add another 200 per municipality. Also, subject for approval
Prices are depending on the market you preferred, receipts will be given on delivery.
You can also choose which supermarket you want us to shop!

SM supermarket
SNR
Gaisano
Metro Ayala
Rustans
Collonade
Virginia Pork Shop for your pork needs
OR your preferred supermarket
Delivery Rates:
P2,500 and below worth of goods will be charged a fixed fee of P250.
P2,501 and above will be charged 10% of the total worth of goods.
Order link:
4. New Creations Food's Inc.
Order process:
Private message on their Facebook Page with your

Name:
Contact number:
Complete address:

They will then share with you their price list and order details.
Can deliver to: Cordova, Lapu-Lapu City, Mandaue City, Cebu City, Talisay City
Minimum purchase:

Lapu lapu and cordova area: P500
Mandaue and cebu city: P1,000
Order link:
5. Landers Superstore
Order link:

FRUITS & VEGETABLES
Ecogarden Vegetables Delivery (Organic vegetables)

Contact numbers: 0943-437-5455 / 0917-557-7383

La Estancia Agri-Ventures (Organic vegetables)

Contact number: 0917-621-7441

FruitDel (Fruits with free delivery)

Contact number: 0977 733 3670

Yamang Eden
Veggie tah Bai
CebuMarket.Store

Contact number: 0915-855-1332

The Green Table

Contact number: 0922 822 2264

GGG Fruits & Vegetables Supply

Contact number: 0917 705 2877

The Detox Bar (Healthy Meal Plan)

Contact number: 0917-555-3473
Food Delivery Services
Drug Stores
Rose Pharmacy: www.rosepharmacy.com/
Mercury Drug (Phone Delivery): (032) 255 4187
MedExpress: www.medexpress.com.ph/
MedPadala: medpadala.com.ph/ (Pick-up)
Delivery apps like Grab, Lalamove, Joy Ride can also buy medicines from the pharmacies.
Let us all help the world amid the global pandemic.Stay at home as much as possible and stay safe.
Special thanks to Justinne Lou Go for helping us collate this list.