Forget about sandy toes and sandy skins. How about this time, we try a resort that sits on top of a cliff by the sea?
Odlot Hide-Away Resort in Bogo City is a unique beach resort experience for everyone who loves to go the non-conventional way. It is conveniently located on the rocky cliffs facing the sea in Brgy. Odlot, Bogo City, Cebu.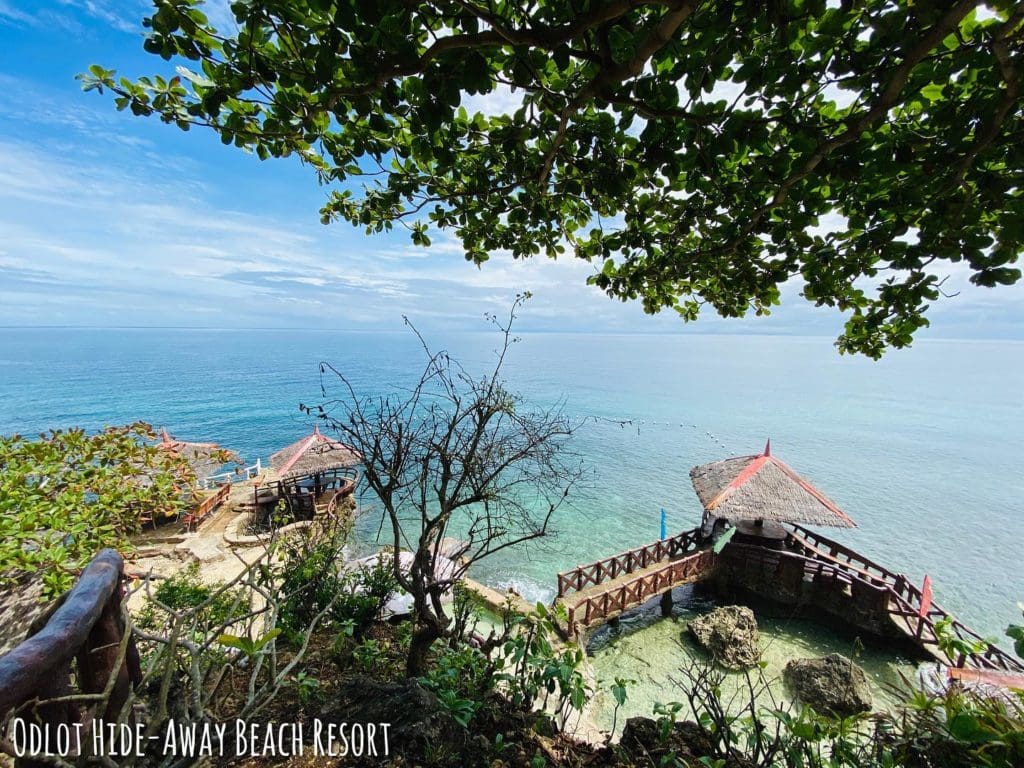 The place is perfect for your weekend barkada and family plans. It offers amazing getaway experience to revitalize travelers complete with essential amenities at a budget-friendly price. In fact, it's the reason why many locals flock here over the weekends.
It has numerous cottages that you can rent for day use. They also have hammocks and sunbathing loungers. For billiards fanatics, they have billiard tables for you so you can spend the rest of the day hitting balls and shooting them into the table pockets.
Since the place isn't like the other beaches with sandy shorelines, everyone needs to be extra careful if you want to swim in the open seas. Take note that the area has no shore and dry sand. But worry not, there's a pool where you can dip into. The best part? It faces the sea, so you'll have a wonderful view of the sun kissing the horizon during sunsets.
The good thing as well about Odlot Hide-Away Resort is that it also has its own restaurant where you can feast on their seafood options. There are also choices for your local and international dishes cravings. Not just that, there's a bamboo-themed small bar in the resort offering alcoholic drinks. Just a reminder though to avoid jumping into the sea when under the influence of alcohol.
This resort can be a good choice for your celebrations and gatherings. It gives you green and warm ambience filled with salty breeze of the air coming from the open seas. Although this place doesn't really give you much of the extravagance we normally have with other resorts, you will still appreciate how this place gives you a sense of privacy and seclusion – away from the things that worry us the most back in the city.
RATES & OTHER INFORMATION
DAY USE:
Entrance fee: P50 per adult; P30 per child (12 y/o below)
Opening hours: N/A
COTTAGE RATES:
Good for 8-10 pax: P300
Good for 12-14 pax: P500
Good for 15-20 pax: P600
Good for 25-30 pax: P800
Good for 30-40 pax: P1000
ROOM RATES:
Standard Room: P1,500 per night, good for 2 persons
Family Room: P3,500 per night, good for 8 persons
OTHER INFORMATION:
HOW TO GET THERE?
Exact location: Odlot Hideaway Beach Resort, Odlot, Bogo City, Cebu, Philippines — approx. 3 hours away from Cebu City.
BY BUS: Ride a bus from the North Bus Terminal going to Bogo City, then take a habal-habal to Odlot Hide-Away Beach Resort.
BY CAR: Navigate with Waze or Google Maps and set your destination to "Odlot Hideaway Beach Resort" in Bogo City. Parking space is available.