The New Cebu International Container Port – one of President Duterte's flagship projects under the Build, Build, Build Infrastructure Program – has commenced in Tayud, Consolacion, Cebu.
The New Cebu International Container Port (NCICP) is a ₱10.1-billion project that will cover 25 hectares of reclaimed land in the town of Consolacion.
₱8.8 billion of the total cost will come from a loan agreement between the Philippine Government and the Export-Import Bank of Korea which was signed in June 2018 and another ₱1.4 billion will be provided by the national government.
It has experienced delays mostly due to lacking clearances and the COVID-19 pandemic but it is set to commence upon completion of the consultancy work according to the head of the Cebu Port Authority.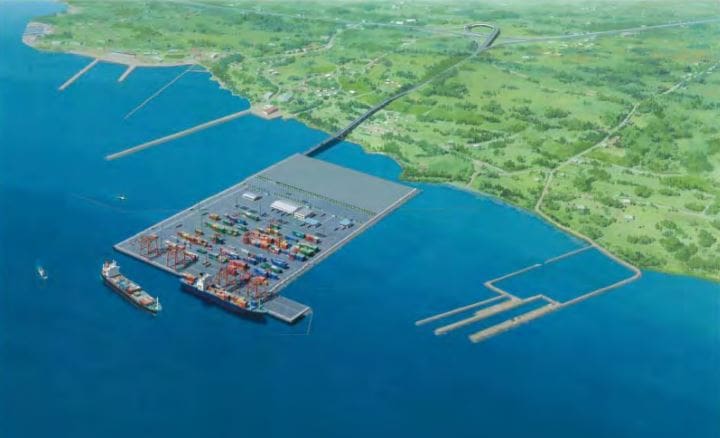 Long-term solution
The new Cebu International Container Port is seen as a long-term solution to the congestion problems of the current Cebu International Port (CIP). Upon completion of the project, the current CIP will be converted into a domestic port while the NCICP will cater to international cargoes coming in and out of Cebu.
Aside from decongesting the base port, it is also expected to improve the transport infrastructure system for the unimpeded flow of goods and services in the Visayas.
The new port will have a berthing facility with a 500-meter quay wall length that can simultaneously accommodate two 2,000 TEU (twenty-foot equivalent unit) vessels, operating facilities and structures for containers such as a freight station and inspection shed, an access road and bridge and a dredged waterway and turning basin, as stated in multiple news articles.
Timeline
June 2018: PH and South Korea's Export-Import Bank signed an P8.8 billion loan agreement for the project. The Korean bank gave the national government until October 2018 to start the project.
February 2019: In an article, it was reported that DOTr had yet to secure clearances from the Philippine Reclamation Authority and the Department of Environment and Natural Resources.
January 2020: The Department of Transportation issued the notice of award for the consultancy services of the project to South Korea-based Yooshin Engineering Corporation.
August 2020: Cebu Port Authority (CPA) says new Cebu international container port could start this year.
CPA General Manager Leonilo Miole reported that consultancy works for the project were "currently ongoing". If deadlines are met, then the construction of the project may start in a few months according to the head of Cebu Port Authority.